Our Top Gear Awards For 2022 is upon us again and represents the gear that we reviewed and gave the highest scores for this calendar year.
This is our 12th year for our Awards in one guise or another so if you want to go back in time and check out what we thought were the best from last year you can click here for our 2021 Awards.
As with the conclusion of every successful year on Headfonics, we would like to thank all the readers who have visited our site, read what we had to say, and enjoyed our reviews. Your views and opinions matter to us and I do hope that you enjoyed what we had to offer for 2022.
Without you, the reader, we would cease to matter so thank you once again from Mike, James, Louis, Aldous, Cheryl, Josh, and myself.
2022 Awards Process
Our Top Gear Awards is based on our scoring system throughout the calendar year so the gear with the highest overall score in 2022 wins. From Jan 1st, those Award scores will be deleted and the scores from Readers' votes will take over in our Gear Ranking section on the home page from January 2023.
Where there is a tie for the top score, then all gear with that score are deemed winners, so some categories will have more than one winner.
As in previous years, we know our writers have their personal favorites so once again we have given them free rein to let us know what products float their boat for 2021, regardless of the score, in our "Editor's " and Writer's Choice" 2022 awards.
Note, this is a 2-page review with portable gear and headphones on page 1. Desktop amps, DACs, and integrated DAC/amps plus our own personal picks for the Top Gear 2022 Awards are on Page 2.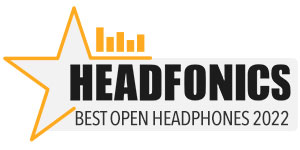 Top Gear 2022 Awards – Best Open Headphones
The ZMF Headphones Caldera is an incredible high-end debut planar headphone. We were simply not expecting this huge emotionally enjoyable sound complete with that trademark easy-to-listen-to tuning. It also looks the 'biz' with those White Oak wood cup designs.
It has bags of power, one of the deepest bass responses we have heard this year, and an excellent expansive soundstage to let it all run free without a hint of congestion. Importantly, it is technically very capable with improved speed and clarity over the earlier Atrium release.
We would say you could easily let the hours tick away listening to the Caldera so it is just as well ZMF stuck to their trademark form factor and headband system to allow you to do that.
There is plenty of new competition out there in 2022 with some high-end headphones that may be faster, and others with a more advanced design or higher comfort levels. However, very few tick all the boxes at once quite like the Caldera.
Top Gear 2022 Awards – Best Closed Headphones
The Meze Audio Liric is a welcome addition to a growing closed-back planar headphone market in 2022. It brings excellent design and comfort fundamentals from their TOTL headphones into a smaller and more compact size as well as producing class-leading levels of isolation.
Moreover, it has a likable but more aggressive sound signature than what Meze Audio fans might be used to coming from the Empyrean and Elite.
It gives up a bit in terms of resolution and dynamic range to its bigger brothers but in return, you get something much more immediate, fun if you like, and an entirely suitable high-end listening experience for portable audio fans.
Don't let that stop you from plugging it into a big old fat desktop tube amp. It sounds marvelous from the few we tried in this review thus far so it can just as easily sit in the house as an enjoyable home audio purchase.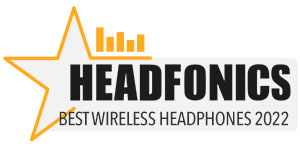 Top Gear 2022 Awards – Best Wireless Headphones
The Focal Bathys is an excellent-sounding debut ANC wireless headphone and certainly, a considerable upgrade on all the previous wireless closed-backs we have reviewed in 2022.
It has all the styling and material quality you would expect from a Focal-designed headphone with a balanced and enjoyable tuning that places modern pop and rock to the fore.
For travel audiophiles, it represents a serious upgrade on consumer headphone choices from the likes of Sony and Bose. It also offers a more coherent and lively tuning compared to more heavyweight alternatives such as the Amiron Wireless. Heck, even the little Drop Panda falls into line when compared.
It's not picture-perfect though. A lack of LDAC capability due to the timing of approval is one such point. This is a very capable driver that can handle a lot more as exemplified by its excellent USB-DAC performance.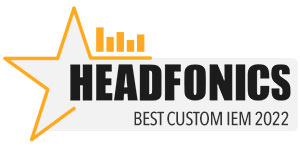 Top Gear 2022 Awards – Best Custom IEM
The JH Audio Sharona is a custom monitor designed for pleasurable listening. It delivers beautifully smooth and detailed performances with a tremendous sense of space to suck you right into a non-fatiguing but engaging sound signature.
Importantly, it is quite different from the current lineup such as the Layla, Contour XO, and Jolene. Not just in its tuning which, for me, has one of the strongest midrange performances out of these compared monitors. But also, in the design and build which is both smaller and much more relaxed in its fitting.
Both the tuning and the form factor are really tailor-made to stay in your ear for ages without causing any physical or listening discomfort. That should be right up any musician's alley for concerts and performance sessions that could go on for hours but don't discount the vocal-loving audiophile either. It has the chops for both audiences.
The FiR Audio Krypton 5 is one seriously impressive custom monitor with perhaps the most exciting or 'driven' tuning profiles we have heard in an IEM in 2022.
That Kinetic bass drops bombs left right and center without sounding fuzzy or overly bloomy. This is not a soft enveloping pillowy low-end, it's firm, defined, and breathtaking in its execution.
It's not all about the lows though. The harmonic balance is on point for my tastes, with nothing too sharp or warmed-up. Save for a bit of darkness in the upper mids this is a very balanced tuning. Give it power, give it good voltage and this CIEM will sound very energetic and lively.
Is it a reference-tuned offering? Nope, but sometimes being one of the best is not about being ruthlessly analytical, sometimes it can be hugely emotional also.
JH Audio Website | FiR Audio Website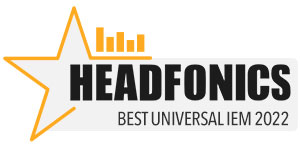 Top Gear 2022 Awards – Best Universal IEM
The Vision Ears Phönix is a pricey but beautifully designed high-end monitor built for blissful and stress-free listening. Its coherent timbre has an inviting and intoxicating blend of smooth-sounding mids and gorgeously rich vocals backed up by a punchy low-end performance when called upon.
It feels wonderfully balanced right across the frequency range and could well stand in as the yin to the rumbling high-energy yang of the EXT.
Certainly, these are the two best monitors currently on offer in 2022 from Vision Ears. And the best part is that the Phönix will not be a limited edition quite in the same manner as the fabled ERLKöNIG.
The Noble Audio Viking Ragnar is probably the company's most high-fidelity in-ear monitor in 2022. It is also unique from the competition in its spatial grandeur but no less of a technical performer with impressive levels of precise imaging and detail.
This is a purist's choice, it is not a riotous or aggressive tuning but it has a lot of flexibility with both intimate and expansive audio recordings. Nothing is missed, every minute detail is there. The only minor critique is the studied matching process with both tip and source. We have nailed on preferences and not every option was ideal but some were spectacular.
It is an impeccable-looking and very unique in-ear monitor design also yet still has that unmistakable Noble Audio vibe. All that would be for nothing if it didn't have the 'audible chops' that it most certainly has.
Vision Ears | Noble Audio Website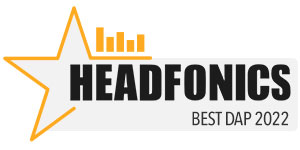 Top Gear 2022 Awards – Best DAP
The HiBy RS8 is one of the most complete DAPs launched in 2022. It has the most advanced operating system, a unique architecture evolved from the RS6, and quite obviously packs in our DAC of choice, R-2R.
Not just R-2R for the sake of it but desktop decoding levels of R-2R and a level of audible quality that competes with the gold standard, the P6 Pro from Luxury and Precision.
We have been waiting for an Android R-2R DAP that really delivers and the RS8 does that and then some. That natural and coherent sound is beguiling to listen to for hours and hours.
What needs to be improved sounds churlish but we would be remiss without the cons as well as the pros. It is big and heavy for one thing and personally, Class A and Class AB are not distinct enough leading us to just keep it in Class A out of pure audiophile snobbery. More daring Darwin presets from the manufacturers would not go amiss either.
Otherwise, the RS8 may well have set the standard for what is possible with this 'new old' technology.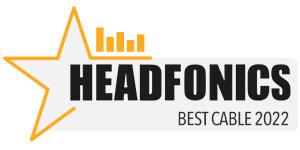 Top Gear 2022 Awards – Best Cable
The 2022 Chiron almost feels like a direct response to the 2021 Centurion's bombastic and high-contrast excitement with a more relaxed and very smooth-sounding performance when paired with our tested monitors.
If mids are your fourte, complete with creamy vocals and plenty of space for them to breathe then it's the perfect complimentary cable to the flagship's exuberance.
And it looks so very different from almost every Effect Audio design out there right now. That chocolaty-toned textured finish, smokey finished titanium barrels, and unique chin cinch mount make it probably one of our favorite designs to date from the company.
Obviously, it's not a cheap cable and perhaps one that is less suitable if you have a similarly priced monitor and looking for a simple upgrade to your stock cable. Like the Centurion, this is a cable to get if you have multiple high-end monitors and looking for something highly resolving with a very natural-sounding performance.
With all 3 cables in PLUSSOUND's '+' series covered we have to admit out of the three, we have a bias towards the Hybrid+ in terms of how well it performs with our tested monitor lineup.
It teases out a big-sounding, vivid, and engaging quality to beefy dynamic driver setups and pushes hard on the mid-bass punch with woofer BA configurations.
The blend of both metal elements is more refined than previous blended alloy creations in PLUSSOUND's line-up so it is not all about the impact either. Electrostatic and smaller BA tweeters sound very balanced, pure, and clear with this cable pairing.
If you can't decide between the relaxed warmth of the Copper+ or the clean reference tone of the Silver+ then this is an excellent and engaging mix-up of both of their qualities.
Effect Audio Website | PLUSSOUND Website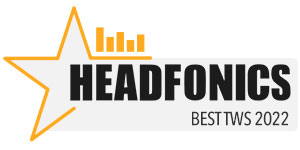 Top Gear 2022 Awards – Best True Wireless System
The 1MORE EVO TWS has become one of our favorite TWS models at this price range and you could even throw in some higher-tier models into that bottom list. The LDAC makes a difference here together with the hybrid dual driver setup that caters to sound quality over all else.
Of course, they are not monitoring tools and have a colored sound signature and if you prefer sterile and analytical then you might not like these much. We like them because of the fun sound signature that does well when you want to push some boundaries and just have some fun.
You could still employ the Sound ID feature and make them sound closer to your personal preference. So along with that versatility level, a decent app set, features, and sound quality, we would most certainly consider this TWS if they fall within your budget in 2022.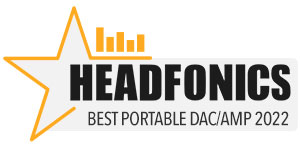 Top Gear 2022 Awards – Best Portable DAC/Amp
On paper, you might not think the Mojo 2 has enough of an evolution given it's been almost 6 years since the original first came out. Yup, a USB-C was clearly needed and it has got one now with more complexity in the control system but otherwise, it looks almost the same as before.
However, dig deeper, especially with the new menu system and those UHD DSP controls and you will find a much more mature and customizable Mojo on offer in 2022.
Quite apart from a stock sound that feels more accurate and energetic compared to the V1, the Mojo 2's DSP suite is seamless in terms of having no impact on dynamic range and a lack of volume attenuation. You can hear the changes it makes right away and you tweak it right across the frequency range to suit your tastes.
For those who have the V1, we encourage you to demo the new Mojo 2 and see just how well the new sound and DSP match your monitors or headphones of choice. For those who do not then it's a no-brainer, still one of the best-sounding portable amp/DACs in this price class in 2022.
The FiiO Q7 is a largely faithful reproduction of that robust and exciting sound of the flagship M17 DAP for a much lower price.
For those who felt the M17 was out of their budget and did not want to be tied to one spot in the room with the K9 Pro ESS then the Q7 is easily the next best thing in FiiO's burgeoning lineup.
The only key difference might be that switch to the single DAC implementation instead of the M17's dual which softens up the performance ever so slightly. Other than that, it is a banging tuning with plenty of headroom for both IEM and headphones alike.
Yes, it is big, it's more transportable than portable, and we honestly have a hard time putting it in the same usage scenario as a Chord Electronics Mojo 2 for example. However, it has just about everything you could want for an affordable heavy hitting transportable compact desktop amplifier.
The SRP is on point for me in 2022. This is an offering drenched in value if you need something with huge power and loads of I/O options in a relatively compact and attractively made form factor.
Chord Electronics Website | FiiO Website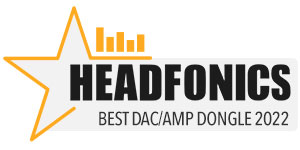 Top Gear 2022 Awards – Best DAC/Amp Dongle
The Cayin RU6 offers a different "analog" approach in the world of highly integrated delta-sigma chipset packages and DSP filters. One that preserves a tube-like musical quality but with much finer volume control and packed within a favorable form factor.
I have never imagined an R-2R dongle could come alive let alone offer oversampling features and step volume features on USB-powered devices. It gives the system a lot of flexibility and modern technicalities yet still delivers a distinctly natural sound with a lot of character.
Perhaps some of the up-and-coming dongle DACs will exceed the iFi Audio GO bar's performance but in 2022 it seems to stand up to its claim of being the most powerful dongle DAC around that employs the addictive iFi Audio features like Xbass and XSpace plus selectable DAC filters in a device that is super portable.
The standout points are all skin deep and heard but not seen. Tonality, color, body, raw power plus one of the best imaging capabilities we were able to extract from all the dongle DACs that crossed our hands make the iFi Audio GO bar probably one of the best dongles we have reviewed in 2022.
Cayin Website | ifi Audio Website
Click on page 2 below for our desktop and personal choice awards of the Headfonics team for 2022.