This is a review of the Focal Bathys which is the company's debut closed-back dynamic driver headphone with BT5.1 and active noise canceling. It is priced at $799.
Disclaimer: This is a sample sent to us in return for our honest opinion. Headfonics is an independent website with no affiliate links or services. Thank you to Focal for this opportunity.
To read up on other Focal products previously covered on Headfonics click here.
Note, that this article follows our latest scoring guidelines which you can read up on here.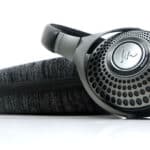 Focal Bathys
For travel audiophiles, the Focal Bathys represents a serious upgrade on consumer headphone choices from the likes of Sony and Bose. It also offers a more coherent and lively tuning compared to more heavyweight alternatives such as the Amrion wireless. Heck, even my little Panda falls into line when compared.
Pros
Balanced tuning with good vocal presence
Beautifully designed
Good noise canceling performance
Cons
No LDAC
No passive wired mode
Despite having an enviable lineup of stellar-sounding audiophile headphones for a good number of years now, the Focal Bathys is actually the French audio firm's first-ever wireless, (Bluetooth), ANC headphones.
Sure, they had the Listen on-ear back series first launched in 2018 which is also a BT wireless design but the latest launch looks and feels like a big upgrade in every way.
Like the Mark Levinson No. 5909 that Mike reviewed a while back, the Bathys feels like a serious grab for the top spot. It brings all the qualities of Focal's classic audiophile headphone designs, both driver and exterior, and wraps it in its most portable and travel-friendly version to date.
Tech Highlights
The Focal Bathys is a full-sized or circumaural closed-back headphone. It can act in either wireless Bluetooth 5.1 mode or with a single-entry 3.5mm SE wired mode. It also has an additional USB-DAC built-in functionality with a matching USB-C to USB-A cable to unlock that mode.
Driver
Inside, the Bathys uses an in-house French-designed 40mm Aluminum-Magnesium M'-shaped dome driver which first saw the light of day with the launch of the Elear open-back headphones back in 2016.
Most recently this driver has popped up inside the blue-tinged Celestee launched in mid-2021. This is also a closed-back design with a similar price point priced and could well be the source of inspiration for the Bathys internal driver setup.
The Bathys driver implementation does differ from the Celestee with a smaller basket and a magnet array that is not as deep because of the smaller earcup and increased competition for space with the additional wireless, DAC, and internal amplifier components.
Wireless
Bluetooth functionality includes multi-point which should be a popular move for most users. Decoding does lack LDAC and aptX HD though with top-tier codecs including aptX Classic and aptX Adaptive down to SBC and AAC.
That means a potential decoding rate of up to 24BIT/48kHz but with a reduced algorithm latency of less than 2ms at the maximum of 48kHz using Adaptive.
Aside from decoding rates, the Bathys BT functionality will allow the user to tap into Amazon Alexa/Google Assistant voice technologies and Google Fast Pair if your phone is compatible. You also have a degree of control customization via app integration, (see below in the control section for more details on the app).
The final highlight is of course active noise canceling which, comes in two primary modes: a less 'soft' mode and a 30dB attenuation level stronger 'silent' mode. The third mode is called 'transparency' which allows a lot more background noise to be heard during use.
Wired
The built-in USB-DAC will give you the highest 24BIT/192kHz decoding rate which is competitive for wireless headphones with similar types of capabilities such as the HIFIMAN Ananda BT and the company's recent Bluemini module.
The USB-DAC feature also includes an internal headphone amplifier that works in active mode. That means it picks up the analog signal from the USB-DAC and sends it to the drivers under its own steam.
That might differ a little in terms of performance from the Bathys final feature which is a wired single-entry 3.5mm unbalanced input feature though it does not bypass the internal amplifier so you cannot use the Bathys in passive mode or with it turned off. You can find out if and how the various modes differ on page 2 of this review.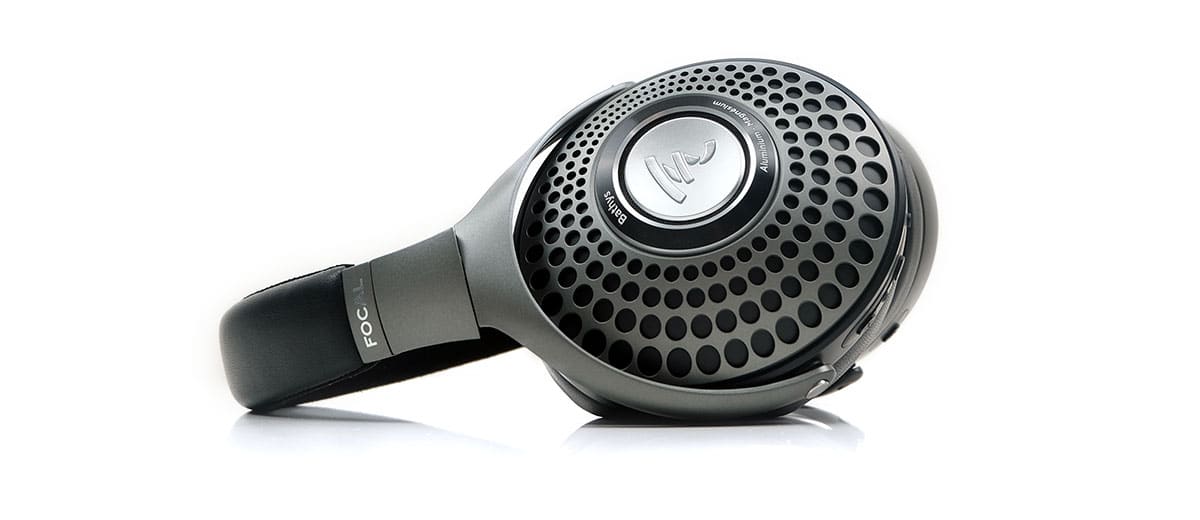 Design
The aesthetics and form factor of the Bathys is unmistakably a Focal creation only this time the black and silver color scheme has more of a classy executive look to it.
The legacy design includes Focal's very unique and attractive spiral ovoid grill pattern similar to the rest of the Focal closed-back range such as the Celestee and the flagship Stellia.
The center is finished with the silvery flame Focal emblem but, given its wireless capability, this version of the emblem plays a more active role in the Bathys operation.
It's a looker, no doubt about that but also a sturdy creation with little in the way of creaky articulation that plagues my older Focal Elear set. The Bathys rotates 180 degrees or folds flat, and extends smoothly on its hinges but stays very quiet in doing so.
The sturdy part comes by way of the use of strong but lightweight magnesium for the yokes, plastic cups, as well as aluminum on the headband which is wrapped in cushioned microfiber and finished on top with real leather.
The ear pads themselves are also finished in a soft leatherette material wrap with some very plush and flexible memory foam underneath.
The Bathys is also a relatively compact headphone despite its circumaural credentials though not a featherweight weighing in at 350g. Most likely one factor in the weight is the slew of additional onboard modules such as controls, Bluetooth, DAC, and amplification.
Comfort & Isolation
The comfort levels of the Bathys on the head are really good. As mentioned, the cup and pad inner cavity are not huge but they do not have to be as they use an elongated contour rather than a traditional circular shape.
That means more inner wall height without having to compensate with huge width allowing it to clear most people's ears and stay firmly to the side of your head. The leatherette pads are supremely soft also meaning the lateral clamping pressure is barely noticeable at the point of contact with your head.
I would say though that lateral pressure slightly outweighs vertical, however, that's completely fine as a single headband with a narrow point of contact is never ideal for vertical pressure dominance as it can create irritable hot spots after prolonged use.
Oh, and in case you are wondering the pads are detachable, (clips-based) and can be replaced if required.
ANC
As a passive closed-back, the level of isolation is above average, to begin with. Credit to Focal for their pad choices because these particular ones bend and shape perfectly on the side of my head with no perceived break in the seal until I start lifting them off my head.
However, from its 6 ANC-specific microphones the potential 30dB of additional noise attenuation does make a considerable difference to your surroundings. Given the size of the cups and the dimensions that those ANC mics have to cover I think the Bathys do an excellent job of blocking out a wide range of low-frequency environmental noise.
Now is it as strong as the likes of Sony and Bose? I own both the Bose N700 and an older WH-1000XM3 which, for me, are consumer-grade audio performers with great noise canceling and I do have to admit both of these have a wider range of attenuation.
A subjective A/B test with all 3 seems to indicate the Bathys highest point of noise attenuation is more on the low-frequencies up to around 1-2k where it sort of slips back a bit meaning you can hear some high frequency and a bit of upper midrange frequency noise.
With the Sony and the Bose versions, you can only hear higher-frequency background noise with both mid and low-range hum completely blocked out.
Stock Cable
As is the case with a lot of wireless headphones the accompanying wired option cable is more of an afterthought than a grab for par excellence in terms of materials and performance.
The Bathys stock cable is a fairly non-descript 1.2m single-entry design with a rubbery black jacket and a single-ended termination using 3.5mm plugs on either end. The connecting jack for sources and amps is angular with decent strain relief with the connector side a TRS 3.5mm straight jack.
Microphonics are pleasingly low though there is a degree of cable memory retention that takes a while to calm down though in truth it will never go completely straight unless pulled taught. Though the specs do not say anything about the wire inside, I am presuming it's an OFC-grade copper wire.
Battery Life
You get a few levels to the Bathys battery life and ultimately what level will depend on how you intend to use it.
At its lowest point is a fairly impressive 30 hours with wireless ANC activated stretching up to 42 hours with the USB-DAC function and in between, you get about 35 hours using the jack input. That is quite impressive and on par with the likes of the beyerdynamic Amiron Wireless and beyond the rated 21-hour battery life of the Bose N700.
Focal does not say how exactly those measurements are weighted for testing but I would have to presume mid-volume level with ACC and SBC codecs and perhaps the soft mode of ANC to maximize the life cycle.
With aptX and the silent mode and a higher volume level, the battery life does drop by a few hours but not by a huge amount. If you mess around with other features constantly such as Voice Assist and volume controls you might reduce that by a few more minutes also.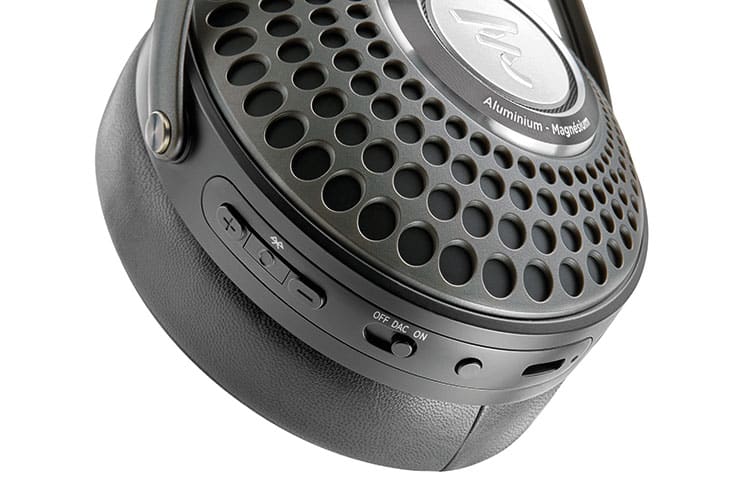 Controls
You can control the Bathys in two distinct ways, physical via its onboard buttons on the base of both cups and via the app which is both Android and iOS compatible.
Physical
The majority of the Bathys' physical controls are packed into the right cup in a fairly discreet or low-profile manner. Thankfully, they are raised and not flat with the ring so you can distinguish them via your finger without having to double-check where it is.
From here you can control volume, pairing, and mode of connection, (wireless or DAC) as well as charge and slip in the cable for a wired connection. A number of features will prompt a voice command also such as the voice assistant or a small soft beep for ANC.
For ANC itself, that is housed on the left cup and it's the only button on that particular cup and within easy reach of your fingers. You shouldn't have too many issues managing which level of attenuation you prefer with single clicks to cycle through each mode. Note a 2-second hold will get you the most powerful silent ANC mode on the Bathys.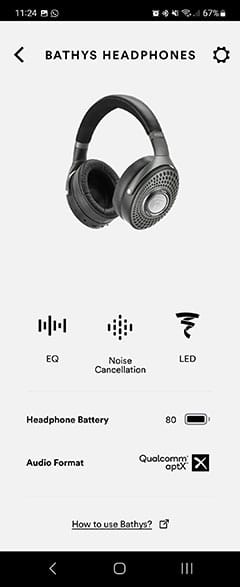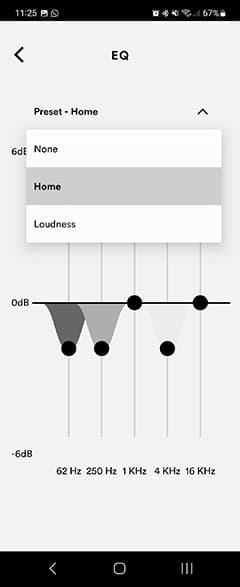 App
The alternative method of control is via the new Focal & Naim app that covers a number of Focal products including the Bathys. I did have some slight teething issues getting both the app and the headphones to recognize each other but once sorted it will retain the profile in its memory when you restart.
One other thing to note is if you connect a cable to the Bathys the wireless function will automatically disable meaning you need to take out the cable to pair with your source over Bluetooth.
Once paired the app will show the Bathys itself at the top with access to a wide range of functions including the current codec being used and your battery life.
Features include turning off the external LED light and being able to select your ANC levels. You also get a 5-band EQ with two presets called home and loudness which relate to your specific playback environment, (quiet and busy).
The home preset drops the low-end dB by around 2dB up to 250Hz and the head gain also by a similar 2dB around 4kHz. The loudness preset goes in the opposite direction by amplifying the sub-bass by 2dB up to 62kHz and dropping the 1kHz marker by around 3dB.
You are not fixed to these profiles, however, with all the key points of the 5-band EQ customizable via touch up to 6dB high and low so feel free to create your own profile as you see fit and then save it.
The only thing I cannot see is the possibility of OTA firmware upgrades which I am told by Focal will be possible at a later stage in the app lifecycle.
Packaging & Accessories
From the looks of it, and bearing in mind it's my first Focal unbox, the Bathys packaging seems a slimmed-down affair compared to their high-end headphones.
Still, it's slick and professional looking with more of a consumer mid-sized white retail box housing the contents. Inside, you get an attractive fabric-finished low-profile zippered headphone carry case in a matching black/silver finish.
Everything aside from the Bathys manual and warranty materials is housed inside the case including the fold-flat headphones, USB-C to USB-C cable, and the 1.2mm SE cable.
Everything is kept cleanly in its place with a slim but firm central divider that should keep the headphones safe during transit. The case also has a small mesh canopy in the lid for anything else you want to slip in there though it will need to be fairly light and small to fit in cleanly.
Click on page 2 below for sound impressions and wired/wireless performance