In this feature, we review the Effect Audio Chiron which is a flagship 8-wire 26AWG hybrid cable from the company's classic Hall of Fame series. It is priced at $2999.
Disclaimer: This was sent to us as a sample for our honest opinion. Headfonics is an independent website with no affiliate links or services. Many thanks to Effect Audio for giving us this opportunity.
To read more about Effect Audio products previously featured on Headfonics click here.
Note, this article follows our latest scoring guidelines which you can read up on here.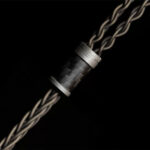 Effect Audio Chiron
The Effect Audio Chiron almost feels like a direct response to the Centurion's bombastic and high contrast excitement with a more relaxed and very smooth sounding performance when paired with our tested monitors. If mids are your fourte, complete with creamy vocals and plenty of space for them to breathe then it's the perfect complimentary cable to the flagship's exuberance. 
Pros
Smooth holographic Performance
Intricate Build Quality
ConX
Cons
Might be heavy for some
It's CanJam season for those in the know with the Singapore show making a welcome return in about a month's time. That means new product announcements, not least Effect Audio's latest high-end cable, the Chiron.
Priced at an eye-watering $2999 it is surprisingly not the most expensive in their lineup. That accolade goes to the incredible-sounding flagship Centurion which walked away with our Top Gear cable award last year.
However, it is the flagship cable of their long-running Hall Of Fame Series that includes the likes of the Horus (X) so it is in some fairly high-end company. It also looks very different from some of their previous creations and perhaps indicates a more eclectic approach to how their cables should look, and quite possibly sound also.
Tech Highlights
Wiring
The Chiron wire consists of two metals, the gold-plated silver-gold alloy used in the flagship Centurion cable, and the gold-plated silver last seen in the Horus X. If anything, you could call this a hybrid of both of these previously reviewed cables into one single cable.
The gold-plated silver-gold alloy is also a fused single element per multi-sized strand and not a mix of strands with individual metal elements. The UP-OCC gold plated silver is a signature element used in the Hall of Fame and like the Horus X, it is 5N rated.
The Chiron uses UP-OCC grade for all its wire materials. The grade of UP-OCC being used is quite complex and similar to the build process for Code 51 with a woven Kevlar material technique inserted into the Chiron Litz geometry build to keep the elements stabilized and working optimally.
Element Properties
Silver is generally accepted as the best conductor material for audio cables. People often talk about silver being bright or neutral and clean but you will find lots of variation in silver cable responses, especially when mixed with different elements such as copper and gold.
Gold is actually quite low in conductivity and higher in resistance compared to silver. Soft gold is also a fairly expensive raw material or one that jacks up the price.
Resistance engineering with gold can be used to change the response and subsequent timbre of certain cables when paired with monitors. Gold plating therefore should not be seen as a roadblock to resolution or dynamic range because of its lower conductivity.
One of the big factors in gold is its anti-corrosion properties. Plating highly conductive silver with gold not only shapes the final sound signature in terms of resistance but also prevents oxidization on the wire.
Geometry
As with the Horus X and Centurion, Effect Audio has gone back to type with an 8-wire 26AWG geometry with multi-sized stranding.
That is a slightly smaller gauge size than the 24AWG Code 51 but the additional 4 wires should give it plenty of dynamic range and low resistance required for a wire at this level. It does mean that it is a fairly chunky cable compared to 4-wire equivalents.
The Chiron also uses a 7-core proprietary Litz build with similar geometry to the Centurion. The diagram above has the configuration as 6 outer bundles of gold-plated silver with the gold-plated silver-gold alloy as the central bundle.
A multi-sized stranding Litz geometry should offer better high-frequency reproduction due to what is known as the "skin effect" where electrons travel along the skin of the wire. A Litz cable has a higher surface area than regular builds and for that reason should deliver a better high-frequency performance.
Multi-sized stranding also allows Effect Audio to build a Litz cable with different-sized wires, thinner ones for high frequencies and thicker ones for the lower frequencies.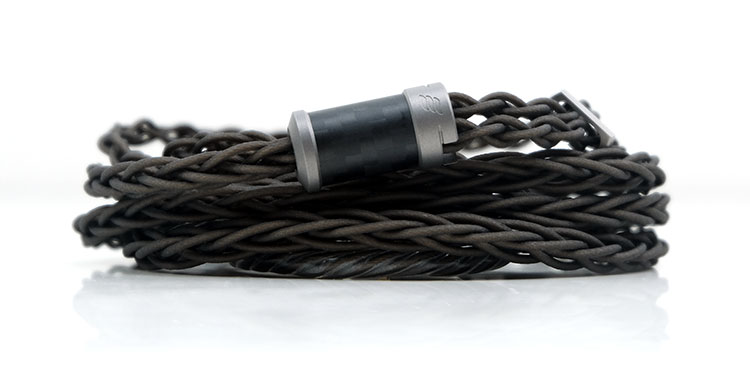 Design
All change once again with a swing to the 'dark side' for the Chiron aesthetics. Not quite the black of the EVO 10 but rather a dark chocolate brown hue for the jacket and a smoky gunmetal vibe for the matte sandblasted titanium barrels. I honestly quite like it. This is unique looking and provides a really nice contrast to the countless transparent-themed PVC jackets out there.
One thing I did note was the finish on the 1.2m EA Ultra Flexi Insulation jacket which feels a bit rougher in terms of texture and not as smooth to the touch as the previous EA jacket designs. This is not a flaw by the way. In fact, it feels a lot grippier as a result, and like the looks, it sort of adds to the freshness of the design.
The only drawback of this new direction is that the longish reflective memory retentive coating on the connector side sticks out like a sore thumb whereas with a transparent PVC jacket that blended in a lot better. It is not a huge issue but takes away slightly from the otherwise very attractive new design.
All the strain relief is internally housed on the Chiron build which reduces that whiff of DIY you get with some heatsink wraps or silicone casing you get with competing cables.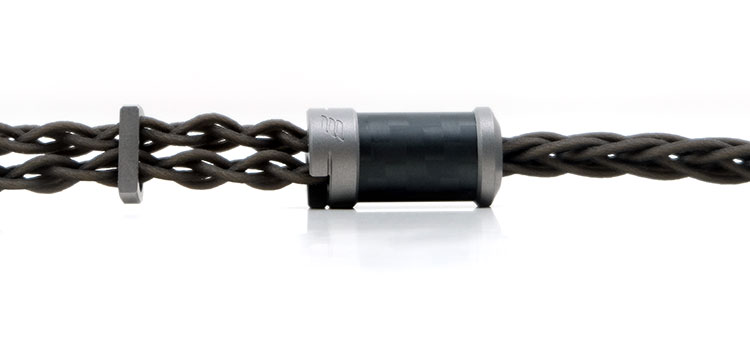 Finishing
For the barrel finishing EA has elected to return to the more standard round barrel shape used on the Horus X but has leaned on the Code 51 legacy by using lightweight gunmetal-toned titanium materials combined with some overlaying dark carbon fiber prints.
The resulting look is stealthy rather than bright and shiny and entirely in keeping with the dark vibe of the Chiron in general. Both the jack and splitter barrel have some low-profile EA branding etched into their outer rings above the prints so they look almost identical save for the form factor of the jack end which is a bit longer and narrower.
And yes, the smaller connector barrels are also lightweight titanium and similar gunmetal-themed in their finishing to keep everything in perfect harmony aesthetics-wise. The Chiron connectors also come terminated as standard with EA's ConX interchangeable connector system and they also are made of titanium with a small gold-plated ring finish on the connection side.
The connection system will come complete with 5 connectors now instead of the original 4 which means you have the option to connect to IEMs with 0.78mm 2-pin, MMCX, 'Ear' connector, A2DC, and the new IPX for UE and Westone fans. For the jack, it's EA's PSquared/P-EA Plug with 2.5mm, 3.3mm, and 4.4mm balanced options.
One nice little touch is the titanium-finished Chiron chin cinch's resting point on the cable. It's actually cut directly from the splitter barrel enclosure. That means its lowest point on the cable is actually inside the barrel itself making it almost invisible.
Watch out when articulating the cinch, however, the rougher texture can make it a bit notchy on its travels but it is workable and holds a firm position when in everyday use.
Comfort On The Ear
Because the Chiron is an 8-wire creation there will be a bit more weight to it and some more direct pressure on the top and rear of your ear when in use. The memory coating is a soft springy type of silicone which does help to mitigate any discomfort, especially with the new jacket finish having a rougher texture.
None of this should be unfamiliar territory to you if you are already a Centurion or Horus X owner. Personally, I never really find an 8-wire to be uncomfortable though glasses users might find they have less space to operate in for both wire and frame.
On the ear, the cable behaves beautifully with no memory retention, zero microphonics below the splitter, and a nice even distribution in weight so it doesn't feel unmanageable.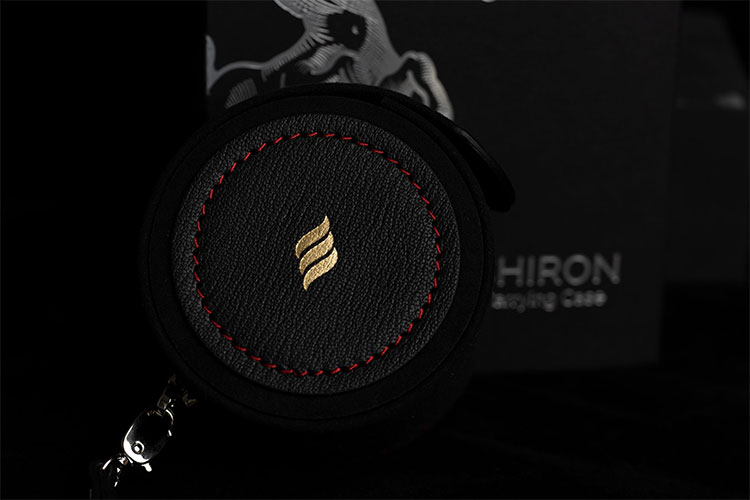 Accessories & Packaging
We personally did not receive any of the packaging material and accessories with our sample's early arrival before the official launch. That means we cannot give you too much insight into the hands-on feel of the box and carry case.
However, we do know that the Chiron comes complete with a side-opening structure carrying case finished with an Italian Alcantara & 'Sully' France Goat leather material and is equipped with a leather carry chain to attach to pretty much anything on the go. It seems a step up on the Patina-finished Horus X version from the picture supplied above.
The compact packaging container is not as complex or grand-looking as the Centurion display stand but then again it is quite a bit cheaper. It does borrow from Code 51's legacy with that suede-finished black display layer that the cable comes smartly wrapped over.
Performance Impressions
Summary
If the Centurion was a union of Code 51's power and Horus X's fidelity, then the Chiron is a fusion of the Horus X and the Centurion itself with similar dynamic range performance. Now how does that work out in reality?
Well, with our tested monitors, the Odin, U18s, and the Phonix, the Chiron delivered a denser, warmish tone with pleasing levels of euphony on the vocals in particular. However, like the Horus X, it also has a more neutral bass response compared to the Centurion in terms of sub-bass impact and elasticity which, in turn, gives the lower mids a bit more presence.
In keeping with the Centurion heritage, that coloration from the Chiron is accompanied by a tremendously spacious soundstage quality.
If you are upgrading from something like Code 51 you are going to immediately hear just how much wider the Chiron staging quality is and how much blacker the background has become. I hate to say it but Code 51 sounds more center-focused in comparison with a little less dynamic range.
However, the other key trait, something which Code 51, the Centurion, and Horus X all share is plenty of treble shimmer with a brighter upper mids, particularly on the Odin.
The Chiron is unique among the four mentioned cables by shaving off a little of that treble energy in favor of delivering some additional euphony and density through the mids. This works extremely well with the 64 Audio U18s and perhaps more so the A18t whose mids are somewhat neutral in imaging and a bit lighter in tonality.
It also blends really well with the Odin if you felt that upper-mids and treble combine biased to the slightly edgy side. They sound a lot smoother with the Odin, as well as offering a fuller-sounding midrange overall.
Coloration
Compared to the Centurion, the Chiron is a smoother sounding cable with slightly less treble fizz or energy. In return, you get a very natural sounding to slightly warm and rich-sounding midrange timbre and some excellent body in the lower mids in particular.
Surprisingly, and again this is contextual to the Centurion, the Chiron pairings I tested produced a strong weighted bass response but one that did not quite have the dynamic prowess as the flagship sound signature. Rather, the bass felt a little more linear or neutral in terms of imaging and not as dominant as something like the Code 51 produced.
This prowess is more focused on the sub-bass presence rather than the mid-bass to lower-mids which sounded fantastic with the Chiron.
With the Centurion the PRaT from the sub-bass impact is stronger and more dynamic, similar to the Code 51 emphasis but combine with a more spacious mids and treble sound. You could hear it hit the absolute depths with plenty of gusto.
The Chiron does it slightly differently. For example, the Odin low-end was solid and dense but it images a bit more neutral from sub-bass to mid-bass giving it more of a punch and less of an absolute rumble. Do not get me wrong, the PRaT is excellent but it is a smoother sound and a warmer instrumental timbre and something which benefits the Odin's dipped lower mids.
Female vocals are gorgeous with the Chiron. The sound is smooth, creamy, and broad in texture with excellent resolution. The Chiron takes an edge of our monitor's treble presence, hence the enhanced euphony and slightly more rounded tone overall. If you have a monitor with clean lighter mids or a feisty upper-mids presence, the Chiron keeps it nicely under control.
Staging & Dynamics
Excellent in every dimension though perhaps a shade more controlled in terms of energy at the very extreme frequencies. If you want the absolute in terms of upper treble sparkle and depth I would suggest the Centurion.
What the Chiron does extremely well is create plenty of space around the instruments and in particular some excellent staging width. It far outshone Code 51, for example, in casting a wide yet believable stereo image with a slightly better dynamic range also.
Its calling card is those beautiful mids and how it arranges everything in a very natural yet spacious manner. Lower mids have a beautiful level of vibrancy and to be honest it is hard not to have your ear drawn to any mixes with solid bass guitar plucks driving the rhythm. Vocals have a superb presence also with the Chiron in tow with all our tested monitors.
Power and PRaT are slightly north of neutral, more so than the Horus X but a little south of the Centurion's rumble. It is still a nice and deep low-end response but is slightly softer and more languid in its delivery compared to Code 51 and Centurion.
The Chiron works far better if you want to flesh out the lower mids of your IEM a bit more and keep them from sounding thin and fragile for instrumental notes from around 500Hz up to 1k.
Click on page 2 below for pairings and select comparisons