Our review today covers the HiBy RS6 which is an R2R DAP featuring the company's new in-house Darwin Hi-Res audio processing architecture. It is priced at $1399.
Disclaimer: The HiBy RS6 was sent to us as a sample in exchange for our honest opinion in this review. We thank HiBy Music for this opportunity.
To learn more about HiBy reviews on Headfonics you can click here.
Note, this 5-page review follows our new scoring guidelines for 2021 which you can read up on here.
HiBy RS6 Review
Kudos to HiBy for bringing out an R2R DAP on the Android platform. The RS6 presents a nice alternative to the Cayin R01/N6ii and a different sound signature also which can only benefit the potential buyer in the end. Definitely, a worthy introduction for those analog lovers whose wallets simply will not go as deep for the excellent LP P6 Pro.
I think most potential buyers or readers might initially pick up on the fact this is HiBy's first R2R-based Android DAP.
This is an implementation that seems in vogue for this challenging supply chain era, especially after the AKM fire and the recent discontinuation of some of their previous popular DAC solutions. Companies such as Cayin and Luxury & Precision have rolled out some excellent portable R2R solutions in the last 12 months.
However, the RS6 is actually much more than just a $1399 portable R2R solution. There is a lot more going on here and potentially, this might be one of HiBy's most important product releases since the original R6 DAP back in 2017.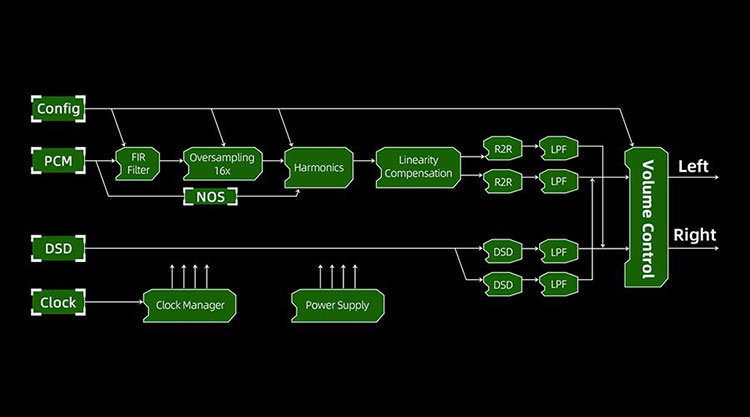 Tech Highlights
R2R DAC
For those that are new to R2R, this is an entirely different approach to digital to analog conversion compared to the more typical delta-sigma single chipset that has been the staple of HiBy DAPs previously.
The R2R implementation here is discrete based and should not be mistaken for the R2R multibit chip-based solutions offered by the likes of TI (Buur Brown) with their now discontinued PCM1704k used in the likes of the HIFIMAN R2R2000 portable streamer series.
All aforementioned options deliver excellent but different listening experiences but from an engineering angle, going discrete means you are in total control of the implementation. With delta-sigma and to a lesser extent chipset R2Rs you have an easier-to-engineer offering but an all-in-one digital decoding solution with more limited parameters.
The RS6 R2R implementation is a 24BIT resistor ladder network design with individual matching resistors, (within 1/1000), at 48 per channel. The R2R DAC receives the digital signal for analog conversion after it goes through the initial filtering, phase control and harmonic tweaking process, as well as the necessary clock adjustments from its dual audio crystal oscillators.
Alongside the core PCM serial data processing, and within the same architecture, the RS6 also offers a specific and separate set of Low Pass Filters (LPF) for DSD HF noise reduction via the DSD bypass functionality.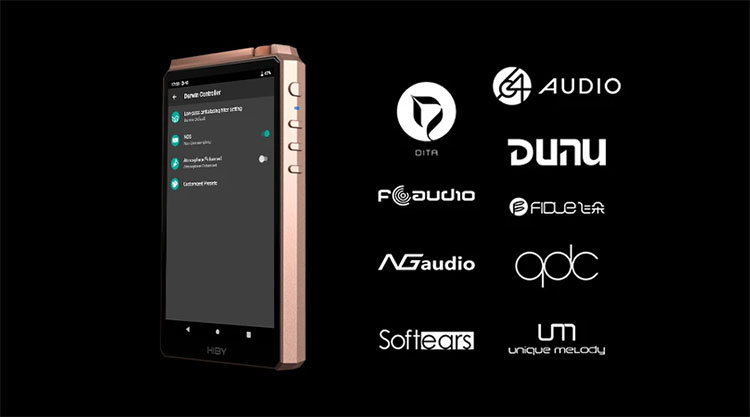 Darwin Architecture
So, R2R is but one ingredient in a wider implementation inside the RS6. That wider implementation is known as the Darwin Architecture, a label that permeates through almost every aspect of the RS6 branding right down to the Android 9 theme out of the box.
At the high level, this is an end-to-end Hi-Res Audio processing design that incorporates everything that happens before, leading up to, and including the R2R resistor-based DAC solution.
That includes some features that whilst quite normal for a desktop R2R DAC they may be entirely new for an R2R DAP at this point in time. Options such as its DSD bypass and 16X oversampling, linear phase control through a 256-tap FIR filter system. NOS, however, is a feature on the Luxury and Precision P6 and P6 Pro.
What seems to be stand out for me as a user, however, is the ability to customize beyond the original sound and adapt to specific manufacturer earphones and monitors for optimized performances. In short, presets and harmonic controls that are tuned specifically for your favorite IEM.
Not just one batch of presets, but potentially endless numbers of presets from this in-house architecture which HiBy are essentially pitching as a continually evolving solution. In fact, with the latest firmware update, we have been seeing just that with the addition of some new Vision Ears and 64 Audio presets.
Decoding
Portable R2R decoding has yet to reach the heady heights of desktop alternatives but at DSD256 and 768kHz PCM (WAV) those numbers are very consistent with competing R2R DAPs. Both the Cayin R01 and the high-end Luxury & Precision P6/P6 Pro series also tap out at a maximum of DSD256 for native DSD decoding.
For TIDAL streamers, the MQA folding capability of the RS6 is on par with the R6 2020 and the flagship R8 with X16 decoding. Jus note unfolding and upsampling for MQA is done via the Snapdragon CPU and prior to the signal hitting the R2R DAC. Everything else is oversampled via the DAC's 10 preset filters.
That also places it ahead of the R01 R2R motherboard from Cayin and the Luxury & Precision P6 and Pr6 Pro which have no stated MQA support. With alternative motherboards such as the A01, E02/E01 you can get up to 8X, and the T01 at a lower 4X but you revert to a Delta-Sigma DAC.
Wireless Decoding
The RS6 uses Bluetooth 5.0 with up to LDAC transmitting and receiving capability so decoding rates are up to a maximum of 24BIT/96Khz though if you go wireless via WiFi, for example, DLNA you can revert to the DAC's maximum decoding potential with the only restriction being your modem buffer rate.
DTA
Note, as with previous HiBy implementations the RS6 will give you bitperfect system-wide audio capability via its Direct Transport Architecture, (DTA), so typical Android sampling rate restrictions are bypassed for almost any audio app and not just HiBy's own Music app.
Amplifier
Topology
The RS6 uses a current-mode amplification stage with an OPA1642 and a dual OPA1612 for current buffering for both the R2R and the DSD LPF signal path and the coupled to 4 OPA1622's for a 2x paralleled 8 channel headphone amplification output. That covers 4 outputs in total, LO for both SE and balanced, 4.4mm PO balanced, and a 3.5mm TRS unbalanced port.
In between both the buffer and the headphone amplification output the volume remains within the digital domain via an NJR (New Japan Radio) NJW1195A digital volume controller.
Performance Numbers
Output power for the RS6 is a bit lower than the R6 2021 at 180mW@32Ω SE and 690mW@32Ω balanced compared to 245mW and 750mW on the same settings. It is also easier on the power than the Cayin R01's 240mW SE output but stronger for balanced compared to the R01's 430mW 4.4mm PO rating.
Going SE, you might consider the RS6 to be more of an IEM focused DAP with those numbers and true enough many of the Darwin presets coming out for it currently are purely in the IEM domain. However, for less demanding headphones such as the Hifiman Ananda, the RS6 might prove to be a worthwhile pairing.
The RS6 balanced PO 690mW rating is still very competitive though when compared to the excellent LPGT which is a straight 500mW max for its own balanced output on a 32Ω load. However, it is some way short of the DX300's AMP11 MK1 at 1240mW on a 32Ω load balanced and HiBy's flagship R8's maximum 1044mW Turbo Mode balanced output capability.
Line Out
One final but important note, the RS6 offers a dedicated or true LO for both 3.5mm and 4.4mm outputs with standard voltage ratings of 2V and 4V respectively.
That is something that is missing on the Cayin R01 circuit design which only offers SE and balanced PO options. The nearest competing LO for an R2R DAP is the LP P6 and P6 Pro whose 4.4mm LO and 3.5mm LO are single-ended and not dedicated in design with a switchable voltage ranging from 1.55V and 2.45V.
Design
Dimensions
It was James who reviewed the R6 2020 last year so this is my first time handling a new R6-type design. I must say the RS6 looks are pretty consistent with the R8 aesthetic only a heck of a lot smaller and lighter with of course that beautiful copper material housing.
Whilst by no means a tiny DAP this is definitely a portable class device in the same vein as the N6ii and the Lotoo PAW 6000. Measuring at 130mm x 73mm x 15 mm it's possibly one of the thinnest high-end DAPs out there besting the DX300 by 2mm and the Cayin N6ii by 6mm. Definitely easy-going for single-handed use.
The weight is a bit higher than some, almost 100g more than the previous R6 2020 at 335g compared to 235g and 45g more than the Cayin N6ii. In fact, it's actually 4g heavier than the LPGT which is no surprise given the weightier copper materials which also act as a heatsink.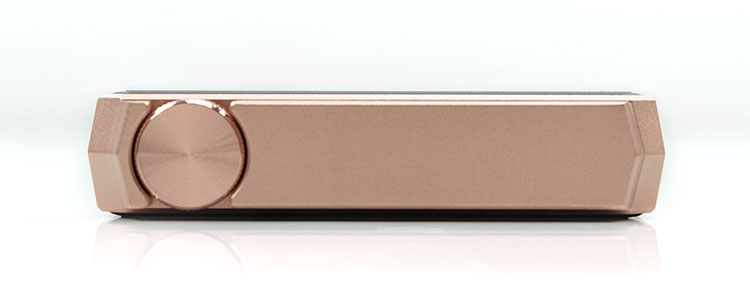 Aesthetics
Currently, the RS6 only comes in one color, a fairly Asian-styled champagne gold which is quite popular in this region. This is accented with the black of a thin almost borderless 1080p IPS panel to the front and a carbon fiber design with a tempered glass panel to the rear.
The design language is minimalist with some nuanced side panel angulation or creasing as I like to call it and with functionality either to the right-side panel or the base panel for I/O. The left is very clean save for an open single MicroSD slot.
The ALPS pot positioning and housing guard are very similar to the discreet top panel look of the R8 only much smaller. It is well protected behind a flush-top aluminum panel so it should not be prone to accidental knocks. The knurling finish of the dial is good for grip though its diminutive size and discreet positioning make it a bit fiddly once you throw on the case.
The dial action is not terribly friction-resistant but it does feel very precise with plenty of clicks in its 100-step volume range making it very easy to use. You can of course still digitally control the volume with HiBy's on-screen volume 'curved' GUI, a legacy from their previous DAP's OS.
"Tweaks"
I would not call this an exact miniature duplicate of the R8, however. There have been a few tweaks, possible compromises to keep the price tag down. Small changes include the amount of edge beveling which is reduced on the RS6 producing a slightly sharper feel to corners, particularly around the potentiometer guard.
Other small changes include doing away with the R8's physical button angulation with a more level slimline button implementation. I suspect this might be more to do with the smaller chassis presenting less of an issue in terms of thumb coverage on the sides.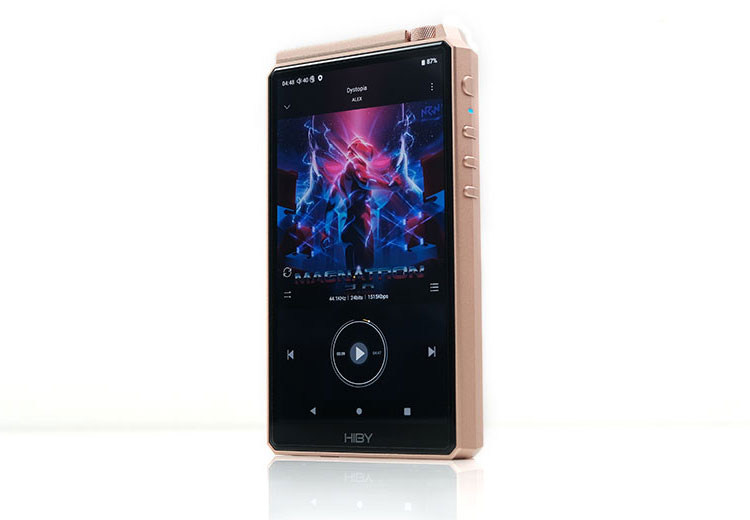 Screen
The screen is naturally smaller than the R8 at 5″ but the RS6 screen still has an impressive low bezel almost borderless profile that gives that improved 443ppi screen presence a bit of pop. I would love to see HiBy release a black version of the RS6 which works wonders for maximizing the perceived screen size.
It is not quite as borderless as the R8 which stretches almost right to the very edge and you can see that when placed side by side with each other. However, both do have that similar thicker bezel or additional chassis housing at the bottom so the feel from using the touch control is very similar.
As with the R8 screen, the RS6 version looks glorious, particularly with the Android 9 dark theme. The panel itself is a multi-touch capacitive IPS with 5th gen fingerprint-resistant Corning Gorilla glass for additional protection and an attractive external finish. The viewing angle is super wide and the legibility for casual browsing is very good.
And yes, the RS6 IPS panel has a double-tap to wake function much like the R8 which I find very useful indeed. Simply tap the screen twice when it is off and the screen will wake up instantly.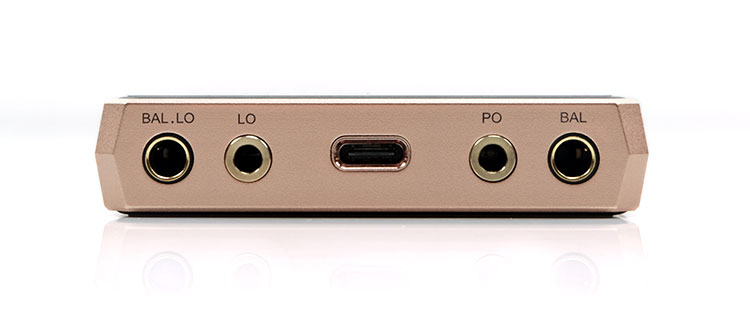 I/O
HiBy's I/O is very consistent with the current generation of DAPS with both analog and digital controls on the base panel. Despite its thinner dimensions, the space between the sockets is quite similar to the R8 so you should not have any fitting issues with wide jacks or USB-C cables.
However, be warned if you are coming from the R8 the PO and LO positions have been reversed and are now on the opposing sides. If like me, you did not bother to look for an initial testing phase you might get a nasty shock!
The RS6 comes with dedicated analog ports for LO and PO, both balanced 4.4mm and unbalanced 3.5mm TRS which I really appreciate since it saves a lot of time digging into menu options for PO/LO switching.
All digital connections are via the centrally located USB-C port and that includes USB-DAC, OTG, charging, and coaxial with a supplied USB-C to coaxial cable in the box.
Click on page 2 below for more hardware features and software performance
Click on page 3 below for software features and wired/wireless performance
Click on page 4 below for sound impressions, Darwin presets, & pairings
Click on page 5 below for select comparisons