Our review today is on the new ZMF Headphones Atrium, which is a cherry wood-finished flagship headphone using a bio-cellulose dynamic driver. It is priced at $2499.99
Disclaimer: This sample was sent to us in exchange for our honest opinion. Headfonics is an independent website with no affiliate links or status. We thank ZMF headphones for this opportunity.
To learn more about the ZMF Headphones products we have previously featured on Headfonics you can click here.
Note, that this article follows our latest scoring guidelines which you can read up on here.
ZMF Headphones Atrium Review
As introductions go, the ZMF Headphones Atrium is an excellent one to start with. It easily ranks as one of the most agreeable sounding dynamic driver headphones I have tested in a long time.
Pros
Massive soundstage
Natural sounding timbre
Beautifully Designed
Cons
Slightly less micro-detail than some other flagships
Needs a powerful amp to perform at its best
I guess you could call this a bit of a welcome return to Headfonics given the last time we covered ZMF Headphones was for their excellent Auteur and Eikon headphones back in 2018.
Those were actually covered by Mike rather than myself so this is actually the first time I have heard Zach's creations in the comfort of my own surroundings. The previous times were at CanJam, also back in 2017 or 2018.
One thing that always struck me about ZMF is the concept of family. Not so much in the business set up in Berwyn, Illinois which Zach founded back in 2011 which is very much a 'hands-on' approach, but more in his customer profile.
It is very hard to find customer feedback on his latest headphone without reference to previous ZMF-designed headphones suggesting most users are very loyal to the brand and the tuning.
The sound signature or the 'ZMF Sound', which had been crafted over a number of years is at the heart of the new flagship Atrium. Not only that, but ZMF feels this is perhaps one of the most natural, linear, and spacious sounding open-back headphones they have built to date.
Tech Inside
Driver
If you know ZMF then you should be aware that a lot of their big-ticket headphones come equipped with bio-cellulose drivers.
These are dynamic drivers with a composite bio-cellulose diaphragm which ZMF calls a Biocellulose N52 Atrium Tuned Driver. The N52 part stands for the grade of the magnet, and in this case, it is a rare earth neodymium magnet that is used to generate a static magnetic field around the voice coil and create that push/pull effect on the diaphragm.
Bio-cellulose itself is a well-known lightweight material for diaphragm construction and is derived from a naturally grown organic compound that tends to be a bit stiffer than your regular paper alternatives. Hence a powerful magnet system and a 300Ω rating for the Atrium meaning you need a good amp to really drive the diaphragm's excursion to the required level.
From all accounts, the Atrium's driver size is the same 50mm size compared to the Auteur and Verite. However, it is not as stiff with a bit more excursion in the diaphragm and with an enhanced open-back optimized tuning supported by a brand new damping system.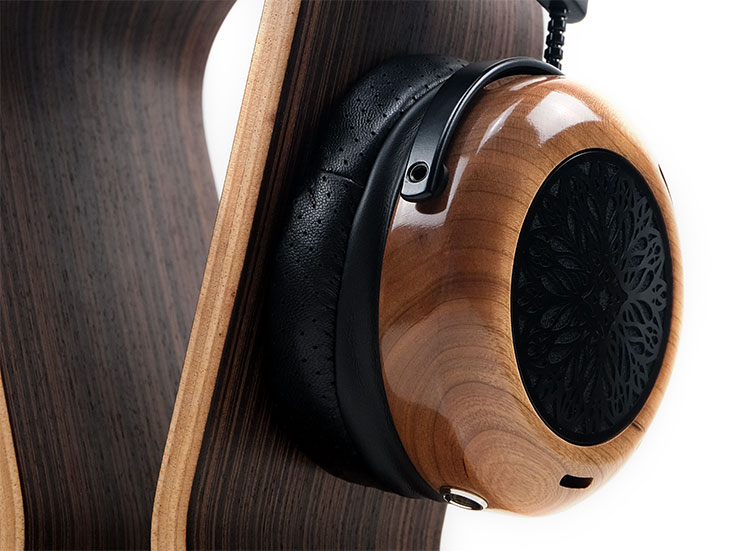 Atrium Damping System
Damping as a selling point seems to have become a big thing with DCA Stealth's AMTS waveguide control as a prime example. ZMF has also taken a similar route by placing damping front and center though through a different methodology.
I believe a trip to Amiens Cathedral in France proved to be one of the inspiration points in determining how to combine both the aggressive cup venting system with strategically placed internal acoustical damping to control the back-wave acoustical response to the desired target response.
The tweaks do not stop there. ZMF is known for providing a wide range of mesh options for their headphones and the Atrium is no different in that regard. They are easily swappable and precut with a stock mesh inside their headphones, including the Atrium, being a solid version.
You can opt for a perforated alternative called a radial vented mesh to lower air resistance and increase the presence of the highs a bit more if that is your preference.
Design
Cherry Wood
What a beautiful-looking set of woody cupped headphones. No doubt about it, the Atrium has one of the nicest applications of wood in a headphone that I have seen in a long time.
The precise material is a Cherry wood which is a slightly softer wood, (Janka rating of 950), but it is also known to be easy to cut, carve and mold, so it is an excellent choice here for precision ear cup shaping.
You can get the Atrium in either a natural or aged copper cherry wood finish. The aged copper is an additional fee so the one you are seeing above is the standard natural finish with a beautiful glossy coating to give some serious 'pop'.
The lightly tanned mix of grain on this wood is delicious. The patterning is finely balanced in terms of density, very evenly circulated, and has very few if any distracting knots or natural blemishes.
That is the beauty of working with wood also. Get the cut of wood just right and that unique grain will define the aesthetics to a very strong degree. I also find that wood grain does determine or sway a lot of peoples buying indicators, especially in audio.
Grill
The Atrium's grill comes in two finishes, an aged copper to match the aged cherry wood finish and what you see here in our sample, the stock aluminum material finished in matt black which complements the golden brown of the cherry wood perfectly.
There is quite an artisanal feel to the finish of the grills, though it is by no means purely for aesthetical reasons. Once again, the Amiens influence has played a role with the Rose Window gothic design heavily invoked in the machine work of the grill.
For some reason, the finish here reminds me a little of the intricacy of the pattern machining work on the Meze Empyrean grill which has a similarly gothic type feel though quite a different final look. It is beautifully detailed but also not that dense in terms of open spacing between the lattice-like flow of the material so air should flow quite smoothly.
Everything Else
Aside from the cups, the Atrium is finished in a mix of anodized black aluminum for the pivot blocks, gimbals and adjusting rods, spring steel for the headband, and leathers for the pressure strap and headband outers.
You can also get it in a lighter magnesium build which will take off 34g from the final weight but note the magnesium version is not anodized but rather painted so it might show some additional wear and tear over a period of time compared to the aluminum build.
Overall, it feels sturdy and very well built with nothing at all in the way of tension creaks, squeaky joints and most importantly, its articulation for fitting is excellent, (see comfort section below for more details).
Stock Cables
You get two 5.5ft cables a stock with the Atrium: a balanced 4-pin XLR/mini-XLR option and the other being a SE variant with a 6.35mm jack and mini-XLR connectors.
The balanced version is an insulated copper wire with a twisted nylon jacket finish and a black finished aluminum funnel-type splitter. The mini-XLR pins are terminated 'Audeze' style so their polarization is fairly standard.
The SE alternative is a 24AWG 4-conductor OFC copper wire with aluminum and copper shielding houses in a rubbery external jacket with the same black branded splitter and mini-XLR connectors. The 6.35mm barrel and wrapped in heat shrink with strain relief internalized.
ZMF also provides a number of cable upgrade options to go along with the stock should you wish to roll a bit when buying the Atrium. Their OFC cables come in either 6ft or 9.5ft length with alternative Letrik C and S options starting at 4.5ft with increased intervals up to 12ft and with corresponding prices.
Use whatever cable you prefer based on your system, they both have low microphonics and memory retention and handle quite well. The weight is fairly similar but my subjective experience during handling and testing was a preference for the cloth jacketed balanced cable. It felt the more malleable of the two cables and well, I prefer going balanced for my system.
Comfort
The Atrium is a full-sized or circumaural headphone weighing in at 490g so not the lightest, especially for a dynamic driver unit and even compared to modern planar headphones that are all south of 400g these days.
However, they are incredibly comfortable to wear with an almost perfect balance of lateral and vertical pressure. There are a number of reasons for that garnered from our testing.
Vertical Pressure
The first is the pressure (Crescent) strap and rod adjuster system. You get plenty of room to play here for height both short and tall combined with an adjustable pressure strap system that tucks right into the very soft leather-wrapped memory foam on the headband.
At its shortest point, the headphone feels very secure on my head but perhaps a little tight so generally, I have it at 2 notches from the end to create a more balanced feel. You lose a tiny bit of rock-solid positioning, and a bit more movement but the general all-around pressure feels better for longer listening.
Just one drawback is the rod adjuster itself which is a bit notchy for movement. You do have to hold it a little on each side of the gimbal block to lift them up smoothly otherwise you might think they are stuck. I suspect multiple movements over time will smooth this out a bit more.
Lateral Pressure
The second reason is a combination of the excellent articulation around the blocks and gimbals to fine-tune the fitting for your head shape combined with some gorgeous lambskin pads that feel incredibly soft around the ear.
The lateral clamping pressure is more to the firm side but that's mitigated by the deep lambskin 'Universe' wedge stock pads which also offer some healthy perforation patterns to help them to breathe. Whilst they will warm up with prolonged use the pads do not sweat that much which is a plus given our office is generally more to the humid side given we are in the tropics.
So they feel secure in place but also very comfortable on the nape of the neck with ovular rather than classic round inner wall dimensions that easily clear my entire ear and without any odd gaps at the base or rear.
Additional Pads
The ZMF Headphones Atrium earpads are detachable so you can reorder if worn out or try some alternative pads the company sells separately.
The sample that I received came with some of those alternative pads. You can read more about how they performed on page 2 of this review under the sound summary. The ones we have here are the BE² Lamb earpads from the Verite and the Lamb pads from the Auteur.
As you can see from the pictures above they have some different properties and finishing which should be a factor in the final performance. The BE² is a more heavily perforated lambskin with a flatter contour and wider perforation holes. The Auteur lambskin design is more contoured with a taller inner wall from its wedge-like aesthetic. Its perforation holes are also thinner.
Fitting them is dead easy as they follow a tried-and-true slip-on at the base of the pad. You simply slide a bit of the pad base leather flap into a small, recessed channel, at the base of the Atrium exposed baffle and work your way around the cup until the entire slip is in the groove.
The only precaution you need to take is to ensure that when fitting the wedged pads the taller side is aligned to fit behind your ear and not in front. You may also have noticed that all the Atrium compatible pads I have referred to are lambskin, however, you can also order them in a vegan option if that is your preference.
Packaging & Accessories
ZMF Headphones use a very sturdy, black-colored, weather-sealed carry case for the Atrium. I believe this is a variation of the Seahorse case they have used on some of their previous headphones but it's the first time I have personally handled one.
It is fairly similar to the one used by Rosson Audio Design in terms of toughness and not too huge either. Personally, I like these types of cases. It was something Audeze started out with on the LCD-2 about 10-12 years ago but since then they have moved to a more stylistic version that is not quite as durable for me.
Inside, there is a copious amount of space for the headphones and the accessories as well as coming equipped with plenty of foam protection on either side and in the roofing of the case.
For accessories, you get the two cables in a nice little cloth sack as well as an array of paperwork in a small red envelope to indicate your Atrium build type and QC checks as well the pads used and a catalog of ZMF Headphone products and earpad options.
Click on page 2 below for sound impressions and pairings