In this post, we review the Cayin RU6 which is the first-ever 24BIT discreet R-2R implemented dongle-type portable DAC and headphone amplifier. It is priced at $249.
Disclaimer: This was sent to us as a sample for our honest opinion. Headfonics is an independent website with no affiliate links or services. We thank Cayin for this opportunity.
To learn more about Cayin products on Headfonics you can click here.
Note, this article follows our latest scoring guidelines which you can read up on here.
Cayin RU6
The Cayin RU6 offers a different "analog" approach in the world of highly integrated delta-sigma chipset packages and DSP filters. One that preserves a tube-like musical quality but with much finer volume control and packed within a favorable form factor. 
Pros
Smooth analog sound
Viewable LCD screen
Attractive design
Cons
A bit soft on sub-bass levels
Not satisfied with the current off-the-shelf DAC solutions inside portable amp/DAC dongle formats, Cayin crossed the Rubicon to develop an industry-first, 24BIT/384kHz capable discrete R-2R DAC called the RU6.
Derived and differentiated from the N6ii R01 R-2R board's technology with a newly implemented stepped resistor for volume control, this USB-powered dongle offers impressive performance even under USB power constraints.
Priced at a fraction of the DAP counterpart's price, and definitely one of the most feature-packed dongles to hit the market recently it is perhaps a true alternative to the award-winning Luxury and Precision W2.
If you are not content with the offerings in the market and want to try something a bit different, this is currently the only viable R-2R option sub-$500.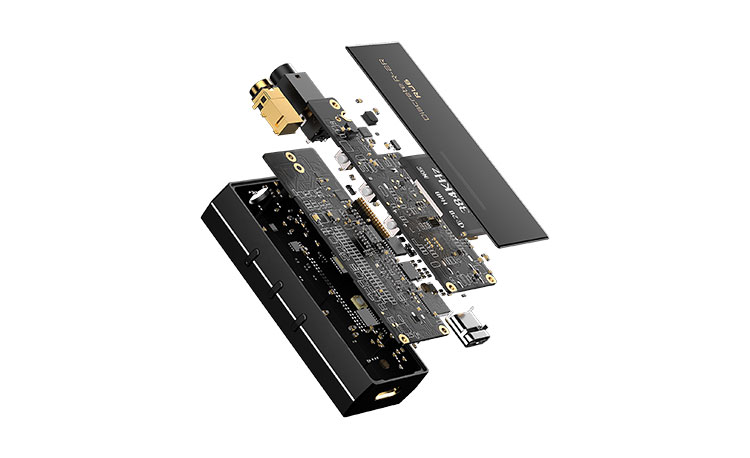 Tech Highlights
While most modern dongles use a delta-sigma DAC implementation, the RU6's R-2R relies instead on a vast array of discreet components to perform digital-to-analog conversion, in the form of 96 pieces of resistors at 48 per channel with precisely matching parameters.
In addition, Cayin developed a proprietary, high-precision resistor network for volume control, which further enhance the performance within the output stream.
Both technologies are not new to the market, but indeed, quite well established with a loyal following, even among modern audiophiles. These two technologies are never realized together or even individually on portable products. That alone makes the RU6 highly unique.
Beyond that, Cayin has preserved a classic NOS/OS or oversampling filter feature for the RU6 so that users can experience the stock sound of the R-2R DAC, with an option to switch on oversampling for additional perceived clarity and smoothness.
R-2R DAC
To achieve 24BIT decoding, 48 pieces of resistors (23 x R and 25 x 2R) are installed for each channel, converting digital binaries into an analog output signal that is proportional to the value of the digital number.
That means a total of 96 pieces of precisely matched resistors are used to facilitate the actual conversion for the 24BIT stereo design. To achieve the best noise control, Cayin separated the 6-layer PCB which holds the R-2R components from the main digital circuitry motherboard.
The accuracy of resistors is of paramount importance within an R-2R design and Cayin adopted high precision, low-Temperature Coefficient of Resistance (TCR25) Thin Film Resistors rated at ±0.1% and fluctuates within 25/1,000,000 per 1-degree change in temperature.
This provides satisfactorily high accuracy for the R-2R ladder architecture. It does not feature the more premium resistors used on the R01 board and N6ii combo but considering the price of RU6, I am not going to blame Cayin for anything.
As for the advantage of R-2R, unlike delta-sigma dac chipsets, it does not require a digital noise filter nor a feedback loop design, so it is born to be very quiet in the background and at the same time very unaltered in tone.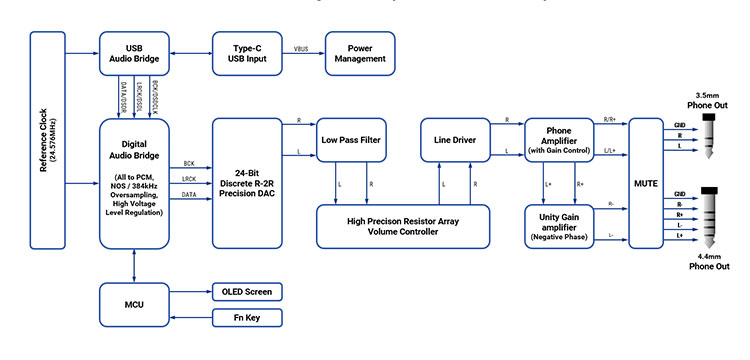 NOS/OS DA mode
The RU6 features a software-based DSP oversampling feature enabled by RU6's processor, this is differentiated from N6ii's R01 board which has hardware oversampling. Users can turn the over-sampling function on and off instantly without a hitch.
Under the oversampling mode, the digital stream is up-sampled to 384kHz, boosting resolution, reducing noise, and enhancing the anti-aliasing of the digital signal.
Cayin claims that the oversampling DA mode will offer a "noticeable improvement on details and frequency extension" also contributing to a cleaner, sharper tone, and a darker background. The non-oversampling mode, on the other hand, does not become redundant and feels more like flipping to the 'stock natural' tuning.
By maintaining the original bit-stream, RU6's output is free from digital filtering thus the signal sounds more unaltered, being kept in perfect time sequence, minimizing phase issues and jitter. When you want to hear organic, coherent, and unmasked sounds, switching off the oversampling feature, for me, yields the best result.
Volume Control
To maximize data integrity from the source Cayin devised its own resistor-based volume control network. This premium feature mimics stepped attenuator volume pods seen on high-end pre-amps or amplifiers. This is the first time that this has been implemented on portable dongle-type decoders such as the RU6.
You can often see manufacturers emphasizing the volume control chipsets, a vital component in the signal path that may degrade the sound and mess up the dynamics if poorly implemented.
To overcome distortion that comes with an amplified weak signal, the RU6 incoming bit-stream is fixed at full volume, with 9 sets of resistors and switching relays enabling a total of 99 steps of fine volume control within –6dB to 0dB on each resistor set.
Cayin recommends using bit-perfect USB output, as well as fixing the digital output volume over USB to the maximum for the best performance.
Due to the fact that dedicated resistor sets handle specific volume steps, when adjusting the volume there is a ~40ms muted delay. I don't consider this an issue if you won't be adjusting the output volume too often. It does a good job to prevent any pop sound to be heard, while the fine volume steps adjustment makes the RU6 relatively IEM-friendly.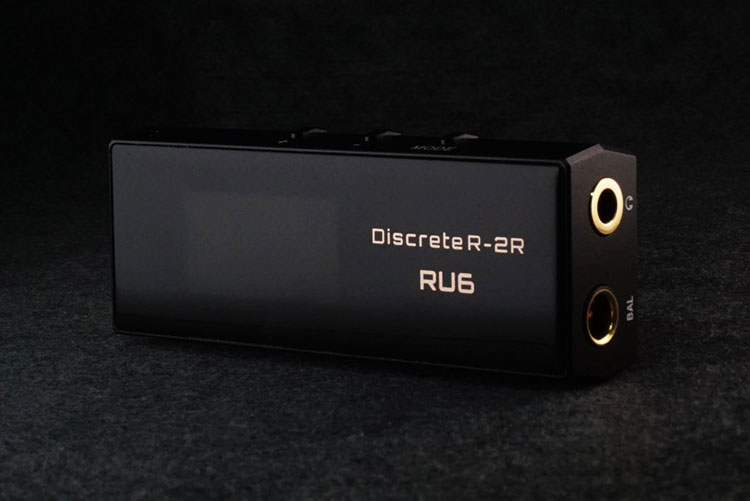 Design
The RU6 is clearly a big boy amongst dongles but considering the R-2R technology and stepped volume control inside, which are usually chunky pieces of hardware, it feels unbelievably compact in design.
I have never imagined either stepped volume control as well as R-2R to be made possible on a USB-powered dongle design, not even a DAP. If this is not impressive enough, the RU6 is just 28g in weight which means that it is as light as some competitors.
The RU6 comes in a modernly styled minimalist design measuring 65*25.4*13.7mm. The CNC-machined aluminum black housing of RU6 is offset with a glossy front panel using a 1-inch OLED screen displaying the sampling rate, over-sampling status, and volume.
The USB-C socket is soldered firmly on the PCB and it doesn't shake at all. On the sides, there are 3 buttons for mode change and volume, and on top of the device, you will find 4.4mm and 3.5mm jacks for balanced and single-end connections.
Controls
The RU6 is intuitive and minimalistic in software design. By holding down the multi-functional button that lights up or switches off the screen display, users could access the settings for over-sampling/ non-oversampling mode, high or low gain levels, and the screen-off timer.
Software
The RU6 is not just a USB-C OTG device for smartphones, it is also compatible as a DAC/AMP for Windows 7/8/8.1/10. That means you can plug it into your laptop, iPad, or phone as well as DAPs and enjoy R-2R decoding.
It may not make sense to plug a dongle into a DAP but considering the very different hardware inside and the low power consumption on the RU6, it may rejuvenate some old DAPs.
As said, the RU6 is surprisingly power-efficient taking just 100mA from the source, regardless of whether you are on max volume on the source or high gain on the RU6. So, you don't need to worry about draining the host device's battery.
Packaging & Accessories
The RU6 comes in simple but professional packaging. Inside you will find a USB-C to USB-C cable and a USB-A adaptor. The leather case for extra protection and the lightning cable for iOS users can be separately purchased.
The RU6 can pick up a bit of EMI from a phone and cause some faint hiss in the background which is audible on more sensitive IEMs. A longer USB cable may be a fast rescue or you may try to stick some copper foil at the back of the RU6 inside the casing.
Sound Impressions
To properly run in the resistors, we burned the RU6 in for two weeks on various devices before the following impressions are made.
It is an arduous task to design a step volume combined with an R-2R circuit from the ground up but the effort seems worth it with some unexpectedly good transients from a USB-powered audio device.
The output on RU6 is exceptionally natural, smoothly articulated, and organic in presentation for a dongle product, and that alone immediately puts it in the tier of TOTL dongles like the L&P W2.
It displays a small W-shaped sound signature with a hint of warmth in its NOS mode. Using the oversampling mode adds to the perceived clarity, speed, and resolution while the non-oversampling mode remains well-balanced and more rounded.
Both modes are immersive with superb articulation, and you can feel the nuances in the vocal's edge and transients when circulating between the two options. Noteworthily, the RU6 sounds very smooth and groovy with almost any IEM that has a very punchy low-end response.
Bass
The lower end, albeit limited by USB power, has an impactful attack with good punch and power. The RU6 doesn't kick deep or respond speedily but it is more elaborated in the upper bass with a typical retro coloring that leans musical and engaging rather than analytical or neutral.
Do not expect chest-pounding bass and strong texture from the RU6 but rather a soft, immersive percussion performance that is slightly warm yet very melodious at the same time.
The area below 250Hz seems rolled off, as such it clears more space for the upper bass. The oversampling mode adds extra texture and smoothness, putting together a retro, analog tuning with enhanced transients and a stronger outline.
The elaborated decay sounds punchy with piano and drums, breathing in more air and bounciness while not coloring the output boomy. You can hear energy build-up or decay in the background clearly.
Mids
Unaltered and effortlessly articulated, the RU6 renders up-front vocal imaging and intimate midrange instrumental presentations with satisfactory resolving power.
You can feel the superior verve captured by the R-2R hardware and different voices are presented with good authority and weight while its naturalness is seldomly achieved by similar devices of this size. There is next to no harshness with a liquid-smooth output with an appropriate amount of air to keep the midrange layered and clear.
The RU6 answers energy spikes well with good control, and again the oversampling mode enhances separation and helps the vocal cut through the mix more clearly. The very expressive midrange on RU6 performs really well with indie rock, slow jazz, old pop songs, and house music.
Playing on RU6 Ryuichi Sakamoto's 'Merry Christmas Mr. Lawrence', the midrange notes on the piano are forward and well tempo-ed and the RU6 renders the accordion and the Chinese string instruments nicely with good authority.
Treble
The Treble is not exaggerated with a gentle push for clarity, it sounds neutral in tone and is well polished. The upper end has that retro roundness, possibly due to the R-2R circuitry and on the oversampling mode, it gives a stronger outline to the voices, boosting air, speed, and texture.
Playing Daft Punk's "Prime Time Of Your Life" the harmonics and synthesized instruments are very lively presented. Reverbs and chorus are very rhythmically rendered with realistic weight given to different elements in the track.
Jazz mixes sound very melodious with dynamics well preserved. Higher strings on violins and flutes never get hot yet it does not feel compressed. Overall, the treble is swiftly rendered with decent air and roundness.
Staging
With the midrange being quite forward and the very low end being quite shy, staging is stretched wide. It feels a bit like listening to near-field optimized speakers in an acoustically treated room, though it sounds well-layered and airy. Instruments are quite precisely imaged and you can pick from the mix easily where the instrument radiates from.
Both ends of the audio spectrum extend fairly and there is enough headroom to put in small bands and quartets without compromising separation between instruments. Again, the bass doesn't hit very deep so it takes away some of the depth yet it works well for studio-recorded tracks and small ensembles.
Click on page 2 below for pairings and select comparisons