This is an in-depth review of the new iFi Audio Go bar standard and 10th Anniversary Gold Edition ultraportable USB DAC/headphone amp. The standard edition is priced at $329 and the Limited Edition GOld bar at $499.
Disclaimer: Both samples were sent to us in exchange for our honest opinion. Headfonics is an independent website with no affiliate links or status. Thank you to iFi Audio for giving us this opportunity.
You can read more about iFi Audio products that we have previously covered on Headfonics by clicking here.
Note, that this article follows our latest scoring guidelines which you can read up on here.
iFi Audio GO bar Review
Perhaps some of the up-and-coming dongle DACs will exceed the iFi Audio GO bar's performance but today it seems to stand up to its claim of being the most powerful dongle DAC around that employs the addictive iFi Audio features like Xbass and XSpace in a device that is super portable.
Pros
Powerful Outputs
Feature rich
Versatile with pairings
Cons
Chunky compared to other dongles
Lack of multi-media controls
As I'm here listening to the Diablo at my desktop daily and using the GO Blu often outdoors I often asked myself what's coming next from iFi Audio.
The answer came in a small device called the GO Bar. At first, when I heard of it I thought perhaps iFi Audio went fitness-oriented and introduced a new Granola bar packed with nutrients.
Well, it turns out to be their first attempt at a dongle DAC. Not only did they release their first dongle DAC but they also introduced something special for their 10th anniversary by simultaneously introducing a Limited-Edition gold-plated GO bar which we like to call the GOld bar.
But for now, let's talk about the general aspects of the unit itself and see what it brings to the fold. The GO Bar is labeled as a premium USB dongle DAC and the most powerful headphone amp of its size which sounds interesting if those statements hold water.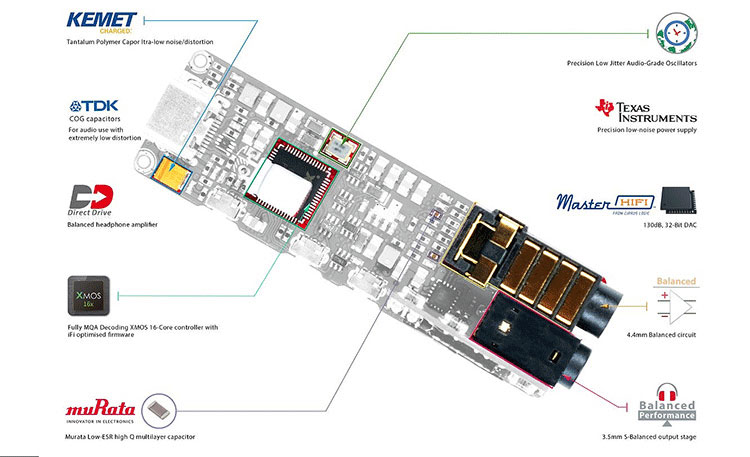 Tech Highlights
The iFi Audio GO bar employs a similar circuitry scheme that iFi Audio often uses which is a combination setup of the 16-core XMOS microcontroller with an in-house custom firmware to work in conjunction with a 32bit Master HiFi Audio Cirrus logic chip instead of their more commonly used custom Burr-Brown and XMOS combo.
I follow the dongle DAC industry some and noticed lately a tilting shift in design that is favoring Cirrus logic over the others. That digital stage passes on to a balanced symmetrical twin channel output stage which is a dual-mono amplifier design that according to iFi Audio eliminates crosstalk and reduces noise levels considerably.
XBass and XSpace can be activated to add some color but I must say, up to date this particular XBass and XSpace implementation is the most subtle one of any of their models.
Some will prefer this since it tends to retain most of the original characteristics of the recording and it never becomes bloomy or overwhelming and just adds a little sugar to the coffee cup and there's nothing wrong with that.
The orchestra leader here is the GMT Femto clock which keeps it all together plus good components like Tantalum and Panasonic OS-CON capacitors and with a list of other high-quality components, it all combines to assure a good end result.
Digital Formats
The iFi Audio GO Bar is a very capable device in the digital realm and it runs most major formats out there including full decoded MQA. A total of four formats can run on hardware render on the GO Bar and the second is DSD at up to 12.3MHz. The third format is PCM which runs at up to 32 bit and 384 kHz and the fourth format is DXD at 352.8 or 384 kHz.
The Cirrus Logic chips on the iFi Audio GO Bar run natively on all formats with no need for software rendering far as I could tell. Most dongle DACs are going that route nowadays and it is certainly the right way to go so the GO Bar is just following the modern-day DAC design trend.
The DAC section itself has a selectable feature in which you could select from four digital filters which are labeled bit-perfect, standard, minimum phase, and the Gibbs Transient Optimized filter eliminating the need of flashing your unit with a particular firmware as in the past with other iFi Audio gear to run your preferred filter.
Performance Numbers
When it comes to power output the iFi Audio GO Bar has a pair of cantaloupes if you know what I mean. Power output rating is listed at 475mW on the balanced side and 300mW off the single-ended side.
To compare most dongle DACs are below that 300mW figure on their balanced side and the balanced side has more power available than their own hip-dac2 has.
Voltage-wise, the output is listed at 7.2 volts which is a higher rating compared to the NEO and a higher voltage output rating than even the xDSD Gryphon. Output impedance is listed at 1Ω on both balanced and SE sides.
The rest of the specs look really good like the 132dB SNR on the balanced output but it does drop to 108dB on the SE side. The frequency response seems to veer upwards in high frequencies and lists 20 to 45 kHz. Again, it seems iFi Audio is trying to reach higher frequencies and improve that area of the spectrum but not just that area in particular.
Design
The iFi Audio GO Bar has a lot of LEDs and more than other dongle DACs I've seen so far. There is a total of nine LEDs that are used for everything including bit rate, format, XBass and XSpace, and even volume level. I bet I missed one or two at least.
The GO Bar is rather chunky and larger than most dongle DACs but not too bad in weight at 28.5 grams. Not so for the GOld Bar which seems to weigh twice as much but boy does it look good. It actually feels like a miniature gold bar. I almost called Fort Knox to see if they were missing any gold bullion bars.
The standard GO Bar is made of metal and to me, it seems like a high-grade aluminum and has almost an identical finish to the iDSD Black Edition. The GO BAR even looks similar to the Black Edition in shape and styling but with a much smaller stature of course.
The GOld Bar on the other hand is made with high-grade copper and then bathed in gold. It weighs 64 grams and also boasts an enhanced power supply filtering section besides claiming better shielding overall so you're not just buying a shiny coating.
I/O
The USB-C connection is the only input and there are two headphone outputs, one is a 3.5mm SE connection and the other is a 4.4mm Pentaconn which is typical of most dongle DACs nowadays.
There are 2 volume buttons onboard. A 3-way IEMatch switch sits next to the negative volume button and a settings button sits next to the positive volume button. This settings button is used to access the selectable DAC filters and a couple of other features.
One feature you could access with this button is the volume synchronization feature. I have often complained about iFi Audio disabling the Windows OS volume control on their gear.
However, iFi Audio is finally fulfilling our desire and meeting us the full way by giving the user the option of disabling the feature or not. The feature is toggled by press holding the settings button for 8 seconds.
The 2 volume buttons also double up in function, no pun intended and if you hold press both buttons simultaneously you could scroll thru normal and turbo modes and that's aside from the IEMatch plus the positive side scrolls through the digital filters which are done by long-pressing the settings button for 3 seconds.
Packaging and Accessories
The one accessory that stands out here is the black gun holster-style case which reminds me of an old hunting knife holster I had years ago. It seems very rugged but would consider it just an extra pocket to store the GO bar in because to use the GO bar while in the holster you would certainly need some rather long USB cable.
Speaking of cables, iFi Audio throws two inside the box, and guess what; one is a lightning cable so you know what that means. Some dongle DAC models omit this wire.
The other wire is a dual USB-C and iFi Audio also throws in an iFi Audio branded USB-C to a full-size USB adapter. That setup should cover everyone, Apple, iOS users, Windows, and even Chromebook users.
The other two inclusions are a warranty card and a guide that acts as a reference to procedures and features built into the iFi Audio GO bar.
Sound Impressions
Summary
The iFi Audio GO bar has a very dynamic and punchy character and slight characteristics can change depending on the digital filter selected. Not so much in dynamics but in the overall smoothness of its frequency reproduction and stage size.
My first observation was actually not in tonality but in the staging which seems to open up considerably compared to other dongles. Placement is excellent and there is lots of depth along with width and height but most of all a very good micro staging ability.
Tonality wise I could not hear any anomalies, noise, or peaky areas. This dongle again is somewhat dependent on what filter is being used. To sum up, the bit-perfect filter sounds the sharpest, especially in the upper frequencies. This filter lets more detail come through but is certainly the more ardent sounding.
The standard setting is also a touch ardent. Once you switch to the minimum phase things get smoother and especially when you go to the GTO filter. They all sound clean but the two later filters seem to smooth off the top edge of high frequencies, not so much as to lose detail but enough to be noticeable.
The red or standard filter seems to have the best height while the white or GTO filter seems to push vocals forward about a foot and seems to sound the flattest in tone. One of my favorite filters was the minimum phase but the LED seems to have changed from yellow to green since the latest firmware was released, version 1.70.
Black vs GOld
There is a sonic difference between these two but it's mostly noticeable in the darker background and hence the GOld bar does give a sense of improved detail plus some added transient response enhancement was noted and details came through better because of the darker background.
Another improvement was that the stage seems to open up a few inches sideways and forward.
I do live within a soup bowl of cell tower signals plus Wi-Fi and Bluetooth running within my house, three mobile phones which could all transmit interference into electronic gear and affect sound devices.
The GO bar never suffered a hiccup even while on top of my phone. The GOld bar I bet does better and is more solid plus less prone to stray electrical interference but I couldn't measure that.