In today's feature, we review the HiBy RS8 which is a flagship balanced R2R DAP using Android 12, 256GB of memory, and a titanium outer casing. It is priced at $3299.
Disclaimer: This is a sample sent to us in exchange for our honest opinion. Headfonics is an independent website with no affiliate links. We thank HiBy Music for their support.
You can click here to learn more about HiBy products that we have previously covered on our website.
Note, that this article follows our latest scoring guidelines which you can read here.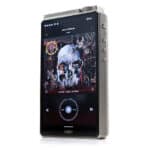 HiBy RS8
The HiBy RS8 is one of the most complete DAPs launched to date. It has the most advanced operating system, a unique architecture evolved from the RS6, and quite obviously packs in my DAC of choice, R-2R. Not just R-2R for the sake of it but desktop decoding levels of R-2R and a level of audible quality that competes with the gold standard, the P6 Pro from Luxury and Precision.
Pros
Natural and expansive R2R Sound
Android 12
Excellent Turbo Mode
Cons
Very heavy
Not much difference in the amplifier operational modes
Darwin IEM presets too nuanced
The new HiBy RS8 DAP could well be interpreted as the "kitchen sink" of everything the company has introduced over the last few years.
This is not just a continuation of what they started to work on with the lower-tier RS6, namely the Darwin Architecture and the switch to an R2R DAC design. It is also an affirmation of their roots in software, with perhaps the most advanced version of Android yet to be seen on a DAP.
With a highly luxuriant interpretation of the legacy R8 housing design and some serious internal component upgrades, it is quite possible the RS8 will stand alone in 2022 as the most modern interpretation of a portable audio player to date.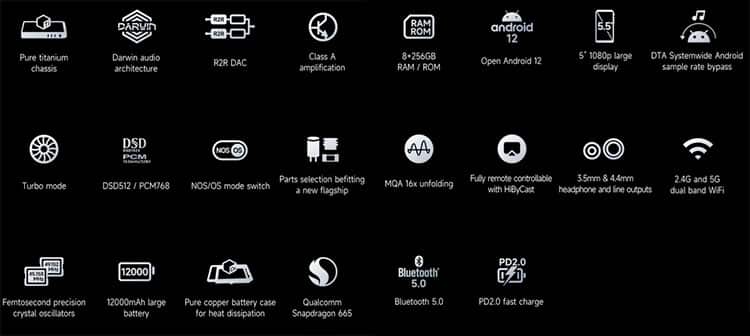 Tech Highlights
The HiBy RS8 is a flagship Android 12-equipped digital audio player. To deliver the Android experience smoothly, it packs in a modern Snapdragon 665 CPU backed by a class leasing 8GB of RAM and a massive 256GB of onboard memory.
It can run in either wired or wireless mode with both analog PO and LO options and a USB-DAC and OTG feature. As with all high-end HiBy DAPs, the RS8 comes equipped with Wi-Fi 2.4/5G and Bluetooth 5.0 to take maximum advantage of the Android apps framework.
The RS8 is designed to run either single-ended or balanced and to spice up the flavor a bit more, HiBy has taken the amplification concept from the R5 Gen 2 and implemented a dual operational Class A and Class AB mode for all PO.
Darwin Architecture II
As with the RS6, the RS8 moves away from delta-sigma DACs and instead works a discreet R-2R implementation. This time it is double the resistor array of the RS6 at 92 resistors per channel and 0.005% precision resistance for core R2R native 1BIT PCM decoding capability.
This in itself is part of the company's broader Darwin II architecture which also made its debut with the RS6 last year.
At the high level, Darwin is an end-to-end Hi-Res audio processing design that incorporates everything that happens before, leading up to, and including the R2R resistor-based DAC solution.
That includes innovative features such as its DSD bypass and 16X oversampling and linear phase control through a 256-tap FIR filter system. NOS is there also, which you would expect from an R-2R-equipped device.
The ability to customize beyond the original sound with brand-specific presets and harmonic controls that are tuned specifically for your favorite IEM is retained. This is something that HiBy focused on quite a lot with the RS6 with quite a long list of contributors such as Unique Melody, 64 Audio, and Vision Ears to name but a few.
Decoding
Finally, we have an R-2R portable device that matches the capability of desktop R-2R alternatives in terms of top-tier PCM 32BIT/PCM1536 and DSD1024 decoding limits, (USB-DAC). The RS8 also retains the 16X MQA and DTA bitperfect architecture decoding capability of the original R8.
I have seen this on both the Musician Audio Pegasus and Aquarius DACs as well as Holo Audio's Spring 2 DAC recently but I am fairly sure these are the highest decoding rates I have seen on a DAP thus far.
Normally, to achieve this you need a bespoke digital bridge for the USB input stage with a dedicated algorithm as a lot of the off-the-shelf USB chipsets are limited to a maximum of DSD512.
Since it is also R-2R and the core handling is PCM, the normal process is to add an additional ladder for 6BIT DSD processing, (32 steps FIR Filters). I just wonder, given the control HiBY has via the Darwin architecture, if they went down that route to make DSD1024 possible on a portable device.
Since the RS8 is also wireless via BT you can also tap into LDAC 24BIT/96kHz capability as well as aptX HD and AAC for iOS users. HiBy's own proprietary UAT codec is there also which has a higher decoding rate over LDAC but in a more limited ecosystem of receiving devices such as the W5.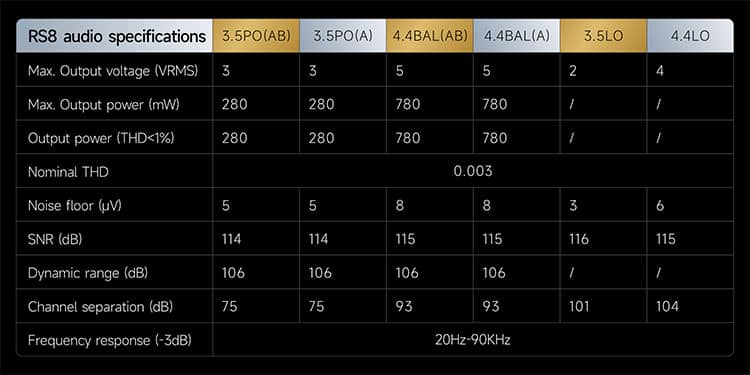 Dual Amplification
The HiBy RS8 takes a leaf out of the R5 Gen 2's book with a dual Class A and Class AB amplification mode which is user switchable through the OS layer.
There isn't a huge amount of information on the Class AB topology but for Class A I presume they continued with a more efficient push-pull discrete design and they have stated it uses a dual OPA1652 opamp and 8 NXP dual bipolar transistor circuit.
Output Power
One thing for certain is the power and it is much higher than the R5 Gen 2, though, on the face of it, the numbers are slightly lower compared to the R8.
You get similar numbers for both of the RS8's amplifier outputs at 280mW into a 32Ω load single ended up to 780mW into the same load when switching to balanced. That is just slightly higher than the maximum 690mW rating balanced on a 32Ω load from the RS6
That is competitive though not blockbusting given the FiiO M17 can offer a 1.5W capability in its battery mode and the previous R8 was listed at 1044mW max. Since the HiBy RS8 has no DC mode the maximum 3W rating of the M17 is well beyond it also.
Turbo mode is pitched this time in terms of voltage swing and headroom for more demanding headphones rather than pure mW output. That is why you do not see any listed changes in the mW output for Turbo mode as it targets the headphone amps carrying capacity.
With the RS8 Turbo Mode, you get a 25% increase in the supply voltage so ideally a much stronger voltage swing for headphones that need plenty of voltage for optimal dynamic range and driving power. My only question is, was the current capacity adjusted at the same time?
Line Out
One area HiBy has excelled in their last few DAP designs is the ease of use for the line out. Here, as was the case with the RS6 and R8, you get a dedicated line out for both SE and balanced with separate 3.5mm and 4.4mm ports rated at a standard 2V and 4V each.
Design
The RS8 form factor remains virtually the same though the materials used in the new version are very different from the original R8. The unit itself is also somewhat taller than the original.
The aesthetics this time around are bolder in part, more premium looking certainly, but also a lot heavier at 584g compared to the R8's 426g official weight. There is a reason for that new girth.
Gone is the black-colored CNC machined aluminum from the older unit, bypassing HiBy's older penchant for stainless steel with instead, a much heftier but more exotic titanium housing.
This is described as a monocoque version which in more familiar terms is a unibody design cut from a single solid slab of titanium via CNC.
The resulting design is gorgeous and it allows HiBy to dispense with the usual tempered glass finish and directly etch both the RS8 name, industry information and a beautiful monogram pattern on the rear panel.
The cutting elsewhere is complex, and intricate, and gives off that classic HiFi vibe with its grey-toned styling. The original R8 edge design flow is retained, particularly its angular sides and flush Alps potentiometer position. However, it all still feels quite smooth in the hand so nothing you could term as sharp or uncomfortable.
You might also notice the back panel is attached by 4 small T5 screws. So, whilst perhaps not as discrete as the previous back panels, it does mean that beyond the warranty period you might be able to access and change the battery more easily without causing any damage.
Screen
The RS8 screen is largely unchanged from the R8 version which means a really attractive 5.5″ 1080P IPS panel with a very minimal bezel enclosure. The panel is multi-touch capacitive with 5th gen fingerprint-resistant Corning Gorilla glass for additional protection and an attractive external finish.
It is not an exact like-for-like from the R8 panel with some welcome improvements in legibility via a denser pixel count at 387ppi compared to the R8's older and thinner font rated at 320ppi.
HiBy has listed it at 443ppi though I am not quite sure where that is drawn from as our AnTuTu app measurement never got that high. I still would have liked to have seen it hit 480ppi to give it some real 'pop'.
There are also some subtle changes also on the panel/glass cornering with a more refined curvature as opposed to the more rigid angles of the R8 screen. It looks a little classier now to go along with the improved legibility.
The notifications panel on the RS8 has also been widened a little with a bit more space from the very edge of the screen and in between the icons also. It does make things a little easier to read as a result.
I/O
All analog and digital I/O input on the RS8 is housed on the bottom panel with a dedicated lineout for both 4.4mm and 3.5mm as well as regular PO for balanced and unbalanced connections.
If you are coming from the RS6 do watch out as the configuration is reversed moving from LO/PO on the far left to the far right. Given the size of the RS8, there is plenty of space between the ports so you should not have too many issues with wide plug barrels blocking the USB-C.
The USB-C port is multi-functional for data transfer, charging, USB-DAC, and coaxial connections with a supplied USB-C to coaxial cable in the box.
Like the original, the RS8 comes with a single microSD slot which is about average in most situations but for me, it's rendered moot because of the whopping 256GB of onboard memory HiBy has stuck inside.
That's class-leading in most DAPs but all the more surprising as HiBy is not known for being generous with flash memory.
Controls
There is no change in the control system of the RS8 when compared to the original R8. If you do find differences it will be more in the tactile feedback from the titanium materials and the new grip design on the side of the potentiometer.
If you are new to the RS8 controls then the mechanics of these buttons are quite clever. They are raised more to the top of the RS8 and flush with the panel as you move toward the base. That means it is a lot harder to accidentally activate the buttons with the hand that is holding the DAP from underneath.
The physical buttons are still relatively discreet but they do feel a lot more solid to the touch compared to the aluminum alternatives. All of them are housed towards the top of the right panel and within close proximity to each other for quick access.
The potentiometer rotary action is quite different from the original R8 version. It has more resistance on the turn and feels less wobbly also.
There is also no click feedback on the dial which was a feature of the R8 potentiometer but it feels like the sensitivity to movement has been reduced which may or may not be a good thing depending on how you adjust the volume.
Battery Life
The RS8 packs in a huge 12000mAh li-poly battery and is one of the factors in that additional weight over the original.
Not that the original battery was small at 10000mAh but 12k really is about the biggest I have seen inside a DAP to date. If you count the M17 as a DAP it's actually housing a smaller 9200mAh battery which is saying something.
HiBy has upped the battery life officially to around 8 hours single-ended and 6 hours balanced on its highest Turbo Mode Class A setting which is very impressive. Walking it backward to Class AB SE without the Turbo mode should see you get around 12 hours plus on SE and as high as 8-10 hours balanced.
Now those numbers will vary a lot depending on how you use a very open Android environment. Switching on the screen to max brightness or using Wi-Fi or BT for streaming and going hi-res with high-load head gear will drop those numbers considerably so see them as a best-case scenario.
And with a battery that size yes, the RS8 does support quick charging with up to 20W fast charging using PD2.0.
Packaging
I would be waxing lyrical about how the RS8 unboxing experience is the best I have ever seen on a DAP if it was not for the fact that the 2020 R8 had a similar experience.
And yes, it is still a very cool unboxing experience but this time a little different with less complexity in the internal layout but definitely with improved case materials.
The R8 version was more National Geographic with its straps and straight lines. The new case is more compact with softer leather and a design more like a Bvlgari display box. It leans slightly more feminine and less aggressive in aesthetics but feels more exotic in the hand.
You get a dual layer internal instead of a triple though this time it is all black velvet instead of a tan tone with the unit itself on the top layer. There is also a badge on the top layer which I am not a fan of as it got loose in my sample and could have damaged the exposed unit with its sharp corners.
Underneath you get a simpler triple cardboard box display layer with all your accessories packaged inside. It's a slight downgrade on the cubby holes and circular pockets of the original R8 box but no less effective for storage.
Accessories
The accessory lineup includes a new and very nicely fitted green leather case with an exposed back for maximum heat dissipation when in use.
It is quite stiff with a strong internal frame and properly contoured also allowing you to neatly slide the DAP from the top down. Not once do you feel the RS8 itself could come loose or might fall out by accident. The case also has gaps for the controls and I/O so no issues with distance travel to activate the buttons either.
Additional accessories include a USB-C to USB-A cable for charging, USB-DAC, and data transfer duties, and a USB-C to coaxial conversion cable for attaching to the RS8 USB-C port. The RS8 also comes with a screen protector pre-applied so you can simply peel off the top layer and you are good to go.
Click on page 2 for software impressions
Click on page 3 for sound impressions and pairings