The Effect Audio Centurion is the company's latest flagship IEM cable featuring an 8-wire 26AWG Gold-Plated Silver-Gold Alloy UP-OCC geometry. It is priced at $3999.
Disclaimer: The Effect Audio Centurion was sent to us in advance of retail release to allow us to complete this review. Many thanks to Effect Audio for giving us this opportunity.
To read more about Effect Audio products reviewed on Headfonics click here.
Note, this 3-page review follows our new scoring guidelines for 2021 which you can read up on here.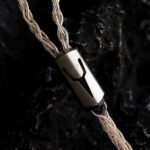 Effect Audio Centurion
The Effect Audio Centurion is a dynamic, expansive, and exquisitely resolving cable pairing with just about every capable monitor I tested. Yes, it does out slam Code 51 and yes, it does widen the imaging field over the Horus X, markedly so.
We had an Effect Audio flagship in 2020, the Code 51, we have a new flagship in 2021, the Centurion. Things never stand still at one of Singapore's busiest cable designers but by far and away, the Centurion is their most ambitious cable creation to date.
With its 4k price point, the Centurion casts a long shadow over the previous TOTL Code 51 and it stands to reason that this cable will remain there for quite some time on its own little spotlighted perch. In a way, this is not a new cable intended to replace the old cable, but rather a new cable to replace all your old cables in one single blow.
And yet, this is not an entirely new set of elements, rather it's a hybrid thinking based on several of Effect Audio's previous high-end cables wiring elements, Code 51, Mars, and the Horus or Horus X. All rolled into one entirely new wire material never seen before in an IEM cable.
That's multiple specialized elements rolled into one unique cable geometry that EA claims as a first in the aftermarket IEM cable business.
Geometry
The concept behind the Centurion was to lift two specific stand-out performance aspects from Code 51 and Horus, (also Mars). Namely, the dynamic range and power of Code 51 combined with the resolution and imaging of the Horus.
There was some discussion also on the subtle warmth of the Horus and Mars elements but I have never found the Horus to be overly warm cables. Rather the Horus X has the warmer fuller sound and probably why we are looking at an 8-wire build here for the Centurion also.
Wiring
The Centurion wire consists of a multi-stranded gold-plated UP-OCC silver-gold alloy which EA claim is a first in the aftermarket IEM cable industry. Effect Audio cable fans will note that that gold-plated silver is a legacy nod to the Horus and the silver-gold alloy element pulled from Code 51.
Technically, Code 51 also has both these elements but where both aforementioned cables have one or the other or both combined, neither have all of them as a single element per strand. That is the key difference between what EA has done to date and what the Centurion stands for now.
The Centurion uses UP-OCC grade for all its wire materials. The grade of UP-OCC being used is much higher and more complex than previous cables used by EA and similar to the build process for the Code 51 with a woven Kevlar material technique inserted into the Centurion Litz geometry build to keep the elements stabilized and working optimally.
Element Properties
Silver is generally accepted as the best conductor material for audio cables. People often talk about silver being bright or neutral and clean but you will find lots of variation in silver cables responses, especially when mixed with different elements such as copper and gold.
Gold is actually quite low in conductivity and higher in resistance compared to silver. Soft gold is also a fairly expensive raw material or one that jacks up the price.
Resistance engineering with gold can be used to change the response and subsequent timbre of certain cables when paired with monitors. Gold plating therefore should not be seen as a roadblock to resolution or dynamic range because of its lower conductivity.
One of the big factors in gold is its anti-corrosion properties. Plating highly conductive silver with gold not only shapes the final sound signature in terms of resistance but also prevents oxidization on the wire. As with Code 51, I am presuming there is a nickel strike between the silver and gold plating for additional adhesion.
Wire Gauge
Interestingly, Effect Audio has chosen to return to its classic 26AWG wire gauge in an 8-wire configuration as opposed to the 4-wire 24AWG of Code 51.
I am on the fence on this once as I did really appreciate how moving to a larger gauge and reducing the wire count gave up absolutely nothing in terms of performance but you did gain from the weight reduction.
That does mean we are back to a larger cable though I have always felt the performance of 8-wire EA creations to be excellent, (see Cleopatra Octa and Horus X).
Multi-Size Stranding
The Centurion uses a 7-core proprietary Litz-build with similar geometry to Code 51. There are numerous advantages to working with Litz materials. The first is the ability to build a multi-stranded cable that has better high-frequency properties due to what is known as the "skin effect" where electrons travel along the skin of the wire.
A Litz cable has a higher surface area than regular builds and for that reason should deliver a better high-frequency performance. It will also be more durable than other cables when flexed. Multi-sized also allows Effect Audio to build a Litz cable with different sized wires, thinner ones for high frequencies and thicker ones for lower frequencies.
Design
Aesthetics
The Centurion visual sits somewhere in between the shimmery glow of the Horus X wire/jacket finish and the more aggressive contours of the Code 51's barrel design.
The glow comes from that little Horus X sparkle bouncing of the jacket under certain lighting conditions but its gold plating overtone is not as saturated nor is it as matte as Code 51's hue. Instead, it's a slightly paler shade of gold which works better with its titanium and black-edge barrels.
So where does the Centurion theme fit in? You can find that in the cleverly crafted titanium splitter barrel with that 'Y' cut on the front fascia that creates that Centurion helmet look.
Interestingly, the 'Y' cut lines are more symbolic of the Ancient Greek Italo-Corinthian hoplite helmet than a standard Roman Centurion Galea that had an open face. The closest Roman-made design was a late Empire 'Burgh Castle' helmet though they did adopt the Italo-Corinthian type helmet for use until the 1st century AD.
The barrel material itself is the same beautifully finished titanium used on Code 51 but a little smoother on the corners. It is bigger than Code 51 version due to the design requirements and the use of 8 wires as opposed to 4.
It also doubles as the chin cinch. How so? Using the plastic black guide at the base just grip and pull up the barrel and it will slide to wherever you want it to be above the splitter. That in turn, will reveal the internal wiring structure which is something EA seems to be into since the EVO 10 design.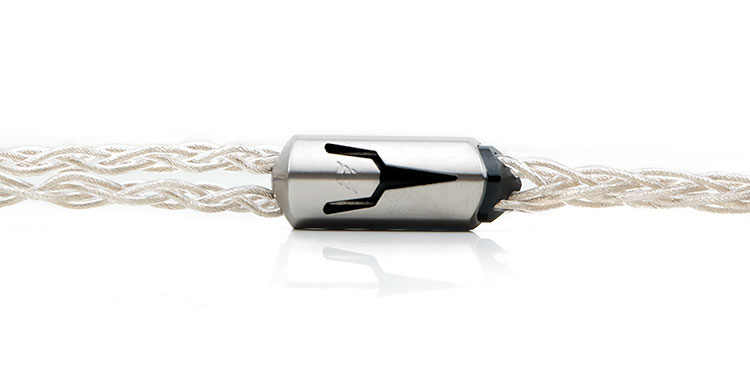 Handling
The Centurion is an 8-wire 26AWG cable so those coming from the Octa or Horus X will immediately get to grips with the Centurion in terms of handling.
That does mean amazingly low levels of microphonics and a superbly disciplined form factor when in use. EA UltraFlexi TM insulation PVC materials deaden the movement and removing any hint of stiffness in the build. There is simply nothing unrestrained or flyaway about this cable.
The Centurion splitter barrel integrated chin cinch design is a little on the tight side with this sample. Some might get a little nervous moving it as it doesn't slide over quite as easily compared to regular chin cinches but it's quite a cool concept overall. Personally, I rarely use a chin cinch since the weight of 8-wire cables tends to keep the cable movement under control quite well.
It could be anecdotal but it does look like this Centurion sample has a looser braiding technique from the Horus X 8-wire review sample. The braid also has a longer throw than the very tight short throw of the Horus X. and Cleopatra.
It can mean that sometimes you get a messy loose throw here and there which you have to pop back in again. However, on the plus side, the overall feel is marginally softer cable. I am in two minds which styling I prefer. I think aesthetically I prefer the older braiding technique but the Centurion does feel the more comfortable of the two.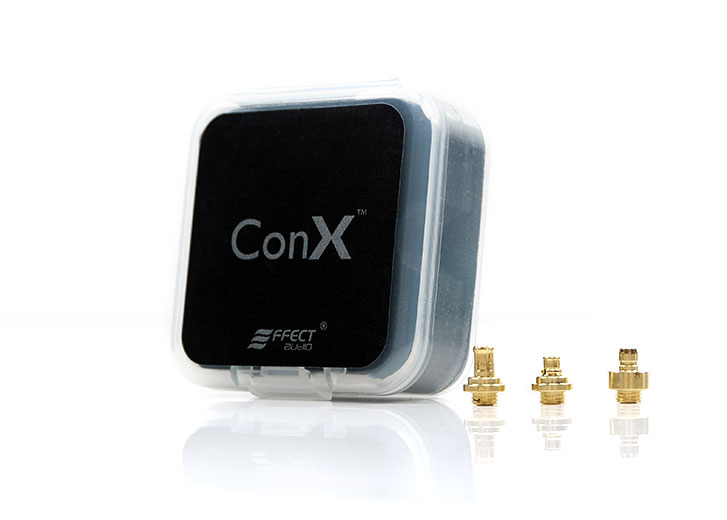 Terminations
Connectors – ConX
The Centurion comes with the ConX connector system as standard which I think is an essential accessory for this cable if you intend to use it as your go-to for multiple monitors.
ConX is an interchangeable set of gold-plated connectors that screw in and out of the main barrel with the intent to give your cable the maximum flexibility to be used with various IEM connectors.
Inside you get options for 2-pin, MMCX, IPX, and interestingly A2DC and P-Ear connectors which I personally have no use for. The key ones for me are 2-pin and MMCX. The 2-pin is the default on the Centurion.
To change the connector you get a small 'wrench' at the base of the ConX container which allows you to unscrew the connector from the cable. I found that you do not need the same mini-wrench to screw any new one back on, simply insert and tighten with your fingers.
Barrels
All the Centurion barrels are made of titanium with the connector barrels adapted to accommodate the ConX connectors. The barrels have a slight edge to them but it's very minor and very smooth in the curving, much more so than Code 51's titanium barrels.
They are, however, a little bit bulkier than Code 51's to accommodate the additional wire count from 4 to 8 with the splitter barrel a little longer also.
Now, our version is a prototype so it is missing some branding decals on the barrels. You should expect to see the logos and left and right channels clearly marked on the retail version as below.
Despite the additional girth on the barrels, they do remain relatively light and in particular, the Centurion helmet design splitter does not bear down as much as I thought it would when handling it.
I am pleased they have gone with a similarly styled titanium style barrel for the jack which was missing on Code 51. The previous flagship was finished with EA's regular carbon fiber printed round barrel so it does not look quite as complete.
This particular sample comes terminated with a PSquared titanium 2.5mm TRRS straight jack which is my normal request. The default will be 4.4mm but of course, you can select 3.5mm or 2.5mm alternatives with the same PSquared finish. This time around there are no options for different jack barrel shapes such as right-angled given the titanium design is quite unique.
Comfort On Ears
Because it is an 8-wire cable, the Centurion will feel a little weightier around the ear than the 4-wire Code 51. However, the experience is quite similar to the Horus X or the Leonidas II Octa which are also 26AWG 8-wire cables.
The Centurion does have a fairly thick memory wire coating around the connectors but it is finished in the springy style rather than a memory retentive adjustable style which I prefer.
I do have to note that this is where the slightly looser and softer braiding style of the Centurion has a benefit when combined with the memory coating as it does create a relatively soft wide surface effect on the ear which dissipates the pressure quite well.
The second anecdotal observation is the angle of the memory coating which pulls the cable out and over my own ear in a wide arch. This means a portion of the wire doesn't actually hit the back of my ear thus enhancing the comfort without reducing stability.
Click on page 2 for accessors & packaging and performance impressions