Today, we review the FiiO Q7 which is an integrated portable ES9038PRO DAC and a THX AAA 788+ amplifier with up to 3W of balanced output power. It is priced at $799
Disclaimer: This was sent to us as a sample for our honest opinion. Headfonics is an independent website with no affiliate links or services. We thank FiiO for this opportunity.
To learn more about the FiiO products we have previously highlighted on Headfonics you can click here.
Note, that this post follows our latest scoring guidelines which you can read up on here.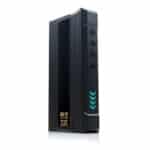 FiiO Q7
The FiiO Q7 SRP is on point for me. This is an offering drenched in value if you need a transportable amp and DAC with huge power and loads of I/O options in a relatively compact and attractively made form factor. 
Pros
Energetic tuning
High output power
Excellent Bluetooth range
Cons
Huge for a portable amp
Above 1Ω output impedance
Slightly softer sounding compared to the M17
When we reviewed the FiiO M17 DAP earlier this year I was aware at the time of some light talk about producing something as equally ambitious for the portable amping audience also. Little did I expect to see a veritable doppelganger in the form of the Q7 just a few months later.
Not only that but just like the flagship DAP, their flagship portable amp/DAC is steeped in the quintessential FiiO value-for-money offering. Granted, $799 is not what you might typically call a bargain.
However, considering this is about 80% of an M17, design et al, for less than half the price and just a shade over the US price of a Mojo 2 you just have to doff your cap off to FiiO for being quite so bold.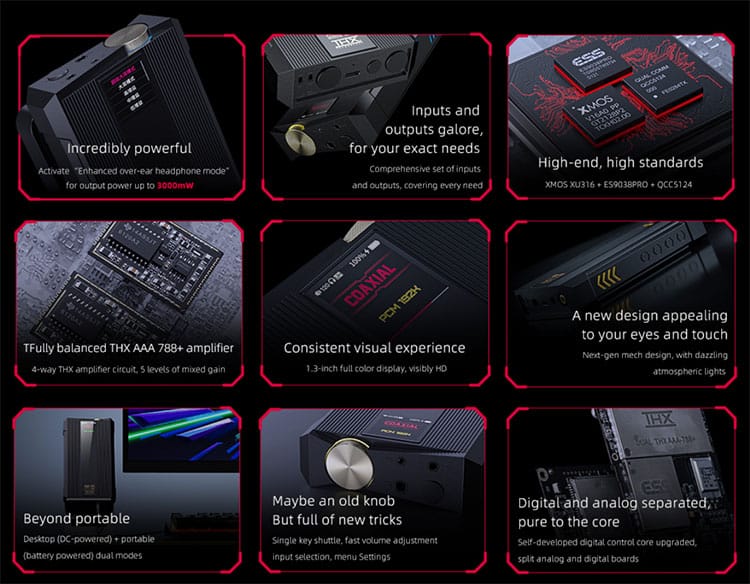 Tech Highlights
The FiiO Q7 is a portable desktop-class balanced headphone amplifier and DAC. It can operate in either wired or wireless mode with USB-DAC/OTG, coaxial, optical, and Bluetooth options and can output to a wide range of gear from sensitive IEMs to demanding planar headphones.
FiiO class this as desktop-class primarily due to the weight and size being above the norm for a portable amplifier but also because it has enough power to compete with some desktop amplifiers.
Decoding
The Q7 uses a single ES9038PRO chipset 4-channel implementation combined with an XU316 USB stage for digital decoding as opposed to the M17's dual ES9038PRO and an XMOS XUF208 setup.
The digital input bridge is still via a dual clocking design but there is no mention if this is the same dual DK Femtosecond crystal oscillator for time control as in the M17. I presume the crystal oscillators will still target both 44.1 kHz and 48 kHz whereas the XMOS XUF316 control chip will enable and support native DSD 512 input.
In fact, for M17 users you should not see much of a difference in the general decoding capability of the Q7 which is still capable of handling both native DSD512 and PCM up to 32BIT/768kHz, (USB-DAC mode). The Q7 will also handle MQA unfolding up to 8X and a maximum of 384kHz.
Since the Q7 also offers coaxial and optical input the internal DAC will also decode up to a maximum of 192kHz/24BIT for coaxial and 96kHz/24BIT for optical. Note, this is a classic or traditional optical input so no need for 3.5mm conversion adapters.
The use of a QCC5124 Bluetooth 5.0 chipset also means the Q7 can link wirelessly to source transmitters to handle LDAC up to 24BIT/96kHz as well as AAC, SBC, and aptX including HD, LL, and Adaptive.
Amplifier
It's the exact same dual THX AAA 788+ amplifier setup inside the Q7 as was implemented in the flagship M17 and the full desktop K9 PRO ESS for that matter. FiiO now seems entirely wedded to the THX amps so it is no surprise that we see them here also.
What that means is you get multiple levels of power both SE and balance with a split between the battery-only mode and that additional DC-powered mode that almost doubles the output levels. So yes, you do get a DC brick inside the package and you also get the DK3 desktop stand and rear fan solution to keep it cool when driving the Q7 hard.
Power on tap is exceptional at up to a maximum of 1.5W into 32Ω balanced in battery mode and 3W into the same load when switching to DC mode balanced. You also get a dedicated line out for both SE and balanced which are very slightly higher than the official ratings from the M17 at 2V and 4V respectively.
Two differences I can see between the M17 and the Q7 amping topology are the output impedance and the voltage swing. The output impedance is now adjusted to <1.2Ω rather than 1Ω for SE and <1.7Ω for balanced in battery mode and <2.2Ω for balanced in DC mode which is a bit higher than the 2Ω rating of the M17.
The voltage swing seems to either have improved from the M17 or FiiO has reassessed its benchmarking going from an 8V increase from the battery mode to DC mode to a 10V equivalent on the Q7 when going balanced. SE's 5V differential is unchanged though the benchmarked starting point is 1Vrms higher than the M17 12.4V versus 11.3V.
Design
No surprise that the Q7 looks pretty much like an M17 with an additional 10g of weight but without the big IPS screen with the only real changes in the layout of the controls and I/O.
The design language is mecha-inspired with a solid angular CNC machined aluminum chassis and an alternative ribbed and glass panel finish to the front and a plainer plastic matte panel finish to the rear.
You get a healthy mix of sharp design lines, hexagonal buttons, and a low-profile potentiometer dial in gold instead of the M17 black that doubles up as a multifunction button to work in tandem with the LCD menu OS. There are also those aggressive LED glowing grills on either side that would not look out of place in a gamer's rig setup.
Yes, there is a screen but it's a lot smaller and very discrete at the top of the middle glass panel and protected by a tempered glass protector pre-installed. It is BTR7-sized at 1.30-inch TFT (240*240), in fact, I dare say looking at the specs that this is an adaptation of the BTR7 screen with controls and options specifically for the Q7.
I/O
I/O is as the M17 which means LO and PO analog out are on the top panel of the Q7 and digital inputs including the DC power socket are on the bottom panel.
For analog, you get the full monty of every possible connection you need to hook up a headphone or an IEM with 3.5mm and 6.35mm SE and 2.5mm/4.4mm balanced outputs.
There are, however, some changes on the base panel which I suspect is due to the lack of an Android interface. This primarily includes two small hardware switches to move between battery and DC mode as well as choose whether to charge via USB or not. The latter is important to keep off if you wish to use the Q7 via OTG or use the USB-DAC feature.
Changes also include the provision of a classic optical input port as well as the standard coaxial support which the M17 also uses. I quite appreciate the inclusion of the standard Toslink rather than having to adapt with a 3.5mm converter, definitely makes life a bit easier.
There is only a single USB port this time instead of dual from the M17 so all charging, data transfer, and digital OTG/DAC services are from the same port. Finally, there is no memory storage for local playback either on the Q7.
Controls
You have a mixture of controls with the Q7 which includes the new multi-function potentiometer dial as well as a 4-button physical power and playback control system on the right panel.
The interaction between the multi-function dial and the screen is intuitive enough with the home screen indicating your current input mode and a short press from there allowing you to change the input mode.
A long press from the home screen will give you some deeper options and there are surprisingly quite a lot on the Q7. This includes a 4 gain stage control which becomes 5 with an ultra-high level when you switch to DC power and the ability to switch from PO to LO and set the LO as either fixed or variable.
You also get the full 7 digital filter suite drawn from the DAC, some basic screen dimmer controls, a max volume setting to prevent any accidental hearing damage, and whether or not you wish to use USB 2.0 or USB 1.0 for older laptops or PCs.
The 4 physical buttons include one to control power and the LCD screen on/off and the other three for playback and track interaction such as pause, reverse/previous track or fast forward/next track. They do work in both OTG and USB-DAC modes with the likes of Roon and Foobar20000 media managers.
Battery Life
The FiiO Q7 comes with the same beefy 9200mAh li-poly battery as the M17 with QC4.0 +FD capability and a total charging time of 4.5 hours. You can charge and playback at the same time using the DC power mode when using it as a desktop amplifier or you can turn off the battery altogether.
The rated battery life is around 10-11 hours single-ended and 8-9 hours going balanced with a benchmark test condition of super high for the gain, MP3 16BIT/44.1kHz playback, the screen turned off, and volume about 1/3 of the way up.
It's reasonable and certainly very competitive when compared to the like of Chord's Mojo 2 which is SE 600MW max and also rated at 8 hours. Do remember if you plan on going lossless with the screen on that will drop by an hour or two.
Packaging & Accessories
FiiO has improved the packaging experience from the M17 to the Q7. Originally, the DK3 fan stand for the M17 came as a separate accessory with its own box.
Now it's completely integrated into the Q7 box giving it a more complete 'look'. As a result, this is a substantial but very professional-looking retail ensemble with a ton of accessories.
The unit itself is neatly displayed on a top protective shelf and wrapped in a fairly decent tanned leatherette case that is not quite as refined as the darker version that comes with the M17. Also, FiiO has switched the flap to a velcro latch at the base instead of the M17 version which neatly tucks in.
Interestingly, and perhaps due to feedback, you do get a few padded strips that you can attach to the inside of the case to help with button pressing. I did find the M17 case a bit loose for this and so also the Q7 version so this is a welcome addition for reducing the travel length between pressing the outside of the case and hitting the buttons.
The DK3 fan stand sits just below the display Q7 layer alongside a relatively unassuming cardboard box with all the accessories as well as the usual array of leaflets, warranty, and user manual.
The accessory lineup includes:
1 x USB power cable x1: for the heat dissipation fan;
1 x USB adapter x1: for use with ordinary chargers and computer connection;
1 x Type-C to Type-C data cable (long) x1 for PD charging, USB-DAC and data transfer
1 x Type-C to Type-C data cable (short) for OTG digital audio
1 x Lightning to Type C cable x1 for use with iOS devices
Click on page 2 below for sound impressions and pairings