In this feature, we review the 1MORE EVO which is a hybrid dynamic and BA driver True Wireless System with ANC and up to LDAC decoding capability. It is priced at $169.99.
Disclaimer: This is a sample sent to us in exchange for our honest opinion. Headfonics is an independent website with no affiliate links or status. We thank 1MORE for this opportunity.
To read more about 1MORE products that we have previously covered on Headfonics click here.
Note, that this article follows our latest scoring guidelines which you can read up on here.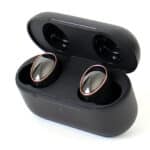 1MORE EVO
The 1MORE EVO TWS has become one of my favorite TWS models at this price range and you could even throw in some higher-tier models into that bottom list. The LDAC makes a difference here together with the hybrid dual driver setup that caters to sound quality over all else.
Pros
Lightweight & Comfortable
LDAC sound quality
Stable connection
Cons
A bit hard to remove the drivers from the cradle
Lack of tip choices
Here at Headfonics, we have attempted to cover the entire 1More TWS lineup. The last two models which passed through our scrutiny line were the Comfobuds and PistonBuds. These two make up just a portion of the 1More TWS lineup which at present consists of five models.
The top TWS model in the 1More lineup, however, is the EVO which we will now cover in full. The 1More EVO is marketed as an upscale, no-compromise, quality-oriented model with a modest price tag and focuses on a high performance-to-cost ratio.
The 1More EVO is not the most expensive TWS model out there at the moment for sure but it does have some features up front and center that most others lack at or around the same tier and price category.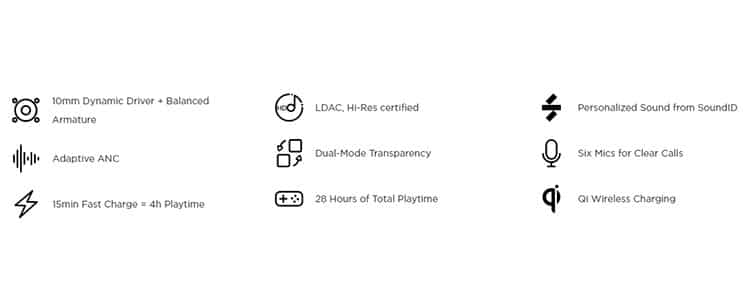 Tech Highlights
It seems that the main highlight of the 1more EVO is the hybrid driver setup. Most TWS models use a single driver configuration, but here we get two drivers which conceptually strike a chord more so with the average audiophile shopper and someone who is looking for sound quality over anything else.
On the bottom end and midrange duty lies a 10mm dynamic driver. On the high-frequency fill side is a single balanced armature.
In the exploded view there are not many other components far as crossover modules and it seems the balanced armature is tuned to naturally crossover in line with the paired driver which is a common practice today.
The 10mm dynamic driver is described by 1More as a Diamond-Like Carbon dynamic driver but only describes the BA as a low distortion balanced armature. Not much else far as specifics are given by 1More.
Their product page seems to be more general in descriptive character rather than detail-oriented far as internal components.
Codecs
The 1More EVO's other highlight to me is the LDAC capability. It's no secret that I'm an LDAC fanboy and I look at audio Bluetooth gear with the lack of it in a somewhat judgmental manner I admit.
Anyone with a good ear would almost immediately be able to tell the difference when compared to other BT codecs.
The niche of an LDAC source is that it's rated to run at 990mbps, with 24bit 96khz quality over a Bluetooth radio which in actuality and theoretically could deliver lossless quality. The Bluetooth radio within the EVO works over a 5.2 BT radio and HFP, A2DP, or AVRCP protocols
To be more specific far as codecs, the EVO is also capable of other codecs like AAC and SBC but I could not get it to run aptX and 1more doesn't mention its compatibility either so just keep that in mind.
So, what I'm trying to say here is that you have to either run LDAC or the lower-spec codecs and there's no in-between it seems, or at least on my set.
Design
The 1MORE EVO has a gem top appearance with a copper ring but the rest of the shell seems to be made with polymer materials except for the copper output nozzle filter, battery contact points, and one of the microphone filters.
They're quite good looking but some might complain about the slight thickness of the earbuds.
Each shell has a visible copper grill which seems to protect one of the microphones. There are two more perforations which are for the feedback and feedforward microphone and another for the noise-canceling microphone.
There's another sensor visible behind the earbud which is a photosensor. This particular sensor detects when the earbud is inside the ear. When you pull out the earbud the sensor triggers the pause on your music player or mutes your conversation.
The earbuds were measured by 1More at 22.03 x 20.69 x 25.11mm and weighed in at 5.7 grams each minus the insert tip but including the internal 48mAh non-removable battery. The mentioned slight thickness is counterbalanced by low weight at least.
Microphone System
The 1More EVO uses the AI-powered DNN or deep neural network algorithm which uses 6 microphones in total and 3 inside each earbud. This tech focuses on vocals and enhances clarity by avoiding background noise and actively removing most of it to then amplify human voice tones simultaneously.
My experience with this microphone system was mostly positive. It does well and is not reference quality or anything but it does perform just as well or better than a mobile device's microphone.
What I most appreciate is that I did not need to shout since they seem to have good sensitivity compared to cheaper models. The voice was rather clear regardless of what the environment was like as well.
Touch Controls
The 1More EVO touch controls are somewhat intuitive and responsive most times but the sequences can take some practice to get right. They are assignable but you could only reassign the left or right-side double or triple-tap functions.
Those four functions can be assigned to work the volume or pause and play along with some mobile phone functions like answering a phone call or hanging up. You could also assign a voice control or track advance but again, you could only reassign 4 functions altogether so choose them wisely.
Comfort & Isolation
The 1MORE EVO TWS set is a very comfortable one to wear regardless of the rather chunky earbud design. I think it has to do more with their shape and particularly their low weight, which was kept to a minimum. I could wear them for hours.
Far as the ANC implementation, it works well but it works mostly on low frequencies. I dislike hybrid ANC systems because they usually tend to do strange things to me so I just set this one on strong most times and I never felt it lacking in function.
I did not find much of a difference between the strong and mild settings but WNR which supposedly removes wind noise sounded more like transparency mode to me, just absent of wind noise. I parked myself in front of a fan to test this feature.
Another feature that's available within the listening mode setting section is the transparent mode with selectable voice enhancement and a pass-through setting. Voice enhancing added another layer of low-frequency noise which kept me going back on pass-through every time I needed that feature.
Cradle & Battery life
The EVO cradle is a tough cookie. The inside is made of polymer materials but the cradle is covered in a thick anodized black aluminum outer shell. The bottom has a rubber pad that makes it non-slip. The hinge is a polymer material and my only wish was that it was made of metal for durability's sake.
The case measures 66.60 x 28.61 x 38.65mm and weighs 46.9 grams. The total gross weight of the cradle with the earbuds tops off at 58.3 grams which is not bad. Rounded edges all around make the cradle more pocket-carry-friendly.
The internal battery bank is rated at 450mAh and it can be charged in two ways. One is through the rear-mounted USB-C female connector and the other is via QI wireless charging.
The battery bank according to 1More gives the user an average of 28 hours of total playback time and charges up in an hour.
One aspect I must pick on is that it's rather tricky to remove the earbuds out of the cradle because there's not much to grab onto. But the battery life was more than adequate and well rated at the specified 5.5hours and 4 hours on ANC.
I got a total of 26 hours versus the posted 28 hours. That time can improve if you moderate the volume some.
Software
There's not much to say that has not been said already so describing the two software apps available from 1More would be doublespeak. My only criticism is just that. Why two apps? Why not combine them both?
They do in combination have a rather complete set of features but the one I like most is the personalized sound profile capability of the Sound ID system. This feature allows you to scroll through various sonically different tonalities and you simply choose your favorite. This produces a preferred and personalized tone curve.
The overall enhancement reminded me somewhat of the DIRAC system implemented on the Klipsch T5 2 ANC TWS but in this case, the ID system gives you direct control over the tuning aspect plus you could create various preferences and store each set as a preferred profile.
By the way, the 1More assistant which is the music player works with other headphones and TWS sets and you don't have to use a 1More device. But the 1More music app which is where all the settings are only works when you pair it with 1More gear.
Packaging & Accessories
The EVO packaging is adequate and the unboxing experience was pleasant. The nicely illustrated black box has a front flap that is held closed by magnets and inside there's an inner foam mold into which you will find the cradle safely nested.
Tip inclusion is lacking because you only get three pairs but the literature is abundant. The user guide is rather thick and contains instructions in various languages. You also get a short charging wire, a warranty card, and a 1More audiophile teddy bear sticker.
Sound Impressions
Summary
Although the 1More EVO TWS were tuned by Luca Bignardi just the same as the Comfobuds and the PistonBuds Pro, the general sound signature is very different. Perhaps it's because of the higher quality components or the LDAC implementation or perhaps both combined. The general tuning is more in line with the Triple driver.
The most notable part of the EVO sound is the punchy aspect of the bass along with the presence of the high frequencies. The bass is not the exaggerated type, it just has an addition of coloration.
The midrange section is smooth sounding but a couple of decibels reared in output so you could consider this a slightly V or U-shaped set.
However, think of it as Hires sound with ample bass because there is a concluded frequency response that demonstrates very good extension bilaterally, a rather low distortion level, and a realistic tonality.
There's also a good transient response with a highly dynamic character and a nice attack and decay aspect, especially for a TWS.
Running a tone generator, however, revealed a hard and high peak at around 7kHz which extends upwards up to 10kHz but the rest of the frequency response seemed rather evenly represented especially in the midsection.
Bass response went down to 17Hz. But most importantly, the EVO was able to reach high frequencies of up to 17kHz with an absence of noise that usually plagues other TWS sets.
Staging and Dynamics
The bass presence on the 1More EVO is at a rather high level and it portrays plenty of low-frequency energy. Fortunately, it seems clear and well-defined enough to be enjoyable and not muddy at all. It just portrays a slight and fun amount of bloom, thump, and color.
The EVO midrange seems rather airy but it remains within a given space and doesn't project outwards too much. The soundstage seems medium in size overall.
The high frequencies tend to take up much of the attention and space when it comes to the soundstage and its size.
The 7kHz peak bleeds somewhat into higher frequencies and it seems to be the source of the slight forwardness in the EVO treble response and is probably the main reason the high frequencies also occupy more space compared to the midrange.
Overall, the size of the EVO soundstage and precision is better than most of the TWS models out there in the same tier but it's not stellar either. What gives the impression of height and width are the high frequencies while the midrange portrays some depth but not much height. Bass seems center focused but somewhat expansive.
Click on page 2 below for wireless performance and our select comparisons.