This review covers the new FiiO M17 which is the company's flagship DAP featuring a dual ES9038PRO DAC, Android 10, and up to 3W of output power. It is priced at $1799.
Disclaimer: This sample was sent to us is a sample in exchange for our honest opinion. We thank FiiO for this opportunity.
To learn more about FiiO products previously featured on Headfonics you can click here.
Note, that this 5-page article follows our latest scoring guidelines which you can read up on here.
FiiO M17 Review
The FiiO M17 is a huge DAP but with a huge sound. It is also probably one of the most complete portable audio devices I have reviewed to date. Both headphone and IEM users will find the M17 has both the deftness and the sheer grunt to satisfy both. DC Mode is a pure joy to use for demanding planar headphones in particular.
Pros
Very powerful amplifier
Robust and unique design
Modern Android version
Cons
Very large for a DAP
No DSD512 future proofing
Despite this review being about 5 pages long and over 10k words, I am writing this opening line last because like a nightmare start to any road trip I almost feel I have probably left the proverbial iron on when hitting publish.
In short, the new flagship FiiO M17 DAP is so feature-rich that I am sure I have missed something that you may be curious about. Apologies in advance then if I have but do please comment below if there is something you quickly want to know about.
Warning, this DAP is not an M15 on steroids or any sort of disguised Pro version. This is something entirely new. FiiO has thrown the proverbial R'n'D kitchen sink at the M17 to produce a player that is not that far off the size of a kitchen sink but also quite possibly one of the most advanced delta-sigma DAPs on the market today.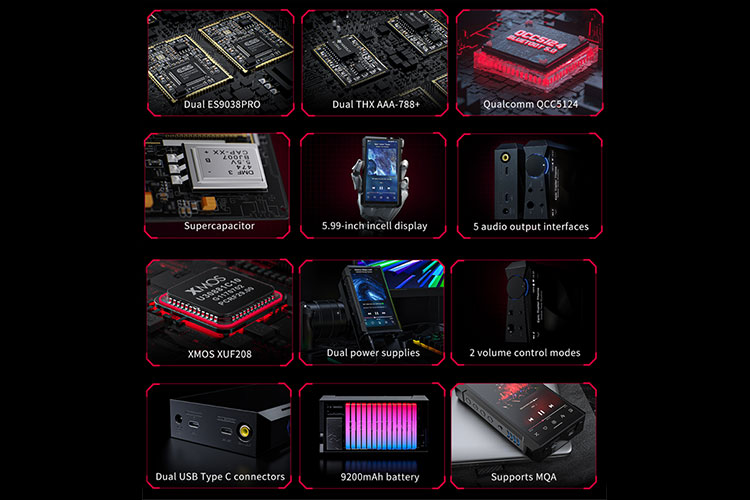 Tech Highlights
DAC
The new M17 uses a fairly hefty high-end delta-sigma-based dual ES9038PRO implementation with an FPGA-controlled 'digital bridge'. These are desktop-grade chips rather than the mobile Q2M version and whilst being out for a while now they are still considered ESS's flagship chipset.
Because they are desktop-grade and 8-channel as opposed to the 2-channel mobile versions this is a more power-hungry setup. So, it is not surprising to see a fairly hefty 9200mAh battery inside the M17 with 8V rails, (11V for the analog circuit using the DC power supply), and a single opamp for each channel's I/V stage.
The initial digital signal input is handled by an XMOS XUF208 and a dual DK Femtosecond crystal oscillator for time control before being sent to the main DAC inside the M17. I presume the Femtosecond crystal oscillators will target both 44.1 kHz and 48 kHz whereas the XMOS XUF208 control chip will enable and support native DSD 512 input.
Decoding
The M17 offers a fairly broad range of decoding parameters though maximum sample rates will depend on whether you opt for local playback or via its USB-DAC.
For local playback, it's capped at 384kHz-32bit/DSD256 which is excellent but not top tier for me. Via the M17's USB-DAC, the XMOS XUF208 is entirely competitive, however, giving you a maximum of 768kHz-32bit/DSD512 for decoding.
One other slight surprise is the MQA capability of the M17 which is capped at 8X instead of 16X offered by some of the competition. That means upsampling 48kHz containers will be a maximum of 384kHz instead of 768kHz. Quite how relevant that will be to you as a user might not be so significant because the majority of high-res music generally tops out at 96k or 192k for now.
The M17 also marks FiiO's switch to a newer Qualcomm QCC5124 BT receiver from the M15's older CSR8675 SoC. The standard is still BT5.0, the same as the M15, however, the decoding ability is much stronger now than the previous flagship. Both offered LDAC and aptX HD in receiving mode but now the M17 can handle aptX LL and aptX Adaptive.
Amplifier
In some ways, the amplification design of the M17 is the real star of the show. However, it is a slightly more complex affair than your average DAP or transportable media player with 2 distinct methods of driving headgear: via the battery and via DC Mode
At the heart of the M17's independent amplifier circuitry is a THX 788+ offering both balanced and single-ended output. THX class amplifiers have been the default of a lot of FiiO DAPs recently such as M11 Pus LTD reviewed by James.
However, the previous implementation has been very much a portable class THX, namely the THX AAA-78. This time, FiiO has partnered with THX to develop an entirely new amplification opamp called the THX788+ which is an exclusive spin on their 788 chipsets used in desktop amplifiers.
Compared to the original 788 spec sheet, the new 788+ version is more powerful and also offers a more IEM-friendly lower output impedance rating for SE output at under 1Ω. Going balanced the impedance rating is a little high for me for IEMs with a <2Ω rating but should not present any issues for most headphones.
Performance Numbers
The performance of the amp is dependent on the 2 distinct methods of powering the M17. Under battery mode, power is from an 8V rail that increases to 11V via the DC power output.
That affects the output numbers, with the M17 capable of up to 1.5W into 32Ω from the battery mode. The DC mode doubles the output power to 3W into 32Ω and from 250mW to a very impressive 500mW into a 300Ω load for high impedance headphones.
That makes the M17 in DC mode the most powerful 'DAP' as of now with the previous contender, the battery-powered DX300 MAX, offering up to 2.4W into a 32Ω load and 258mW into a 300Ω load.
The switchable power modes also have an effect on the M17's in-built gain performance. There are 4 levels of gain with a voltage swing that is higher for each level especially in DC mode which unlocks what FiiO calls 'Enhanced over-ear headphone mode'.
The dB level remains fixed though at -6dB for low gain up to 16dB for the Enhanced mode. The voltage swing ranges from 1.4V for low gain right up to a fairly impressive 17.8V for the DC Mode unlocked 'boss' level.
The M17 also has a dedicated line out for both SE and balanced outputs at 1.9V SE and 3.9V balanced which is a little weaker than the DX300 MAX (4.4V) but overly pretty close to default voltage input requirements for an analog amplifier line-in.
Design
Dimensions
The M17 is an absolute beast of a machine with dimensions that easily make it the largest DAP I have ever reviewed. Surprisingly, it is not the heaviest DAP with that accolade going to the DX300 MAX at 700g compared to the M17 at 610g.
I suspect the stainless-steel body combined with the 5 individual li-poly batteries inside the iBasso DAP is the biggest factor in the additional weight given it is actually a bit smaller than the M17.
Nevertheless, the M17 is definitely in the transportable class of devices dwarfing the likes of the HiBy R8 and requiring at least two hands to use without fear of dropping it. That desktop theme, (and size), is further enhanced with a cooling fan stand for use during DC mode.
The M17 does have an internal VC liquid-cooled temperature equalization board to assist with heat dissipation but even so, the fan will help keep the unit cool when pushed to the limit.
It also comes with pre-installed screen protectors both front and rear and an attractive leather case for additional protection for your own hands as it still gets a bit toasty during battery mode operation.
Aesthetics
Beast mode on the M17 is enhanced by what seems to be a new design language from FiiO. Now, I have seen this new aesthetic before from reading the recent reviews done by James on the M11 series of DAPs but this is the first time I have had it up close and personal myself.
This is a more aggressive look than the softer shaping of the M15 which is more in keeping with the likes of the K3 and Q1 Mark II amp/DAC designs. Those curves are gone and replaced by sharper lines, hexagonal buttons, a low-profile potentiometer dial, and aggressive LED glowing grills that would not look out of place in a gamer's rig setup.
The material choice here is excellent with a matte black unibody aluminum alloy frame that feels extremely robust and sturdy and technically quite light also at 151g. The chassis also acts as a heat sink so the use of the leather carry case is advised.
There is some sharpness on the extreme edges of the cornering of the M17 but right where your hands will rest, namely the slightly recessed control panels on each side, it's actually very smoothly finished so there should not be any discomfort when operating the M17.
Can't move on without mentioning the cool mirror effect on the rear panel called a "Diamond" cut back panel. It shows up well under good lighting creating an interesting 3D panel effect. FiiO has done this design before on the M11 Plus Ltd and as James has mentioned in his review it does look nicer than carbon fiber finishes on competing DAPs.
Screen
A bigger unit also means the M17 comes equipped with a bigger screen compared to the M15. This time we have a capacitive multitouch 5.99″ 1080 x 2160 FHD+ 18:9 in-cell display panel with a 403ppi pixel density which is a rating I am seeing a lot on higher Android OS models giving a slightly thinner look to fonts.
It's a gorgeous-looking long screen, to be honest, with very wide viewing angles, accurate color reproduction with a good level of saturation, and minimal bevel for a fairly borderless aesthetic. The switch to the Snapdragon 660 SoC is also a big help with a lighting fast and smooth touch response from the M17 screen.
I do suggest switching to the optional dark theme mode which I find less headache-inducing compared to the traditional white backdrops in most apps. It is also more attractive looking complementing the black body of the M17 quite nicely.
I/O
The M17 has a ridiculous number of inputs and outputs with possibly one of the best PO and LO output panels I have seen in a DAP yet.
With the exception of bulky XLR sockets, you have every relevant analog output configuration possible on the top pane. Options include a 6.35mm and 3.5mm TRS, a 2.5mm TRRS, and a 4.4mm Pentaconn socket.
The last time I saw a 6.35mm was on the old ColorFly C4 Pro going back over a decade now and certainly a welcome feature for headphones users not going balanced.
The base panel houses all the digital I/O visa USB or Coaxial in and out as well as the pin-push memory card tray and the DC12v input.
The dual USB-C slot configuration stands out here as the most interesting new feature with a split between a regular USB-C 3.0 charge and data transfer slot and a new dedicated USB-C 2.0 host to the right side.
This USB-C 2.0 host port will allow you to hook up an external HDD or even an external DAC and hugely expand on your available storage or source capabilities since onboard is not huge for a flagship at just 64GB.
The ports are not exclusive though so if you want to run a flash drive from the main USB-C 3.0 port to the left it will recognize the drive and show you the files. The FiiO Music app will also pick up the expanded drives in its OTG section and add them to the media library.
Click on page 2 below for more hardware features and the desktop stand
Click on page 3 below for software features and performance
Click on page 4 below for sound impressions, wireless performance & pairings