The JH Audio Jolene is their new flagship hybrid 4-way, 12-element in-ear monitor featuring a 2 x 2 dynamic driver and 8 balanced armature driver configuration. It is priced from $1799.
Disclaimer: The JH Audio Jolene was sent to us as a sample in exchange for our honest opinion. We thank the team at JH Audio for giving us this opportunity.
To read more about JH Audio custom monitors we have previously featured on Headfonics click here.
Note, that this article follows our latest scoring guidelines which you can read up on here.
JH Audio Jolene
The Jolene is a heck of an update to the line-up and a worthy flagship hybrid monitor for the JH Audio house sound. It all about natural tones, gritty and interesting texture, and tons of power on tap when you feel like upping that bass module adjuster.
Starts from $1799 (Review Sample Design is $2349)
JH Audio is normally quite busy with model launches but their absolute high-end line-up has been very stable now for quite a few years with the Layla still their TOTL monitor since 2014.
Back then, Layla's 12 BA driver configuration with an integrated 4th order crossover, Freq|Phase™, and a 4-pin cable locking system was class-leading with many seeking to emulate it.
Our review of the Signature Series version of the Layla back in 2018, walked away with our award for best CIEM for its performance as well as a stunning custom design so I could well understand why it is still their flagship after so many years.
However, the market never stands still and JH Audio has recognized that with not one, but two, high-end releases in the last few months, The first, a collaboration with L-Acoustics for stage artists called the Contour XO, and the second, the one we have here today, is their new flagship hybrid custom monitor, the Jolene.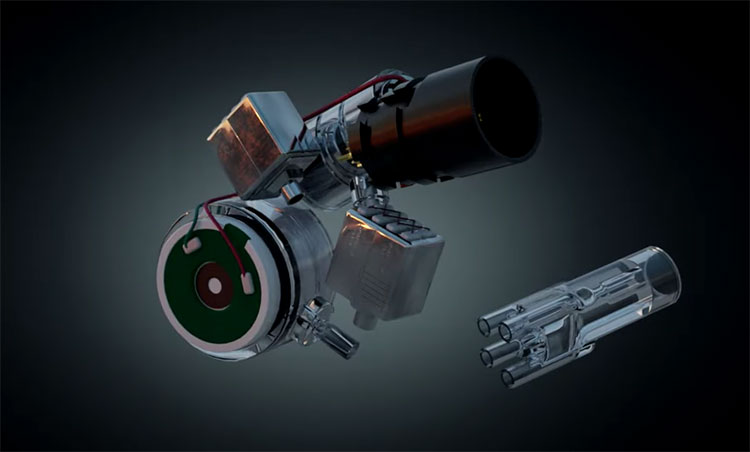 Tech Inside
There is a lot happening inside Jolene. Almost like a bit of everything that JH Audio has been working on down through the last few years is inside this monitor. Ironically, this is still a 12 driver monitor but the configuration and tech from the Layla have changed a lot.
Driver Configuration
For one thing, this is a hybrid mix of dynamic and BA. In fact, we have 4 dynamic drivers for the lows in and mids in a 2 x 2 array which is a first for me, as well as 8 balanced armature drivers looking after the mid-highs and highs.
For the lows up to 400Hz, Jolene uses a pair of 9.2mm dynamic diaphragms and for the mids, you get two smaller manifold 4.9mm dynamic drivers with D.O.M.E enclosures and a natural band pass roll-off at 4Khz.
The high-mids from 4kHz to 10Khz and the ultra-highs from 10KHz to 23Khz are covered by two of JH Audio's proprietary mini quad-driver BA packs using their patented Soundrive™ Technology.
Freq|phase™
All of this is threaded together with an integrated 4-way crossover at those key points as well as the use of JH Audio's Freq|Phase™ for accurate phase timing.
For those unfamiliar with Freq|Phase, JH Audio contends that typical multi-driver monitors with different time signatures, positioned in parallel at the front, need to account for timing using distance as a factor. If these designs use equal length tubes and are not staggered in time you will get serious cancellation issues at the various crossover points.
These issues cannot be fixed with equalization or simply moving the crossovers. With Freq|Phase, the low, mid, and high BA drivers are positioned differently with different tube lengths to account for the speed of each driver, particularly the highs. Check out Jerry's own demonstration video below for something a little more in-depth on Freq|phase.
Variable Bass
As with a lot of JH Audio creations, Jolene uses a Variable Bass Attenuator module housed on the stock cable. This is a twin dial (one per channel) that allows you to enhance or decrease the amount of bass in the sound signature.
It is not purely bass though that is where the impact is most felt. There is an element of the Fletcher Munson equal-loudness contour running throughout the FR to ensure the bass does not drown out the rest of the FR.
Let me tell you now, these are not cosmetic enhancements, and with the use of four dynamic drivers, the amount of adjustable bass you cannot pump through the Jolene is crazy good.
If memory serves me right the amount of boosting or attenuation on the Layla module was a maximum of 13dB. These newer modules now have an enhanced range of 15dB which is huge when you consider some competitor 'binary' switches tap out at 6-8dB.
Design
Finishing
The Jolene is purely a custom design monitor for now. A universal version should come out later but as of right now it is not confirmed. That does mean designs and final looks will be dictated by you and what JH Audio can offer and oh boy their new Signature designs are stunning.
As a bonus, JH Audio are actually offering two of the Signature Designs free with the launch called Jupiter and Hyperblack
The sample design in the picture below is called 'Crimson & Clover' and it's an all-in-one pick on JH Audio's online 3D designer for both the shell and faceplates. That means everything is pre-picked and beautifully integrated with a hypoallergenic clear coat on the shell for a nice level of shine.
This option does carry a premium of $275 per side so it is not cheap but it looks and feels stunning. Indeed, using their excellent online 3D designer tool on their website you can rotate your design 360° and check out every aspect of the finishing before you checkout.
If the cost is a bit beyond your budget then you have 16 other Signature Design options starting as low as $137 or go for the solid color options which are included in the base price. YOU can also opt for the 2 free premium designs as mentioned previously and save a whack of cash that way.
(Please note this review was completed before the formal launch of the Jolene so it was not available on the online designer, hence the use of the Layla. However, the design options will be the same).
Shell
The Jolene is available in two Signature Designs, Jupiter and Hyper Black, each featuring metal engraved faceplates. The Crimson & Clover sample here is CNC machined out of a live edge wood and resin block which is usually quite expensive.
Since it is wood you get a very striking collage of fine grains and a warm tan and dark wood fusion. Also, wood being wood means each Jolene custom design will be totally unique.
Plates
The Jolene plates are gorgeous in terms of aesthetics. This is a brass material with a very detailed laser-engraved finish so it matches the warmer wood tones almost perfectly. The rims are super smooth, the little ridge work slightly recessed and precise, and the signature JH Audio logo perfectly finished.
What I also love is the new 7-pin connector socket finish on the top of the Jolene shell. The matching outer gold ring and sturdy gunmetal stem keeps everything very clean around the socket. Compared to the older 4-pin screw socket it's a much tidier finish.
Form Factor
The Jolene is a big earphone by the way but coming from Layla and Roxanne I am not surprised as they are fairly large also. A lot of that girth is partly due to the multitude of drivers inside but also because of the variable-length Freq|Phase tubing that needs to fit neatly into the shell. Some, quite a bit longer than others.
Since the team works a lot with artists you tend to find the nozzle on JH Audio monitors are quite long for secure fitting for active use rather than a typical audiophile shorter relaxed fitting. That was also the case on the Lyla custom back in 2018.
However, this time around JH Audio has opted to include their new Acoustic Sound Chamber™ design. This wide-bore opening is quite a bit different from the shallower finish on the Layla. An Acoustic Sound Chamber™ is a 3D printed, recessed tubing system that functions to keep sweat at bay and alleviating the need for excessive cleaning.
Comfort & Isolation
Being a custom design ideally, the Jolene should fit perfectly. If it does not then I advise sending them back or having your ear impressions redone.
In the case of this sample, the fit is simply superb. I say that with respect to my older Layla design which had quite a snug or tight but accurate fit. This time the balance between accuracy, comfort, and the seal is brilliant with a level of attenuation I normally associate with balanced armature only designs.
I had spent some time looking for any obvious bass ports but I could not find any obvious holes in the shells. Mind you, the Jolene 4.9mm dynamic drivers would not require any specialized shell venting due to their size but 9.2mm drivers might.
Either way, the passive isolation is incredible with a total block out of the entire noise range of 0.5hp window aircon right beside me. No custom monitor has ever achieved that before during our review process.
A few additional notes. The first is due to the size of the Jolene shells they will stick out a fair bit from your ears but apart from that, they will not move one iota if built properly. The second note is the new 7-pin extending socket design does a really nice job of pushing any potential cable pressure out and away from your ear outer ear. Less pressure means more long-term comfort.
Cable & Connectors
7-pin
So, this is a big change since I last reviewed a JH Audio monitor though it has been out since 2019. I am not a huge fan of proprietary connectors because I like to roll my cables but the new 7-pin connection socket does seem to be an aesthetical and functional upgrade on their previous 4-pin versions.
The female socket on the Jolene shell is much cleaner looking to my eyes with a dash of gold cleaning up the base joints very nicely. Gone are the dual-action slide and screw and in its place a simpler iridium-coated push and pull connector which looks very robust as well as doing an excellent job blocking out condensation.
Stock Cable
The 7-pin stock Jolene cable has also gone through some significant changes compared to the Layla version we reviewed back in 2018. By all accounts, this new version is an upgrade both internally and externally.
It is still a 48″ long cable with an option to go to 64″ for an additional $10 at the checkout. However, instead of a 4-wire OFC for the wire, this time we have high purity OFC 4N silver-plated Litz wire which should add a bit more clarity on the top-end compared to the original OFC only wire.
The cable is also a bit thicker with a proper braid instead of a twisted black jacket finish so I wonder if this is an 8-core as opposed to 4-core on the older stock wire. The memory wire seems to be a similar length as the older cable but the materials are a bit softer or more malleable.
Two other significant changes and do seem to be more about reducing weight and profile. The first is the bass module which is about 30% smaller than the original version and the second is the jack barrel which has a much smaller curved profile. The strain relief and low level of microphonics are as excellent as ever on these cables.
Packaging & Accessories
For a high-end monitor, the Jolene packaging is surprisingly simple and compact. Granted this is a pre-launch sample but it looks fairly complete to me so I have to presume this is the final look. Mind you, the Layla packaging was not that big either and if you are running a tight ship for logistics costs a smaller size is always welcome.
This is an understated soft-matte finished black branded flip-lid box with a small brown recyclable paper quarter-sleeve at the bottom that will have your name on the front.
Inside, there are copious amounts of protective black foam padding surrounding a custom-type black branded carbon fiber carry case. Inside the case, you will find the Jolene monitors, a satin cleaning cloth, and your stock cable.
You have a range of additional accessories including stickers at the bottom and a thank you card at the top and neatly tucked into the foam to the side the all-important bass adjusting screwdriver. Do not lose that unless you have a straight edge driver of similar dimensions as the screws on the module are not easy to adjust without.
The Jolene carry case is fairly familiar to me but if you are seeing it for the first time it is a Carbon Fiber and Black DiamonDyzed Aluminum square case with a protective outer wrap and magnetized lock.
It is a step up from the flip top and round case used with some of their other units and indeed and sells for $250 on its own as opposed to these other two which sell for $150 and $100 respectively.
There is enough space for your cables and monitor, however, but not much more than that plus the all-important screwdriver and cleaning cloth. Slightly larger than pocketable but definitely baggable and very robust.
Click on page 2 below for sound impressions and synergy.
Click on page 3 below for select comparisons and the final verdict