This is a review of the Vision Ears Phönix which is the company's flagship universal in-ear monitor featuring a 13-balanced armature driver design. It is priced at €3500.
Disclaimer: This was sent to us as a sample for our honest opinion. Headfonics is an independent website with no affiliate links or services. We thank the team at Vision Ears for giving us this opportunity.
To read more about Vision Ears products we have featured on Headfonics click here.
Note, this article follows our latest scoring guidelines which you can read up on here.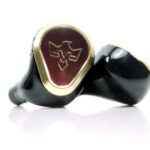 Vision Ears Phönix
The Vision Ears Phönix is a pricey but beautifully designed high-end monitor built for blissful and stress-free listening. Its coherent timbre has an inviting and intoxicating blend of smooth-sounding mids and gorgeously rich vocals backed up by a punchy low-end performance when called upon.
Pros
Coherent smooth tuning
Beautiful design
Comfortable to wear
Cons
Silicone tips hard to use
Not a reference tuning
I listened to the previous Vision Ears 'flagship' ERLKöNIG only once at CanJam Singapore back in March 2018. I cannot tell you what the switch setting was on but it sounded gorgeous. I was kind of sad that the limited review round never got to my remote location and even more so when it was phased out recently.
The change to get something close to the ERLKöNIG in the guise of the newest flagship experience, the Phönix, was not going to be missed a second time around.
In many ways, the Phönix is the spiritual successor to the ERLKöNIG with VE's reference point being 'position 2' of the old flagships sound signature. However, this is not a redux or version 2 with a new lick of paint. There is a lot more going on with some new driver development, different shell designs, and thankfully a bit cheaper than the original.

Tech Highlights
The Phönix is an entirely balanced armature creation with no less than 13 drivers per side. The precise configuration is 4 for the lows, 4 for the mids, 4 for the highs, and then an entirely new super tweeter for the ultra-highs, primarily for air and perceived staging headroom. All of this is threaded together with a fairly complex passive 5-way crossover.
The drivers are stacked and vented dual-driver modules for the lows, non-vented for the mids that are split between the low-mids and mid/highs with that additional spout-free super tweeter likely positioned right in the nozzle itself. The dual-driver stacks have a tube for each plus one additional slot for the super tweeter all in an internal inlay design.
The Phönix is rated 13Ω @ 1KHz and 125dB SPL which puts it in the super-sensitive IEM category and it is highly unlikely you will need huge amounts of voltage or current to power it but it does enjoy a highly resolving source and you can read more about that on page 2.
Design
This is a beautifully designed universal monitor but one with more of an expensive boutique jewelry type aesthetic than the more aggressive new-age shape and vibe of the EXT we recently reviewed.
The Phönix is also a little bit bigger than the EXT and to some extent, it also follows Vision Ear's new design language for the exaggerated nozzle angling but it's a more elegant curvature compared to the EXT's more extreme shaping. As with the EVE20, it is also unusually flat on the underside which I presume is to allow for more potential nozzle insertion depth.
It also feels very solid yet fairly lightweight. I suspect this is down to the machining of dark carbon fiber mono-blocs for the main shell which is a much lighter material than the ERLKöNIG's pure silver shell. Each bloc's patterning is unique also so no two Phönix will ever look exactly alike.
The faceplate is a triple set of layered anodized aluminum as its base with domed sapphire glass on top of a ruby red chrome layer which includes the golden Phönix logo on each side. Each plate is surrounded by a gold-accented trimming or ring that nearly follows the shape of the main shell. If you do not fancy gold you can also opt for a matt black version of the ring.
Now, you may notice that in some of our pictures the depth of the color changes a little and that's due to the highly reflective sapphire glass layer on top. If you direct the faceplate head-on into the light the shade gets very light with an almost golden tone. However, direct it away and the richer wine-red tones shine through much stronger.
Stock Cable
It looks like the EXT stock cable but it's actually something brand new, just finished in a similar styling. The Phönix stock cable is custom made, I believe from Hansound in Taiwan, and is a 4-wire silver-gold alloy with an OCC copper Litz geometry. It also has OCC copper shielding, twisted with multi-layer isolation.
The gauge is big though, something I am seeing more and more these days with aftermarket cables. The cable is rated at 23AWG which should lower resistance and increase dynamic range substantially on typical 26AWG or 28AWG cables that come as stock with IEMs.
The cable comes with 0.78mm 2-pin connectors and a 2.5mm TRRS by default for the jack. However, Vision Ears have thrown a beautifully finished 2.5mm TRRS to 4.4mm Pentaconn adapter finished with a gold-plated phosphor bronze conductor and POM insulation. The branded black splitter in the middle is made of stainless steel but coated in a matching black color.
The jacket is black finished PVC so quite soft and pliant with tight braiding so this lightweight cable stays nicely under control with low memory retention and no microphonics under the splitter.
Comfort & Isolation
Because of the flat underside and angular nozzle, the Phönix gets fairly close to the concha basin of your ear with good penetration depth. Not quite as crazy tight as the smaller EXT but definitely a fairly secure and flush fit with very little sticking out. It is not that heavy either so it not going to fatigue your ear canal for long listening periods.
The level of isolation is more tip-dependent though since the Phönix is not hugely contoured like a quasi-custom universal but the long nozzle should help get a deep seal also with the right sized tip.
Tips
Vision Ears have included two sets of tips with the Phönix. This includes a set of SpinFit CP145 tips and another plastic pack of the AZLA SednaEarfit Crystal's first seen packed with the EXT.
I had a tough time with the AZLA tips with the EXT and whilst it is no walk in the park in getting them fitted it is easier than the EXT due to the lack of protruding lip on the Phönix nozzle.
The SpinFit tips are much easier and of the two they are slightly more comfortable. However, I prefer the superior isolation from the AZLA tips which in some way improved also the over the Phönix nozzle performance. The SpinFit's felt maybe a little more laid back and smoother whereas the AZLA had a punchier and slightly brighter tone.
Packaging & Accessories
Once again, it is a Vision Ear packaging solution, and once again, wow. They do awesome boxes, maybe not as articulated as the incredible Elysium unboxing experience but nevertheless aesthetically beautiful, intricate, and very much conveys a high-end premium product. Black belts in origami have been truly earned.
The Phönix layout is very similar to the EXT so perhaps we have hit on a winning formula with that rectangular vinyl printed over and split lid container on the inside. Opened up, the drivers have their own detachable storage box with pamphlets and warranty cards in a low-profile stiffened envelope under one of the lids.
Lift that off and you have a very neat arrangement of similar accessories to the EXT including a leather buckle, leather warranty cardholder, the 4.4mm Pentaconn adapter, and the two sets of branded stock tips, (Azla and SpinFit).
Carry Case
The Phönix packaging also marks the introduction of a brand new genuine leather case for the Premium line. This is a branded black leather material over a stiffened semi-circular frame so whilst not as robust as the older puck style metal cases it does feel it can safely take a knock or two without damage to the insides.
You can open and close the case with a dual zipper which, in turn, is accented with some matching leather strap pulls. On the backside is a discreetly positioned leather key strap with a metal ring to allow you to attach it to whatever you want for transport.
The internal has a pale brown suede lining with some smart holders on the inside of the lid and the base for managing your cable and 4.4mm adapter and preventing them from knocking the drivers around. It is not the deepest internal though so you only have enough room for one cable, the drivers, and the adapter before it gets a bit cramped.
Sound Impressions
Summary
VE tuning has always tended to go for something that is readily enjoyable in terms of pure listening regardless of technical capability or tuning bias. The Phönix, for me, is probably the pinnacle of not only Vision Ear's penchant for refined tuning but just about every equivalent monitor you would loosely define as 'smooth'.
And that's the operative word, smooth with a wonderfully balanced sound signature, an intoxicating dose of euphony, and excellent body for a BA monitor.
I stop short of using the word 'surprising' for the BA low-end because I heard something similar in terms of depth, articulation, and definition from the Softears RS10. Only this time you get a bit more warmth thrown into the Phönix's low-end to make it beefier sounding.
You won't get the sub-bass weight of a dynamic driver, for that you need the EXT. However, this is a very punchy BA mid-bass response adding an excellent fundamental to drums and bass guitar plucks without the bloat.
Mids are rich, full-bodied, and further forward than the likes of the Odin or the U18s though not as forward in the upper-mids as the Odin. Female vocals are to die for with the right pairing. R2R DAP users will enjoy the synergy with the Phönix for those tricky soprano vocals that can sometimes sound lean or brittle with armature drivers.
And there is absolutely nothing piercing or off sounding about its treble tuning. You could argue it's not in your face or sparkling quite like the EXT's e-stat drivers. It is perhaps more to the relaxed side in order to achieve that welcoming midrange tone.
Nonetheless, the headroom and air are very much there so I never once felt that the Phönix treble sounded artificially rolled off.
Frequency Response
VE has done big-sounding sub-bass before with the VE8 so it is not impossible for a BA monitor to rumble. However, quite a lot of their BA designs have sought to balance that out a bit more and the Phönix is a prime example with a 20-50Hz curve that just gently faes a little from its maximum amplitude which sites closer to 50-100Hz.
That means the mid-bass is going to be more to the fore than the sub-bass but by no means shallow sounding. This tuning has good weight but you are going to be drawn more to the stronger punch and stronger articulation.
From 100Hz to 1k you get a slow drop for separation and to prevent bleeding. It is not a steep or aggressive cut-off quite like the Odin or the U18s so you do get some additional warmth traveling up into the upper bass and lower mids with instruments offering a good presence and a richer timbre.
Pinna gain is there with a rise from 1-4k but once again nothing extravagant. Vocals are to the fore, especially female vocals that sit front and center with guttural male vocals below 1k sitting a bit further back.
The treble might vary for some who do measurements depending on the gear they are using. A Gras 0402 coupler might show the treble as more relaxed by around 4-5dB compared to an older 711 coupler and truth be told I am veering a little more to the 711 subjectively which has a gentler drop around 5-7k and more energy around 8-10k.
That feels about right for me given the Phönix sounds extended and airy for its upper treble but not as forward sounding as the EXT's electrostatic drivers.
Timbre
Euphony. Said that before didn't I? You honestly cannot get past that phrase when talking about the Phönix timbre. However, to clarify this is euphony slightly on the sweeter side and not a thick and rounded tone lacking in space or compressed instrumental imaging.
This is liquid-sounding for note leading edges with excellent control on upper-mids sibilance and plenty of body and natural warmth to instruments. That Les Paul and Marshall classic tube amp sound is just perfect with the Phönix.
One thing though when comparing the EXT is for some, that warmth might be perceived as a bit of softness for rock vocals that straddle the lower mids. Sometimes I found myself veering to the EXT's cleaner sound for classic rock numbers where the crispness of the lower pitching vocal shone a bit more.
However, switch up to mixed and head voice vocals and the Phönix comes into its own with a velvet-like character to operatic singers and tinge of sweetness to soprano or even whistle notes. It will be very hard to tease out sibilance and harmonic dissonance from the Phönix unless you plug it into the coldest sounding source you can find.
Treble overtones are more to the forgiving side with just enough reach to give percussion instruments such as cymbals and hi-hats some life and presence. There is no classic hard-edged almost metallic and brittle sounding BA timbre in its highs to achieve that perception of enhanced detail either.
Staging & Dynamics
The Phönix has a fairly rounded staging quality with a bit more emphasis on width and excellent stereo separation than displaying absolute depth and huge power.
Overall, my ear tended to be drawn more to the mids dynamic presence alongside those punchy mid-bass performances over any extreme highs or extreme lows. String rhythm arrangements such as bass guitars sounded forceful and articulate with higher pitching female vocals also constantly grabbing my attention.
For a BA monitor, the clarity down below is excellent. I had mentioned before how the RS10 BA bass performance was surprisingly strong and it is the same case here. Just you get that additional warmth and density to go along with it that allows the Phönix to beef up that all essential rhythmic instrumental PRaT whilst maintaining some welcome space.
Imaging is excellent, but naturally so rather than spatial cues being driven down your throat with a high dose of treble energy. Placement is very accurate, especially on the horizontal axis, and it is especially complex-sounding through the mids.
Click on page 2 for pairings and select comparisons