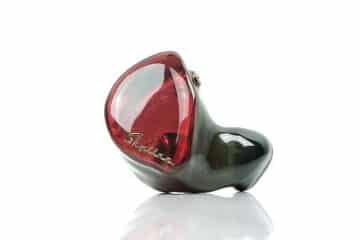 The Lear LCM-Skyline is a new custom monitor featuring an 8mm PEEK diaphragm single dynamic driver and a balanced in-ear
...
The Satin Audio Medusa is a handmade detachable IEM cable and the flagship of their 'Monster' IEM cable series. The
...
The Final Audio E4000 & E5000 are the company's top of the line single dynamic driver detachable cable universal monitors
...
Disclaimer: The Campfire Audio IO sent to us is a sample in exchange for our honest opinion. We thank the
...
The iFi Audio xCan is the latest slimline amp in their new 'x' range of portable amp/DACs and also includes
...
The BGVP DM7 is the successor to the very popular universal IEM, the BGVP DM6. It has 6 BA drivers
...
The Symphonium Audio Mirage and Aurora are two brand new balanced armature monitors from this new Singaporean company priced at
...
The FLC8N from FLC Technology is the latest version of their high acclaimed hybrid multi-filter universal monitor. It is currently
...
The oBravo ERIB-7 is the company's entry-level hybrid dynamic driver and planar tweeter universal monitor. It is priced at £249.
...
The Shozy BG is the company's latest mid-fi universal monitor offering comprising of 5 balanced armature drivers and priced at
...
The FiiO M9 is the latest in the company's new M series of digital media players featuring Android and Bluetooth
...
The Hidizs Mermaid MS1 and MS4 are two brand new Kickstarter-funded hybrid universal monitors priced at $99 (discounted) and $249
...
The FiiO FA7 is the company's first-ever 3D printed universal monitor. Comprising of a quad balanced armature design, the FA7
...
The Burson Fun and Burson Bang are a set of new compact headphone and power amps ideal for near-field speaker
...
The iBasso DX120 is a brand new mid-fi pocket-friendly reference DAP featuring a touchscreen and balanced output features. It is
...
The Earsonics Birdy is a tiny little high fidelity Bluetooth earphone adapter priced at $290 that converts any IEM into
...
The SMSL DP3 is a feature-packed desktop wireless streamer, amplifier, and DAC priced at $278.99. Disclaimer: The SMSL DP3 sent
...
The ARC Pollux is a new Thai custom monitor based on a single balanced armature design and priced at $399SGD
...
The E4UA JH Audio Variable Bass Pod adapters is a unique product that allows you to use any cable with
...