In this feature, we review the Kiwi Ears Orchestra Lite which is a new eight customized balanced armature driver universal in-ear monitor. It is priced at $249.
Disclaimer: This is a sample sent in exchange for our honest opinion. Headfonics is an independent website with no affiliate links or services. We thank Linsoul for their support.
To read more about Kiwi Ears gear previously covered on Headfonics please click here.
Note, this article follows our latest scoring guidelines which you can read up on here.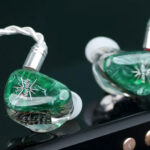 Kiwi Ears Orchestra Lite
Overall, the Kiwi Ears Orchestra Lite is a very interesting monitor, one of its kind in this kind of price range. I think it checks a lot of boxes for both people looking for an upgrade and a side grade alike.
Pros
Balanced and natural tuning
Wide and holographic imaging
Competitively priced
Cons
Shell design could be better
The Kiwi Ears Orchestra has been one of the highlights in 2021 with Kiwi Ears, a relatively new player in the audiophile market, coming up with an 8BA flagship IEM. For those who don't know Kiwi Ears, they are veteran designers that have tuned some of the most popular ChiFi IEMs.
What we have here today is a variation of the famous Orchestra called the Orchestra Lite. Judging from the name, it's a more affordable option with a lot of silhouettes from the original Orchestra.
Featuring the same 8 BA driver design, optimized to enter into a lower price point. How will it live up to the original Orchestra?
Tech Highlights
The Kiwi Ears Orchestra Lite is built on the same foundation as the original Orchestra. With the price difference, I was expecting a lot more changes. However, Kiwi Ears has said they're utilizing the same set of drivers.
It features the same 8-balanced armature driver configurations and the tonal balance as its predecessor. It involves 2 custom ultra-tweeters for the treble, 4 custom mid-range BA for the mids, and 2 subwoofer drivers for the lows.
It has the same 3-way passive crossover that ensures a smooth transition with a tuning that supports professional musicians and audio engineers.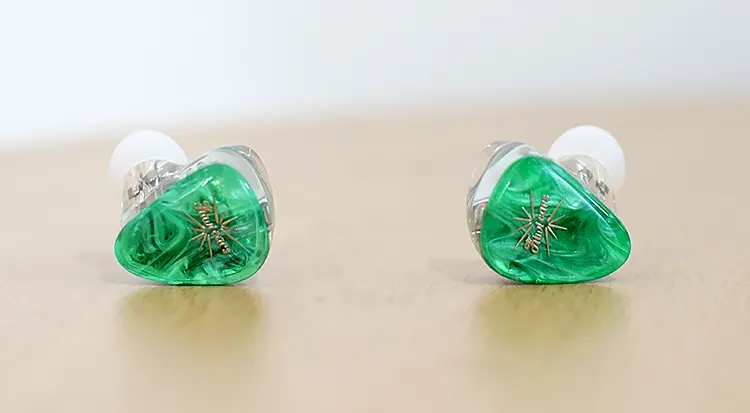 Design
In terms of design, the Orchestra Lite looks a lot different from the original Orchestra, but also similar at the same time. The Orchestra Lite comes in Blue and Green colors, but with slightly quirky shades, one of a kind.
To be frank, the faceplate looks like a guitar pick, to say the least. The design is rather simple, a transparent shell with an ergonomic design shape. The logo is also plastered in the middle of both shells.
Aside from the color, it looks plain and nothing out of the ordinary, if I may say a little bit boring, but very professionally finished.
Comfort & Isolation
Despite the slight change in shell shape, the Orchestra Lite is comfortable for long periods. It fits perfectly in the ears with no hotspots felt.
It came with stock silicone white tips, which is a nice touch in terms of aesthetics. It's a white dome-shaped single-flanged ear tip that provides adequate isolation.
Sound does not leak with this monitor. It blocks sound well, which makes it easy to hear minute details. You can get lost in listening without the bother of outside noise.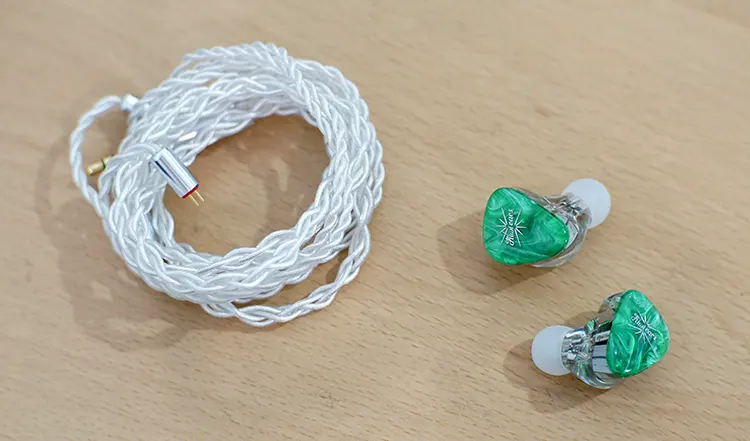 Stock Cable
Looking at the cable, it resembles the original Orchestra as well. It has the same braids but now with a different color. It is a 4-core 7N oxygen-free copper cable said to compliment the IEM well. It is designed to be light and comfortable for stage or portable use.
It also features a 2-pin 0.78mm termination for easy cable swapping and of course a 3.5mm straight plug for universal access.
There was no observed microphonics, even when moving around. The wire sits comfortably and is secured at the back of the ears.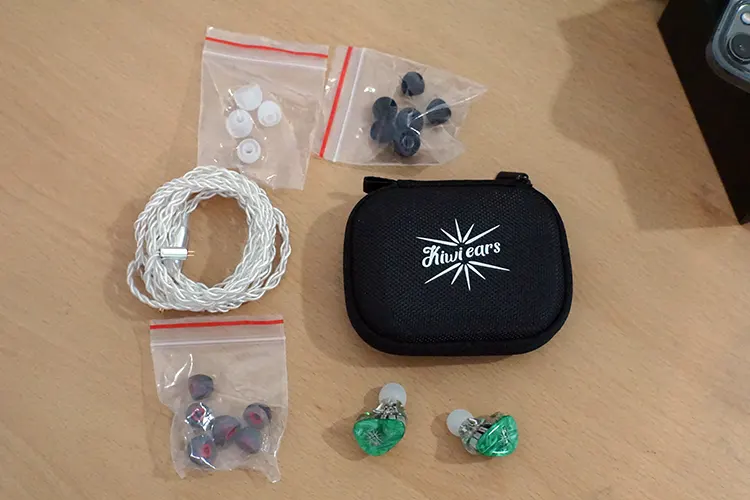 Packaging & Accessories
I was surprised by the Orchestra Lite packaging. It seems Kiwi Ears have leveled up with its graphics on the outer box.
Inside the box, there is a 2-level opening experience with the first layer holding the monitors. The 2nd layer holds the case, and 3 extra pairs of ear tips – Black silicon, white silicon, and hybrid silicon.
A simple hard pouch can be seen inside. It's nothing amazing but it does the job of carrying the IEMs and tips well.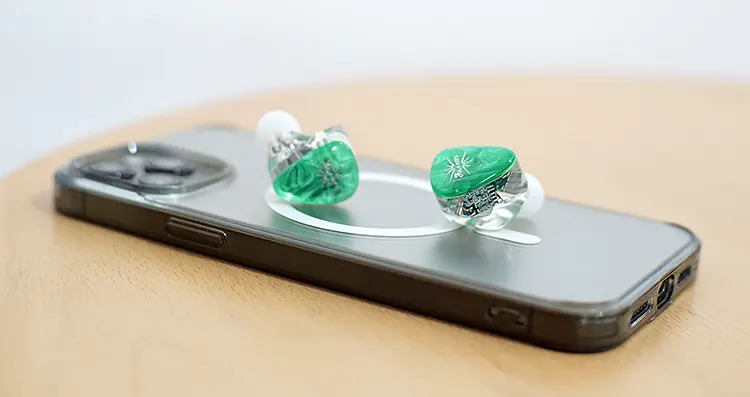 Sound Impressions
Bass
Although Kiwi Ears did say the bass is not the primary focus of the Orchestra Lite, it does have adequate sub-bass and mid-bass, especially for an all-BA driver configuration. Songs with deep rumble are felt with this pair and I must say they are comfortably tuned to display just the right amount of bass.
It has a natural bass response quality in them. Fast bass rifts are heard well, with its tight bass drops. Bass drums display accurate thumps, enough to enjoy the dynamics of different genres.
Mids
Same with the original Orchestra, the midrange region is the strength of the Orchestra. It is tuned to be forward, highlighting the richness of the midrange region.
The midrange is mostly even, with a good balance between the lower and upper midrange. Both male and female vocals float across different tracks, highlighting detailed vocal techniques and textures. It gets better with extended listening, as you get to listen to minute details that were absent before.
Instruments also sound natural with the Orchestra Lite. Piano keys sound not overly sharp or rounded, and guitar and wind instruments display accurate timbre. The instrumental presentation supports the vocal quality with these monitors.
Treble
Orchestra Lite has a well-extended treble. Although, at times it lacks the sparkle that I was expecting. It's neither dark nor bright. A rather conservative tuning that compliments the bass and midrange of the Orchestra Lite.
Good control is also exhibited with the Orchestra Lite as frequency drops were not noticed as much. The crossover design was well-designed to reduce crossover distortions.
Overall, it sounds natural with no over-boosting in the highs. There were no hiss and harshness which makes it a comfortable monitor to listen to.
Staging
The Orchestra Lite has surprisingly good staging. It is wide, a punch above its price point. There is a distinction in layering as well. It was easy to create a mental image and different sounds across time.
The good sound layering is also projected in a 3-dimensional space, which forms rather above-average imaging.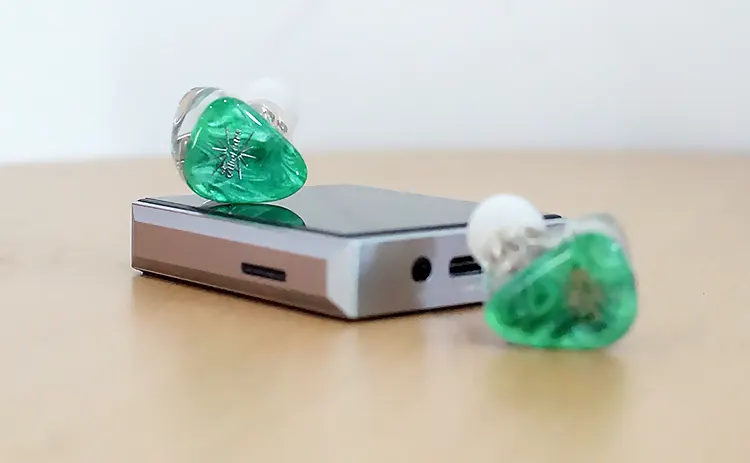 Synergy
Efficiency
With an impedance of 16Ω and a sensitivity of 112dB, the Orchestra lite is not difficult to drive. It's designed to be played from any modern device so powering it up with a phone or laptop is fine.
A DAP or dedicated audio player would power these with no problems as well.
Pairings
With the Orchestra Lite having a rather neutral tuning, it would be very flexible with its paring. Various DAP sound signatures would work well.
To beef up the lower end, the Hidizs AP80 Pro-X would be a good pair. It does well in improving the recessed sub-bass region.
The Hiby R3 Pro is also a good pair in extending both lows and highs of the Orchestra lite. Aside from the sound improvements, it also does squeeze in a bit more soundstage which creates a more holographic effect.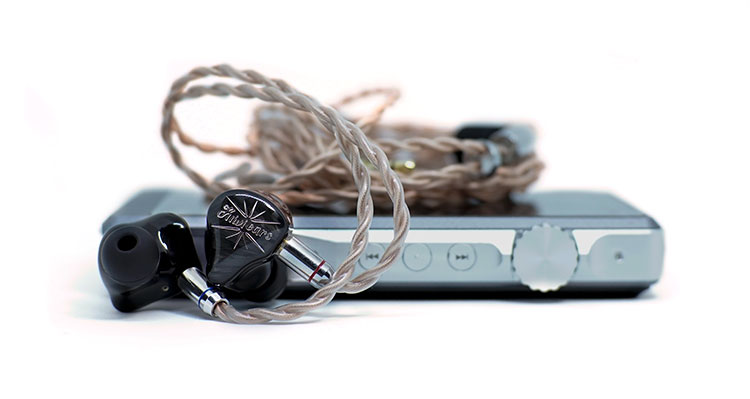 Kiwi Ears Orchestra
$499
Technical
The original Orchestra has an 8 BA has a different configuration with 2 Sonion drivers for the low frequencies, 4 custom BA drivers for the midrange, and 2 Knowles drivers for the higher frequencies.
Kiwi Ears have said that the Orchestra Lite follows the same 8 balanced armature configurations and the famed tonal balance. It's now delivered in a more efficient performance at the same specs.
Design
In terms of looks, they are pretty much the same. Both have ergonomic shell designs, although the curves are slightly different. They greatly differ in color selection – with the Lite having "lighter" colors with blue and green variants and transparent resin shells. The original Orchestra has a black overall finish with brush strokes as its accent.
Both IEMs also have an ear-hook design and a universal 0.78mm 2-pin termination. Orchestra Lite's cable has been paired with a 4-core 7n oxygen-free copper cable. The original Orchestra has a similar 4-core ultra-pure grade oxygen-free copper. Visually they look pretty similar only different in color.
Performance
The bass on the Lite has a lot more weight compared to the Orchestra. The sub-bass indeed has more rumble, although the Orchestra does have enough mid-bass to hear bass rifts.
The midrange on the Orchestra is still superior to the Orchestra Lite, especially when we look at the technical aspects. The Orchestra has the upper hand in terms of tonality, clarity, and richness in timbre. The Orchestra sounds more natural, wide, and open. It translates vocals with a certain richness that the Lite cannot.
Both IEMs have a good treble extension, however, Orchestra has the upper hand in this region. Guitar strums are crisper, where it felt a little bit rounded with the Lite, although the tuning of the Orchestra is adequate to feel the presence and brilliance in the upper regions.
The soundstage on the Orchestra is still wider compared to the Lite. Although, the Lite does have an impressive soundstage and imaging for its price point. It doesn't fall far behind the Orchestra. Imaging is similar between the two, both have above-average layering.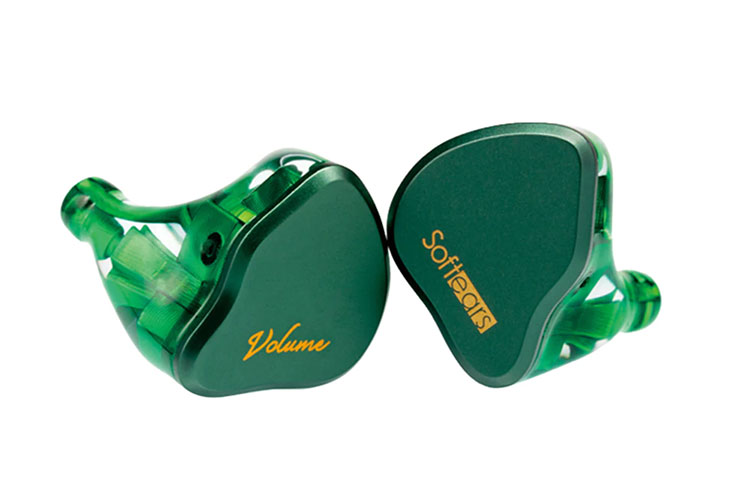 Softears Volume
$299
Technical
The Softears Volume is a hybrid monitor with a mix of dynamic drivers and balanced armature where it has its own 10mm PEEK suspension diaphragm coil with a beryllium-plated dome dynamic driver and 2 custom BA. Whereas, the Orchestra Lite is a full BA monitor with 8BA inside.
Design
Both monitors have an interesting color of choice – green. Although the Volume is deeper and more St. Patrick's Day kind of green. Both have an ergonomic shell design with no hotspots in the ear.
Both monitors have a 2-pin 0.78mm termination with an ear-hook design. While both monitors have their unique charm, I prefer the Volume's overall look.
Performance
The two monitors have different sound signatures. The Volume is a V-shaped monitor while the Orchestra Lite is rather flatter.
Bass is plenty with the Volume compared to the Orchestra Lite. The Orchestra Lite has a pleasant rumble but the Volume is fuller and has more heft.
It is evident in the midrange that the Volume is more recessed than the Orchestra Lite. With the Orchestra Lite, vocals float against the instrumentals and let them shine on their own. The Volume presents vocals further back, at times losing some texture on details.
Volume has a sharper and more aggressive tuning than the Orchestra Lite, although both with no sharp peaks. Guitar strums and cymbal crashes are livelier with the Volume. Both monitors have a great treble extension, with an adequate amount of shimmer and sparkle in higher frequencies.
The soundstage of both monitors is above average, although the Volume does have a wider soundstage. Imaging is fairly accurate on both monitors. It is holographic with layering presented well on both monitors.
Moondrop KATO
$189
Technical
The Moondrop KATO is a single dynamic driver monitor with a 10mm ULT super-linear dynamic driver. The Orchestra Lite has a different configuration with a pure 8-balanced armature driver.
Design
The KATO has a very different design with a shiny metal-polish finish like an elegant futuristic creation. Orchestra light is rather on the quirky side of things with a light green-colored face plate and transparent shell.
Both IEs have an ear-hook design with a 2-pin 0.78 termination. The cable on the Orchestra Lite feels a lot more premium than the KATO. Both cables are terminated with a 3.5mm straight jack.
Performance
Bass is present in both monitors. Surprisingly, the Lite goes a little bit deeper, although the KATO has more natural-sounding bass, because of its dynamic driver design. In terms, so quality, it's tough to beat a dynamic driver in terms of bass.
Orchestra Lite shines in the midrange region. It is its forte, especially since it's an 8BA design. Vocals float throughout the different genres, with a little bit more articulation against the KATO.
The treble of the KATO is a lot more aggressive than the Orchestra Lite, although neither does sound shrill or harsh. The Orchestra Lite sounds a bit dull when compared to the energetic and bright presentation of the KATO.
These two monitors have good imaging with a multi-directional imaging capability and great separation. However, the Orchestra Lite does have a little bit wider and deeper wider soundstage compared with the KATO.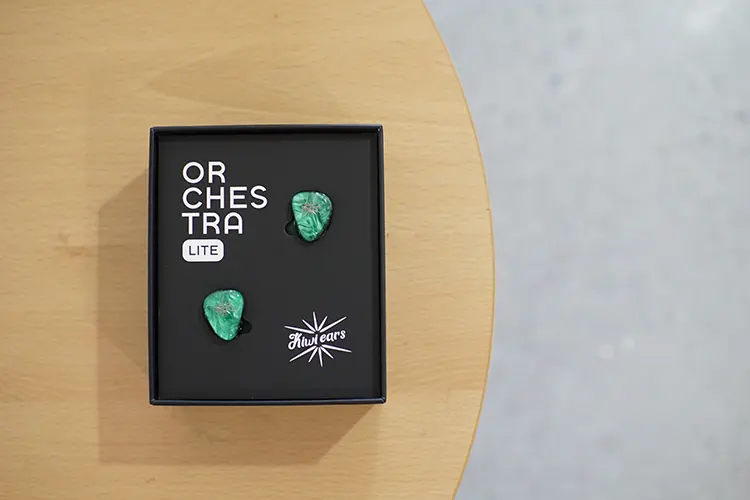 Our Verdict
Orchestra Lite does achieve what Kiwi Ears were planning which is a cheaper Orchestra with very little compromise. Overall, I have to say the Orchestra is still superior in terms of overall sound resolution with a richer timbre, clearer sound, and a wider soundstage.
However, when you consider that it only costs $249 or around half of the Orchestra, then things get a little bit more interesting. It's perfectly geared for people on a budget but who want a flat and neutrally sounding monitor.
Overall, the Orchestra Lite is a very interesting monitor, one of its kind in this kind of price range. I think it checks a lot of boxes for both people looking for an upgrade and a side grade alike.
Kiwi Ears Orchestra Lite Technical Specifications
Type: In-Ear Monitors
Drivers: Kiwi Ears Customized HI*2+Kiwi Ears Customized MID*4+Knowles LOW*2
Impedance: 16Ω
Sensitivity: 112dB
CAable Termination: 3.5mm Stereo Cable