Today, we review the HiBy FC6, which is a new R2R DAC and discrete headphone amplifier dongle using the company's Darwin architecture. It is priced at $299.
Disclaimer: This sample was sent to us in exchange for our honest opinion. Headfonics is an independent website with no affiliate links. We thank HiBy for their support.
You can click here to read more about the HiBy products that we have previously featured on our website.
Note, that this article follows our latest scoring guidelines which you can read in more detail here.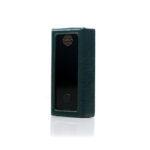 HiBy FC6
The HiBy FC6 has some pleasing density and a bit of welcome grunt combined with fulsome mids and relaxed highs. Both the NOS and OS modes have enough qualitative differences to give you some real-world benefits to fine-tune for either bright or bassy headgear depending on your preferences. 
Pros
Natural smooth tonal quality
Very compact design
NOS/OS capability
Cons
Noise with Samsung phones using NOS
No balanced output
The high-end dongle DAC has been with us for a year or two now with top-tier releases such as the Cayin RU6 and Questyle's M15 among our standouts from 2022.
The concept is quite straightforward, focus on the DAC and amplifier performance and leave the power, software, and connectivity to your smartphone. It's a killer combo in a way given phone software is very mature, fast, and offers all the functionality you could want for. So much so, the budget DAP market has been greatly diminished as a result.
HiBy's launch of the FC6 not only taps into the above principle but also brings a lot of their higher-end DAP technology from the likes of the RS6 and the RS8 into a more affordable price tier.
They have a few dongles out there already including the FC3, 4, and 5, however, the FC6 is comfortably their most ambitious and expensive dongle to date as their flagship dongle.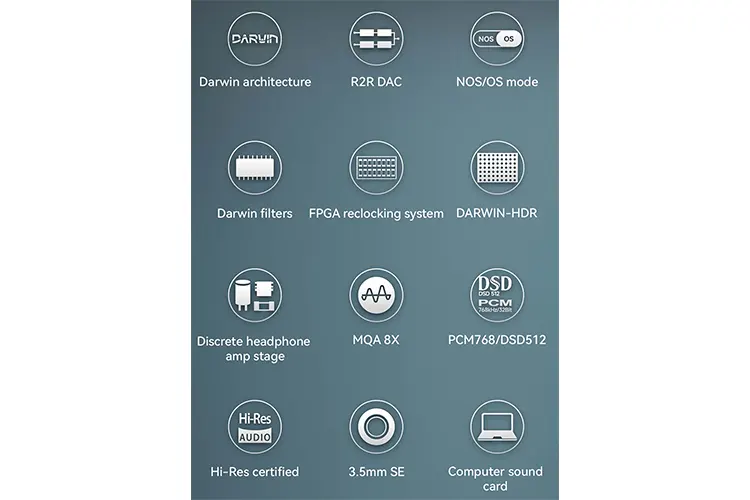 Tech Highlights
Summary
The HiBy FC6 is a compact single-ended dongle DAC for use with Android platforms. It has a unique R2R DAC implementation alongside a single-ended discrete headphone amplifier stage within HiBy's Darwin Architecture.
At a high level, the Darwin Architecture first appeared on HiBy's high-end RS6 DAP as well as their recent flagship RS8 DAP. It represents a holistic approach to digital signal management, including digital-to-analog decoding and any associated sampling and filtering techniques to acquire the desired sound signature.
R2R DAC
Decoding duties are handled by a discrete-designed 24BIT R2R DAC using two rails of 48 matched resistors, (0.1% tolerance), per rail or per channel making it a total of 96 resistors with supporting technology for linear compensation.
Decoding is impressive with up to PCM 32BIT/768kHz native decoding and up to DSD512 output. However, since this is an R2R DAC the DSD signal is handled either via conversion to PCM through a SRC multibit converter or the 1-bit data is processed with noise shaping entirely via FPGA.
You also get a bonus MQA 8X capability from the FC6, however, given the current direction MQA as a format is going, this advantage may diminish over time.
Based on my previous experience with R2R technology my advice is to give the FC6 a good few hours burn-in time for those resistors to fully form to achieve an optimal performance.
Amplification
The FC6 amplification circuit is described as being discrete-designed but it's not fully discrete with an OPA1652 for the low pass filter and a pair of OPA1622 chips, (1 per channel), in the signal path for amplification. My assumption is that the discrete aspect applies to the current as opposed to voltage amplification.
This is also a single-ended amplification circuit with no balanced output which might surprise a few potential owners looking at the FC6 and comparing it to the likes of the R2R Cayin RU6 and the Questyle M15 which both offer a 4.4mm balanced output.
Output power is reasonable at 100mW under a 32Ω load and should be enough for most IEMs and one or two efficient headphones. It is a little lower though than the RU6's SE 138mW rating on the same load and less than half of its balanced 213mW rating. However, its THD+N rating seems better at 0.006%, (32Ω), compared to 0.032%.
On paper, the FC6's rated output power is a lot higher than the M15 output of 26.71mW under a 32Ω load but the unique delivery of its current mode amplification belies those seemingly feeble numbers with some excellent dynamics with tested pairings.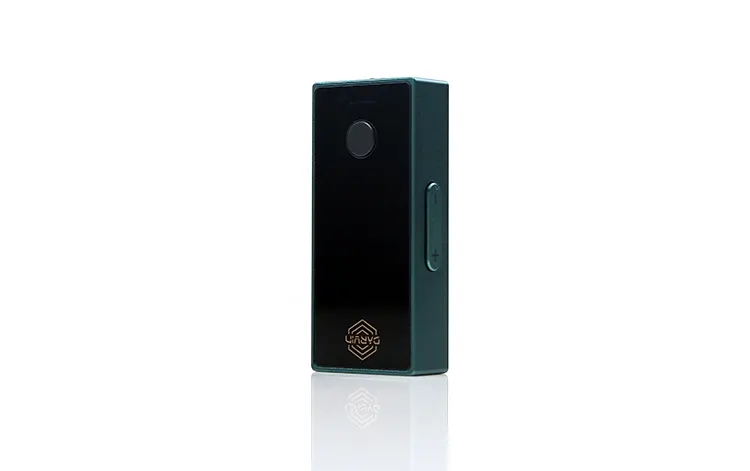 Design
Most dongles are small and very pocketable, but the FC6 takes the award for just how small things can get for a high-end format device. You should have no issues with pairing this with any smartphone or pint-sized DAP given its diminutive dimensions.
I have 7 dongles sitting on my desk here and only the Questyle M12 comes close to its petite size being taller but less wide. At 50mm x 22.4mm x 10.0mm it is tiny compared to the largest one I have which is the Questyle M15 with almost the same size discrepancy compared to the RU6.
The FC6 comes in 2 colors, black or green. This one is finished in a tasteful green aluminum alloy with a glass front. 'Be still my beating heart', that's my current color of choice for gadgets this last year.
Just to reinforce that greenness, it also comes with a very cute little matching colored aged leather case that fits snugly so it will not fall out either during use.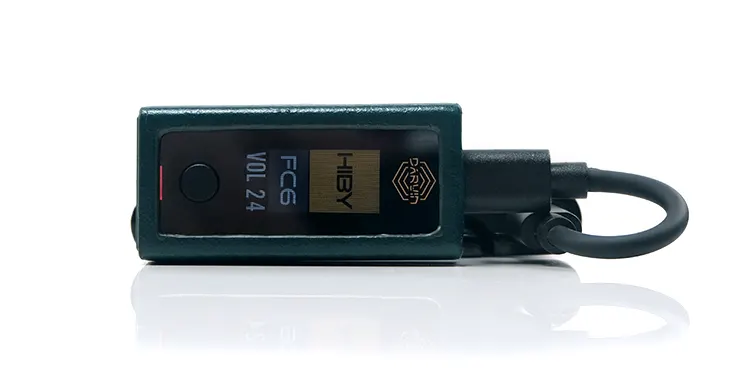 Screen
For such a small dongle, the ironic aspect of the FC6 design is the screen which is probably one of the best in its class. Now the actual size is not huge, in fact, it's about the same dimension as the RU6 screen.
However, it's one of the first dongle LCD screens to actually make use of the entire area and in color making it one of the most legible and easy-to-read interfaces I have used to date.
To date, most dongles have been content with either thin ticker tape type matrix displays akin to an 80's pager or wider static displays with a lot of black empty space.
Not the FC6. You get a bright yellow HiBy logo on power-up with the dongle name and the 32-step volume level in a very large and legible font. It's a joy to use and very accurate with adjustment via a volume rocker on the side panel and a mode selector button on the front glass panel.
When alternating between the modes and filters the font stays huge but the screen reverts to shades of green. It's super easy to understand which should be the whole point of any OS to begin with.
I will say though that the volume rocker itself is a little loose on this sample so when I tap the main housing I get a bit of feedback noise from the rocker movement. Once you put the case on the FC6 though, that noise goes away.
I/O
Since the FC6 is a single-ended design the I/O is very simple with a single 3.5mm TRS gold-plated jack on one side and a USB-C port on the other for OTG digital audio receiving and power.
Power will be drawn from the device at hand and total playing time will vary depending on the phone's or laptop's battery capacity if being used as a USB-DAC.
You will notice a small LED light strip at the bottom of the front panel also which will change color depending on the sample rate of the audio being received and decoded. The default is red when there is no audio signal or is paused. Once running you will see one of the following color codes:
Yellow for PCM 48kHz or lower
Cyan for PCM 64-192 kHz
Orange for PCM above 352.8 kHz
Magenta for MQA
White for all DSD64 upwards
One final note on I/O integration. The FC6 is compatible with HiBy Music's own Exclusive HQ USB audio mode to allow you to bypass Android sample rate limitations for bitperfect playback.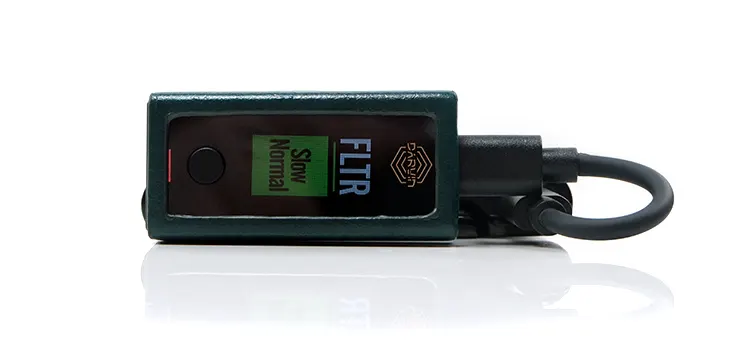 Filters & Modes
The FC6 also has a fair amount of filters and modes to use with each having an effect on the performance and tuning of the sound signature.
Since the FC6 uses HiBy's Darwin Architecture and is an R2R DAC you should not be surprised that it also offers the ability to switch between non-oversampling, (NOS), and Oversample, (OS) modes via the GUI. You can read in more detail how exactly those two sound when compared to each other on page 2 of this review.
You also have five Darwin filter options with up to a claimed 16X sampling rate with quick access via the GUI and volume rock buttons which double up as selection and navigation buttons.
The current filter section includes
Fast Normal
Fast Late
Slow Normal
Slow Late
Minimum Phase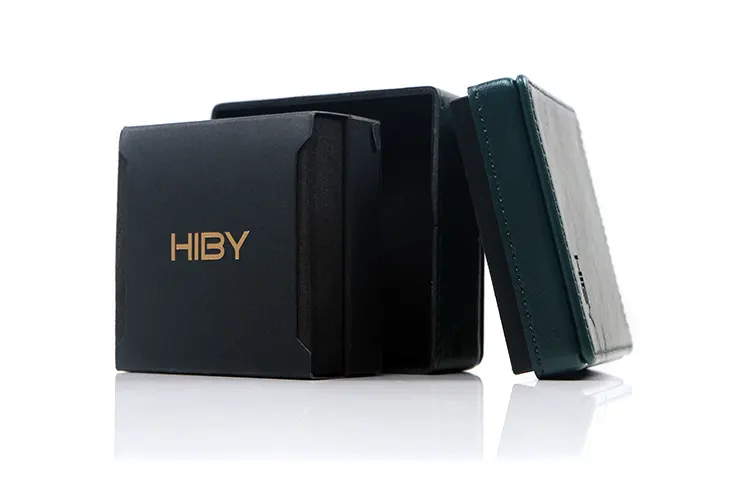 Packaging & Accessories
The FC6 has one of the nicest and most well-thought-out packaging cases I have seen from a dongle to date.
Nothing bland here with a quality crafted green leather stitched square carry case which opens up to a layered compartment style arrangement for the player, accessories, and paperwork.
Granted, you are unlikely to bring the carry case with you everywhere since it's quite large and defeats some of the reasoning behind making the FC6 so small. However, when not in use its foam layer holder is a welcome option for storage purposes.
Aside from the aesthetics you also get the leather green sheath, a very short OTG USB-C to USB-C cable, which is perfect for a very low profile connection, and a longer USB-C to USB-A cable for USB-DAC duties.
Click on page 2 below for sound impressions and pairings.