Today, we review the Cayin RU7, which is a new discrete 1-BIT resistive ladder DAC dongle with an integrated balanced headphone amplifier. It is priced at $289.99.
Disclaimer: This sample was sent to us for our honest opinion. Headfonics is an independent website with no affiliate links. We thank Cayin for their support.
You can click here to learn more about Cayin products that we have previously featured on Headfonics.
Please note, that this article follows our current scoring guidelines which you can read here.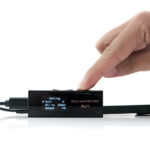 Cayin RU7
I have heard quite a few dongles now in the last few years, and all at a roughly similar $200-300 price range. I have not heard all of them. However, from what I have reviewed to date, the RU7 is probably the best of the lot, both in terms of agreeable timbral coloration and technical prowess.
Pros
Excellent output power
All-to-DSD modes that make a difference
Impressive Line out capability
Cons
No iOS lightning cable as standard in the box
One of the silver linings from the AKM factory fire in 2020 was the genesis of the explosion in DAC diversification in portable audio products. Up until then, it was a straight shootout between a couple of big-time delta-sigma manufacturers with AKM being one of them.
Well, roll on 2023 and we have new players such as ROHM eating into the market share and of course, the phoenix-like rebirth of R-2R into DAPs and most recently dongle DACs.
Cayin's RU6 from 2021 perhaps shone a spotlight on what was a budding but altogether secondary product profile and in doing so helped ease the budget DAP market out of the equation in the process.
No longer can the humble dongle be considered a means to an end for portable audio. And to emphasize that point, Cayin has now launched the 1-BIT DAC-capable RU7, taking a lot of what we liked about the high-end N7 DAP and crammed into a much smaller and more affordable option.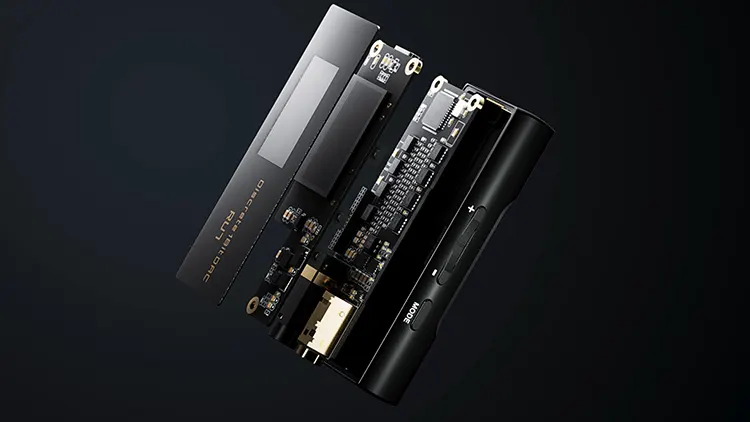 Tech Highlights
Summary
The Cayin RU7 is a balanced engineered 1-BIT DAC dongle with a degree of overlap in terms of technology drawn from its bigger sibling, the N7 DAP.
It can operate purely as a DAC dongle for OTG digital audio via Android and iOS mobile devices, as well as USB-DAC mode for use with MAC and Windows versions 7 to 11 on your PC. I am pretty sure it will work fine with most major Linux distros but I am unable to test and confirm 100%.
It also offers a dual line-out function in both SE and balanced mode for those that wish to use the RU7 primarily as a DAC to a small desktop amplifier. With a balanced 2.4Vrms ceiling the RU7 can match fixed lineout voltages from more illustrious desktop DAC SE analog outputs.
In its PO format, the RU7 is primarily suited to IEM users in single-ended mode with a nominal power output of 160mW on a 32Ω load. However, its balanced output of 400mW on the same load will open it up to more demanding earbuds, EST-driven hybrids that need plenty of headroom, and some efficient headphones.
A dual PCB construction splitting the digital side from the analog side will also go a long way to safeguarding the output from the potential for noise to creep from one side into the other.
Decoding
The first company to shoehorn a fully functioning R-2R DAC in a dongle now becomes the first to integrate a discrete 1-BIT DAC into the same micro-format.
For those that are new to 1-BIT Technology, there is a degree of superficial similarity to how R-2R works with its use of matching 0.1% resistor ladder arrays for conversion. However, the 1-BIT DAC benefit primarily applies to processing native 1-BIT DSD, as opposed to PCM, which is multibit.
The RU7 digital bridge is different, however, from the N7 in that it has no FPGA or Snapdragon-like CPU to differentiate between the two signals so instead it adopts an "all-to-DSD" processing approach.
That means both PCM and DSD get processed or upsampled to DSD before being sent to the DAC, an approach that yields benefits that we will talk about more in our sound impressions.
The RU7 decodes up to DSD256 natively as well as PCM up to 32BIT/384kHz. Yes, not quite to the level of something like the R-2R FC6 from HiBy which will go up to DSD512 but consistent with the RU6's decoding capability.
And because all incoming digital audio signals will be converted to DSD, Cayin has been able to introduce a new "all-to-DSD" function that will give the user the ability to upsample the output from DSD64 up to DSD256. That does make a difference to the performance.
The RU7 is also equipped with a 3-segment resistor and switching array volume control which can often be worth its weight in gold in terms of dynamic range and channel consistency if implemented correctly.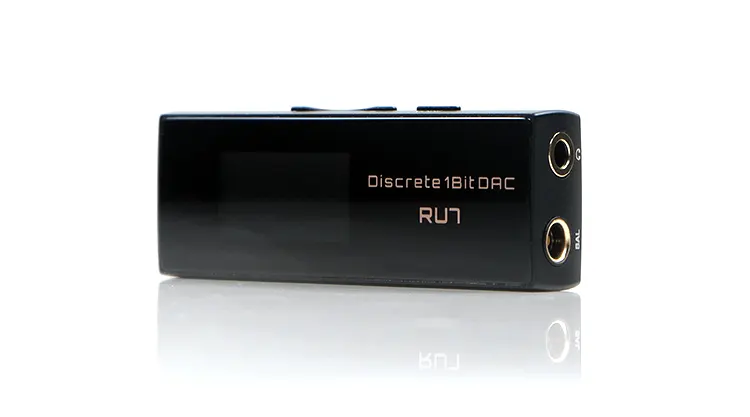 Design
The RU7 design language is a refined twist on the RU6's form factor. Aesthetically from afar they are almost identical with a glass panel front, small LCD screen, and black anodized aluminum housing. However, upon closer inspection, you will find some differences.
The most important of which is the size. The RU7 form factor has been significantly reduced, most noticeably in terms of height but with the official specs showing a tiny reduction also in width and length.
Comparing the numbers in an abstract manner might not mean much since we are talking less than 2mm but side by side the contrast is much more noticeable and gives the RU7 a much lower profile.
One potential factor in the ability to reduce some of that height is the alignment of the controls. On the RU7, all controls have been switched to a horizontal alignment rather than vertical which I actually prefer once the RU7 case is slipped on. It does seem to make things a bit easier to operate.
That switch seems to have been made possible by a slight change in the machining of the external housing. Gone are the outward protrusions from the RU6 side paneling and instead you have a subtle curve and less of a point which allows for a stable base in which the horizontal control suite can be housed.
The chamfer edging also looks to be more intricate, especially on the underside with some nicely chiseled indentations to give you a better grip during use. You also get some subtle nudge guard finishing on the aluminum housing for both the top and bottom panels to protect your connecting ports.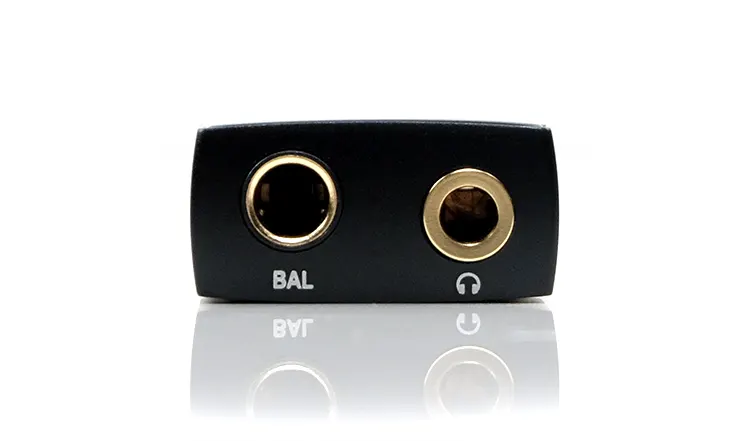 I/O
Inputs and outputs are relatively simple and well laid out on the RU7. To the rear, a single USB-C port acts as your main connection for digital audio, data, and power. This is your connection to your transport or file source such as a phone, PC, or MAC.
To the front, you get a single-ended 3.5mm port and a balanced and more powerful 4.4mm alternative. These ports offer dual PO and LO functionality allowing you to plug either your IEM or headphones directly or use the RU7 in line-out mode to a more powerful dedicated amplifier such as the Cayin C9.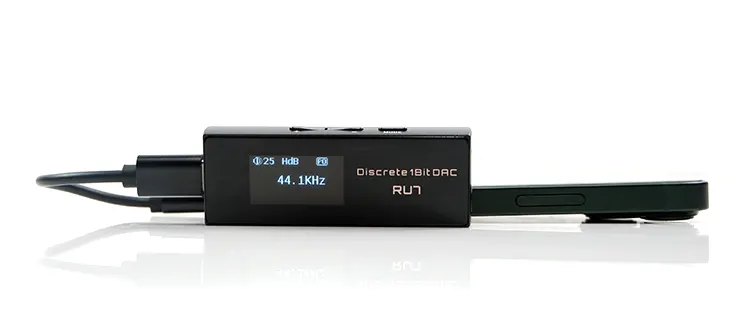 Controls
In a similar format to the RU6, the RU7 comes with a small 1″ 128×64 pixel OLED screen that I find fairly legible and brightly lit, even at more extreme angles.
It will give you all the key indicators on the home screen including volume level, high and low gain status as well as whether the unit is in PO or line-out mode. You can also determine the current sample rate of the audio with a larger font in the center of the screen.
You should have no issues in terms of accessing the setting menu via a long press of the mode button on the side panel. From there you can set the gain levels, output mode, and backlight settings as well as switch the "all-to-DSD' sample rate up or down.
You have three settings available, DSD64, DSD128, and DSD256. Each will bring a subjective difference to the audio performance.
To the side of the mode button, you also have your two volume buttons and I do find these a little easier to use compared to the RU6 versions, especially when in the case. They are also fairly responsive with no real lag between button pushes and the volume level responding accordingly.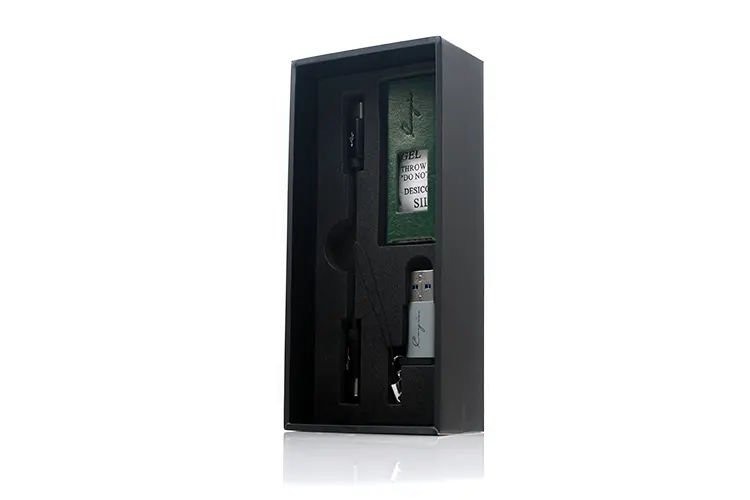 Packaging & Accessories
The RU7 packaging is actually very solid for a dongle. Indeed, you get a bit more than the RU6 initially offered with the inclusion of a small green handmade leather case that syncs in nicely with the latest leather case now being offered with the N7.
This case is a lot tighter than the original orange case that comes with the RU6 so there is no chance the RU7 is going to slide out of the case. It is also slightly magnetized giving it some stackability to the back of smartphones though how much will depend on any external case you have on the phone.
The external packaging is also fairly compact, not a huge difference from what came before it. As before you have a USB-C to USB-C short IC for OTG digital audio connectivity to Android platforms. For iOS users you will have to buy an additional Lightning to USB-C Cable coded CS-L2C for about $25 additional.
Aside from that you also get two small leather-clad metal plate tokens that you can stick to the back of your iPad or mobile phone, and then you can magnetically stick the RU7 case to the back of these devices. You don't need to use these metal plates if you are using an iPhone MagSafe case.
The final accessory is a small silver-finished USB-A to USB-C adaptor. This adaptor allows you to quickly use the RU7 in USB-DAC mode.
Click on page 2 below for our sound impressions and pairings analysis.