In today's feature, we review the FiiO SP3, which is a set of nearfield active desktop speakers capable of up to 30W x 2 and 10W x 2 output power. It is priced at $299.99.
Disclaimer: This was sent to us as a sample for our honest opinion. Headfonics is an independent website with no affiliate links or services. We thank FiiO for its support.
You can click here to learn more about the FiiO gear we have previously highlighted on Headfonics.
Note, that this post follows our latest scoring guidelines which you can read here.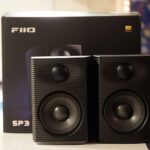 FiiO SP3 speakers
The FiiO SP3 Speakers are fantastic if you want a mellow-sounding speaker that is intended to be used when you are sitting fairly close to them. This is a real desktop-level placement speaker set and is not intended to fill a room. With that in mind, they perform admirably and have a really great top end, both in tone and presentation quality.
Pros
Excellent smooth tonal quality
Compact form factor
Cons
Weak I/O line up
Lacking wireless ability
It has been a while since I've seen a hard-core dedicated desktop speaker this small before. I think the last one might have been RIVA Arena speakers from 2018.
There is a fair amount of tech built into this one and a lot of ground to cover, so I'd rather just get into the meat and bones of the review of the new FiiO SP3 speakers! Hey, 'nearfield on a budget', can't go wrong here right?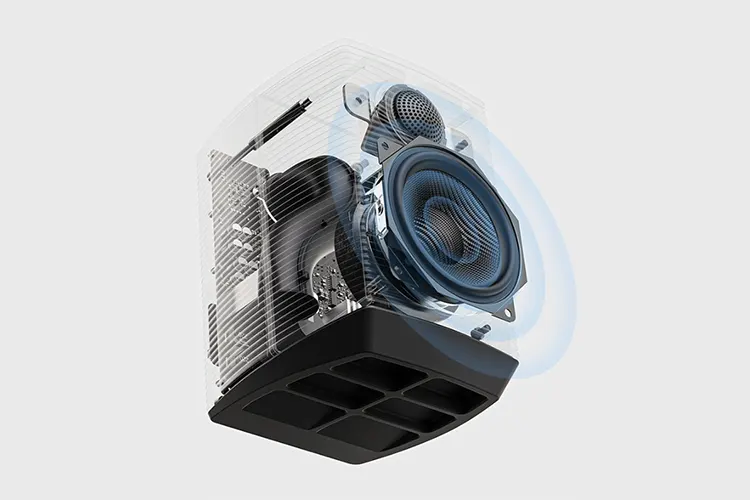 Tech Highlights
The FiiO SP3 offers a 3.5-inch carbon fiber dynamic mid-woofer, which you can instantly tell is carbon fiber, due to the tonality this speaker pipes out.
Paired with what FiiO calls a "soft dome" for the treble, which is intended for acoustic dampening, the overall mix here is splendid when you look at this, (or hear this, rather), in a near-field experience setup.
Having a peek at the inside, you'll discover asymmetrical internal and external magnetic circuits, with a double diffused S-shaped port tube. The result is high levels of dampening, which I must admit, when it is sitting at my desk, I don't feel hardly any rattle on the table itself.
Moreover, FiiO opted for a silk domed tweeter than a metal one, which some audio nerds, like me, feel breaks up the wave patterns in a more euphoric and less obtrusive manner.
It seems the entire idea and focal point of this product is to attempt to dissuade stray vibration both inside and outside of the cabinets.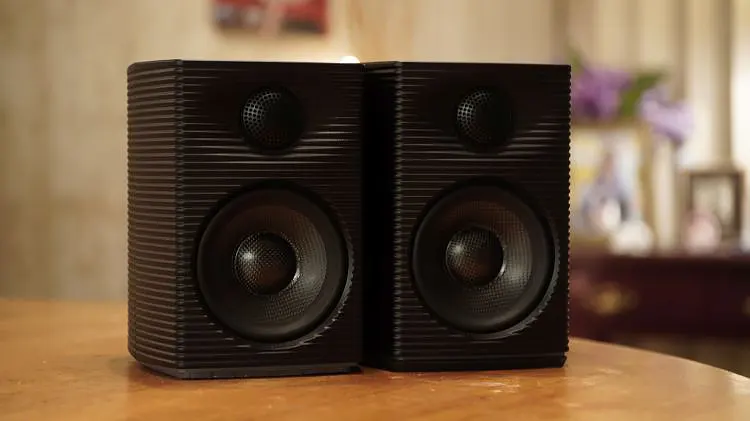 Design
The FiiO SP3 is dominated by a very dense appeal to the elements used in the construction meaning, they are heavy for being so tiny.
At 2.5L in aspect, they are tiny little things that might as well be lead weights that you can curl and work out with when you are bored but, don't do that. That was metaphoric and not literal.
The exterior cabinet is severely thickened metal material. I need to watch more Baki anime so I can learn how to increase my grip strength so that I can one-hand lift the speakers. At the moment, I cannot lift it with a normal grip straight out in front of me.
The SP3 is quality, top to bottom, and does not feel cheap in the slightest. Oh also! It has some LED lights on the bottom area that change colors. They look snazzy in the dark while I am gaming.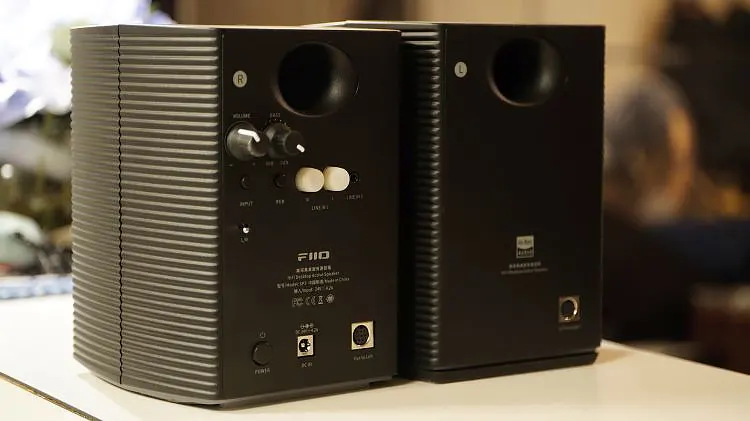 Packaging & Accessories
FiiO drops us a nice little package from time to time. FiiO's box for the SP3 is colorful and I appreciate the carrying handle at the top so that I can actively and safely take these speakers anywhere I need to.
The slew of accessories is fun. Outside of the set of SP3 speakers, of course, you get a nice quality power supply and cable. Typically, I am used to a standard wall plug and nothing else, but we get a brick with this one too.
Both the brick and the PSU cable feel of very nice quality and are not trashy. Beyond that, we get a standard 3.5mm fabric laced cable that is gorgeous. Both the 3.5mm cable and the connection cable, (which connects the Speaker left to the Speaker right), are fabric laced and of the same design.
The adapter plugs are excellent, the feel of the cables is excellent, and among the best interconnects that I've been given with a set of speakers in ages. And I've reviewed some expensive stuff right here at Headfonics down through the years, so having a $299 speaker set that comes with amazing cables is just a dream come true.
Outside of that, you get a few rubber placement guides that elevate the speakers, and also all the normal paperwork that includes the guidebook and promotional FiiO materials.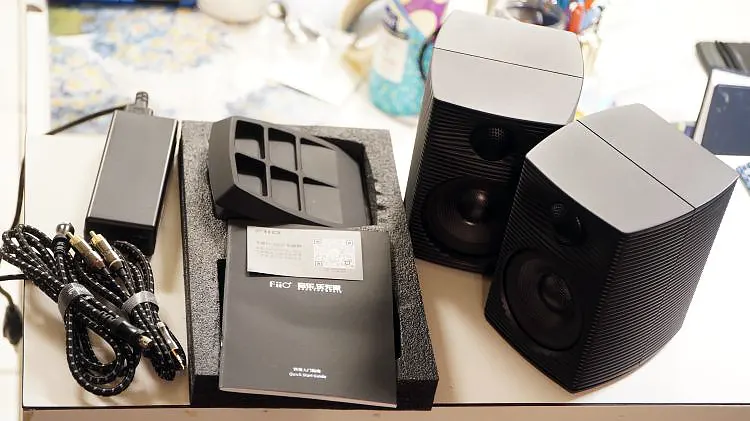 Sound Impressions
Bass
The bass on the SP3 is just fine. For a small desktop speaker like this, I think there is plenty of low-end for your casual listener and gamer. To the bass heads out there, this isn't your cup of tea. But do note that you can achieve some nicer thump and depth with the right EQ system.
You can passively run the 3.5mm cable into a budget to mid-tier amplifier with a good bass switch, or hopefully run your music through something like the Foobar2000 app or the HiBy Music app. With that, you can upgrade the bass depth and weight with the right combo set of extra add-ons.
Otherwise, in stock form, it's quite balanced in physicality. You can also download various bass extensions if you use Google Chrome and want to run the SP3 as your PC monitor for audio. Yes, they suck, but you can add a bit more if you want it.
That is why I prefer to use a portable amplifier with a plug-in power switch (USB usually) that I can use as a DAC and flip a bass or treble switch to get more out of my YouTube and general PC usage. And for gaming, that route is highly recommended.
Mids
These SP3 speakers do not project forward mids, everything is a very balanced feeling. There is no midrange bloom at all, quite a linear feeling and there is nothing I can do with EQ to alter this. So, while the bass is nicely responsive if you want a bit more, the mids cannot be altered much at all.
However, what is there is plentiful for a tiny speaker like this. The image field of the SP3's vocal experience is full-bodied and thankfully not razor-thin or sharp feeling. It is natural in tone, and not clinical. I've had some icy speakers in my mind, and very warm ones. This is neither. It is right in the middle in tone and texture.
The SP3 mids for a $300 speaker are just good, and great when you consider these are intended to be tiny desk speakers that are not meant to blow out a full bedroom or workstation. The game changes when you see the size of them and how much they can project vocals and mids when you are in a near-field sitting position.
That alters when you step away, because these SP3 speakers, while it may not be intended, disperse more as you step backward away from the desk area.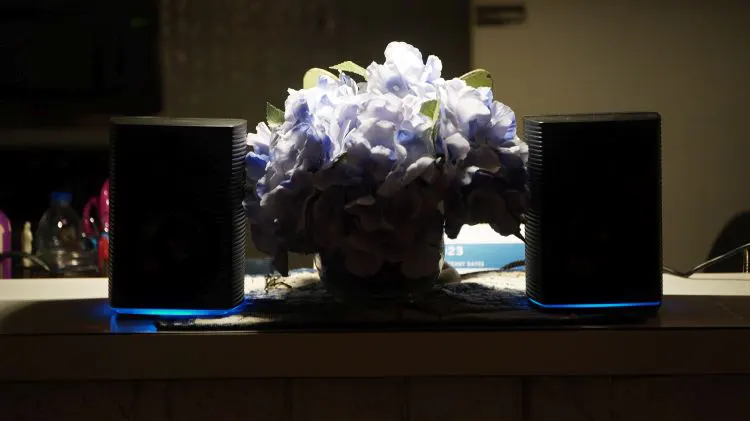 Treble
Shockingly refined and lovely. There isn't even a hint of sharpness here! Impressive treble, enjoyable, and lacking harsh physical impact too? Absolutely love it.
The SP3 speaker's tone is right in the middle of natural and dry, with some elements of both, depending on the track and how high some treble cues end up in the music, game, or videos you are listening to.
For gaming, the constant bullet fire, as I am a huge Borderlands fanboy, is highly immersive and fun, non-fatiguing, and enjoyable for hours. I am sure my neighbors aren't happy, but I am.
I am hugely thankful that the treble weight is not blaring enough to annoy me or become painful. I am able to experience loud crashes and bright piano key strikes without wincing. This is a very nice, refined, and enjoyable top side.
Now, I sit here a time long after receiving them and realize that I have not once said I need to fix the EQ or reduce it, even with trash on YouTube that I often let play in the background as I go about my day.
Usually, the largeness would be the WHOA factor, but in this case, it's the tininess that is the whoa factor and how they are just a pleasure to use, for treble instances, with horrific quality music. I sometimes use Spotify, but mostly it's gross quality YouTube streams and so on.
This SP3 is absolutely refined enough to disregard the harshness and nastiness that comes with low bi-rate tracks. I cannot say this for the numerous more expensive models that I have nearby.
Imaging
These SP3 speakers are near-field, as mentioned. Again, whether that is intended or not, it is a fact in my book. That means they are meant to be close to the listener on a desk and not placed somewhere else distant in the room.
They perform much better close and at moderate volume. They do not perform nicely at low or high volumes and will lose details if you try.
Stick to a desktop, or very close to you on a desk or wall shelf mount, or something like that. Why? Because the size of the image wave is optimal the closer you are. The further you get back, the smaller the stage sounds, which is often the case with near-field monitors like this.
The further you get away from bigger speakers, the more you can experience the width and height factor because you are too close to the emissions and within the parameters, before they become the optimal size and dispersed properly. With these SP3 speakers, that optimal size is reached in 3-5 feet or so, at least in my opinion.
For $299, the SP3 speakers perform better than any other cheaper speaker I have played with. But then again, most of the speakers I've played with are single-unit portables in this price range.
Click on page 2 below for a pairing analysis and our selected comparisons.