In this feature, we review the FiiO FH15 which is a hybrid universal in-ear monitor using a single 10mm dynamic and four balanced armature drivers. It is priced at $229.99
Disclaimer: This was sent to us as a sample for our honest opinion. Headfonics is an independent website with no affiliate links or services. We thank FiiO for its support.
You can click here to learn more about the FiiO gear we have previously highlighted on Headfonics.
Note, that this post follows our latest scoring guidelines which you can read up on here.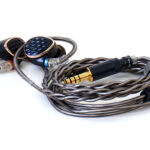 FiiO FH15
FiiO has another winner with the FH15. It offers lots of innovation and technology for the money, but they sit within a price bracket that is highly competitive. Even some of FiiO's own IEMs can compete well against the FH15.
Pros
Balanced sound signature
Wide range of connectivity and tuning options
Very comfortable fit
Cons
Not the best for passive isolation
Pelican case not as good as previous versions
Today we're taking a look at the hybrid FiiO FH15 IEM. If we go by the number in the model which is 15, those who are familiar with the FiiO IEM lineup would assume it's their top hybrid IEM but nay that title still goes to the likes of the FH9 and FH7s. It carries a reasonable price tag but still manages to include many FiiO innovative features.
High value seems to be FiiO's goal with this release. It seems to carry a reasonably budget-friendly price tag but it includes lots of the FiiO design implementations from their higher-end models. In other words and using only a few words, a high-value IEM.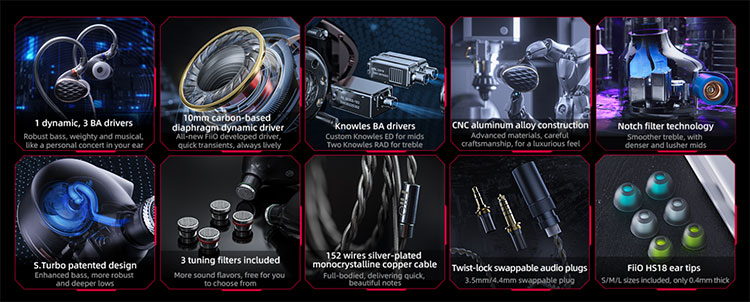 Tech Highlights
What's the tech we speak of? FiiO has in past models debuted their S Turbo tech, and their Notch filter implementation and often include replaceable tuning filters. The FiiO FH15 has all three implemented within its design.
The downscale from being a top-tier model took place within the driver configuration if we compare the FH15 to their FH9 for example. The FiiO FH15 uses a four-count, 1 plus 3 driver configuration consisting of a dynamic driver for bass reproduction and three BA units for the rest of the spectrum.
The high frequencies are reproduced by two custom Knowles RAD 33518 Balanced armature drivers while the midrange is reproduced by a larger customized Knowles ED series 30262 Balanced armature driver.
Bass is handled by a newly FiiO-developed 10mm carbon-based driver but FiiO says specifically it uses carbon-based materials which leads me to believe there's a composite aspect to the driver cone structure. The S turbo implementation filters midrange production from the bass driver to produce a smooth frequency transition.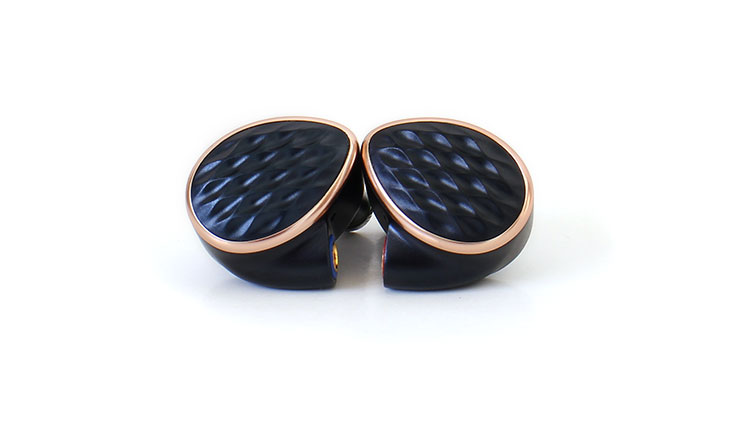 Design
The somewhat infamous FiiO tri-shell and dragon scale design is back and in full force along with a teardrop shape which is certainly uncommon for a FiiO-designed IEM. The tri-shell design is an award winner from FiiO which has received a VGP award and so was the 10mm composite driver within the FH5.
So what FiiO did here seems to be to take a look into their past and decided to incorporate those design aspects that won those VGP awards and throw them all into the FH15. The S turbo is one of those awarded FiiO innovation tech implementations.
One other thing that hasn't changed is the connectivity FiiO uses which is the expanded MMCX connector. I do prefer the 0.78mm dual-pin connector but I must admit that of all the FiiO IEMs I've used, none have presented issues with intermittence or lost connectivity. They seem to use high-quality solid connectors.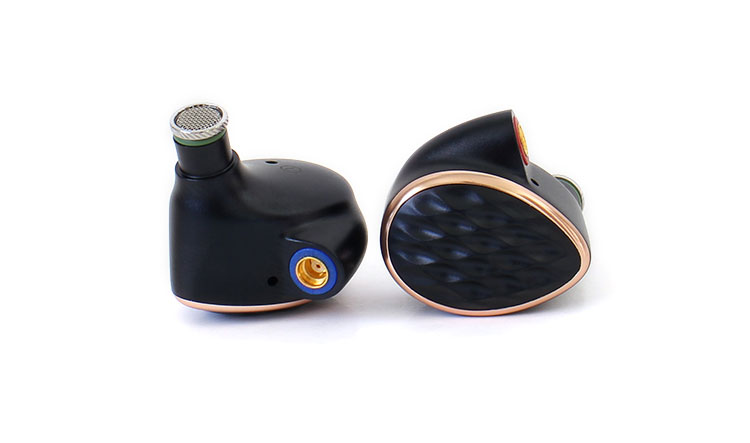 Comfort and Isolation
Most modern IEMs like the FiiO FH15 are using what I call a long stem design which physically keeps the shell away a few millimeters from touching the inner part of the ear, hence you only feel the tip insertion and the earloop of the cable assembly.
So, long as you have a comfortable tip selected that fits your ear canal well and doesn't irritate you, then you're golden. I could wear these for long periods with no discomfort especially when I used FiiO's HS18 tips.
The long stem seems to be good for comfort but not so good for isolation since it leaves a large gap between the IEM and the inner ear that allows sound to seep through. However, the FH15 does some attenuation, just not as much as other IEMs that excel in this aspect.
Tips
Speaking of comfort and tips, FiiO's HS18 tips are becoming some of my all-time favorite tips because they're the softest I've encountered and they also do not irritate my inner ear. I have sensitive skin.
Now FiiO does give you a choice of ear tips that come included with the FH15 but these IEMs seem to be unfazed by tip selection and only some very subtle sonic changes take place.
Most sonic changes take place when you play around with the replaceable filters in combination with the tips and not so much with just tip selection. Combing the two make the most significant changes.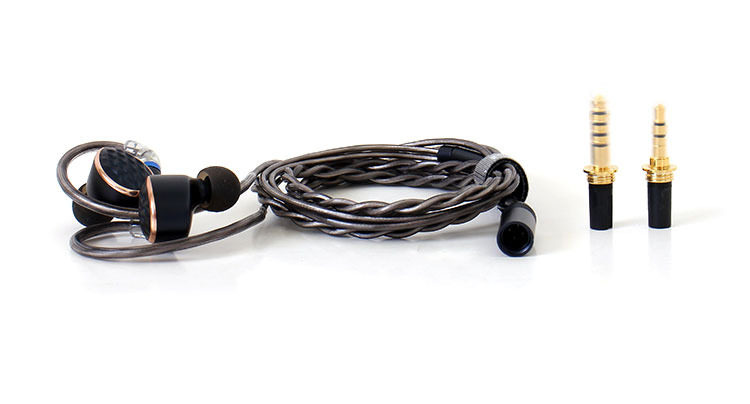 Stock Cable
The fabulous FABRILOUS cable assembly is included with the FH15 but again, it was downscaled from their previous models in a couple of ways that in my opinion didn't take much away and retained a good level of functionality.
For example, the cable itself consists of a dual twisted cable and transitions into a single cable on top and at the splitter. It's assembled with some silver-plated monocrystalline copper cable but It's not an 8-wire braid or even a four-banger. The hardware seems to be made of metal and it's mostly FiiO branded except for the tip.
The cable has incorporated the swappable tip system that I like so much but this time FiiO only included two tips, a 4.4mm Pentaconn balanced connector plus a 3.5mm SE. This time around the 2.5mm was omitted but the two that are included are the two most common today so we're good.
My only issue with the cable assembly is the amount of noise it picks up if you rub it on your clothes or most other things. Some cables do much worst in this area but the issue is still there on this cable assembly. Other than that, the four-foot cable assembly is a good length and is flexible, and doesn't tangle easily.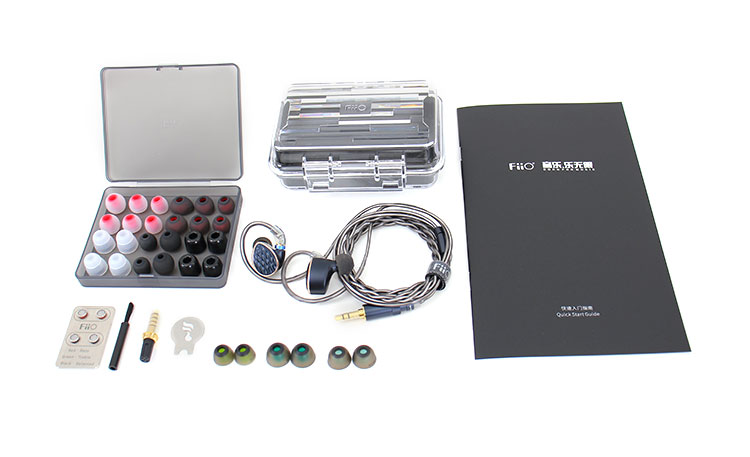 Packaging & Accessories
The FiiO Fh15 box itself is an efficient medium for the contents since it doesn't waste space since it was downsized compared to other boxes that FiiO IEMs come in. However, it's still adequate to transfer all the contents to their destination safely.
Inside you will not find the cloth-lined storage case from the other IEM models but a Pelican case of similar size. You also get another case with 12 sets of various tip sizes and types. Far as tips are concerned you get 3 sets of FiiO's HS18 tips and a preinstalled set on the IEMs bringing the total count to 16 sets.
The rest of the contents consists of a cleaning brush, an MMCX tool, the cable assembly with two tips, and a brushed metal plate with two filters plus a preinstalled one which brings the total count to 3 sets.
Sound Impressions
Summary
The FiiO FH15 is a balanced IEM that seems to have an evenly dispersed frequency response with a splash of extra bass. Just a sprinkle. I like what I hear.
Some might perceive the bass region as elevated since there's a small bump that raises bass presence right above the flat line. But that bump is perceivable and does reflect within FiiO's frequency graph above 100Hz and that's where I perceive it to be.
Then the bass smoothly transitions into the midrange frequencies. The FH15 produces a midrange that is smooth and tuned to be well-balanced and well-behaved. There seems to be less forwardness compared to other FiiO IEMs but midrange presence is adequate nonetheless.
Now the transition into the treble is not so smooth since my set presented a small dip right around 8kHz that can be heard if you do a frequency tone sweep test and listen. There seems to be a crossover point of some sort at that point.
It could have been done purposefully that way since the dip is practically nill and undetectable while listening to music. The result is a controlled high-end that is never shrill or harsh. As you raise the volume, it seems the mids are the first to go into distortion but by that time you'll probably suffer hearing loss.
Timbre
Looking at the FH15 frequency graph one would label the curve as overly bright especially if you look at the 5kHz area but contrary, the recessed treble response tames the bright aspect. But one can't deny there is a good amount of top-end reach.
This dip pushes back the high frequencies and brings forth the vocals and midrange area and gives it some presence. This character seems to give the FH15 a slightly warm character which to me is a more pleasant signature over an overly bright one.
The FiiO FH15 midrange is almost pitch-perfect toned and realistic sounding with a smear of body and presence but some might consider it too smooth sounding since it lacks bite or sharpness. It comes through as relaxed and somewhat soothing.
I like the bass response and the amount of fullness it portrays. It almost falls within an elevated category but it's fairly tight, fast, and responsive, just a touch loose at times. One thing worth mentioning is that these bass drivers can take a large amount of boosting before they distort.
Staging & Dynamics
One of the characteristics that come through off an IEM that is safely tuned and tamed like the FH15 is a soft character but it doesn't take away speediness and good transients from the overall sonic picture.
So unless you boost the FH15 bass the overall punchiness and visceral energy won't be on display. The low-end extension does reach down to 20Hz but starts to drop off sharply around 28Hz producing just a modest punch.
Now if we look at the midrange and treble response that's where you'll find most of the staging production since the bass response seems to be centric-based on perception and sensation.
The rest of the FH15 spectrum seems to occupy a 3D space and not a multidimensional one. You get a sense of three distinct points. There's a frontal space along with two side spaces that are well isolated from each other.
To my ears side width is the one aspect that I would not call a closed stage. There seems to be a sense of airiness around the top and front but elements within the recordings are still portrayed within a reasonable space that I would not consider wide or narrow.
Click on page 2 below for pairings and our selected comparisons.