In this article, we review the SIVGA Luan, which is a new set of open-back wood-finished dynamic driver headphones with a 38Ω impedance rating. They are priced at $299 SRP.
Disclaimer: This is a sample that was sent in exchange for our honest opinion. Headfonics is an independent website that does not have any affiliate links or status. We thank SIVGA for their support.
To learn more about SIVGA products previously featured on Headfonics you can click here.
Note, that this article follows our latest scoring guidelines which you can read up on here.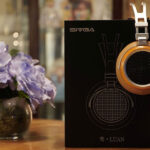 SIVGA Luan
The SIVGA Luan has a generalist headphone tuning but a good one at that. It offers a nice, spacious feel to the sound and also is very easy to power.
Pros
Excellent comfort
Coherent image, enjoyable treble
Cons
Lacking bass response
No balanced stock cable alternative in the box
SIVGA is busy again with another new headphone release. This time it's an open-back headphone priced at a competitive $299 with that classic SIVGA wood-based design approach called the Luan.
In terms of where it sits in the SIVGA line-up, the dynamic driver Luan is higher than both the Oriole and the Robin, perhaps on the same pricing level as the previously reviewed Pheonix.
Most of the aforementioned models can be acquired internationally via retailers like Amazon in the US or AliExpress in Asia.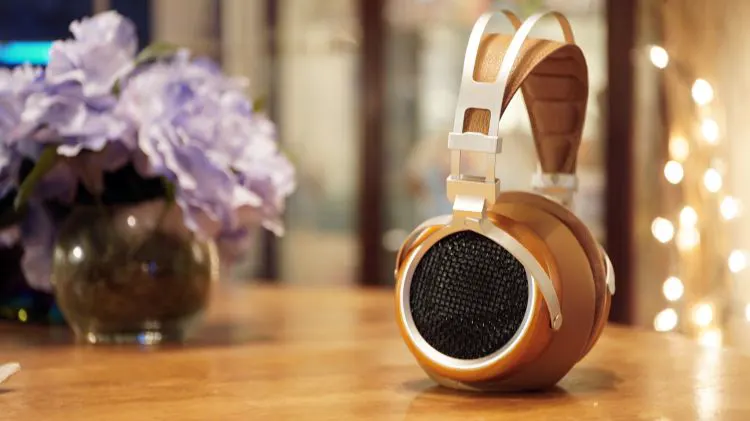 Tech Highlights
The SIVGA Luan uses large 50mm dynamic drivers with a nickel-based coating, a carbon-fiber dome, a copper coil, and a high-strength and stable magnetic system to push the driver.
I've been seeing more and more carbon-fiber dome designs appear lately. I guess the market has changed behind the scenes on what is readily available and cost-effective, without me even noticing.
The Luan is rated at 38Ω impedance with an SPL of 100 dB @1kHz so it is a fairly efficient dynamic driver and should not cause too many issues in terms of DAP or amplifier power requirements.
Design
The Luan is an open-back designed headphone with a beautiful mesh of lightly tan colored materials contrasting with the cooler tones of its aluminum frame.
You get a beautiful CNC machined solid wood cup with a smooth uniform grain, silvery aluminum bracketing for the yokes and headband outer, and a very skin-friendly textured velvet finish for the headband and ear pads.
The outside of the headband is also finished with a leather surface and branded to give it a more elegant appeal and stronger identity with the 3.5mm dual entry system finished with gold-plated contact rings.
The Luan also comes in a darker finish with matching earpads and cable colors so you do have some choices in terms of looks.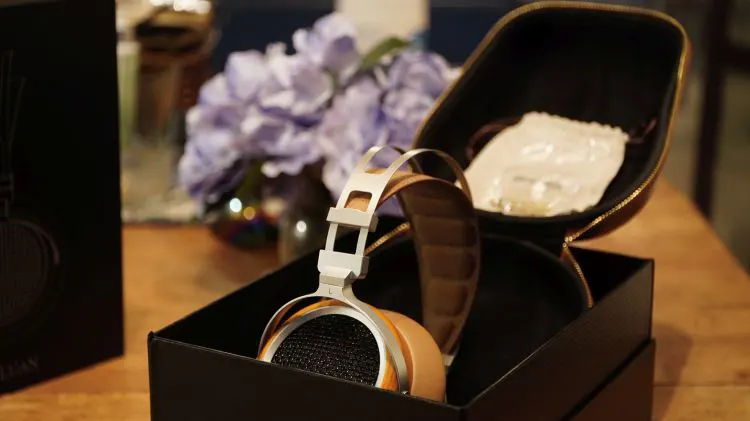 Comfort
So, there is pretty comfy as a rating and then there is mega comfortable as a rating. This Luan is without question the most comfortable headphone, outside of the HD800 that I have on hand. The comfort is absurdly great. Top tier.
The headphone is moderately heavy at 354g and not on the overly weighted side, but they're also not exactly light. It has some density to it and that comes due to the high-quality metal brace work that is used in the construction.
The earpads are insanely soft. These pads are literally the best and most fluffy earpads I've ever touched, well, at least in recent years. The Luan doesn't clamp, so it rests so nicely on my head with just the right amount of force to keep the headphone from jiggling around. But it is a soft clamp, light pressure, with very comfortable foam pads to boot.
Normally, I despise the rippled and ribbed headband underside design. Why would I want speed bumps on my head and not a totally flat and conforming pad?
In this case, despite the Luan having ripples, the material is once more absurdly soft and extremely comfortable. It works great for me as someone who shaves his head and goes with the Jason Statham look. The ribbed areas of the underside are soft and give enough to keep the headphone in place when I look down or up.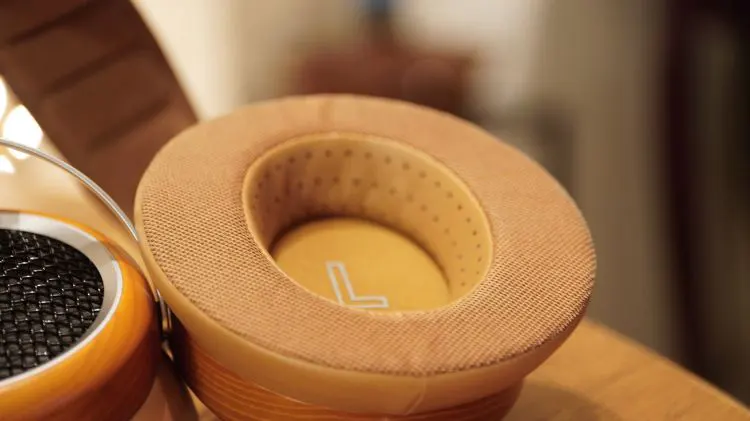 Earpads Materials
The materials that SIVGA has used need to be mentioned. This is the new standard. The exterior rim of the earpads is flush and flat in surfacing, but the side that touches your head and ears is textured. These earpads are truly magnificent.
And outside of being so comfortable, they look expensive. Something about that color scheme extends a "hi, I am super expensive" appeal. These pads are the opposite of dense. They are supremely supple and soft.
I spent a good hour just swapping out every headphone I own and just one was comparable, and that was the Sennheiser HD800. But even then, the HD800 has very thin pads and its design is such as not to rely on the earpads much at all to extend comfort.
Nothing else in my entire inventory is quite on par. SIVGA, your designer is brilliant! Let's see much more of this type of stuff in the future.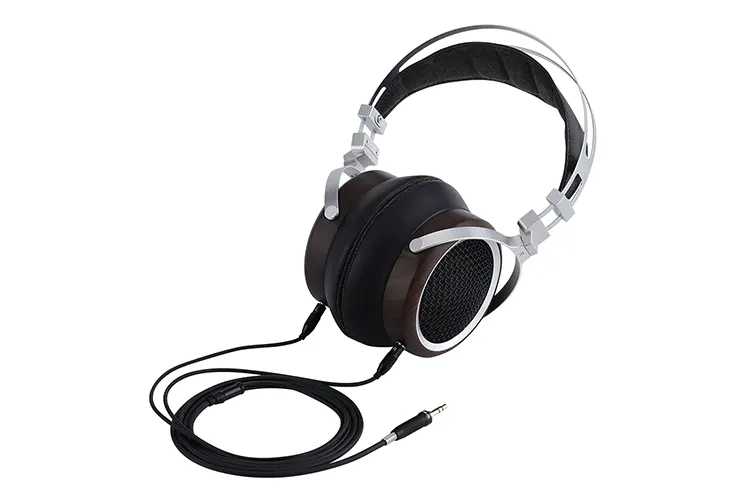 Stock Cable
The stock cable is 1.6m long and standard, but it is colored the same as the earpads for a well-suited symmetrical color design. These colors are very, well, not used by most. I think that puts out a Bowers and Wilkens PX series type of flavor, and I really enjoy it.
Sure, no balanced option, however, you can buy one as an optional extra from their Amazon store website if you need it. But this headphone is 38Ω, so it really doesn't "need" an amp to sound good anyway. Benefits, sure. But doesn't require.
The cable is also rubber laced and not fabric, however, it's got some weight to it and doesn't feel flimsy or cheap in the slightest. The splitter is metal and the lead ends into each earcup with mono 3.5mm sockets.
Thankfully, the Y-junction piece where the single 3.5mm end becomes two split mono cables is far enough down to never be a problem or uncomfortable.
Packaging & Accessories
The Luan comes with a standard large cardboard box, a rare colored hard case zipper protective carrier, a portable length 3.5mm headphone cable of the same color as the earpads, some basic paperwork, and of course, the headphone itself.
The hardshell case is extremely high quality and might be one of the best I've seen in a very long time.
I am not sure about the color, but it exudes expensiveness without a doubt. Also included, is a standard ¼ adapter and a nifty fabric bag, which I assume is for the cable to protect it in your travels.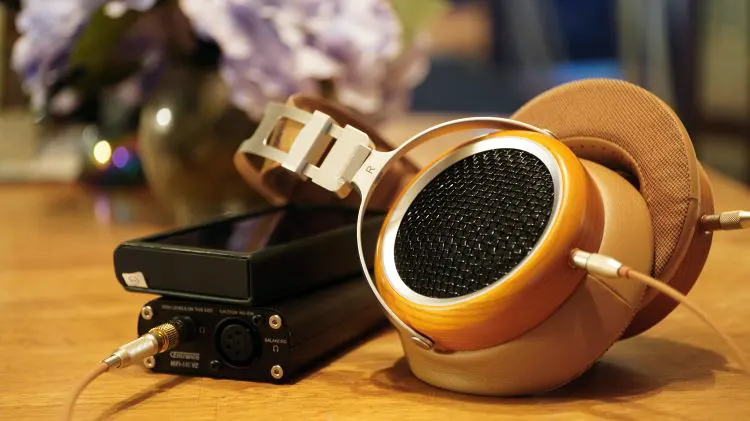 Synergy
This Luan is easily driven and in the tonal coloration areas of not so warm, not so sterile. So, it plays well with any type of amplifier or source. It can be warm. It could be colder. I don't think it matters, the Luan will lean a bit to warmth, and then lean a bit over to sterile if you feed it a different amp tone.
In that regard, the Luan's synergy is good and can be paired with nearly any source and come away with a win. It isn't a pure win if you want a lot of warmth or a clinical approach to the tone. You can get a bit of both depending on what type of amp and source you pair with.
The headphone doesn't change too much in that regard of tone or texture, feeding more bass doesn't do much, and offering it a treble sacrifice of a cold amplifier isn't something I recommend, due to the abundant treble already there. Sterile amps make the treble more hostile, most of the time.
But I don't think it matters. The Luan sounds good on sterile amps and warm ones. Whichever source you want to use will be perfectly fine for it. The only warning I offer is that if you find yourself wanting more bass or warmth, you can't really obtain it even on very warm sources.
So, in that regard, its synergy takes a little nosedive. Just don't buy it if you are a bass head. Simple as that. But if you want a nice balanced sound with a bit more fun treble than usual.
Pairings
The Luan pairs extremely well with my CEntrance HiFi-M8 V2 DAC, which itself houses a more middle ground in tone and texture that matches the Luan nearly perfectly.
The not-so-warm, not-so-sterile sound is a great rig pairing, although overkill in fidelity factor from the HiFi M8 V2 side. You don't need to go that expensive to max out the potential of the Luan, considering the M8V2 is still close to a thousand dollars these days.
Power output is also not required to be copious for this headphone. A low-level, low-gain voltage output is fine, but amplifiers like my Burson Conductor 3, a powerful home desktop amplifier that is on the warm side, really make the Luan feel more effortless in presentation.
I don't think it is the excessive output power of that amplifier doing that, but rather, the generally slick and refined tone of the internal components of the Conductor. With that in mind, the Luan scales up with refinement the more expensive the amplifier or DAC might be.
Click on page 2 below for sound impressions and our selected comparisons.