We review the Shanling M1s, which is a new pocket-sized digital audio player with up to DSD512 decoding capability and 245mW of output power. It is priced at $229.
Disclaimer: This sample was sent to us in exchange for our honest opinion. Headfonics is an independent website with no affiliate links or status. We thank Aoshida Audio and Shanling for their support.
To learn more about Shanling products we previously discussed on Headfonics click here.
Note, that this article follows our latest scoring guidelines which you can read here.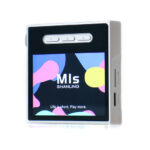 Shanling M1s
The Shanling M1s has so many features and functions that it can technically replace several components and at the same time demonstrate what separate audio components can do for you.
Pros
Balanced sound signature
Feature rich
Stable wireless connectivity
Cons
Screen real estate occupied by buttons
No wireless or quick charging
We recently covered Shanling's M0 Pro, and the M3 Ultra DAPs but the recent Shanling pocket-friendly DAP line doesn't stop there. We also received the M1s recently for review which is another one of Shanling's latest 'pocket rockets'.
The M1s seems to be a model that sits in between two of the previously mentioned models. It's a model that's not a full-sized, full-blown Android DAP but I wouldn't consider it an ultra-mini DAP either since it's at least twice the size of the M0 Pro, for example.
The Shanling M1s come in two color schemes, black and silver. The M1s seems to be aimed at the buyer who wants multiple features in one device and those who want versatility in a pocket-friendly device because this model is not just a DAP far as I could see.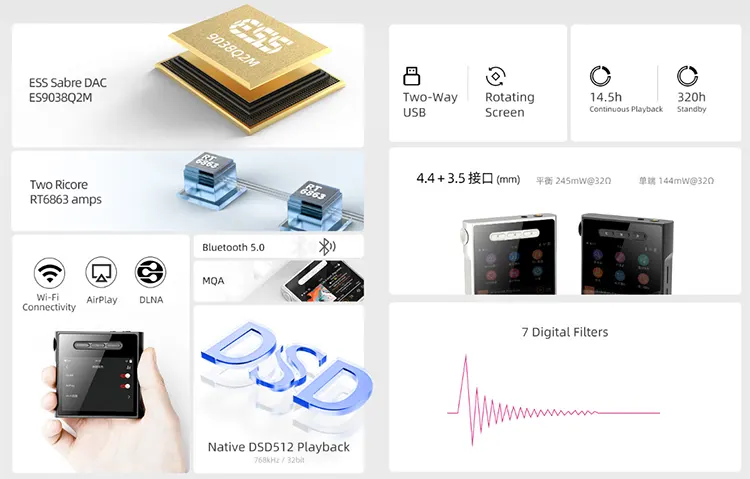 Tech Highlights
The Shanling M1s uses an ESS Sabre ES9038Q2M low-power 32-bit DA reference converter chip that handles all the digital to analog conversion.
Now, if you go to the ESS website and look up the ES9038Q2M you will see that it indeed has output pins but the description of the chip and the fact that it's considered a low-powered chip naturally has a low output power drawback. The low power reference is because of low power consumption but power output is rather low on the chip regardless.
Shanling's solution was to tool up the output as a line drive and slipped in a couple of Ricore RT6863 amplifier chips to beef up the output stage. This verifiably gives the M1s the ability to work well with more demanding gear.
Shanling specs list power output at 144mW SE and 245mW balanced into a 32Ω load at 1kHz. They also list a dynamic range of 123db at 32Ω and a THD-N of 0.0007% which are good numbers by today's standards.
Versatile DAC
One of the features the Shanling M1s has is that it can act as a standalone DAC amplifier. You could access the internal DAC via one of the two headphone outputs and you could also use it with the fixed gain output or the digital output feature enabled to feed another more powerful headphone amplifier or a home audio setup.
So if you're looking for an easy way to inject a secondary DAC into your existing home audio setup, for example, the M1s is up for it. Aside from that, there are a number of ways of tapping into it; via local playback, Bluetooth, and WiFi aside from the conventional USB wired method making it a versatile addition.
The dual-use USB-C can also operate a digital audio OTG output to something like a dongle DAC or a more powerful DAC amplifier like Shanling's own H7. All these features add lots of versatility to the M1s.
Decoding
There's an ample amount of digital format capability within the Shanling M1s DAC section. Data housekeeping is performed by Japanese-made KDS dual-band oscillators. There's also an SS1712 FPGA chip.
I'm going to list the formats here playable on the M1s and ask a question afterward. The playable formats are DSD, ISO, DXD, APE, FLAC, WAV, AIFF, AIF, DTS, MP3, WMA, AAC, OGG, ALAC, OPUS, and MQA. The question is the following, do you use a particular format that's not listed here? I bet the answer is no.
The only format not supported it seems is ISO DST digital format, but again when was the last time you used this format? Most stick to MP3 files, FLAC, DSD, or MQA.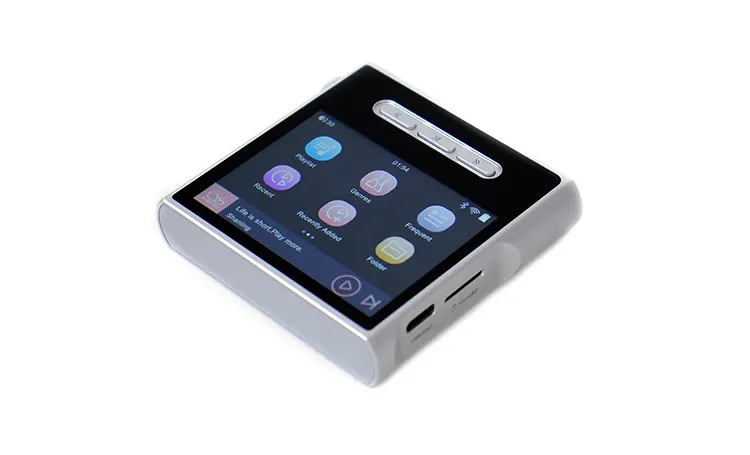 Design
The M1s chassis seems to be just as solid feeling as their other similarly constructed models. They're all made from a piece of solid CNC-machined aluminum alloy. I would call the construction hefty, not heavy.
The M1s design has those slotted sides on the main body which in the case of the M1s, the ergonomic implementation works best because of its size. This model seems to conform best when it's handheld because it's not as large as the M3 Ultra but not as small as the M0 Pro. It seems the porage is just right this time.
The M1s have the same rotary knob which doubles up as the power on-and-off switch. What's not conventional from the other Shanling DAP designs comparatively is the three buttons upfront with the screen.
The three buttons consist of a pause and play button, a previous, and a next track button. It's an unconventional placement arrangement.
Screen
The Shanling M1s touchscreen is a 286 PPI 2.8-inch screen with a display resolution of 640 x 480. The screen can be flipped 180 degrees which is a good thing due to the positioning of those buttons previously mentioned.
In that current button placement, the screen will be obstructed by your hand as you operate the buttons so it's good to have that flip feature so you could flip the switches to the bottom. They don't get in the way of operating the screen swipe which by the way, feels responsive and well-behaved.
The caveat here is that you're then forced to use the headphone connections at the bottom but some prefer that. Also, the volume is flipped to the bottom.
The best solution would have been to place those buttons on the now-empty left side. I would have preferred to reclaim that extra-screen real estate and relocate those buttons.
Other than that, I do feel that the screen produces bright and vivid colors plus it seems sharp enough to produce crisp-looking text. I did scrounge around looking for a text enlarging feature but there's none available. I did find two general icon themes within the menu system.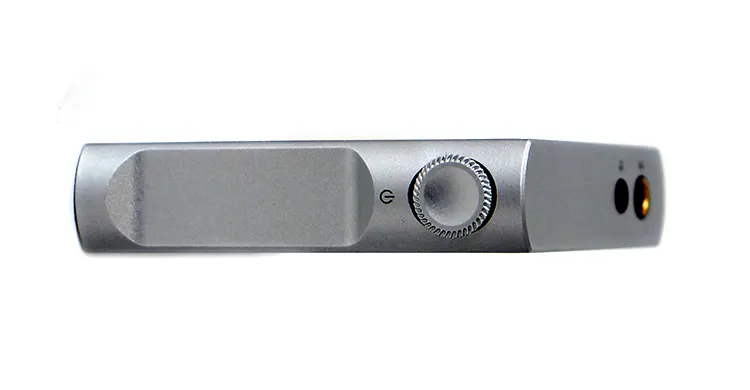 I/O
The I/O is rather complex on this DAP but not hard to make it all work. Onboard there are dual two and two sets of connections, two are the 3.5mm and the 4.4mm Pentaconn connector and the other two are a USB-C port plus a slot for a micro SD card.
The micro SD card slot can accept a card of up to 2TB of capacity. In my case, a 1TB can carry most of my FLAC file collection.
Now, remember the M1s has no internal storage so you must get an SD card in there unless you want to use the M1s for streaming exclusively which can easily be done through WiFi or Bluetooth connectivity.
Battery Life
Battery life has become a very argumentative issue lately and I admit that some currently listed specifications are vague due to so many variants in current demands from different full-sized headphones. Not so much from IEMs but they do have different efficiency variations and that also affects testing results.
Shanling covers the specs generously because I got a little over 16 hours using a very efficient 16Ω IEM at half volume or less. All the efficient IEMs I tested gave me the same basic results. The bottom line here is that the battery will get you through an entire day if you use IEMs.
Using demanding full-sized headphones gave different results and the listed times went under what Shanling posted of course. So Shanling is being modest with their listed time since you could probably pass their listed specs mark by moderating the volume and using very efficient IEMs.
I could never kill off the battery using Bluetooth in one day, particularly transmitting to a TWS. Each one of my TWS sets would probably go under completely before the need to charge the M1s comes up. The battery did go under needing a charge after over a week of laying around even though the unit comes with an auto-shutoff feature.
The 2100mAh battery charges up from low battery shutdown in 2 and a half hours in my case with a 2 amp charger. The M1s does not have wireless charging capability or fast charging either it seems.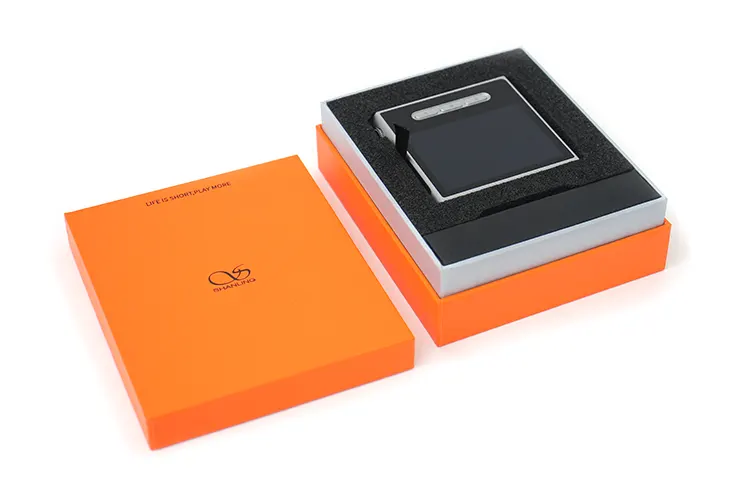 Packaging & Accessories
The Shanling M0 Pro box design is decorated to be bright and colorful, similar to the box its big brother the M3 Ultra comes in. They seem to have a dual-sun theme going on the front of the insert. The main product box is a very bright orange color.
Are there any accessory standouts? Shanling does include two screen protectors which are nice to have. The screen already comes with one preinstalled so leave it on and save them for later on.
Besides that, you get a double-duty data and charging cable. You also get a quick start guide, a warranty card, and a Shanling product guide. That's it.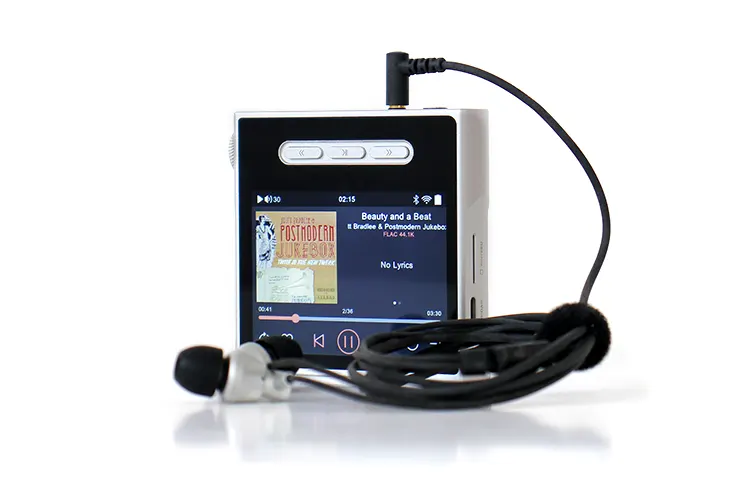 Software Impressions
Shanling uses their Mtouch 2.0 OS on the M1s and it seems to thoroughly separate folder lookup options this time. The music lookup options are more specifically divided. There are 3 screens full of options to choose from upon inspection.
The OS breaks down music folder lookup options into 12 rather specific categories between two of the three screens. The third screen has two separate options, playback, and system settings. There are plenty of options in there and will spare you a day of trying to explain them all.
A top-to-bottom swipe gives you access to a toggle on/off mode screen along with a screen brightness adjustment slider. The bottom portion of the screen gives you direct access to the built-in player.
The M1s runs the Mtouch OS off a tri-core Ingenic X2000 which works without a hitch I must say. The overall operation and performance seem quick and responsive and it also boots up quickly in around 3 seconds from the first view of the Shanling load-up screen.
Features
The internal OS has a complete set of options like a 10-band equalizer plus a total of 7 digital filters so there's plenty of sound-shaping flexibility within the built-in OS. The OS can be updated within the settings menu or through the use of Shanling's Android software.
Shanling includes the M1s in the Synclink software compatibility list so you could download the software for free and link up a mobile device to the M1s. That way you could feed the M1s while it sits inside your pocket and do everything from your mobile wireless.
Now, I'm not sure if they fixed the exclusivity with Android because the app only works with Android on the M0 Pro.
I mean, It's good to have this app, and is much appreciated but you can always transmit from any music app you have via Bluetooth to the M1s and it will work almost the same. This also applies to IOS users so don't feel like the M1s will not fulfill certain duties.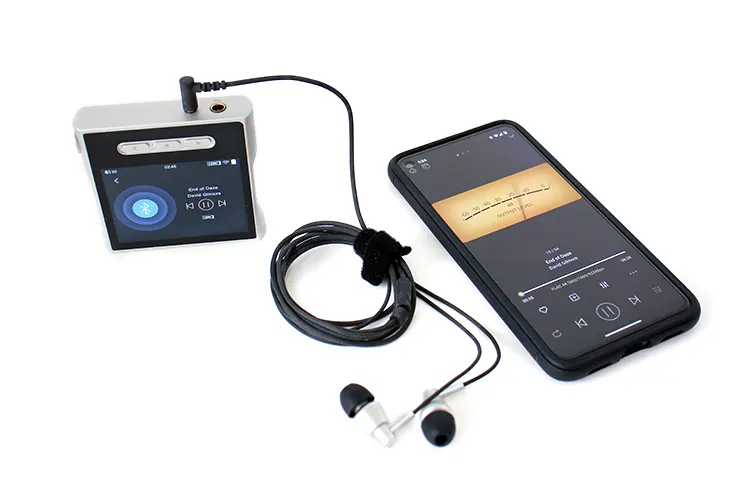 Sound Impressions
Summary
The Shanling M1s has a slightly brighter presentation compared to other Shanling gear but it does not veer from neutral much either and does retain an overall naturally balanced character. Perhaps there's just a smear of a better top-end reach. Tonality overall produces a natural timbre with just a hint of the Shanling soft-mannered warm character.
Some of Shanling's gear tends to have a safe tuning which is good for those who prefer a relaxing experience and it also tames bright-sounding gear but at times I want more detail and dynamism and the M1s gives you that.
I also notice a small widening of the overall panorama and soundstage compared to other Shanling DAPs I've heard and particularly their lower-tier models. Their top models differ in that sense of course and perform best.
The M1s noise floor seems very low and I couldn't provoke it to produce any hiss whatsoever. Operation is silent overall. You could tell there is a mute feature because that first song always misses that first second of playback. But after that, the player doesn't skip a beat.
Staging & Dynamics
One positive aspect I found which hit me off the Shanling M1s was the overall technical ability in proper placement and micropositioning.
For a budget device, it seems to punch way above its price point far as a proper and interesting soundstage. Perhaps the premium DAC is the culprit here.
I would consider the dynamic range and signal-to-noise ratios to be above average as well. The M1s is a punchy-sounding device that can crank out a rather high amount of volume without sounding compressed but it also retains the quality at lower volume levels.
Click on page 2 below for wireless performance, pairings, and our selected comparisons.