We review the Questyle NHB12, which is a new MFi Certified lossless dynamic driver wired IEM with a 192K capable DAC and CMA SiP amplifier. It is priced from $229 on Kickstarter.
Disclaimer: This sample was sent to us for our honest opinion. Headfonics is an independent website that does not have any affiliate links. We thank Questyle and Kickstarter for this opportunity.
To read more on other Questyle products previously featured on Headfonics click here.
Note, that this article follows our current scoring guidelines which you can read here.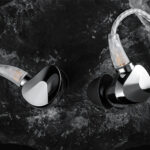 Questyle NHB12
The Questyle NHB12 is perfect for people dipping their feet for the first time in the high-resolution audio market. It's a great product and a simpler plug-and-play solution for enjoying high-quality music on the go. The flexibility of a 3.5mm cable also is a good inclusion to make it more versatile for the users.
Pros
Impressive soundstage and imaging
Good midrange clarity
Lightweight and Integrated design for mobile plug and play
Questyle, a brand well known for its DAC Amplifiers and DAPs such as the portable Questyle M15, and the QP2R, has just introduced its first IEM called the NHB12.
This is the world's first Apple MFi-Certified lossless earphones that promises studio-quality 192kHz audio with zero distortion.
Boasting an integrated DAC and Current Mode Amplifier, these earphones deliver unparalleled sound quality. The NHB12 earpieces are impedance-matched and tuned specifically to provide an expansive dynamic-range listening experience.
For those keen on experiencing lossless audio on their iPhones, will Questyle's NHB12 option deliver on its promise? Let's find out!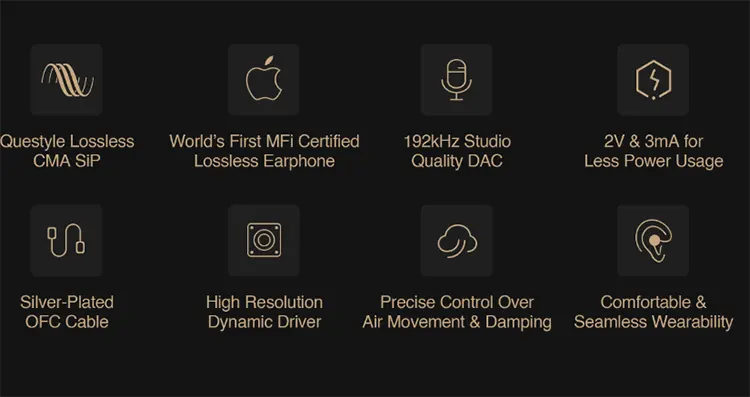 Tech Highlights
Questyle's NHB12, the world's first Apple MFi-Certified lossless earphones, promises 192kHz studio-quality audio with zero distortion, thanks to an integrated DAC and an inline amp using their Current Mode technology.
These energy-efficient earphones, which impressively use 50% less power than typical TWS earphones, also provide a visual sample rate indicator to signify audio quality, match premium models like the Beyerdynamic Xelento Gen2 in performance, and negate the need for external DACs & Amps.
Apple users don't need to worry about the rumors surrounding the iPhone 15 USB-C ports. The NHB12 is designed primarily for lightning connectivity, but Questyle plans to introduce a USB-C version in alignment with future iPhone developments.
From Questyle themselves, "NHB12 supports cable swapping. We are closely monitoring Apple's official announcement regarding the next generation of iPhones. Once the new iPhone is released with a USB-C port, we will offer a free upgrade of the True Lossless cable to USB-C Only for Kickstarter backers of NHB12.
If you wish to proceed with the upgrade, please contact us via our email address on our website with your address and contact information. We will provide you with the shipping details for returning the lightning cable. Please make sure the lightning cable is free from scratches or damage."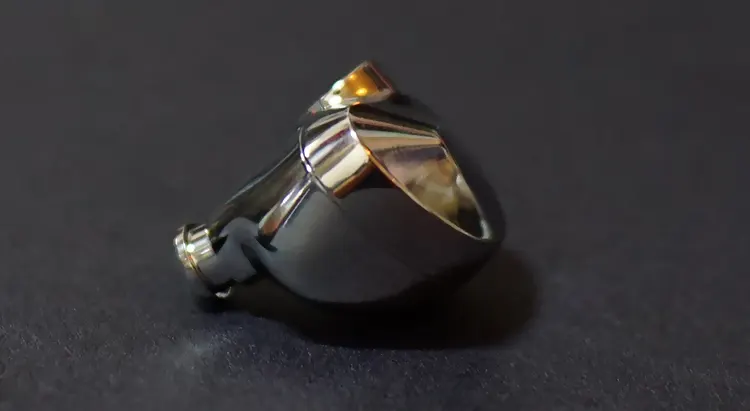 Design
The Questyle NHB12 exudes a sense of refined sophistication with its polished silver finish.
Crafted from metal, it boasts not only durability but also a radiant shine that captures the essence of premium craftsmanship. This compact design has enabled a slim silhouette, compared to other traditional bulky setups.
The earphones are thoughtfully designed with an ergonomic shell, ensuring a comfortable fit that contours naturally to the ear. It is a combination of aesthetic elegance and user-centric design that makes the NHB12 both a visual and functional delight.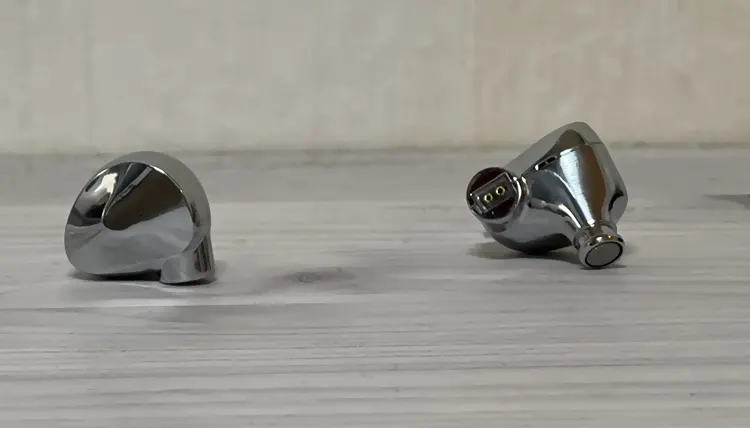 Comfort & Isolation
The NHB12 is incredibly light. Because of its lightweight design, it remains comfortable for extended listening sessions, nestling perfectly within the ears without causing any uncomfortable pressure points or hotspots.
it comes with stock grey silicone tips, completing its overall futuristic aesthetic. These tips are dome-shaped and single-flanged, providing a good level of isolation that enhances the listening experience.
With the NHB12 monitors in your ear, the sound leakage is nonexistent. It effectively blocks out external noises, allowing listeners to immerse themselves in the intricate details of their music without being disturbed by the environment around them.
Stock Cable
The cable is of a silver color, a silver-plated OFC cable for lossless signal transmission. What's unique about the NHB12 is its integrated CMA SiP in the cable itself in place of the Y-splitter.
For those not familiar with Questyle's CMA SiP, it's an integrated DAC and current mode amplifier that enables Hi-Res lossless music up to 192kHz and 24 Bit.
It boasts 10 times its bandwidth and low distortion of 0.0002% while only being powered at 2V and 3mA. It also has an LED sample rate indicator, ensuring that the music received is of Hi-Res lossless quality.
It also features a 2-pin 0.78mm termination and an MFi-certified lightning plug for iPhones, which makes the cable usable with other IEMs.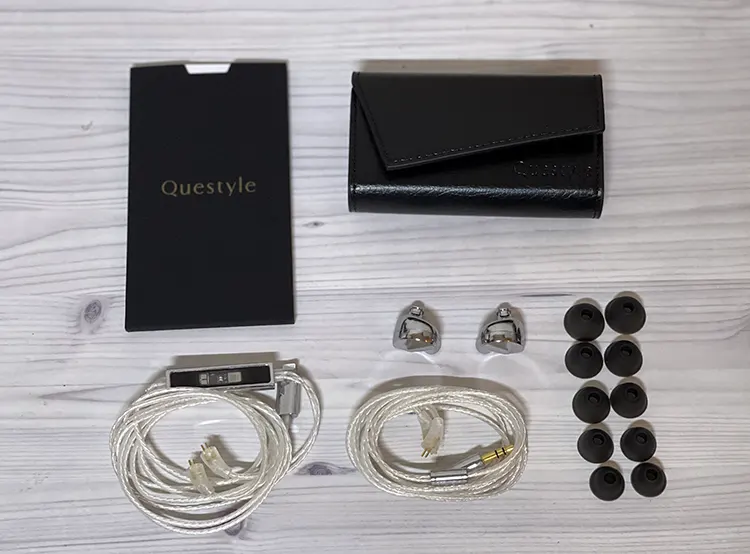 Packaging & Accessories
Opening the box of the NHB12 reveals a wealth of accessories, packed thoughtfully, and designed to optimize the user's listening experience. Right at the center lies the NHB12 earphone itself.
Accompanying the earphones is a quick start guide, providing straightforward instructions to get users up and running without a hitch. The package also includes a 3.5mm connector cable, ensuring that the earphones are ready for use with a variety of devices.
For a customizable fit, the box contains five multi-sized silicone ear tips, allowing users to find their perfect level of comfort and sound isolation. To top it all off, a sophisticated leather storage case is included, offering both protection and a touch of luxury to the overall package.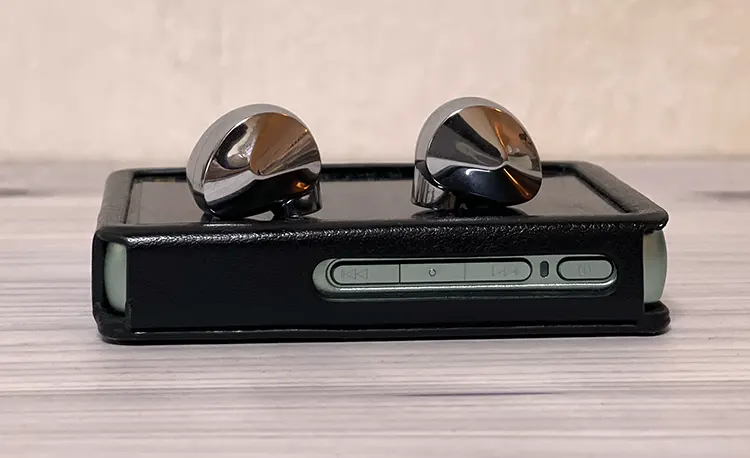 Sound Impressions
Bass
From the first listen, the NHB12 bass response presents as a little bit dry, although presented with a subtle thump. The depth and heft that one might expect might not be for a bass head taste but are more adequate for people looking for a midcentric IEM.
The sub-bass also makes a positive impression with its swift and adequate response.
Interestingly, this lack of depth turns into an advantage in certain genres of music, as the bass remains disciplined and avoids bleeding into or overpowering the higher frequencies. This results in a clean and balanced sound profile where each frequency range can shine on its own merits.
Mids
The midrange is the main strength of the NHB12, taking the spotlight of this IEM. The mids are forward, which makes the vocals and instrument textures heard in surprisingly good detail.
The presentation is natural and smooth, emphasized with its good clarity. It gives justice to both male and female vocals, which are rendered in a natural presentation.
The midrange has a sense of realism in it, making the vocal emotions felt and heard well. Instrumentals are rendered alike, with detail and a natural hint of warmth in them.
Treble
The NHB12 has good treble tuning. It has the perfect balance of producing great treble detail, despite not sounding bright at all. The treble tuning gives way to the midrange in taking charge, but it also has its own spotlight as well.
The treble is incredibly detailed, with a good splash and sparkle. Higher frequencies have a good sense of air and lightness in them. It is neither harsh nor sibilant, which makes it easy to listen to.
Staging
Staging on the NHB12 has a good amount of width and height but lacks depth. It makes up for the lack of depth with its incredible clarity, making the midrange the spotlight of its overall tonality.
Imaging is also impressive with this IEM. Vocals pop and are noticeably layered well, with instrumentals as a support. Sound is heard in a 3D direction, making it sound immersive.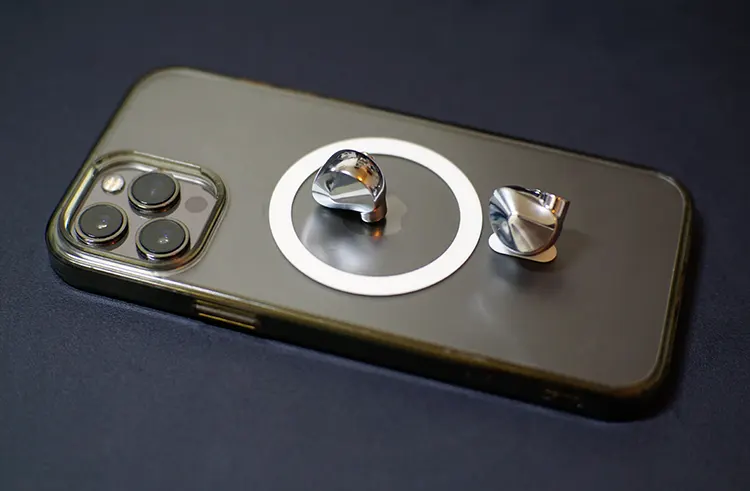 Synergy
Efficiency
Designed to pair well with iPhones, the NHB12 has an ultra-low operating voltage of 2V and a current of 3mA which Questyle boasts can achieve 50% less power usage compared to a TWS device.
With an impedance of 38Ω, the NHB12 is easy to drive. With around 60% volume levels on an iPhone with Apple Music, the NHB12 is comfortable to listen to.
Pairings
The Questyle NHB12 is designed to work with iPhones, although it can also be used with Android phones with its upcoming USB-C cable.
For this review, we have used it with the iPhone 12 Pro Max, which performs well. The iPhone's stock EQ can be used to manipulate its sound profile, adapting to personal user preference.
Although the NHB12 is good to pair with an iPhone, a DAP can also be used. Since the bass is quite lacking, pairing it with the Hiby R3 Pro would be good to boost its lower end and further extend its treble response.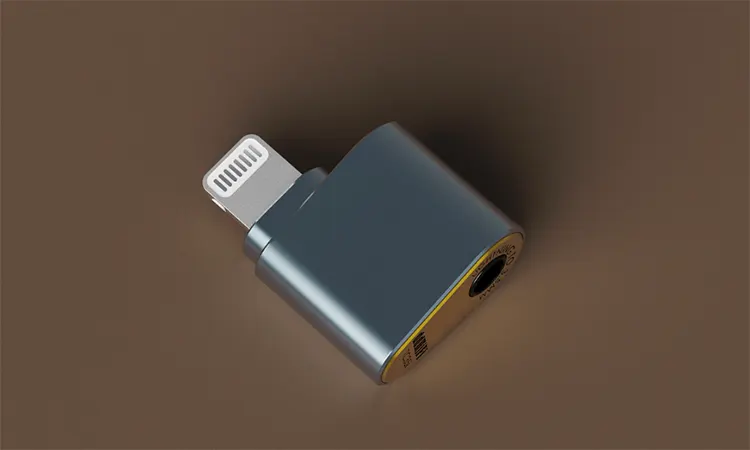 Select Comparisons
Stock cables & ddHiFi TC35i
Technical
With this configuration, the main difference is the DAC used. The ddHiFi TC35i has a Realtek ALC5686 DAC inside that supports up to 384kHz and 32bit. The NHB12's CMA SiP integrated DAC amp allows support up to 192kHz and 24bit.
Design
With this setup, the difference is not that noticeable. The ddHiFi TC35i is an adapter-type dongle, which makes it compact and moves as one with the headphones jack. The usability of both setups is at par, with no advantage over the other.
The main difference is that the NHB12 has an LED indicator that ensures the source is delivering Hi-Res audio, which is advantageous in ensuring an optimal listening setup.
Performance
The sound difference between the two does not differ a lot. Some noticeable differences lie in the bass and midrange. The bass is more developed with the ddHiFi TC35i adapter with a bit more impact, but it is still lacking.
The midrange region also performs better with the stock CMA SiP integrated DAC AMP cable. It is more articulate and more natural sounding. There is not much to say about the treble as the differences are very minimal, if there are any.
The main difference is in the overall clarity of sound delivered. With the NHB12, it is noticeably much cleaner and more natural. The TC35i offers a decent reproduction, but not at par with the NHB12. The NHB12 is a step upgrade with a better overall presentation
It is also important to note that in terms of power, the NHB12 needs higher volume power levels to reach a similar listening level to the TC35i adapter. Another downside with the TC35i is that it runs hot for long periods, while the NHB12's CMA SiP does not.
Moondrop KATO & ddHiFi TC35i
Technical
The Moondrop KATO utilizes a single dynamic driver, specifically a 10mm ULT super-linear type, while the NHB12 is designed similarly with a single high-resolution dynamic driver.
Design
Surprisingly, the two are very similar in terms of looks. Both are polished silver with an ergonomic shell. The KATO does have more squared-off edges compared to the NHB12.
Both IEMs have an ear-hook design with a 2-pin 0.78mm termination. The difference lies between the cable where the NHB12 has a lightning-jack termination compared to KATO's 3.5mm jack termination.
Although the NHB12's CMA SiP allows it to support Hi-Res lossless music reproduction up to 192kHz and 24bit, the TC35i has a Realtek ALC55686 DAC inside which the upper hand as it supports up to 384kHz and 32bit.
Performance
There are distinctive differences in the audio profiles of these two IEMs. Starting with the bass, the KATO takes the lead with a deeper and more pronounced presence.
In contrast, the NHB12 lacks the same depth, missing those deep rumbles and the substantial heft that bass enthusiasts might look for.
The NHB12 mids clearly stands out with a notably elevated profile. This emphasis results in vocals that are more prominent and stand out more distinctly, especially when compared to the KATO. The KATO's V-shaped tonality explains its relative dip in the vocal range.
The NHB12 offers a more relaxed treble experience, whereas the KATO leans towards a brighter sound spectrum with a sharper treble. The KATO has a more elevated treble region which could make the KATO seem more vibrant to some listeners, but also possibly more piercing to those sensitive to higher frequencies.
Both IEMs display comparable soundstages in terms of width, ensuring a broad auditory experience for listeners. While they might match in horizontal spread, the KATO takes a slight edge with its increased depth, providing a more accurate imaging and three-dimensional auditory experience.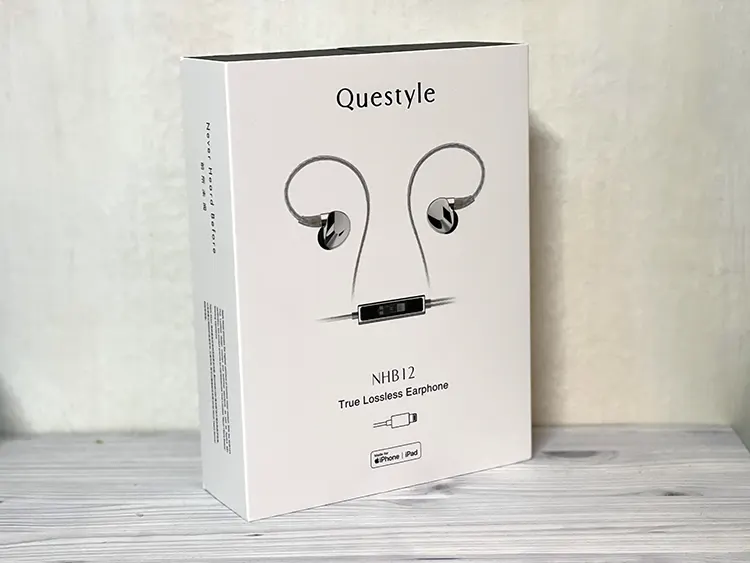 Our Verdict
The Questyle NHB12 is perfect for people dipping their feet for the first time in the high-resolution audio market. It's a great product and a simpler plug-and-play solution for enjoying high-quality music on the go. The flexibility of a 3.5mm cable also is a good inclusion to make it more versatile for the users.
For people who already have skin in the game or already invested in IEMs and portable DACs, this will be more of a side-grade or a complimentary setup specifically for iPhone owners.
With its current dollar tag, the market will be competitive as a standalone dongle and a good IEM can amount to a similar price. The main advantage of the Questyle NHB12 would be its integrated design, and easy iPhone compatibility which lessens potential points of failure when out and about.
Questyle NHB12 Technical Specifications
Type: IEM + DAC/AMP (MFi certified)
Drivers: proprietary dynamic driver
DAC: Questyle CMA SIP
Socket: 2-pin 0.78mm
Cable: OFC silver-plated braided with 8-pin plug (3.5mm available)
Shell: CNC-milled aluminum, anodized, brushed with PVD coating
Frequency Response: 20Hz- 20kHz
Impedance: 38 ohms
Sound Isolation (up to): 27dB
Cable length: 120cm
Weight: 13g per ear