Today, we review the DUNU Falcon Ultra, which is a second-generation 10.7mm dynamic driver in-ear monitor with a lithium magnesium alloy diaphragm. It is priced at $239.99.
Disclaimer: This was sent to us as a sample for our honest opinion. Headfonics is an independent website with no affiliate links or services. We thank HiFiGo and DUNU for their support.
You can click here to learn more about the DUNU gear we have previously featured on Headfonics.
Note, that this post follows our scoring guidelines which you can read here in more detail.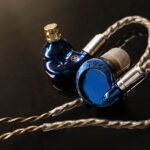 DUNU Falcon Ultra
With a robust yet attractive design and thoughtful tuning, the DUNU Falcon Ultra is a great choice for audiophiles seeking higher clarity as well as versatility on the go, all at an affordable price point.
Pros
Strong transient performance
Excellent build quality
High quality stock cable
Cons
Decoding quality dependent
No 2.5mm connectors
Average isolation
Our second review of the year from DUNU, (the first being the SA6 MK2), is the new Falcon Ultra single dynamic driver universal IEM. This is a second-generation launch superseding the older and slightly cheaper Falcon Pro which has now been discontinued.
For this latest iteration of the single dynamic driver IEM Falcon, DUNU has incorporated a multitude of new features and comprehensively redesigned it from the ground up, ensuring robust build quality and an extensive list of features.
Some of those features have trickled down in one form or another from their high-end models such as the Zen so ideally, the Falcon Ultra should benefit.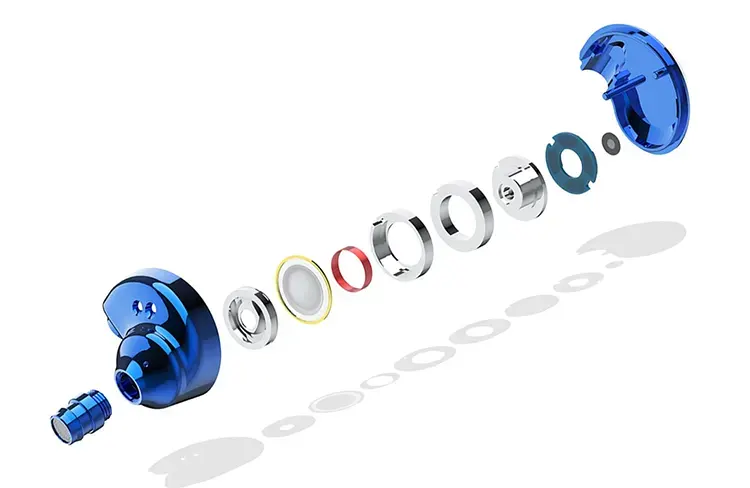 Tech Highlights
2nd Gen ECLIPSE Architecture
The Falcon Ultra features DUNU's proprietary 10.7mm dynamic driver, which uses a newer generation of the esteemed ECLIPSE Architecture that was first introduced on the previous flagship ZEN priced at $699.
To further enhance the driver performance structure, DUNU has adopted a hybrid structure that features a newly developed lithium-magnesium alloy dome with a soft independent suspension surround as the driver's membrane.
The central portion of the membrane is constructed from a highly rigid and lightweight material, specifically engineered to improve transient response and enhance clarity. The surrounding material is comparatively softer, contributing to a dynamic bass response.
Ring-type Magnetic Assembly
The Falcon Ultra features an external ring-type magnetic assembly which DUNU claims to have achieved "Tesla-level" magnetic flux. The magnets are CNC-milled with remarkable precision, resulting in unparalleled technical performance that rivals even the Zen Pro flagship model, all within a more compact assembly.
This is a significant advancement, as high flux density was once considered a premium feature found only on expensive earphones and headphones. With the Falcon Ultra, this feature is now accessible in a more affordable design.
Redesigned Multi-path Damping Arrangement
The Falcon Ultra shares the same multi-path damping design as the Falcon Pro, which effectively reduces pressure on the ear canal and alleviates concerns such as driver flex.
This practical feature not only enhances comfort but also has the potential to improve the driver's performance by minimizing the pressure within the front chamber, without significantly compromising isolation.
The venting design is visible through the body, which features multiple holes of varying sizes that are carefully crafted to optimize airflow control.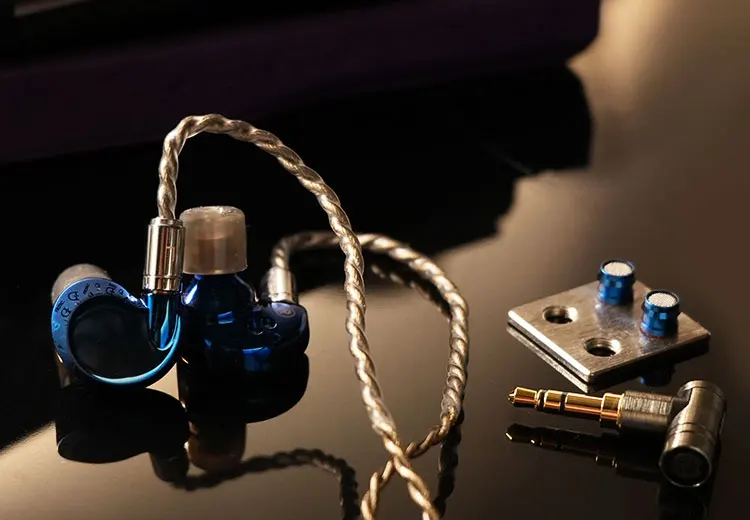 Design
For the Falcon Ultra, DUNU has opted for a striking deep 'Klein Blue' finish on its stainless-steel housing that has been polished to a glossy sheen.
Upon closer inspection, the sanded rims on the faceplate reveal small DUNU logos etched into the surface, adding a touch of class, and enhancing the contrast and texture of the design.
The housing shape is thoughtfully designed to reflect light at varying angles and maintain a compact form factor that sits snugly against the ears, minimizing wind noise interference.
With its eye-catching blue accents, as well as the upgraded parts on the cable, the Falcon Ultra looks and feels more playful and its overall aesthetics is more premium compared to previous iterations.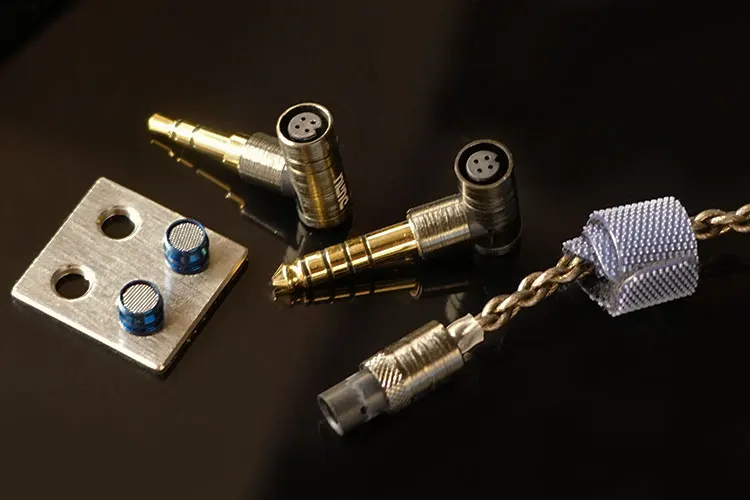 Modular Nozzles
The Falcon Ultra is equipped with two sets of metallic nozzles that can be easily screwed onto the body unit. The first set, which comes preinstalled, is made of blue-colored stainless steel and delivers a transparent and pristine sound signature with a swift response.
The second set, crafted from gold-plated brass and colored in gold, is included in the hard pouch that accompanies the IEM. This set is specially designed to produce a warmer and more nuanced tonality that is particularly well-suited for vocal reproduction.
Comfort & Isolation
Thanks to the air pressure damping arrangement mentioned earlier, which can be seen on the inner side of the earphones, the Falcon Ultra does not place undue stress on the ears and sits comfortably for extended periods of time, even during lengthy movie sessions.
Despite the metallic housing feeling quite hefty in hand, the over-ear cable design helps distribute the weight evenly. The nozzle also extends deeply enough to prevent any discomfort during long listening sessions.
The vented design of the Falcon Ultra enables a more natural and spacious sound presentation, albeit at the expense of slightly reduced isolation. Nonetheless, the seal is excellent for my ears and the amount of ambient sound leakage is minimal, making it still suitable for use on trains or in other noisy environments.
Tips
DUNU provides an extensive range of tips with the Falcon Ultra, including the preinstalled S&S ear tips with straight silicone walls that are designed to deliver studio-level natural sound performance.
Additionally, the Candy tips feature thicker inner walls to provide stronger support and enhance the density of the audio output. The colorful design of the Candy tips adds a touch of flair to the overall package as well.
The Falcon Ultra also includes balanced tips in grey, which are put as the brand's official standard tips. These tips prioritize accuracy and are suitable for use with a variety of music genres. Lastly, the blue-stemmed vocal tips emphasize mid-range frequencies and vocal clarity, making them an ideal choice for music styles that feature prominent vocals.
It is highly recommended to experiment with different tips and nozzle sets to fine-tune the tonality and achieve better synergy with your listening gear and music collection.
This process can be both enjoyable and rewarding, enabling you to discover the ideal combination that suits your individual taste and preferences.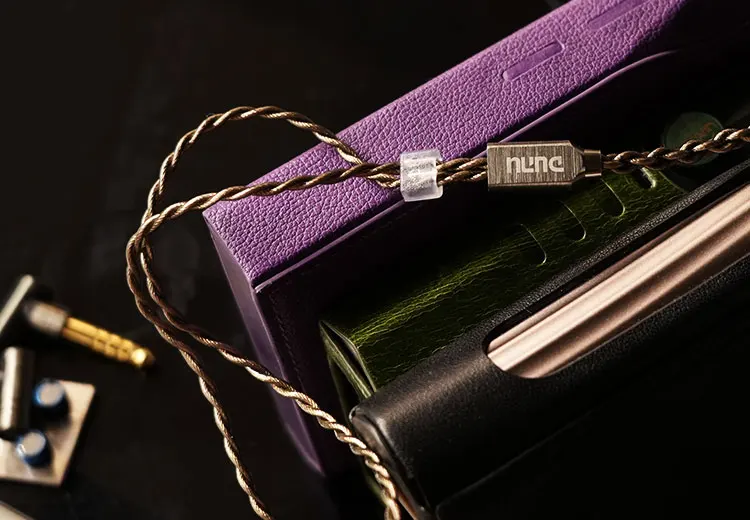 Stock Cable
The DUW02 Pro High-Purity Furukawa single-crystal copper silver-plated MMCX cables are another standout feature of the Falcon Ultra package. It features DUNU's patented Q-Lock Lite Modular plug system that enables quick and easy interchangeability between 3.5mm and 4.4mm plugs.
The detachable parts can be separated easily yet they lock firmly together, thanks to the clean and precise clicking mechanism for locking and unlocking the plugs.
There is a serial number engraved on the splitter that has a brushed finish, and I am surprised by the build quality of the parts, which feel more solid than average cables.
The termination on the player side is also gold plated and the plugs have a nicely textured finish. The metal used does not look or feel cheap and the assembly feels firm and solid, which outclasses some of the aftermarket choices.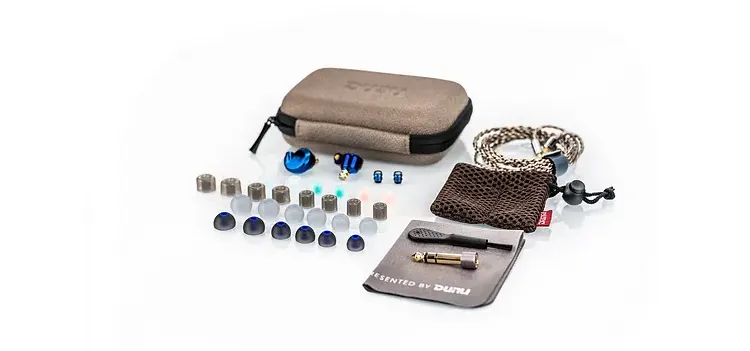 Packaging & Accessories
The DUNU Falcon Ultra is packaged in a compact box of excellent print quality, which is a testament to the brand's attention to detail and robust supply chain, even with its consumer-grade products.
Inside the package, DUNU includes a tutorial leaflet that provides guidance on how to utilize the swappable plugs, as well as a small fabric holder that accommodates each earphone body unit individually to prevent scratching.
Aside from that a hard pouch with elastic bands inside that securely locks the earphones in place, preventing them from bouncing around and getting damaged.
The pouch's texture is also delightful to the touch, and everything included in the package is practical and thoughtfully designed, without any superfluous elements added.
Sound Impressions
To ensure optimal performance, the Falcon Ultra underwent a burn-in process of approximately 100 hours with the Shanling M7 and M9 Plus before the below impressions are made.
Summary
The Falcon Ultra delivers good punch and elaborate harmonics even when powered by sources that are less powerful.
With the stock tips and nozzle parts, the upper mids are clearly elevated, which contributes to a laid-back, V-shaped impression that strengthens vocal clarity, allowing different voices to cut through the mix at ease.
Switching to the brass nozzle, by trading off some of the openness, a more natural timbral balance is achieved and there is more body with the mid-lows to provide a fun, punchy quality to the sound, to make it more engaging and dynamic in tone.
Bass
With the brass filter on, the Falcon Ultra delivers smooth bass with adequate bass quantity. Sub-bass doesn't kick very deep and has a moderately fast decay, which is sufficient to sound impactful and rhythmic.
The smooth signature brings forward vocal harmonics to be revealed and has good synergy with older pop songs, as well as string instruments that sound swift and mellow.
When more fast percussion instruments come into play, the Falcon Ultra may struggle slightly to keep up and as the mid-bass is thickened it favors a simpler bassline than a bigger assembly, so I am not recommending listening to fast electronic music.
Despite this, simpler compositions, say jazz and acoustic guitar-accompanied vocal works, as well as relaxing instrumentals, do well. Especially with the stainless-steel filters that sound cleaner and more controlled in the bass.
Mids
When putting on the Falcon Ultra the first thing that comes to mind is its vocal presence, of which the upper mids are delicately elevated for stronger vocal presence in particularly with female singers.
There is adequate weight in the mids so it doesn't sound veiled while being slightly laid back as mentioned. The pump favors lighter voices and with full, thicker, or hoarse voices you may feel the singer sounding more distanced, yet the image stills hold together pretty firmly.
Male voices are characterized by a clear and light signature, while female vocalists tend to have a more biting quality.
The midrange frequencies are rendered smoothly, with slight dips that add to the overall clarity of the instruments when powered by dongles that may not have sufficient power to sound meaty and dense.
With more powerful sources, acoustic guitars have good presence and clarity, capturing the subtleties of fingerpicking without sounding overly sharp. When pumping up the volume, the Falcon Ultra can keep up well to reveal more details in the midrange frequencies while remaining smooth and textured.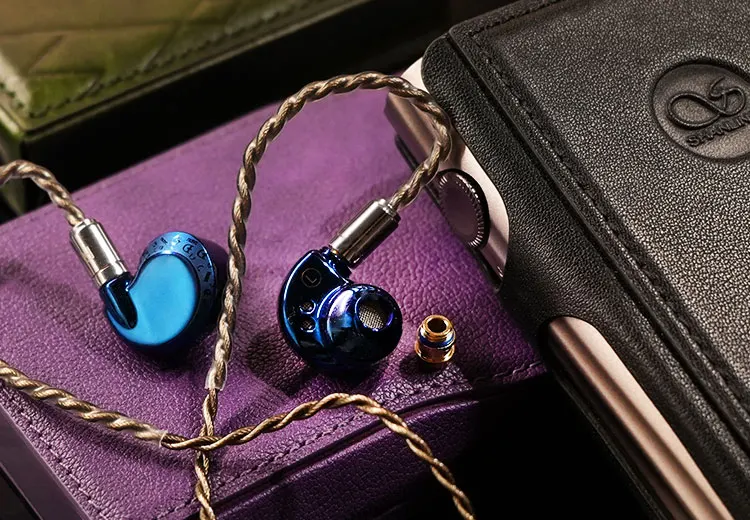 Treble
The treble range exhibits a noticeable bump beyond 5kHz, followed by a rather sharp roll-off that enables percussion instruments and violins to come through with good presence and little harshness.
The areas that can cause harshness are carefully smoothed out, without compromising the intensity of vocals and high-pitched notes. This character allows high-pitched voices and instruments to be sweetened, slightly like when you are listening to live Jazzes in a bar.
The textured treble, in combination with the soothing midrange delivery, is particularly well-suited for strings and flutes, as there is ample air to occupy the soundstage rendered and with sufficient vibrancy.
Soundstage
The staging sounds well organized, with instruments clearly positioned with a good sense of control thanks to the forwardness of the treble. The Falcon Ultra avoids overemphasizing the soundstage while pushing the midrange frequencies slightly at a distance, making it ideal for chamber music or smaller performances.
Articulation on the other hand is swift and natural, with good separation power that favors female vocalists to sound firmer in image and power to cut through mixes. Switching to 3.5mm output the Falcon Ultra holds together an even firmer and denser image, though the dynamics is not as strong as when hooked to balanced output.
With a powerful DAP or a desktop amplifier such as the RME ADI-2 Pro that gives it enough swing, the Falcon Ultra can sound pretty expansive. Using the stainless-steel nozzle parts, it achieves a stronger sense of resolution though it may sound slightly hollowed out in the midrange.
The brass nozzle parts boost the expansiveness and richness in harmonics to make the output more engaging and immersive, at the expanse of resolution and control slightly though I would prefer its musicality.
In these settings, the Falcon Ultra produces a natural timbre with good air, that is great for background music when working at the coffee place or on the ride.
Click on page 2 below for sound impressions and our selected comparisons.