We review the iFi Audio ZEN CAN Signature MZ99 which is a specially tuned balanced desktop amplifier for Meze Audio 99 Series headphones. It is priced at $299 SRP.
Disclaimer: We received this sample in exchange for our honest opinion. Headfonics is an independent website with no affiliate links or services. We thank iFi Audio for their support.
More information about iFi Audio products that we have previously covered on Headfonics can be found here.
Please keep in mind that this post adheres to our most recent scoring guidelines, which you can find here.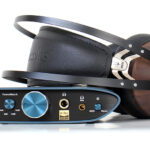 iFi Audio ZEN CAN Signature MZ99 Review
The iFi Audio ZEN CAN Signature MZ99 amplifier variants are all excellent amplifiers including the MZ99. But they do not have to be exclusively paired with a specific headphone because they also offer a neutral listening experience besides offering a flavor sound profile.
Pros
Versatile
All metal anodized design
A good sonic performer overall
Cons
Popping noise when engaging the MZ99 / XSpace feature
Faint volume knob indicator
Crunchy feeling 4.4mm connectors
iFi Audio seems to have exclusivity cards at hand since at the moment they singularly make amplifiers specifically optimized to sonically improve some of the most popular headphone models out there. The base model that iFi Audio uses for this product line venture is their very popular ZEN CAN amplifier.
Is it a risky proposal to mingle with one of their best-selling pieces of gear? Up to now, it seems to be working for iFi Audio and end users alike. I have received good feedback independently on all these models up to now starting with the original ZEN CAN.
So far, iFi Audio has done this three times with the ZEN CAN. The first variant was optimized for the Sennheiser HD600 headphone and the second HFM version catered to the HIFIMAN line of headphones. We've covered both these models here plus we also covered the original ZEN CAN variant.
The third model will be covered today which was optimized for the very popular Meze Audio 99 Classics headphone. Since it's the same basic amplifier as the others we're going to focus mostly on the effects and usability of the MZ99 amplifier with other headphones plus the amplifier's overall versatility level.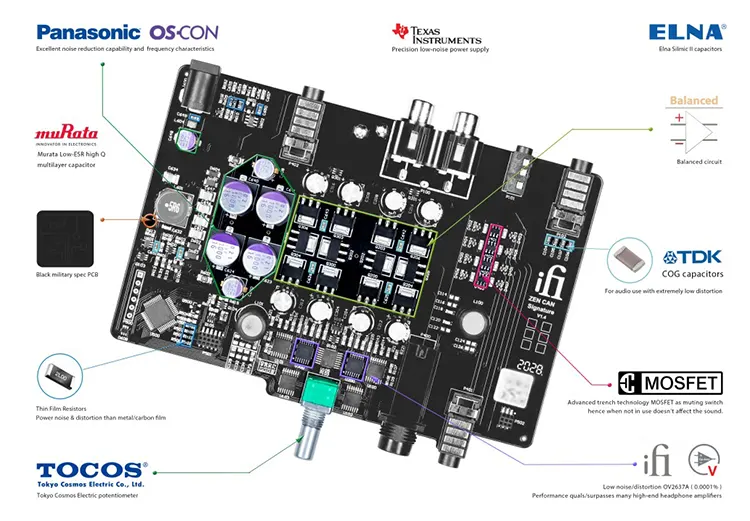 Tech Highlights
If all the components were to be listed then this section would sound more like a recap since they were all retained from the original ZEN CAN on this model including the four-step 'PowerMatch' gain selection, the three selectable inputs, and the balanced input and output topology.
The iFi Audio ZEN CAN Signature MZ99 amplifier and this particular line of amplifiers simply change the tuning of the Xbass implementation with a tuning that is not a general bass boost, but one that has been optimized to enhance the Meze Audio 99 Classics, in this case.
The XSpace feature remained unchanged from the original version of the amplifier it seems. I have compared them all and it seems like an unchanged feature on every model and produces the same effect.
As far as internals, the class A discrete and OV2637A OP amplifier-driven circuitry remains along with a FET input section. Source loading is also class A and iFi's end-to-end true differential balanced topology was also implemented on both the input and output sections.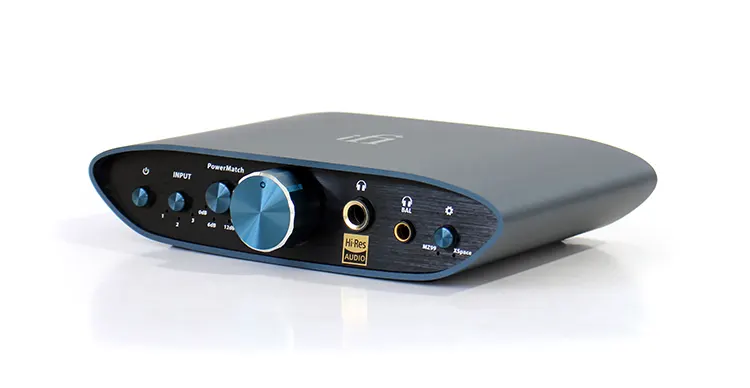 Design
Again, the overall design is identical to the others. The rounded trapezoid shape, the blue-themed chassis, the all-metal construction, and the I/O are the same in every model including the original ZEN CAN which singularly has a unique appearance due to the retro-looking silver color scheme.
I do have one slight irk with one particular design aspect. Since the first iteration, I've mentioned that the volume knob needs a small white dot or for iFi Audio to leave the volume knob indent unpainted and silver because it's hard to see what position it's set on, particularly in a poorly lit room.
I know a few people that used a drop of white-out inside the indicator indent and that does improve its visibility tenfold. The knob does feel very smooth and evenly raises the volume and the visibility issue is my only complaint about it.
Other than that, there's another area iFi Audio seems to be silently improving with the MZ99 design. My unit seems to be almost absent of button rattle which seemed to be a very prominent issue on the first unit I received back a couple of years ago.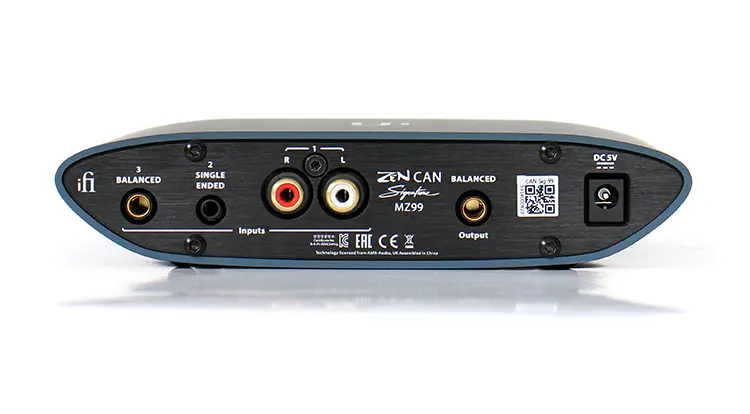 I/O
The iFi Audio ZEN CAN Signature MZ99 front panel has two headphone outputs, a single-ended 3.5mm connection, and another 4.4mm Pentaconn balanced output which has the more powerful output rating of the two and is capable of an 1890 mW output at 32Ω and 15.1 volts at 600Ω.
The rear panel is the busier end of this model. There you'll find three inputs, a 4.4mm analog balanced input, an analog 3.5mm, and a set of RCA analog inputs. All three inputs are selectable from the front panel.
There's a 4.4mm balanced output on the back panel as well. Again, this output is tied to the volume control so you can daisy chain amplifiers and control them all with a single volume knob. This feature qualifies the iFi ZEN CAN Signature MZ99 to gain a preamplifier-capable title.
There is a small detail I've noticed particularly from the 4.4mm connectors iFi is using on some of their gear and it's prevalent on this unit also. There's a slight crunchiness on inserting a 4.4mm plug but there's no intermittence, channel imbalance, or any other negative effect detected.
Features
MZ99 Mode Switch
The MZ99 feature that differentiates this model mostly focuses on the low frequencies of the Meze Audio 99 Classics and brings forth a presence in the bass that works on the entire bass section plus a small section of the upper mids if my ears are not lying to me.
The feature while engaged affects some of the mid-band frequencies and there's a small amount of added brilliance up on top. In other words, forwardness was added to a small portion of some dipped areas in the upper-frequency response.
I'm going to be very honest here. I would have been satisfied if the old XBass feature was retained and I still feel it's one of the best bass boost implementations out there, but I get the concept here.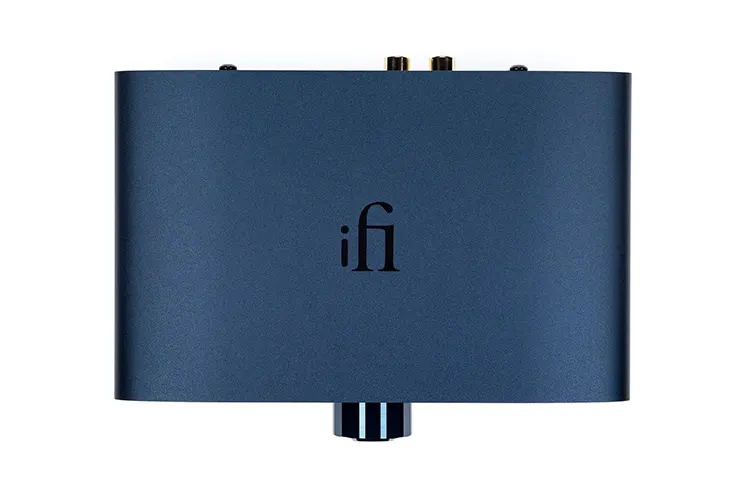 Analog Volume
iFi Audio uses analog volume control knobs on every ZEN CAN Signature series amplifier and then some. To me, the implementation has its pros and a single con. What is the single con? There's a small channel imbalance at the very bottom of the volume setting that is most prevalent when using sensitive IEMs.
While using full-sized headphones like the Meze Audio 99 Classics, this issue is not noted. This effect is most evident with an elevated gain setting and sensitive IEMs. However, the imbalance is not too relevant in the lowest PowerMatch gain setting.
However, since I've played around with this lineup, I can attest to the fact that tolerances seem to keep shrinking and it seems the imbalance is less to nil while the first models of this lineup had a more prominent one.
So, what are the benefits obtained by using an analog volume knob? The analog volume control is less restrictive for overall dynamics and it avoids the signal processing involved when you use a digital volume.
Packaging and Accessories
Packaging will all depend on what package you order although if we were to speak of ordering the amplifier alone then the packaging would be easier to describe. So, let's stick to that for now.
Inside the box, you'll find an iFi Audio-branded stereo RCA cable assembly, a 3.5mm to a 6.35mm adapter, a warranty card, a quick guide, and a 5V iFi Audio iPower Version 2 adapter along with the amplifier and the customary iFi Audio sticker.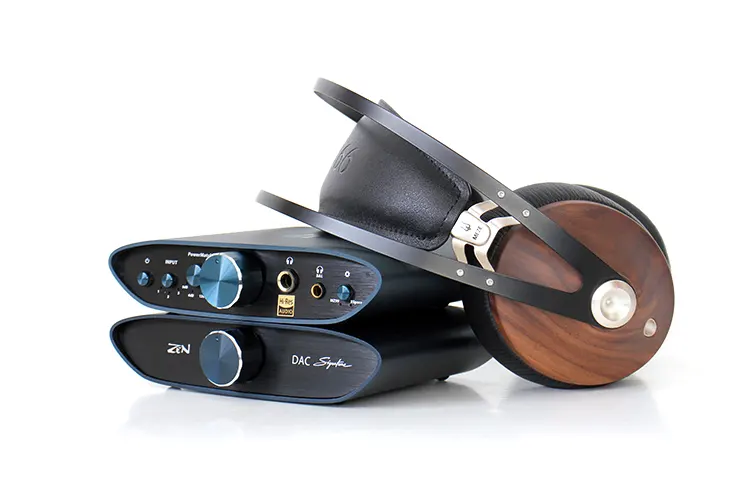 Bundled Options
This is where it gets interesting because you can order the ZEN CAN Signature MZ99 as a single unit, bundled with the iFi Audio ZEN Signature DAC and it also comes bundled with a set of Meze Audio 99 Classics. Plus, you can buy all three pieces as a three-piece combo package.
So, if you order the amp alone with the Meze 99 Classics you'll get the above-mentioned items plus the headphones and an extra cable assembly for the 99 Classics that terminates to a 4.4mm balanced connector so you can take advantage of the extra power available on that port.
However, if you order the entire MZ99 package that consists of the amplifier, the signature DAC, and the 99 Classics you also get a 4.4 balanced silver cable that measures around 8 inches which helps the combo's synergy by taking advantage of the balance I/O stage. Plus, you'll also get the extra 4.4mm terminated cable from Meze Audio for the 99 Classics.
The MZ99 three-piece combo package deal is enticing over separately buying all these components because iFi offers a deep discount. But if you already have the 99 Classics or one of the iFi Audio Signature series DACs then all you have to purchase is the MZ99 amplifier to complete the combo.
Click on page 2 below for sound impressions and our selected comparisons.