It's time for our 2021 Bang For Buck Awards, a feature we started in 2018 and continued in 2019, and 2020 to recognize the products that we believe to offer an excellent level of value or performance for their price.
Of course, 'Bang For Buck' does not necessarily mean low cost for us. Whilst price is a factor we do consider also what you get for the price so not always the cheapest is the best.
Primarily, we are looking for the outstanding value aspect and how well it performs relative to its price point, feature set, and the competition around it.
If that sounds slightly subjective, then yes it is. Our annual Editorial or Award Score (2022 onwards) play a role but they are not the final deciders. If you prefer pure score picks then we do have the Top Gear Awards in 2 days time and they go through the time-honored highest score selection process.
Our awards are split into 2 pages with the first focusing mainly on portable and our second page on desktop and our own Editor and Reviewer's personal choice for 2021.
As ever, we will only consider products that we have done a full review on for the calendar year. So what hit the mark and gave our audiophile wallets the friendliest nudge for 2021? Let us find out.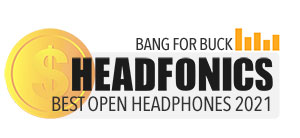 Bang For Buck Open Headphones 2021
You better rev up those production lines because I have a feeling the HE400se is going to sell by the truckloads because they strike a balance of performance per buck that can only be offered by a company that has the backbone and the know-how to pull off something like this successfully.
The HIFIMAN HE400se has an ability to do well in all areas of sound and while not being the best at anything, are not the worst at anything either in any part of the sound signature which makes them an all-around generally good set of cans, not perfect, but great for the price and a well-rounded offering.
The number of cons is practically eliminated by cleverly ticking off most marks to an acceptable amount of quality while maintaining the price low. If you want to jump into the planar magnetic realm but are afraid of committing a large sum of cash to try them out, then start here.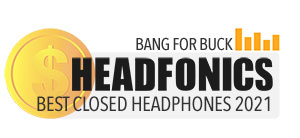 Bang For Buck Closed Headphones 2021
The SIVGA Robin SV021 is a $149.99 'can do it all' headphone that is worth its price for those who want great media/video call/gaming headphones.
The headphone is gorgeous with that woodie appeal and well-built too. More so, you don't need to stress about what DAC or amplifier to buy. Get what's on sale or that you can afford and enjoy, you don't need a mid-tier DAC or amplifier to pair with this headphone to achieve good sound.
We wouldn't be using it for bassy things or pairing with anything beyond entry-level mid-tier pricing, but drop a cheap amplifier or DAC in there and it feels just fine with a great college student setup that blows "gaming headphones" right out of the water.
Trust me, if you put these headphones on during a Zoom call, everyone on the other end is going to go "whoa, what is that headphone, it's gorgeous!". How do we know that? Well, it happened to Mike three times over the course of his review phase.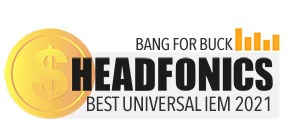 Bang For Buck Universal IEM 2021
There are a limited number of magnetic planar IEMs in the market, but growing. It was a pleasure to review the Timeless 7Hz, being a budget magnetic planar driver IEM. We would have to say that it's a refreshing addition to the market of $200-$250 priced IEMs.
With its sub $250 price tag, it's a good alternative to higher-priced planar IEMs, with one clear advantage – it's easy to drive.
The 7Hz Timeless has a fun and energetic tuning, with arguably a fast and thick bass response. This can be a good buy for old audiophiles looking for a side-grade from their dynamic, BA, or hybrid drivers or for new enthusiasts ready to pull the trigger for a good starting point in the hobby.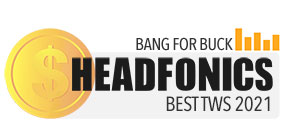 Bang For Buck True Wireless System 2021
The HiBy WH2 is one of the most advanced TWS products in the market at the time of writing. Truth be told, HiBy's stock tuning is a hit and miss for me and I sometimes rely on MSEB to find the sweet spot. However, this time everything works really well even without EQ tweaks.
I have tested quite a lot of other TWS IEMs including the Sony range, the Noble Falcon, and many more, but they don't offer the same level of density and control.
The WH2 sounds a bit dark at first listen but it is wonderfully comfortable for long listening sessions. I would say the timbre in LDAC mode is similar to wired IEMs on LDAC capable receivers.
If you feel single dynamic driver aptX TWS performances are a little loose and wooly then the WH2 puts an excellent foot forward as the first LDAC capable TWS.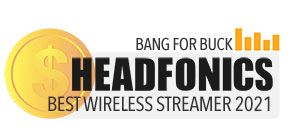 Bang For Buck Wireless Streamer 2021
Sometimes a big upgrade is not necessary for a product that is doing a great job, though FiiO has found a way to supersede the smash hit BTR5, which could be the best-selling Bluetooth receiver at the price bracket.
The BTR5 2021 brings up the bar again and completes the BTR5 package with the addition of MQA support and extra resolving power. It works great to boost the clarity and dynamics with almost any IEMs and our my opinion, continues to pose a threat to budget DAPs.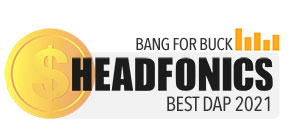 If we compare to the previous generation M3s the leap on M3X is incredible. Even at the current market standard, the M3X is a seriously strong contender with advanced hardware and great matchability with different earphones and genres of music.
The software experience has a lot of resemblance to M8's system, so basically you are paying a fraction of the price to enjoy a good part of the flagship offering from the same brand.
At its price bracket, there is little competition especially if you are targeting MQA playback. The M3X would be a solid recommendation if you are looking for an Android-based device to start your portable audio journey, a BlueTooth source, or a streaming device for your home system.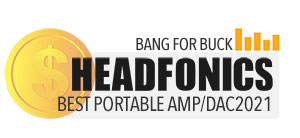 Bang For Buck Portable Amp/DAC 2021
Once again the FiiO modular system has proven its future-proofing capability with the THX AAA working its magic.
It is quite amazing to see how close portable DAC Amps with Bluetooth receiving technologies have come to wire DAPs offering a similar set of features and connectivity to its screened counterpart while being more compact in form factor with comparable output quality.
The Q5s Type-C is the most affordable THX AAA portable product with 10-band EQ and switchable digital filters, also encasing a rich selection of features FiiO accumulated over the years.
If you are not content with the power on small receivers like BTR5 and struggle to carry a DAP, the Q5s Type-C is a perfect alternative that packs in great fidelity.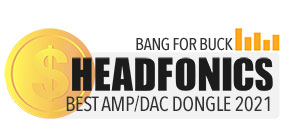 Bang For Buck Amp/DAC Dongle 2021
At the forefront of current amping technologies, the M12 is a unique proposition putting together competitive, smoothly articulated output in an extremely compact design.
The M12 clearly targets those who stream or want more defined sound with their sensitive earphones. It offers decent decoding power with MQA support that will fit a wider range of users.
Not everything is perfect and power constraints put limits on staging size, also it lacks GUI and balanced outputs compared to the L&P W2 and PAW S1. However, if you run your IEMs on 3.5mm only and want a more relaxing presentation with sweet and pronounced vocals, the M12 is a great fit.
Bang For Buck Audio Cable 2021
The Cadence Silver Plus is excellent value for money and perhaps on reflection the next step beyond first-time upgrade cables.
The move from 26AWG to 22AWG is the key difference here with monitors sounding exceptionally dynamic with excellent separation and clarity. The tonal coloration is relatively mild with an accurate harmonic balance, particularly in vocals.
Click on page 2 below for Bang For Desktop Awards and our Reviewer's Choices for 2021