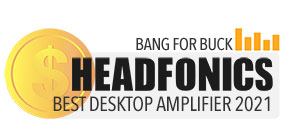 Bang For Buck Desktop Amplifier 2021
The Topping A30 Pro is built around Topping's NFCA topology, giving it that distinctive linear presentation while having an overall enjoyable experience while listening.
Despite lacking some of the modern conveniences of its competitors, the A30 Pro can easily compete against them with its overall more refined but still enjoyable presentation.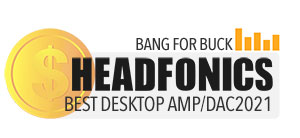 Bang For Buck Desktop Amp/DAC 2021
Khadas took the original Tone Board and integrated it into a neat little all-in-one package. They made quite a few improvements, including putting in a nice aluminum case, a volume knob interface with LEDs, MQA full decoding capability, and a capable headphone amp.
The DAC section offers a crystal clear presentation with a smooth and even tonality that bests most DACs in its price range, while also featuring a surprisingly capable headphone amp that can capably power moderately sensitive headphones like the Sennheiser HD600.
While it seems like Khadas crammed every possible feature into the Tone2 Pro, they certainly did not make any big compromises.
Bang For Buck Best Desktop DAC 2021
The Gustard X16 is exactly what we would expect a modern DAC should do and that, our book, is an excellent thing indeed. We honestly cannot find much at fault with how the Gustard X16 generally performs.
It is packed to the gills with what most audiophiles would want to see in this day in age. That includes top-tier decoding rates, MQA native rendering, and plenty of I/O including a balanced pre-amp option. Not only that but a solid BT LDAC performance that is almost a pre-requisite in mid-fi DACs these days.
The competition is very tight now at this price point, but this is a solid piece of kit with plenty of features and a transparent detailed sound signature to gel well with a wide range of analog headphone amplifiers.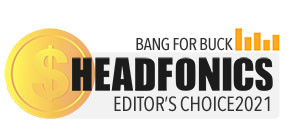 Bang For Buck Editor's Choice 2021
The Campfire Audio Honeydew is a fun little offering that, whilst clearly colored for enjoyment over technical prowess, can still offer a more refined tuning compared to some of the competition out there.
I believe the key trait here is not just about the obvious power of the bass but how well the treble interacts with it. This is a subtle treble performance that gives the higher pitching timbre a slight sweetness to it rather than a metallic or harsh tone which can often be the case with classic V-Shaped IEMs.
Overall, the Honeydew is all about big fun-sounding casual listening with a tonal coloration that makes it non-fatiguing. It is nothing like the Satsuma so there should be no confusion on which one is the right one for you out of CA's recent summer entry-level IEM releases.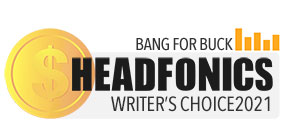 Bang For Buck Writer's Choice 2021 – Michael
True, the ESP/95X build quality is lacking, but the presentation is glowing. At this price, this is a champion of a deal. Before Drop got into this you could end up paying double this price a decade ago and felt like it was still a good deal even back then.
The Koss Drop 95X system includes the Koss Energizer amplifier, so drop in a half-decent DAC or portable source and pair them together. The result will be one of the best mid-fi headphone rigs you can get. The new velour pads are also much better than the old stock Koss pads.
Overall, the Massdrop x Koss ESP/95X is a great electrostatic headphone. It is not the clearest you can get today for the price, but it is perhaps the cheapest complete rig system you can get that will let you step into the world of Electrostatic tonality.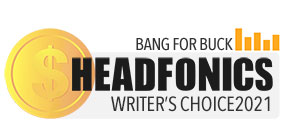 Bang For Buck Writer's Choice 2021 – James
Final has always impressed us with its intricate IEM designs and ethereal tuning. This time they are taking their entry-level designs to a new level, showcasing their varied tuning capabilities with contrasting IEMs in terms of balanced and natural sound and clarity, resolution, and airiness.
The A4000 beats out the A3000 for me with its strong treble performance that makes Jpop and Kpop thrilling. Regardless of the price, it has exceptional qualities and strengths, especially when the A4000 with pop music and EDM.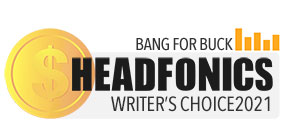 Bang For Buck Writer's Choice 2021 – Louis
One of the most popular and best portable DAC amplifiers out there just got better in 2021 and noticeably so. Is the hip-dac2 worth the extra asking price compared to the original HIP-DAC? Of course, it is for sure.
Our only quirks here are so minuscule that they're almost a waste of time talking about. The hip-dac2 awkward sunken male USB connector or the lack of a carrying case or pouch are two such examples. However, iFi has a suede pouch available on their website so that personal little quirk could be solved easily.
In summary, we have here a 16 core XMOS and dual OV discrete circuitry, a high-quality volume knob, Power Match, and Xbass with plenty of clean power that is sufficient for I'd say 95% of all the headphones out there.
Plus, a metal chassis fashioned in a unique small flask-like shape and finished off with a stylish Sunset Orange color for less than 200 bucks.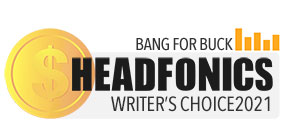 Bang For Buck Writer's Choice 2021 – Jarvin
The xDuoo XA-10 is an all-in-one unit that crammed everything into a small device. It has a very capable DAC with MQA full decoding capability, with a warm tonality and an energetic sense of attack. It's also capable of Bluetooth input, with both aptX HD and LDAC connectivity options.
The headphone amp section on the XA-10 has impressively premium features though, and these include balanced class-A topology capable of 4W into 32Ω and IC-based precision volume control.
These features give the XA-10 exceptional dynamic range and imaging depth, which sets it apart from a 2021 market that is currently flush with opamp-based headphone amplifiers.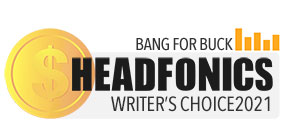 Bang For Buck Writer's Choice 2021 – Cheryl
Equipped with the new flagship ULT, (Ultra-Linear-Technology) super-linear dynamic driver, the Moondrop KATO continues the legacy of the single dynamic driver of Moondrop's offerings.
It's hard to deny that Moondrop has delivered a bang for the buck in-ear monitor that is definitely tough to beat in the sub $200 price range.
Whether you're just starting or upgrading from a sub $100 monitor in 2021, KATO will impress with its comfortable treble tuning paired with deep lows and pleasant midrange.
Shenzhen Audio Website Moondrop Website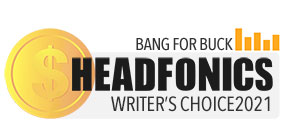 Bang For Buck Writer's Choice 2021 – Kevin
The S9 Pro is a wonderful amalgam of features that used to be exclusive to digital audio players, condensed into an affordable and ultra-portable format. Its unassailably, clean power output and universal adaptability to all electronic devices serve as a wonderful alternative to an already bulky, dedicated audio source.
While it is true that there are other solutions in the market that boast qualitatively better measurements, what matters to me as a consumer is its price-to-performance ratio. I strongly believe that the S9 Pro surpasses many of its rivals.
If you are looking for a Swiss-army-knife of dongle DAC/Amps in 2021 with both excellent power output and dead silent noise floor, the S9 Pro is a unit worth considering.
It's A Wrap!
Well, that wraps it up for 2021 folks for our Bang For Buck Gear Awards. We can promise you we will have a ton more great value gear to review for 2022 and we do hope it will be a more positive year also for all of our readers wherever you may be.
We hope you enjoyed listening to the gear as much as we did and as always we want to thank the readers and companies for making this hobby of ours just so fascinating.
Thank goodness for affordable gear and for still being able to find awesome stuff that punches way above their fiscal weight! Stay tuned for the Top Gear Awards for 2021 in a few days' time to find out what the creme of the crop was for this year!