Our Bang For Buck Awards is something new for Headfonics. In hindsight, this a set of awards we should have addressed earlier given the wide range of gear we review here every year that is both great value and very popular.
Of course, 'Bang For Buck' does not necessarily mean cheap though certainly, price plays a role in what we consider to be the stand out picks for this year. Primarily, we are looking for the outstanding value aspect and how well it performs relative to its price point, feature set and the competition around it.
If that sounds slightly subjective, then yes it is. Scores play a role but not the final decider. If you prefer pure score picks we do have the big awards coming up in a few days time and they go through the time-honored highest score selection process.
So what hit the mark in our reviews and gave our audiophile wallets the friendliest nudge for 2018? Let us find out.
Bang For Buck Open Headphones 2018
Verum Audio Verum 1
$349
Link: https://www.verum-audio.com
Verum Audio set a goal of $30,000 for their Verum One open-back planar headphone and raised $185,638 during the campaign period. That is a very telling statistic of just how well people embraced Verum Audio's Verum 1 and the concept that a planar can compete with the big boys without the big boy price.
The Verum 1 is a bit of a steal at $349. It is a great price for a well-balanced sounding planar headphone. Fan's of the Audeze's house sound will want to hear this. It is solid sounding, smoother than the Advanced Alpha, more body than the Hifiman Sundara and slightly brighter than the LCD-2C.
I think a lot of the big boys are going to sit up and take notice of the Verum 1. It was not so long ago that a certain Dan Clark made his name with DIY Fostex drivers and look where he is now. Verum Audio is in a good place right now to dream of a similar path.
Review Link: https://headfonics.com/2018/08/verum-audio-verum-1-review/
Bang For Buck Closed Headphones 2018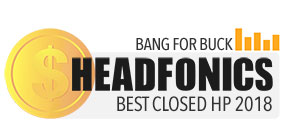 1MORE Triple Driver Over-Ear Headphones
$249.99
Link: https://usa.1more.com/
Closed-back headphones such as the 1MORE Triple Driver Over-Ear Headphones do prove that a well-made portable headphone can sound very good indeed and also look the part.
I am impressed with the tuning. This is a clean, clear, and very articulate sounding portable headphone. Importantly, it does not sound like a "small headphone". Staging is above par for a 40mm driver on-ear no doubt helped by the additional drivers to cope with energy and detail at both ends of the spectrum.
Visually, it is a treat and one of the nicest looking portable on-ear I have seen in a while. The packaging is pretty darn good also. It is one of those rare occasions where I think a manufacturer has got the pricing and value point spot on. This is an obtainable and pleasurable sounding headphone.
Review Link: https://headfonics.com/2018/05/1more-triple-driver-over-ear-headphones-review/
Bang For Buck Universal IEM 2018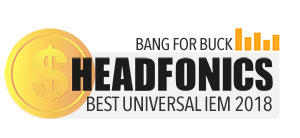 Campfire Audio Comet
$199
Link: https://campfireaudio.com/
This one was a close call because we had a slew of very competitively priced hybrids sub-$200 but when it came down to the total package, looks and signature the single BA Comet grabbed the top spot for the Bang For Buck title in 2018.
Overall, I am glad Campfire Audio brought out the Comet as their entry-level IEM. Companies are doing some clever things now with single BA designs and it was about time the excellent T.A.E.C system trickled down to a more affordable price point. The sound is one of the most spacious and dynamic performers I have heard to date on a single balanced armature driver IEM.
The Comet is competitive, especially so at $199 and compares very well with the likes of the qdc Neptune and the Jomo Haka. The design reinvention will catch a lot of attention on the retail shelf or on a demo display. It is unique, nicely done and certainly a great talking point.
Review Link: https://headfonics.com/2018/06/campfire-audio-comet-review/
Bang For Buck Custom IEM 2018
Avara AV3
$310
Link: http://www.avara-custom.com/
Customs can get real pricey real fast. You can end up dropping over 4 big ones easily on a TOTL custom monitor and get breathtaking performance. You could be forgiven for thinking a custom monitor is for the rich kids only.
Not so as Indonesia's Avara Customs which pride itself on rolling out high performing customs monitors for much more affordable prices. The AV3 was easily our standout pick for a bang for buck award for 2018.
The AV3 is a very easy and enjoyable listening monitor for everyday use. It also demonstrates how far BA designs have come since the days of the UM3 and UM3x almost 10 years ago. You get a rich almost lush or liquid tone that even if slightly light on pure detail makes up for it by being immensely forgiving.
I honestly can't think of a better performing triple BA custom monitor for the $310 price point. The value for money proposition is off the hook for me.
Review Link: https://headfonics.com/2018/07/avara-av3-review/
Bang For Buck Digital Media Player 2018
iBasso Audio DX150
$499
Link: http://www.ibasso.com/
This was another very close run category for 2018. We had some obvious low-priced solutions such as the Hidizs AP80, Shanling M0, and the HiBy Music R3 but we felt the iBasso Audio DX150 was the best in terms of features and performance for the price. Even more so now with the recently launched Oreo upgrade path and LDAC since our original review.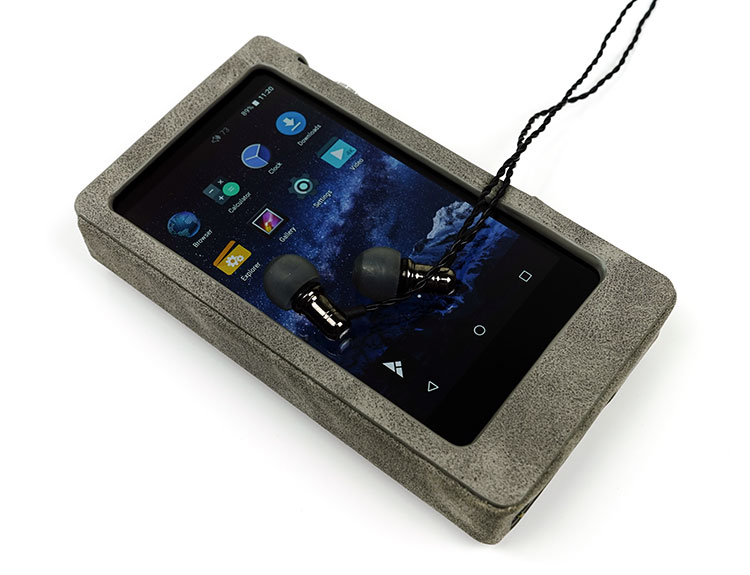 In terms of sound quality, the DX150 is probably one of the best sounding mid-fi DAPs out there right now. No DAP under $500 has the same 'open-ended' potential. iBasso's existing amp card system offers potential users a whole host of very refined amplification options.
I am honestly shocked at how competitive the DX150 is given its price point. At just a little over half the price of the DX200, this DAP does not sound like it had 50% of the quality taken out of it. In fact, in some areas, they actually have improved on the DX200 experience such as the improved form factor and a smoother LCD screen insert. If there is cost cutting it is so nuanced you could be forgiven if you thought there was almost none at all.
Review Link: https://headfonics.com/2018/07/dx150/
Bang For Buck Portable Amp/DAC 2018
iFi Audio Nano iDSD Black Label
$199
Link: https://ifi-audio.com/
I honestly can't find fault with a device at this price point that can do as much as the Nano iDSD Black Label can. At $199 it is a bit of a steal to get IEMatch, decent levels of gain and power as well as a smooth analog type delivery with BitPerfect capability. Throwing in MQA is kind of like a selectively high-end cherry on a generally rather tasty cake.
If you have IEMs or even a wide range of medium efficiency headphones the Nano iDSD BL is a really smart entry-level choice for the price. It can handle both but with IEMatch it excels with today's hyper-efficient IEMs which I suspect is where the majority of buyers will likely be.
It may well be the last release of the old iFi design ethos and superseded by the new X Series but the BL easily grabs our Bang For Buck award for 2018.
Review Link: https://headfonics.com/2018/02/ifi-nano-idsd-black-label-review/
Bang For Buck Desktop DAC 2018
Pro-Ject Audio Pre Box S2 Digital
From $399
Link: http://www.box-designs.com/
We had tinkered with a few cheaper options but nothing quite stacked up to the complexity and feature set of the Pro-Ject Audio Pre Box S2 Digital.
At $399 the Pre Box S2 Digital is one of those all-in-one solutions that defines what a typical 2018 digital audiophile might be looking for.
Roon Tested, full MQA unfolding, a low noise floor, easily transportable, and a very likable tonal presentation with a very modern DAC chip solution inside. This is one well designed, feature-heavy little box and it will sit very nicely indeed right beside your PC either at home or in the office.
The fact you can use it as a pure DAC or Pre-amp is the icing on the cake for those that want to power up stronger amps.
Review Link: https://headfonics.com/2018/03/pro-ject-audio-pre-box-s2-digital-review
Bang For Buck Tube Amp 2018
Feliks Audio Echo
$452
Link: http://feliksaudio.pl/
It is rare to find a tube amp sub $500 that ticks all the right boxes but for Mike this year Feliks Audio did just that with their entry-level desktop tube amp, the Echo.
Feliks Audio really did a number on the mid-tier tube amp world, didn't they? This Echo is probably the best overall tube amplifier in the price bracket that Mike has ever heard.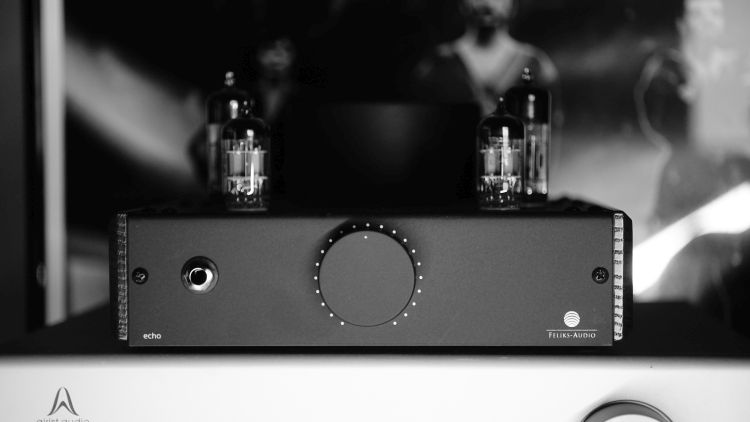 The amplifier looks great, feels great and sounds great as well. For being so small, I will be recommending this for anyone in an office setting or who needs a great bedside/chair-side tube amplifier with a relaxing sound signature. The Echo's price tag makes it another exceptional value, but at this point, none of us really expect any less from this company.
Review Link: https://headfonics.com/2018/08/feliks-audio-echo-review/
Bang For Buck Solid State Amp 2018
Burson Fun
Starting at $299
Link: https://www.bursonaudio.com/
Burson picks up another Bang For Buck award this year with their Class A solid-state headphone amplifier, the Fun. The amp stage on this little black box may even be better than their previous Bang For Buck Play variant.
At 2W into 32Ω, there is no shortage of power from the Fun and it can drive quite a lot of very demanding headphones very well indeed. What's more is that the BASIC edition sounds very good in its own right and better than the Play BASIC edition with the right DAC attached.
The fact you can also opamp roll is the icing on the cake though it will push up the price. At least you can put that off to a later stage when the budget permits making this a very flexible headphone amp, pre-amp, and DIY tinkering dream.
Review Link: https://headfonics.com/2018/12/burson-fun-bang-review/
Bang For Buck Upgrade Cable 2018
OC Studio Orpheus MK5
$250
Link: http://www.originalcable.com/
For $250 the OC Studio Orpheus MK5 is a seriously great-sounding copper cable. It makes a monkey out of the concept you need to pair an expensive monitor with an expensive cable to get a great performance.
It provides a weightier, slightly darker, alternative to the Effect Audio Ares II 8-wire and manages to be a touch easier to physically manage despite being a gauge higher.
Gear like this makes me miss our value for money score which we stopped using earlier in the year. Certainly a 9+ in that regard and it does make me wonder why on earth the Western audio world has not heard more about OC Studio cables. A no-brainer here guys!
Review Link: https://headfonics.com/2018/09/oc-studio-orpheus-mk5-review/
Bang For Buck Bluetooth Audio Gear 2018
FiiO BTR3
$69.99
Link: https://www.fiio.com/
Perhaps the most valuable Bluetooth dongle for 2018 and the type of device that renders a lot of dedicated wireless headphones and monitors moot. The concept of BT built into IEMs has always left me on the fence but being able to use any IEM in my own collection makes this a worthwhile accessory to carry around when on-the-go.
The price is competitive also at $69.99. For that price, it is actually a no-brainer if you want to hear what Bluetooth is really capable off with a quality set of IEMs. The inclusion of LDAC and LDHC (HWA) makes a huge difference to the sound quality inside what was already a good idea with their entry-level versions.
FiiO has opened up a lot of potential avenues with the BTR3 and I am sure competitors will follow-suite though for what price I am not sure. Right now though it is looking like a really smart device to have around for more demanding audiophiles.
Review Link: https://headfonics.com/2018/11/fiio-btr3-review/
Bang For Buck Accessory 2018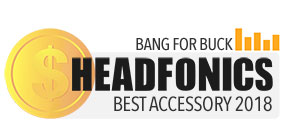 MrSpeakers Ether C Flow Upgrade Kit V1.1
$29.99
Link: https://www.mrspeakers.com/
MrSpeakers just launched a brand new version of their highly popular Ether C Flow called the V1.1 and it sells for $1599. In almost any other scenario a new version of a headphone is likely to require you to sell your old version or send it in for an upgrade to be done by the company. That costs money, a lot of money.
Not so with the MrSpeakers Ether C Flow Upgrade Kit V1.1. This is the full upgrade for just $29.99 and it can be done by anyone in a matter of minutes. This bang for buck accessory will upgrade your older first-gen Ether C Flow to the new V1.1 and the beauty of this kit is that it is more or less reversible if you do not happen to enjoy one of 4 new tonal variations these pads deliver.
That is pleasing to the customer. That is cost-effective. This is pure Bang For Buck in 2018. Thank you for putting your customers first!
Review Link: https://headfonics.com/2018/12/mrspeakers-ether-c-flow-v1-1-upgrade-kit-review/
Our Verdict
From $29.99 to $499 there are a ton of 'Bang For Buck' products out there to suit everyone's budget, taste, and needs in this mad little hobby of ours. I am glad that there both risk-takers and thoughtful companies aplenty out there keeping the flame alive for everyone to enjoy great audio without breaking the bank to get it.
If there is something we have not reviewed in 2018 you think is Bang For Buck and worth a review in 2019 do let us know!