The Shanling M3X DAP features a debut dual ESS Sabre ES9219C implementation, Android OS, and MQA decoding capability. It is priced at $339.
Disclaimer: The Shanling M3X sent to us is a sample in exchange for our honest opinion in this review. We thank the team at Shanling for giving us this opportunity.
To read more about Shanling products we have reviewed on Headfonics click here.
Note, this 2-page review follows our new scoring guidelines for 2021 which you can read up on here.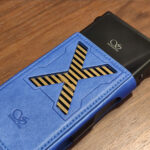 Shanling M3X
If we compare to the previous generation M3s the leap on M3X is incredible. Even at the current market standard, the M3X is a seriously strong contender with advanced hardware and great matchability with different earphones and genres of music.
The M3X is Shanling's latest mid-level DAP entry with a brand new DAC implementation, 16x MQA unfold capability, doubling from the flagship M8. This latest X version of the M3 is the successor to the M3s or M3, which debuted a few years ago, now comes with enhanced battery life, a new-gen processor, and a switch between single or dual DAC mode.
Undoubtedly the features are strong at a very affordable price point packing not just up-to-date hardware but advanced software features we are used to seeing in the higher tiers. Let's roll and see what this 'mini M8' can do!
Tech Highlights
DAC
The M3X is equipped with the new Dual ES9219C DAC chips, a chipset that is not yet widely used. Shanling has USD Sabre before, for example, the Q1, but further up, such as the M6 Pro, you will notice they use AKM chipsets so this new ESS implementation will give the M3X a different character in sound.
The ESS Sabre decoder decodes up to 32/384kHz and supports DSD256 native decoding. You can switch instantly on the drag-down menu between a single DAC mode to save power or the dual DAC mode that gives you the full performance, this will also affect the output in some ways.
Tantalum capacitors are used in the circuitry to enhance dynamics and Shanling also puts in custom coded FPGA chipsets, KDS Femto grade oscillators to lower jitter.
The ES9219C supports hardware decoding with MQA files, up to 16x unfolding. If you are planning to get a Hi-Res streaming device and use TIDAL, this is a very appealing and up-to-date feature that lets you stream at Hi-Res sampling rates outdoors.
Qualcomm Snapdragon 430 processor
The 430 SOC integrated processor with 2GB of RAM is proven to be fast enough to handle various music apps with little bugs and glitches while consuming very little power. This allows the player to run for more than 20 hours, without compromising smooth operation.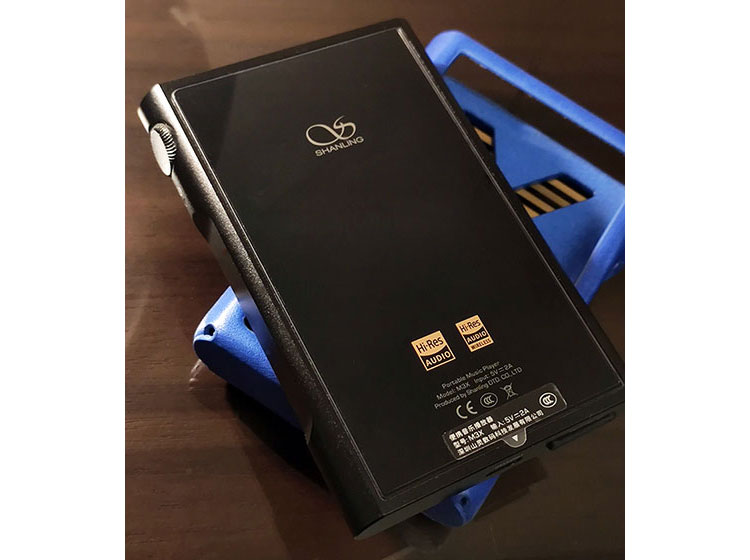 Design
As explained by Shanling, the M3X was designed to be a scaled-down version of the flagship model M8, to be as functional and smaller in size, measuring only 109*72*15.9mm. The design resembles the flagship M8 yet it is so much lighter and compact to carry.
The shrunken size is 25% smaller and lighter than the M6 or M6 Pro players and is perfectly portable for those who want to sacrifice some decoding and amping power for portability.
You will still find the signature volume scroll wheel, reinforced glass panel at the back, covered SD card slot, and playback controls of the same style. The buttons are positioned just right that you can easily control them single-handedly. The weight is merely 168g and the shape is just right for a perfect grip.
Screen
A 4.2-inch 1280×768 touchscreen fits on the rather short body, somehow I find the experience navigating on it is similar to its bigger brothers up the line probably due to the screen's width. The length of the screen is shorter but the width is quite similar to the bigger models such that if you are using music apps only you may not notice many differences.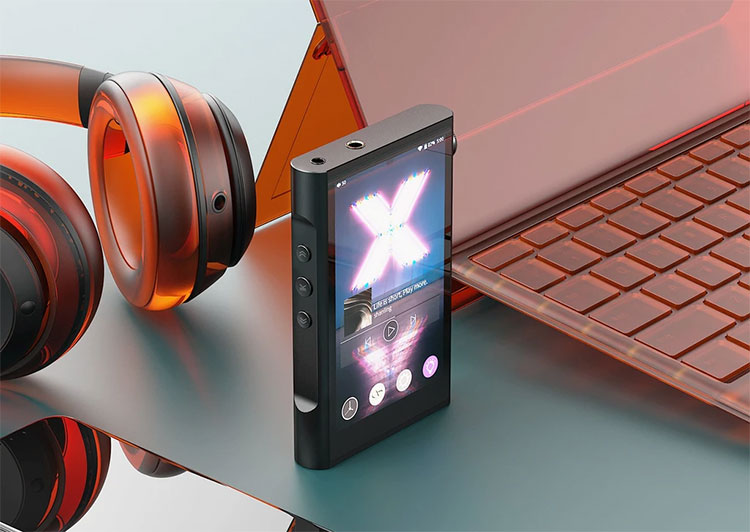 Battery life
This is one area the M3X really stands out. The battery life is 23 hours on a single charge based on official data and supports QC3.0 and PD2.0 quick charge. The longer battery life trades off some output power but I think Shanling has achieved a good balance here, we will talk more about the sound down below.
Packaging & Accessories
Not until I unpacked the leather case did I realize it has a consistent theme to the packaging color, with the grills at the back of the case have a big "X" which denotes the M3X model.
As cool as an X-Men outfit this thick blue leather case adds great protection and feel to the unit when handling. Like the M8 or M6 Pro, you will need to slide the M3X out if you want to change the memory card. The M3X supports cards up to 2TB max also USB OTG storage.
The rest of the packaging is professional and as simple as you can see, you will get user manuals and USB cable, as well as preinstalled and extra screen protectors.
Internal Hardware
USB DAC & Bluetooth
With full Android and all the advanced features, of course, we are able to hook this DAP up to other USB devices. Like what we have experienced on the M8 and M6 series, there aren't any issues connecting to other USB devices also no sudden volume changes or pops that will make you jump.
Bluetooth connectivity is also satisfactory, as long as you don't move or turn around fast the signal remains stable. The device supports receiving and broadcasting a Bluetooth signal, supporting LDAC, SBC codecs as a receiver, and can emit LDAC, SBC, LHDC, aptX HD, and aptX as a transmitter.
With Hifiman and Final Audio's TWS earphones tested on the M3X for a few train rides, I am not experiencing any issues.
MQA
The DAC chips ES9219 allow hardware decoding for the MQA codec, this makes the M3X one of the better candidates for streaming MQA files. If you are not familiar with MQA it is a Codec that compresses audiophile-grade quality music files to smaller packages and can be "unfolded" to a higher sampling rate with supporting hardware.
There is more and more software and hardware supporting this licensed codec and the M3X is considered one of the more advanced MQA streaming players in the market right now.
From what is officially stated the M3X will unfold the signal by 2x with the Controller's power, then the signal will be further unfolded by 8x by the DAC, together it reaches 16x unfold and plays at 768Hz. Currently, the feature works with local files on the Shanling Music App, UAPP, and for streaming, it is supporting up to 2x unfolding.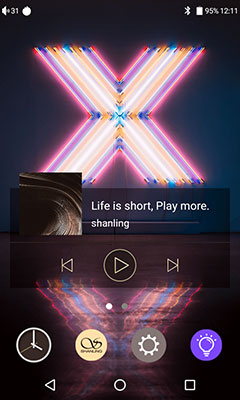 Software
Android 7.1
Like the bigger brothers, the M3X has Android 7.1 on board. The UI experience is pretty much the same and is smooth enough to handle simple graphics or games like Zuma. There is no Google Play market pre-installed so you will need to download from the Pure APK or other repository sources via a side install.
Dragging down the top menu you will see several areas being customized and you can access a pure music mode that forces close other apps, tweak filter settings, and switch between single/dual DACs. In the Shanling Music app, you could access your NAS's music files with DLNA, use Airplay, Synclink also transferring songs over 5GHz wifi.
Android Global Lossless Output (AGLO) Technology
The M3X uses Shanling's proprietary AGLO (Android Global Lossless Output) technology to bypass Android limitations and not degrade or downsample data, supporting up to 32/384 kHz sampling.
Customizing the Android system down to the root level ensures no unnecessary digital conversion that alters and degrades the sound signal before it reaches the decoding chipsets. This is an important feature if you want to enjoy the best output with other apps such as Tidal aside from the manufacturer's own music player app.
You can also switch to the PRIME mode which force terminates other apps in the background to further ensure the least interference when using the music app.
Performance Measurements
The AnTuTu measurements are similar to what we have seen on other Shanling Machines, which is satisfactory in offering enough calculation power to music apps and other simple apps.
Sound Impressions
Summary
The ESS DAC configuration on a Shanling machine definitely brings in some fun changes in the way frequencies are shaped.
In fact, you will still hear Shanling's character in the mids but with some coloring from the ESS chipsets in the bass response, unlike the AKM equipped brothers that have a tighter and faster attack. Even with a long playback time, there is decent power in the output measured 240mW@32Ω, also good clarity in the vocal.
Testing on the various app the MQA unfolding technology you will hear more resolution and better separation, also slightly higher dynamics, this is definitely a hearable difference that adds to the musicality.
If you are not a supporter of the MQA technology yet you could try it on this entry-level machine, which practically streams high-resolution files without lagging or glitches, and the files seem to be better mastered with this format.
Timbre
The tuning has Shanling's usual mid-lows coloration, also gentle roll-off in the treble to color the vocal sweet and rounded, without compromising transparency by adding a bit of brightness to the treble.
The bass doesn't punch too deep so you will probably have your focus on the mid frequencies when you listen to it. Being not as resolving as its bigger brothers Shanling has instead tuned the M3X to sound balanced and forgiving in the mid-bass. This is an all-rounder that performs pretty well with different IEMs and without heavy coloration.
There is a hint of warmth in the mids that adds to the lushness of the vocal and paints the whole picture softer. This works well with expressive music and balances out the tighter clean treble.
Its forgiving bass and adequate resolving power work well with different genres of music. It will easily impress if you are migrating from the previous-gen players or phones.
The timbre on the single DAC mode is slightly different with more coloring in the mids and a smoothened, fatter body. In contrast, the Dual DAC mode will always sound more resolving, with some frequencies in the upper treble sounding more defined and with better control and layering in the lows.
It is good to have flexibility and you could always switch between different modes to find the sweet spot.
Staging
The mids are rather intimate with vocals that are carefully spaced, so nothing too dense with good backing instrument imaging and separation. However, if you compare it to M8 or M6 Pro you will hear the staging sound more confined, like listening in a classroom, or a recording room, but it is quite complete and doesn't sound altered or hollow.
Nothing is getting out of control so there is enough room for chamber music or duets to perform well. However, it may get congested with larger ensembles or tracks with more complex bass lines.
Compared to phones or entry-level DAPs this will still be a good upgrade that sounds more spacious and with instruments more separated and defined.
Click on page 2 below for synergy and select comparisons