The Shanling M8 is a flagship digital audio player featuring a dual AKM AK4499EQ DAC, up to 840mW of power, and interchangeable headphone sockets. It is priced at $1659.
Disclaimer: The Shanling M8 sent to us is a sample in exchange for our honest opinion. We thank the team at Shanling for giving us this opportunity.
To read more about Shanling products we have reviewed on Headfonics click here.
Note, this 3-page review follows our new scoring guidelines for 2020 which you can read up on here.
Shanling M8
The Shanling M8 tuning is the kind of sound that is deep and calming for night-time listens. With distinct resolution, excellent headroom, a strong dense mid-bass character that does not compromise dynamics, the M8 is the most expressive DAP based I have heard so far.
I actually thought the M6 Pro was going to be their flagship but in 2020 every DAP manufacturer seems to be upping their game and going for a certain sweet spot and approach with the TOTL media players.
Shanling is no different with the launch of their new high-end M8 media players priced at $1659. This places it right in the crosshairs of those audiophiles looking at the FiiO M15, the N6ii with some motherboards, or those who love the M6 Pro but want to upgrade.
With 32 years of expertise in audio design, the M8 is Shanling's coolest portable DAP up to date. I am in love with its clean design language and splendid, elegant sound performance. The interchangeable outputs, SHARP panel, and power in the output offer an awesome sound experience too.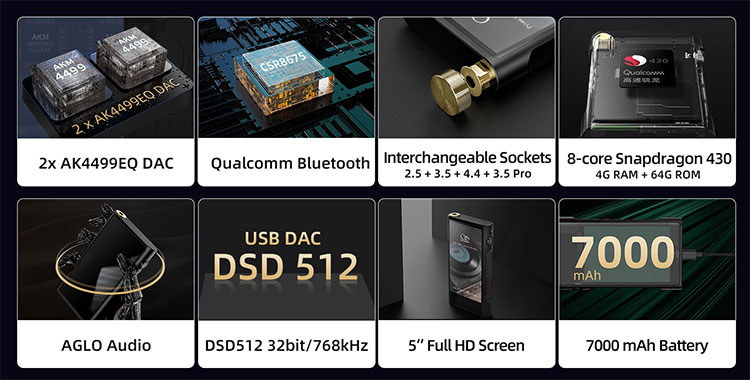 Tech inside
The M8 is nearly 30% heavier than its predecessor the M6 Pro feeling solid but manageable in the hand. You can pick up on similar DNA from previous M-Series units but a lot of the core parts and features are enhanced to make the sound experience much more fascinating.
DAC
Shanling has gone for the jugular in terms of decoding with the use of a dual-AK4499EQ decoding chipset implementation inside the M8.
Clearly positioned as a top tier product, the DAC chip promises strong current output and high dynamic range, with top-class decoding power that decodes up to DSD512 natively as well as PCM 32Bit/768kHz.
Discreet oscillators from KDS Japan with custom FPGA coding are embedded to offer even higher precision in the time domain. Having the current output type AK4499EQ DAC chips inside also suggests more flexibility in the analog sound design as Shanling has to come up with their own I/V stage, which is the essence of the whole structure.
A wide range of audiophile codecs are covered from lossy codecs such as MP3 up to DSD and DSF as well as ISO files. We are also expecting new firmware updates to cover MQA as it is currently in the approval process.
There is a trend for firms to switch to AKM high-end decoding solutions for their high-end players and pure DACs, for example, the AK4497EQ implemented inside the Hiby R8. I am incredibly positive with the chipset's performance on various AK4497 based devices so far and you could expect high power, good smoothness in the output with lots of juicy texture.
If you are aware of the latest news, a fire broke out at the Asahi Kasei Microsystem (AKM) semiconductor manufacturing plant. This is expected to heavily hamper chipset supplies in the coming year. It is still uncertain to what extent it will affect DAP manufacturing so if you already put the M8 in your shopping cart, pull the trigger fast.
Oscillation
Shanling sources from KDS Japan their Femto clock level oscillators clocked at 45.1584MHz and the other one at 49.152MHz. The effort in jitter elimination is complemented by patented FPGA algorithms coded by Shanling themselves.
Bluetooth
The M8 steps up from the M6 Pro to include a discrete CSR8675 and support for BT5.0. The M8 works with every popular Bluetooth codec, allowing you to connect to all the latest Hi-Res wireless receivers, headphones, or TWS.
Connecting to Bluetooth gear is exceptionally smooth and more than that the M8 bi-directional meaning you can work a two-way remitter or receiver service with sources.
The supported transmission codecs scale from SBC up to LDAC/ HWA and can receive also from SBC up to LDAC/ HWA including aptX LL. The inclusion of aptX LL will be a boon for those who like to watch media on the go.
CPU
The Qualcomm Snapdragon 430 combined with 4GB of ROM is a capable mainstream SoC for Android-based devices. Manufactured in a 28-nm process, it consists of an Octa-core ARM Cortex-A53 architecture clocked at 1.4GHz.
The SoC chipset includes an Adreno 505 GPU and the overall graphics performance is smooth without any lags with various music/video apps. You can still do basic gaming but do not expect it can beat your phone nor able to handle detailed gaming graphics.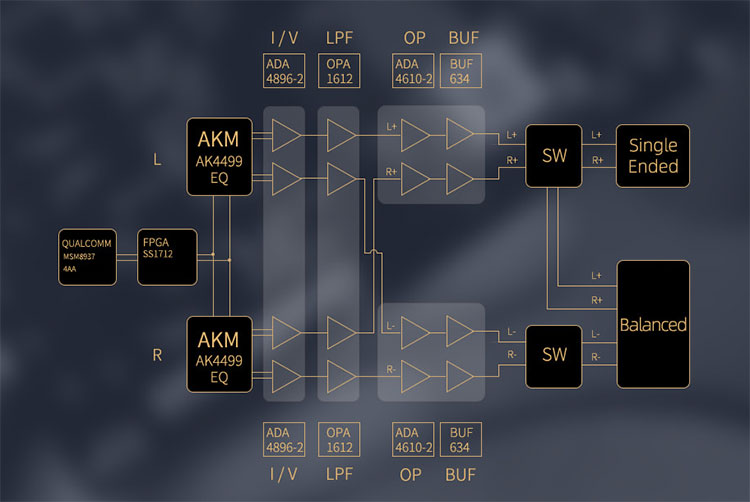 Amplification
The Shanling M series has been using the OP+BUF amplification structures extensively based on their experience from M6/M6Pro so it is no surprise to see it included here in the M8.
The amplification circuit makes use of Shanling's "Constant Phase in All Frequencies" (CPAF low-pass filtering) topology and is realized by a Ti-OPA1662, ADI-ADA4610-2, and a Ti-BUF634A.
The Texas Instrument Opamps improve crosstalk performance whilst the Ti-BUF634A is also a popular solution to boost current output. The JFET Amplifier ADA4610-2 promotes low noise and distortion, pumping out strong current in its output.
A lot of work and effort is centered on the implementation of the AKM DAC solution, including an overhauled I/V conversion stage that further steps up the power and presses down the noise.
The implementation of ADA4896-2 also allows for high-speed voltage feedback amplification with SiGe bipolar transistors, 0.01%high precision film resistors, and Panasonic Tantalum-Polymer capacitors that work smoothly and reliably even at a higher temperature.
Graphene heat sink layer
The M8 will get warm after a while but never gets really hot, that is achieved by a graphene heat sink layer across the whole framework that helps to spread out the heat from the DAC and processors.
The aluminum frame also works like a big heatsink and even when the leather case is on it is relatively less hot when compared to some other top-tier DAPs.
Performance Numbers
With turbo gain on we have 840mW into a 32Ω load via the M8's balanced output. The single-end is rated at 260mW on the same load so there is a clear focus on maximizing the performance of the balanced output, which has 240mW additional power than with M6Pro's balanced output.
You can easily hear the increase in power on the highest gain, which is why Shanling adjusted the lower gain options for sensitive IEMs to be a little lower.
The THD figure on the balanced connection is as low as 0.00085% with a 123dB S/N ratio which is very impressive given the power ratings. Channel separation is excellent too which helps to maintain a lot of headroom and a complete soundstage experience.
The M8 output impedance should generally not be an issue with a sub-ohm rating below 1Ω on the SE connection and around 2Ω via the balanced connection.
Interchangeable Sockets
Having more output options on a DAP has been a great selling point but now it is becoming an overkill feature with nearly every mid-tier DAP using a myriad of 2.5mm, 3.5mm, and 4.4mm combinations. That requires a lot of internal topology design work at times.
With the M8's new interchangeable socket feature, it takes no time to change the output on the M8 in a nice and clean manner. I do enjoy the interchangeable socket idea which makes the player look so much cleaner and less geeky.
The mechanism does not seem to be just a cosmetic move, but also to reserve more room for the audio circuitry inside allowing for a cleaner, less cramped topology design.
The world's first implementation of an interchangeable socket is as fun as you could expect. Pull out the parts with the supplied metallic extractor kit and you can snap on another socket in a few seconds.
The extraction tools will slide in the sides of the socket and you can easily pull the installed socket straight out. Then you can slide another one in with the printed side aligned with the front screen. The patented design (patent no. 201920938525.8) supports 3.5mm, 2.5mm, 4.4mm, and 3.5 Pro which covers all the common terminations.
The socket parts come with a leather case, unexpectedly classy, being stitched sturdily and feeling quite premium to the touch. I am unlikely to carry the parts around but the storage option for the parts are definitely welcomed so they won't be lost.
Design
The finishing on the machine is smooth as a pebble, very rounded, and a minimalistic design but also something that you could define as a Shanling-type in-house aesthetic.
With just one output jack on top, a charging port plus a TF card slot on the bottom, the M8 looks extremely professional. Defying the "more high end equals more holes" logic, M8 proves that less is more could apply on higher-end DAPs with multiple jacks. The simplified, interchangeable jack design looks classy and mature with its unadorned, natural-looking design.
The finely textured volume wheel offers some nice grip with some audible clicks on rotation and also doubles-up as an on/off button. There is a good tactile response and unlikely to be mistakenly pressed.
The satin-finished reinforced AG glass back panel fuses seamlessly with the screwless frame design and is finished with a fully laminated screen that follows the overall design curves very nicely.
The M8 has a bolder, wider, and larger form factor than the M6Pro that makes it feel more solid in the hand. However, at 342g and 98g heavier than the M6Pro it does come closer to how the FiiO M15, and overall, this is no shrinking 'media playing' violet.
On a side note, the M8 does not need a pin to push out the card slot, you just need to press on one side of the TF card cover and it will pop out.
The additional leather case also does not block the TF card slot. This makes it, even more, user-friendly than other designs that require users to pull out the leather/ silicone cases to swap the TFcards.
Dimensions
Measuring at 138 x 80 x 20mm, the M8 is one of the bigger DAPs in the market but it will still slide into your pockets.
The thickness is nearly identical to the WM1a/WM1z and the screen is a lot bigger. I am using the same Dignis case I use to store my WM1A to protect it outdoors so you could look for pouches of a similar size.
Screen
Just like iBasso upgraded their DX series screen to be brighter and sharper than its predecessors, the M8 got the same visual treatment. It now has a super high-density 5″ Sharp 1080p screen snapped into its screwless framework.
Image sharpness is excellent, reading angles are wide and legible with a vivid and dense pallet of colors. The screen can get very bright and clear to read under sunlight and is also fully protected with a laminate under the curved glass panel.
Battery Performance
As far as playback duration is concerned, the M8 houses a huge 7000 mAh battery with QC3.0 quick charge support.
Officially, Shanling claims to have achieved 14 hours of continuous playback on SE output and 9 hours on Balanced. This depends on what files you are listening to so with a mix of audio files and some web surfing, I get more than half a day using the SE connection with low-load IEMs
You will get the full power experience using the balanced output and it is always recommended to use it for the best quality. However, bringing a backup single-ended IEM will not be a bad idea when the power starts to get low.
According to Shanling, streaming from the M8 as a transmitter on LDAC will last 57 hours, and using an SBC codec will get you 62 hours. This shows the relationship between how much decoding/ CPU power is needed for different Codecs and if your receiver supports LDAC, do not hesitate to pick it for the best quality.
Packaging & Accessories
The luxurious packaging from ME700 has stunned me last time but the M8 open box experience is simply excellent and on par easily with the M15.
The box comes in an artistic reflective sleeve embossed with the Shanling logo. If you are a Shanling fan you must be familiar with this magical touch on their M/ME series items.
On the sides of the box, you will find Hi-Res certificates also including an HWA logo (Huawei's wireless transmission standard), LDAC, and AptX HD support imagery.
Unboxing you will find a beautiful walnut wood case that goes some way to explain the weight of the package. Expressive, textured patterns on the brown hardwood box make the open box experience even more exciting. Actually, you could use it as a display box after unloading everything and for when the player is not in use.
Case
The M8 and a leather case for the interchangeable parts sit below a piece of baking paper. It feels like you are unwrapping some premium handbag with the golden print on top to tell you this is a flagship DAP.
The leather case fits all of the interchangeable sockets/ extraction tools and looks a bit like a film case for medium format film rolls. The supplied case is nicely stitched, smooth to the touch, possibly will age nicely after some good time carrying it around.
Carefully lifting the M8 up you will be able to reach the lower layer, where you will find the other accessories including some screen protectors, a USB cable, and a user manual.
The screen protectors also come with an installation kit but I tend to not use any screen protectors for the smoothest screen sweeping experience and so far there is not a scratch.
Click on page 2 below for software and sound impressions