We review the Noble Audio Falcon, which is a True Wireless System or TWS featuring BT5.0, up to 10 hours of playback, and aptX decoding. It is priced at $156.
Disclaimer: This is a sample sent to us in exchange for our honest opinion. Headfonics is an independent website with no affiliate links or status. We thank Noble Audio for their support.
To read more about Noble Audio products we have previously featured on Headfonics click here.
Note, that this article follows our latest scoring guidelines which you can read up on here.
Noble Audio Falcon
For those that want a high contrasting class v-shaped sound signature, the Falcon probably is the most confident tuning I have heard to date. Sure, this is a consumer-type sound in some ways but in other ways, there are plenty of audiophile sensibilities thrown in to get that difficult balance just right.
The Falcon, aside from maybe the MOMENTUM TWS from Sennheiser, is the first 'pure breed' audiophile TWS we have reviewed on Headfonics. That means we are on the lookout to see if it has audiophiles in mind with everything from how it fits, tips, and sound quality.
I was quite surprised Noble Audio launched a TWS. Sure Sony, Sennheiser, and Cambridge Audio are all great audio brands, but their reach is far and wide across a lot of products. Noble is a 'dyed in the wool' analog IEM maker of some repute. Their move to a wireless product would catch anyone's eye who is into this hobby.
The Falcon is priced at $156 so this places it in the upper tier of the current 2020 TWS market with only a few higher. From my chat with the Wizard aka. John Moulton, this is not an off-the-shelf OEM launch, nothing that cynical. This, as with all their earphone products, is personally tuned by himself. So, fingers crossed it sounds competitive.
Tech Inside
Dynamic Driver
The Falcon uses a single 6mm Dual-layered Carbon dynamic driver which is about a fair size for most TWS these days outside of the huge 13mm beryllium inside the Edifier TWS NB.
I am not sure on what tier the driver sites in terms of design level quality but the website does mention the tuning was delivered in combination with DSP so I presume some of that driver signature is done via the BT SoC also.
As with most Noble Audio drivers, you will not get much of a spec sheet in terms of impedance or SPL spec though with TWS this is not much of an issue. However, they are one of the easier ones to drive from the smartphones we tested in this review in case you are worried.
BT5.0/aptX
I would say this is the minimum you should expect in terms of Bluetooth standards in 2020. Even the $30 Airdots from Redmi have a BT5.0 standard, Some of the earlier units I have encountered have offered BT4.2 but these are competitively non-existent unless some awful cheap OEM from AliExpress land on your desk.
Decoding is as good as you can expect with every possible codec included outside of aptX LL. That includes aptX, as well as A2DP, AVRCP, HSP, HFP, SBC, and AAC so Apple guys are covered.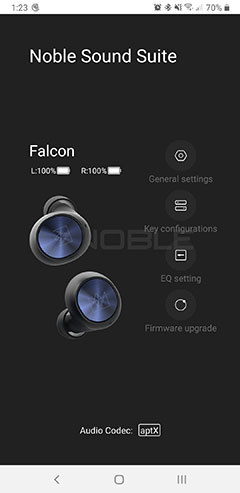 Noble Sound Suite
Speaking of Apple guys, Noble Audio just released an integrated application for the Falcon via Google Play and the App Store for iOS platforms. This was one of the reasons why we did not push out this review earlier in the year.
This comes in the form of two independent applications, the Noble Sound Suite and NOBLE Upgrade. You need both, especially, if you have an original launch edition of the Falcon. Most Falcons will require a firmware upgrade to pair with the main Sound suite app. Once you do the initial upgrade you can do future firmware upgrades inside the main Sound Suite.
Inside the Noble Sound Suite, you get access to EQ, control functionality tweaking and language settings. If you are familiar with the Lypertek TEVI app suite then it is pretty much in the same vein.
cVc™ Noise Cancellation
The Qualcomm 3020 SoC inside the Falcon also deploys cVc™ 8 Noise Cancellation which helps suppress background noise and echo feedback.
cVc technology is a set of noise reduction algorithms built into the microphone audio processing circuit of the drivers' housing. It is primarily designed to improve the quality or clarity of voice calls and lower interference from wind or outside noise. This tech should not be confused with ANC which is much more aggressive in noise cancellation.
IPX7
Good! The more moisture-resistant the better I say. IPX7 is about as high as it gets save for a wetsuit. IPX7 means the Falcons are waterproof when submerged in water at a depth of one meter, for 30 minutes.
That is impressive! Will I try it? No, I will not but I do have plenty of confidence in using these in a sweaty gym or dropping some water on them by accident. I am cautious by nature but let me know in the comments below if they ever pass the underwater test.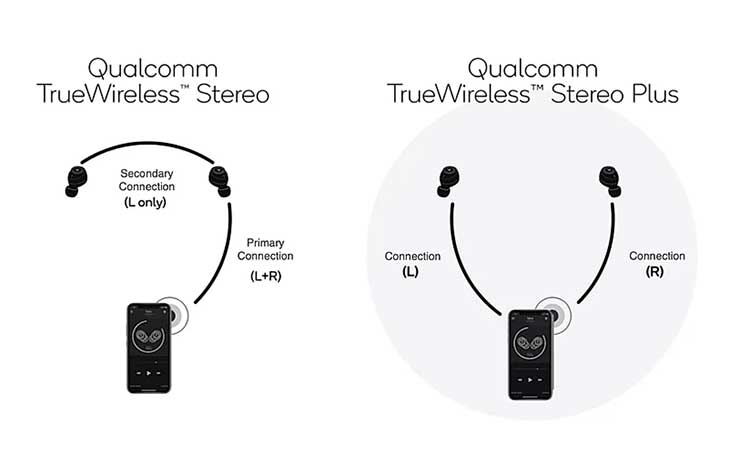 TrueWireless Stereo Plus
Now, why is this tech an important differentiator to the alternative used by the TWS we have reviewed to date, Qualcomm's TrueWireless Stereo, (non-Plus)? Well, this tech dictates how the two drivers pair, both to the source and each other. You can find it TWS Plus in TWS such as the Lypertek TEVI and the Freebuds 3.
In a traditional 'non-Plus' system, there is a master and slave relationship whereby one driver pairs with the source and in turn creates a secondary connection with the other driver.
The Plus version allows each driver to connect directly to the source "in stereo" and do away with that master-slave connection between each other. The software inside the Qualcomm QCC3020 (TWS Plus) then syncs them both as a single pair of earphones.
The master designation thus becomes more flexible. For example, if you run out of battery life on one side, the other side becomes the master so you do not lose a connection.
Design
The Falcon's follow a similar form factor to the TEVI and M5's from MPOW but for one huge difference and that's the length of the nozzle. Some design tweaks make a nice touch including the LCD red lighting when charging underneath a logo blue faceplate that doubles as the control panel.
Nozzle
That nozzle is what I call a drum tickler. You either going to love it or hate it. Since I tend to opt for long nozzles in customs I love it. The deeper the better for me. I have been constantly harping on about TWS short nozzles on the likes of the Sudio TOLV.
Quite apart from the secure fitting issues the sound properties vary dramatically with different tips as a result of that nozzle distance. Noble have countered that with an interesting set of tips called the ePRO which we will discuss further down. In short, they work very well indeed.
Finishing
The rest of the unit is relatively large and deep. Throw in that long nozzle and the perception is of a fairly hefty unit but it is not as big as the HELM TW5.0 or the Astrotec S80 in all reality.
The materials are an all-plastic 2-piece with the faceplate LED underneath being the only exception. Everything is finished in a black and blue gunmetal two-tone color with Noble's logo on both the lid of the cradle and side of the drivers.
Comfort & Isolation
The Falcon comfort is excellent. This is a common form factor used by the likes of Lypertek and Sudio and it works well. It does not have the aggressive contouring of a regular acrylic monitor but neither does it press uncomfortably against your ear due to those smooth rounded curves.
Secure Fitting
I thought the Falcon sat supremely well in my ear, better even than the TEVI and as secure as the HELM TW5.0. Of course, everyone's ear canals are different in shape and size so YMMV as they say.
The length of the nozzle is make or break and it is a bold but confident move by Noble to introduce that and combine it with a slimline or half tip single bore silicone called the ePro.
If you via ePro Audio's website you will not see much mention of these TWS tips except the title "coming soon" so they seem made to order for the Falcon. They do have some Horn type tips also but for regular shorter barrel monitors.
The ePro tips are quite wide open rather than narrow and have a very short flange stem so they do not add anything to the already long nozzle. That will help control the quality of audio as I found other TWS's sound signatures varied a lot with longer stems.
This does not mean you cannot roll the Falcon, but rather there is no pressing need unless you do not like the stock sound.
Isolation
Isolation is ok to good but the bass vent at the top of the shell to allow the dynamic driver will take a little away from ANC class performance. Here the HELM TW5.0 non-ANC is still top of the tree with that matte rubbery finish on the underside helping a lot with the seal.
The Falcon seal is more to do with how deep the tips go than any fancy shell contouring. The deeper they are the better they seal.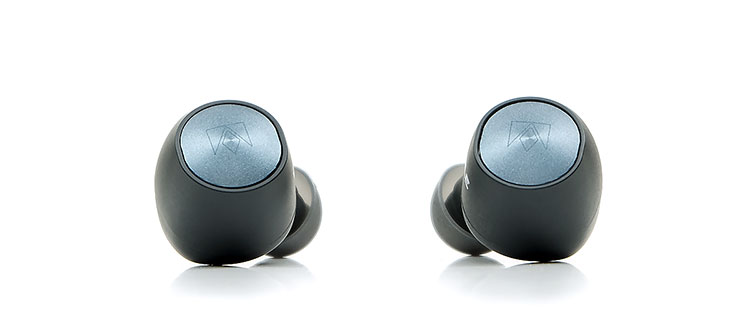 Controls
The Falcon has two types of function control, physical and virtual. The physical is via a physical button housed under the main faceplate on each driver. I am on the fence on the use of physical buttons due to the depth of the nozzle. Sometimes the force on physical models can make the TWS lodge too deeply in your ear.
On the Flacon, however, it does feel quite steady with little movement when pressing on the buttons. Now, the drivers stick a little out of your ear. That is a good thing for its physical control system as you can pinch the driver and press the buttons quite easily. By doing so, you can prevent the Falcon from jamming into your eardrum and creating unnecessary discomfort.
The default multifunction controls cover the standard range of TWS actions including playback and call control and they are independently assigned per driver via the Noble Sound Suite app. The combination of clicks are 1, 2 and 3 depending on what you assign to each click. Volume control is activated from the driver which is not always a standard feature on some TWS so that is welcome.
Noble Sound Suite
The Sound Suite app is similar to the TEVI version which I quite like. It also shares some similarities to the look and feel of the Sennheiser MOMENTUM TWS app.
Upgrading
Just bear in mind that early adopters before the app came out do need to download the firmware upgrade software to get it up to par for pairing with the app.
The process can be tricky with a very long press procedure before upgrading but the process worked the first time for me when I used it in combination with the upgrade app. Just remember to house the drivers in the cradle before upgrading.
EQ
Once upgraded the app found the drivers right away and all the options were unlocked. Inside the app, you get 3 core areas: a language control, functionality tweaking per driver side and a built-in EQ.
The EQ is macro so it will work across all apps you use though it is not as refined as a PMEQ type service such as iBasso's Mango or the PMEQ on Lotoo's OS. This is a 10-band graphical equalizer, no presets that I can see off so you will have to play around with it band by band.
Controls
You also have the option of setting up your controls to your liking via the app. The control options include volume and playback for each driver but not as yet voice assistant and call management. Right now I only see double and triple tap tweaks and not single tap tweaks which is where the call & voice assistant management functionality is controlled.
Cradle & Charging
Cradle Battery Life
There are some pros and cons to the Noble Audio Falcon charging cradle. The pros are that it is small and very pocketable, has a healthy 30-hour battery life reserve good for 3 cycles and uses USB-C charging support with a handy 4-LED light system on the outside to show battery levels.
The cons are that it is a little on the cheap side in terms of finishing with a 100% plastic construction and a tiny bit of flex on the hinges and body. The Noble branding is also printed on the top which looks very tidy but may be susceptible to continued usage fade in the long run.
Driver Battery life
Doing away with that Wireless master-slave secondary connection does enhance a few things in terms of battery life for the individual drivers. The Falcon to deliver some interesting performance figures on paper that are right up there with the TEVI in terms of class leading.
We are talking specifically about a killer 10-hour driver battery life. That is as good as it gets right now for TWS driver performance. Note, however, that is at 70% volume and probably using SBC decoding. with aptX and higher volume you can expect a little lower.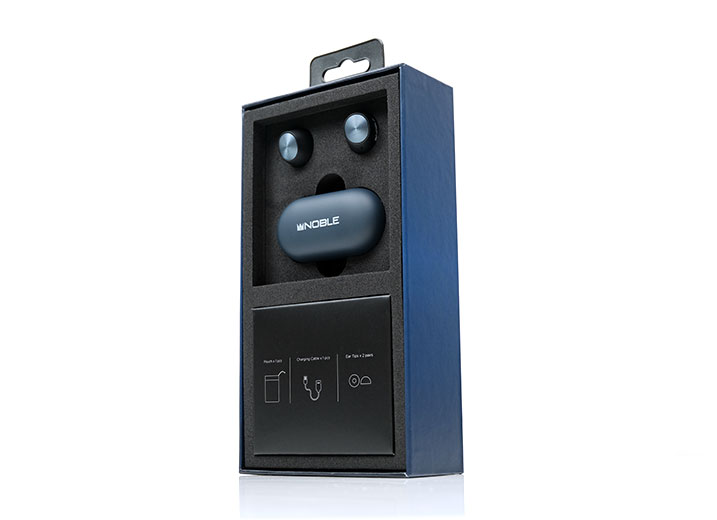 Packaging & Accessories
So, who took over the packaging at Noble for the Falcon? This is a very different approach than their normal black-box layout for their monitors. This is a relatively large retail package for a TWS system but also quite the retail shelf pro level in terms of design.
I guess if you are shallow enough that might make a difference but it does allow Noble to create a very nice insert display layout for the accessories and the unit itself. The accessories are all neatly packaged in a small icon-based black box at the base of the box and the unit plus cradle are carefully laid out at the top in protective foam layers.
Underneath the foam layers, you get your usual manual and warranty materials.
Click on Page 2 for Sound Impressions & Comparisons