The Luxury & Precision W2 is a high-end portable amp/DAC dongle offering a dual CS43198 chipset and up to 230mW of output power. It is priced at $299.
Disclaimer: The Luxury & Precision W2 was sent to us as a sample in exchange for our honest opinion in this review. We thank Luxury & Precision and Musicteck for this opportunity.
To learn more about Luxury & Precision reviews on Headfonics you can click here.
Note, this 2-page review follows our new scoring guidelines for 2021 which you can read up on here.
Luxury & Precision W2
At just the expense of an entry-level DAP, the Luxury & Precision W2 will give you advanced DSP technologies and precisely tuned sound, with a good balance between musicality and technical performance in its base tuning.
The Luxury & Precision W2 is the latest USB-powered portable audio solution, the sequel to the W1, launched in 2020. The new design comes with FPGA chipset-powered equalizing technologies and a dual Cirrus Logic CS43198 decoding chipset which is doubled from the W1.
The S/N ratio for this dongle goes as far as 131dB, comparable with some flagship devices, and also has a few advanced implementations for a dongle. Rumors say that this is one of the best dongles ever made and the specs look unbelievably good, time to plug it in and check out what the W2 can do!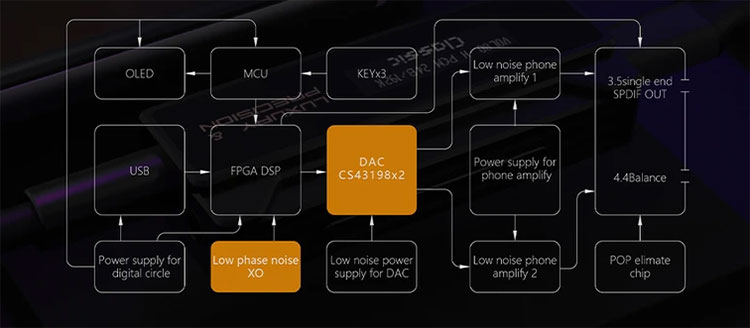 Tech Highlights
Summary
It is quite amazing to see how far these small dongles have come to rival entry or mid-tier DAPs. It is even more intriguing to see what Luxury & Precision will put on their flagship dongle, having in mind that they designed many higher-end DAPs.
The W2 packs in a lot of features in its 'Doublemint' size casing. When you compare the internals, you will actually see it is quite similar to some full-sized players.
It offers a dual DAC, low power consumption MCU, FPGA for DSP, discrete oscillators, separate power supply for amping and decoding. There is also a spdif output and a "Pop sound eliminating chip" which is probably a relay component.
On the machine you will find a 4.4mm TRRRS output alongside the 3.5mm jack, with full balanced support outputting a whooping high output for a dongle, measuring 230mw at 32Ω.
DAC
If you follow closely the decoding chipset technologies there is no way you could leave out the CS43198, a highly regarded chipset after the CS4399 which consumes very little power. The W2 uses a dual CS43198 implementation to also allow a balanced output architecture.
With high output up to 2V RMS and 130dBA dynamic range operating in a single chipset configuration, the W2 has good enough power to kick some big cans loud as well as hooking up to the speaker system with an RCA to 3.5mm cable, still sounding dynamic and clean.
Other features of the CS43198 include a patented on-chip DSD processor that supports up to DSD256 in direct mode and 50kHz filtering. In my own experience, it is quite a smooth-sounding chipset with clean treble. Depending on implementation it can also get really engaging and dynamic.
Most major lossy and lossless codecs are supported by the W2, pretty much all you would need. It is also plug-and-play on Android and iOS devices. The device is recognized instantly but you will need to install a USB driver for your Windows PC.
Switching between different file formats there is no clicking noise or pop sound, and everything is very smooth. If you decode using DSD the power drain is higher so the W2 will warm up slightly.
Performance Numbers
The W2 amplification will output up to 125mW@16Ω load and 230mW@32ohm. For a dongle, the numbers are good but we will check if it really sounds powerful in the sound impression session on page 2.
The THD performance measures at 0.00012% only, which is even lower than that specified by the chipset manufacturer and is comparable to some high-end DAPs. The result is a very very dark background, even very revealing. Sensitive IEMs will sound dead quiet while being sufficiently powered to sound dynamic and engaging.
While distortion is low it makes me wonder if the output and gain are weak but that is not the case for the W2. There is actually plenty of power, nearly doubling Lotoo PAW S1's output by 2 times on 4.4mm output (120mW) at 32Ω.
With 230mW in the output, the W2 has meaty lows and breathes more air into more power-hungry IEMs. Personally, this is a very welcoming move but as you may have expected, higher power consumption is the trade-off and it is draining ~1% off my iPad pro every song I listen to.
With the level of output, I experienced and with a dual DAC inside this is acceptable and if you bring along a small power bank it should be totally worry-free.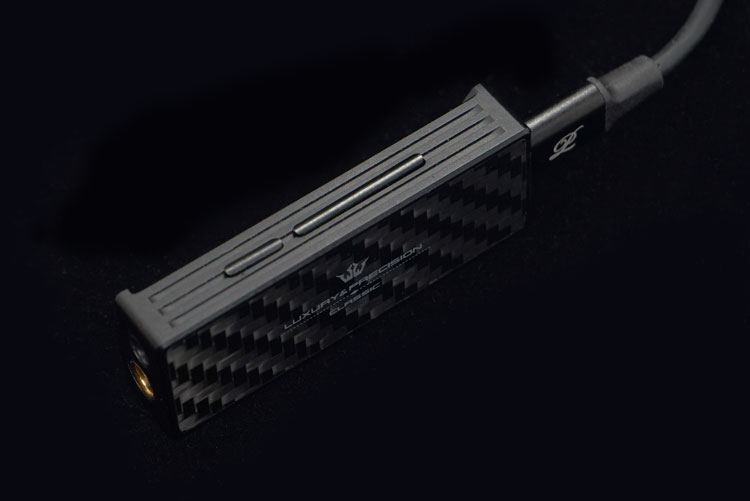 Design
Consistent with Luxury & Precision's design language you get a cool masculine form factor with an elegant refined finish The back panel makes use of a matte color carbon fiber, which has been seen before on other Luxury & Precision players.
For my own preference, this looks very cool like some exotic hand-built sports car parts. At 22g it is quite light in the hand and will not stress the cable when hanging outside of the pocket.
The design is very compact measuring just 6cm widest and 1.2cm thick, still very slim considering there is the huge Pentaconn 4.4mm balanced port within. The overall build quality and machining quality on both the body unit and cable parts are really well done and premium, and it does feel quite luxurious and precise!
The small 0.91″ Monotone LED screen sits on the heavily machined casing, which feels quite industrial in design. Despite the petite screen real estate, the font size is clear to read with all the display info legible and tidily arranged.
SPDIF output
I don't think I have ever seen another dongle with spdif output. However, this could be a useful feature if you want to listen to your music collection on your phone, hooked up with your desktop gears by SPDIF input.
When you are using some devices like new Macbooks or iPad Pro it will also be a nice adaptor that gives you digital output without the need to buy a cable with USB-C to bigger USB connectors, but of course, you will need to hunt down a 3.5mm spdif cable for your setup.
Controls
With only 3 buttons the W2 can be operated easily and you could switch from different options within a few clicks.
By holding down the button on the right side you will gain access to the settings menu including gain, EQ presets, SDF profiles tuned for specific IEMs, and Tune profiles. You can also cycle between these settings by pressing the multifunctional button.
The volume button will let you change the settings with the experience fairly similar to adjusting a computer monitor, quick and easy.
Features
Hardware Equalizer
The FPGA chipset inside the W2 can process equalizing at a nearly lossless rate, allowing the tuning to be switched instantly and without causing extra distortion.
This is one very important feature that differentiates it from quite some other devices with equalizer options, which are normally done by software and will hinder sound quality. You can switch between the below equalizers settings. I would expect that Luxury & Precision will update the options via software updates later:
Classical (Class)
Jazz
Rock
Pop
Bass
Movie
Game
Filters
The DAC chip provides 5 onboard filtering settings and you can switch between these by holding down the multi-function button on the W2. The five options include:
Fast roll-off / Slow roll-off interpolation filter options.
In each option above, both low-latency and normal phase-compensation filtering options can be used.
Non-Oversampling (NOS) mode, which minimizes the internal digital processing.
SDF profile
The latest firmware updates include profiles that maximize the performance with the SE846, ie800s, and the Beyer Xelento. With the SE846 on and switched to the corresponding SDF profile, the output sounds more controlled and expanded than the default setting.
This is definitely a great feature and I hope Luxury & Precision could consider allowing the import of user-defined profiles or adding different profiles for more IEMs.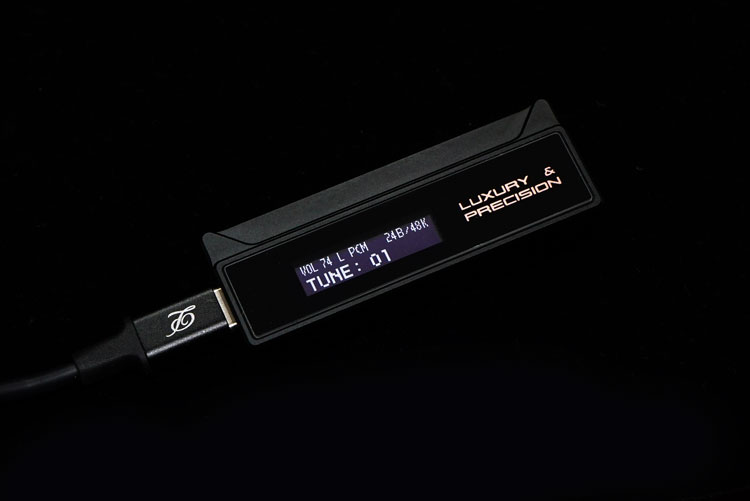 Tune mode
There is also a "Tune" mode that allows you to switch between Tune 01 and Tune 02 profiles, which represent two different timbres. The Tune 01 mode has a more easy-going and relaxing signature and 02 sounds firmer and with more control.
It would be nice if there are more explanations on these features or else users may miss out on these tuning profiles that have quite a distinct impact on the sound output.
HID control
Tuning HID on it will allow you to control the volume on the host device and the onboard volume will stick to the volume before you toggle on this option. To have more fine steps of volume for sensitive IEMS I am not using this function but it may be handy for those who want to change the volume fast with heavier loads.
Packaging & Accessories
The packaging is rather straightforward, just a small box with two layers that fits the body unit and cable parts. Printed at the back are the specs and descriptions in Chinese, not really an issue since it is very easy to navigate on this small device.
Opening the box and getting access to the lower layer you will find two cables including the lightning cable for iOS and the USB C cable for Android devices. There is also a USB-A adapter for laptops and a user manual in English.
Some other manufacturers do not include the lightning cable in the package and require a separate purchase, so this package will work well for those who use iOS and Android devices at the same time.
Click on page 2 for Sound Impressions and Select Comparisons