It's time for our 2020 Bang For Buck Awards, a feature we started in 2018 and continued in 2019 to recognize what we believe is a lot of value for the price.
Of course, 'Bang For Buck' does not necessarily mean cheap though certainly, price plays a role in what we consider to be the stand-out picks for this year.
Primarily, we are looking for the outstanding value aspect and how well it performs relative to its price point, feature set, and the competition around it.
If that sounds slightly subjective, then yes it is. Scores play a role but not the final decider. If you prefer pure score picks we do have the Top Gear Awards on the 27th of December, 2020 and they go through the time-honored highest score selection process.
Our awards are split into 2 pages with the first focusing mainly on portable and our second page on desktop and our own Editor and Reviewer personal choice for 2020.
As ever, we will only consider products that we have done a full review on for the calendar year. So what hit the mark and gave our audiophile wallets the friendliest nudge for 2020? Let us find out.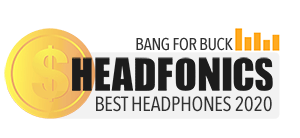 Bang For Buck Headphones 2020
The Audeze LCD-1 heads in a relatively different and more portable direction than I expected it to go. It definitely looks like an Audeze headphone but it is not as bombastic or in your face as the SINE DX. This experience is more relaxed comparatively speaking but also more coherent and better balanced in its presentation.
The LCD-1 has some important Audeze house sound traits with its assured deference to a quality lower-mids presence that I always look for right away in any Audeze creation.
I can see how the LCD-1 would be a great value attractive reference listening experience. Not dead neutral by the way, never confuse those terms as being the same.
Rather, the LCD-1 invites you to listen to the bigger picture rather than tease you with dominant bass candy, treacly vocal forwardness, or a frosted treble on top. It is the whole cake this time and at $399 it tastes excellent.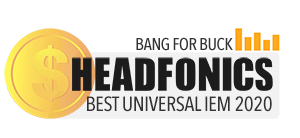 Bang For Buck Universal IEM 2020
The Shuoer Tape has an addictive tonality to it and God's honest, we wish more IEM's come out like it. We love how dynamic and realistic the Tape really feels. That effortless and liquid silk texturing is yummy and then some.
The overall slick tonality is our favorite factor in the Shuoer Tape, by far. Buttery Smooth is the best way we can put it. And to hear that in a $129 IEM is just absurd to think about. We hope this type of design takes over the market and we see a flood of amazing designs similar to this from others.
Shuoer batted this one out of the park, over the highway, and into the ocean a few hundred miles away. Stellar IEM, offering one of the best 'price to performance' ratio's in the audiophile world that we have come across.
Bang For Buck Custom IEM 2020
I was impressed by the performance of the Craft 4. I hate saying "for this price point" because of the unintended bias that can bring in but in this case, I can make an exception because many of the competing 4-driver CIEMs to the Craft 4 are actually a little bit more expensive.
This is a beautifully crafted custom monitor with a loosely V-Shaped sound signature. It offers a refined and sibilant free vocal delivery, articulate percussion, and a decent level of control on the low-end. This is tuned to enjoy without rapid fatigue though a small cable upgrade will introduce a much better level of dynamic range over the stock version.
The Craft 4 competes very well indeed for less money and for a freshman audio company, Craft Ears are off to an excellent start.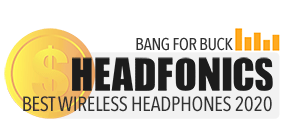 Bang For Buck Wireless Headphones 2020
I do not see why the Deva should not be a popular choice at this price point for both audiophiles and wireless audio lovers.
There is a lot going for it beyond the affordable price point. It looks good, really good, and comfy on the noggin also. Even if the choice of the material is more of a mirage than quality substance I cannot see anyone feeling disappointed with it in the hand. I would love to see a high-end version of the Deva with leather and metal.
The wireless sound is more for midrange lovers and vocal guys and those who like a bit of separation and a tighter low-end. The analog output will be more revealing better dynamic range compared to wireless but you do give up that flexibility of going BT. This headphone will also shine with a good tube amp.
Overall, a big of a bargain in this day and age with plenty of features and a pleasing, slightly mid-centric planar sound.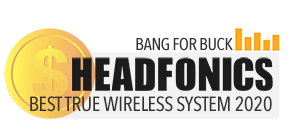 Bang For Buck True Wireless System 2020
I get why the Lypertek TEVI might be a Bang For Buck audiophile choice. The dynamic range is decent and the tuning is very balanced with a superb level of instrumental separation. The mids sound alive on the TEVI with just enough PRaT to make this a very good all-rounder TWS for almost any genre.
Do you see? It just takes a bit of sensible tuning expertise to turn these little wireless wonders into something an audiophile might pick and use. Heck, enjoy would be a more relevant term. I was initially quite worried given the physical similarities to the MPOW M5 that the TEVI would be much the same also. Boy, was I wrong.
Overall, the TEVI is an easy recommendation for a bang for buck TWS in 2020, even for audiophile tastes.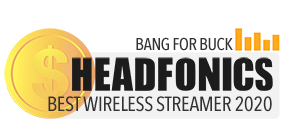 Bang For Buck Wireless Streamer 2020
The FiiO BTR5 is the best portable Bluetooth receiver I have tried up to date, it offers pretty much everything I imagined on a 2020 portable Bluetooth streaming device.
Overall, there are no competition offering such a complete package combining great aesthetics, functionality, connectivity also decent sound performance comparable to entry-mid-level DAPs.
The tuning also does well to hide the flaws of Bluetooth, especially on bass texture, keeping it agile and lively. If you are looking for a Bluetooth receiver upgrade, the performance on BTR5 will make it a safe bet.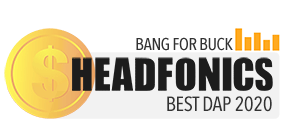 This is an exciting year for entry-level DAPs, and the HiBy R2 has done a great job to blur the line between entry and mid-tier DAPs. The features remind us of the time when SoC machines rules and Cowon/Creative players are everywhere.
Now, these SoC machines with incredible playback time are making a comeback offering super-fast WiFi for streaming and high-end Bluetooth codecs, not to forget MSEB capability for enhanced synergy in pairings.
This is much more exciting and unique compared to making yet another Android machine. It is stylish, compact, balanced in sound and performance, and doesn't harm any fiscal kidneys. We wish we had such a DAP back in high school so thumbs up to HiBy, this will now be our entry-level DAP recommendation to anyone who asks.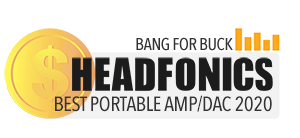 Bang For Buck Portable Amp/DAC 2020
The xDuoo XD05 Plus is an absolute beast. It is built like a tank and has a ton of options for you via its switch interface and excellent volume knob experience. I know that sounds silly, but you'll be happy with you reach into your pocket and graze it, only to find that it didn't easily get turned up all of a sudden. Some resistance there is vital.
Beyond that, you can roll opamp's and improve the already good sound. At 1000mW, the XD05 Plus is a powerhouse of a product that I think is a lovely all in one solution. It pairs well with budget tier, middle tier, and is a great stepping stone for the lower end of the summit level audiophile TOTL headphone experiences too.
A marvelous job here, xDuoo. This is a great DAC all around and I see almost nothing you can have improved on, with this price in mind, of course.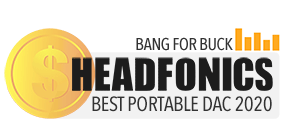 Bang for Buck Portable DAC 2020
The EarMen Donald DAC is one of the better budget DAC's out there. This DAC is something purists will like a lot. You can also rig match quite shockingly well too.
The DAC really alters via your headphone tone depending on what amp you pair with. It pairs with very clinical sounding amps, very warm ones, and also ones that are somewhere in the middle, like the Monolith THX amplifier.
Basically, the Donald is a bit of a chameleon when it comes to rig matching, so long as you are not looking for a truly warm rig overall, this is an excellent option in the budget tier.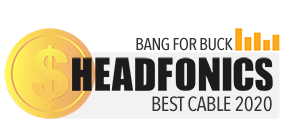 Bang For Buck Audio Cable 2020
We like this cable a lot. It is deliciously smooth with a nice low-end weighting that adds some excellent power and body to instruments.
Vocals have plenty of texture and a slightly liquid-like quality with a nice treble balance. If you enjoy a cable that fleshes out the dynamic range and you need plenty of body, the No 10 is a very nice choice indeed.
The Satin Audio Medusa was my 'bang for buck' recommendations for 2019. The No 10 is easily my choice for 2020 alongside it as a fantastic performer and uniquely different. If you get a chance it is well worth a listen. The No 10 is a bit of a bargain for an excellent performing 24AWG wire.
Click on Page 2 for our Bang For Desktop and Accessory Awards as well as our Reviewer's Choices for 2020