SIVGA Robin SV021 is a competitively priced closed-back headphone featuring a 50mm dynamic driver and a wood enclosure. It is priced at $149.
Disclaimer: The SIVGA Robin SV021 was sent to us as a sample in exchange for our honest opinion in this review. We thank SIVGA for this opportunity.
To learn more about SIVGA products reviewed on Headfonics you can click here.
Note, this review follows our new scoring guidelines for 2021 which you can read up on here.
SIVGA Robin SV021
The SIVGA Robin SV021 is a $149.99 'can do it all' headphone that is worth its price for those who want great media/video call/gaming headphones.
I am unable to talk about the last SIVGA headphone that we've reviewed here on Headfonics, I've never heard of this company prior to Jarvin's review of the SIVGA Phoenix back in April of this year.
What I can tell you is that the entry-level mid-tier ($150 and up, roughly) is a totally confusing mess of potential great sets out there. One can easily get lost in the haze of amazing headphones in this pricing category, deals are everywhere.
So, what makes the Robin SV021 a good buy in today's intense market for excellent budget to mid-tier headphones? Well, we are going to find out today! That's for sure!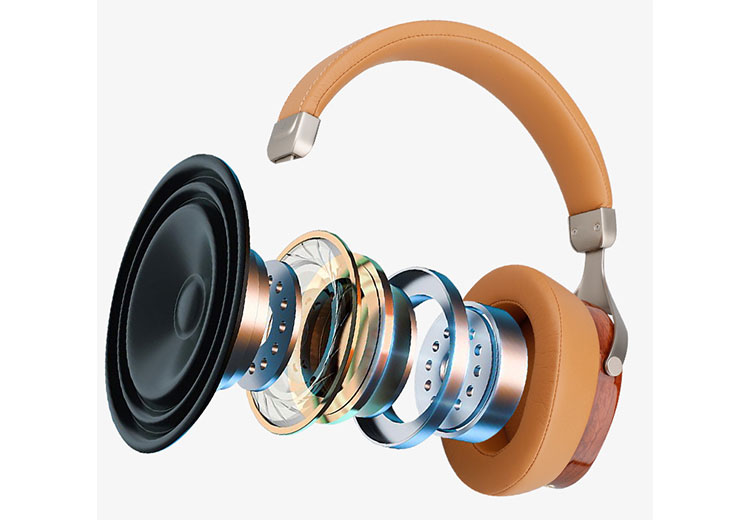 Tech Highlights
The Driver
SIVGA claims the 50mm dynamic driver of the Robin SV021 is a self-made and in-house production piece. Meaning, they made it. It was not outsourced to another manufacturer or business to produce their drivers. That is always nice to see passion projects like this make their own stuff. You guys score some good points in my book for that one.
The Driver Materials
The innards of the Robin SV021 driver are made of a polycarbonate blend with fiber, which the company says will help keep the background noise inaudible when no music or sounds are playing through the headphone.
I can attest to that statement being truthful. The headphone is very quiet for a budget tier – entry-level tier closed-back headphone. Beyond that, the driver is 3mm thick which apparently adds strength and robustness to the performance and driving potency.
The inner wiring is made of a copper composite material with aluminum. The headphones diaphragm is also made in-house as well.
Design
The Robin SV021 is closed back in design, which means it will not leak sound and it will not allow much sound to leak into your listening experience. The exterior housing is made of gorgeous rosewood on the lighter-colored tan model.
The darker model color option is less lacquered in appeal and you all should know by now how I feel about shiny-looking woodies. I admit I think I picked the wrong color option. I really like the black edition here but I really should have opted for the other color option, that wood is stunning regardless though.
The Robin SV021 headband is made of protein leather, along with the earpads, and underneath lays a nice metal band and connection pieces. The headphone is well constructed and feels premium in the hand for only $149. The headphone also has detachable 2.5mm cable entries into each earcup.
Comfort & Isolation
I don't see any other headphones I have or will review for the rest of the 2021 year even coming close to the comfort factor of this Robin SV021. Those earpads are just marshmallow soft memory foam pads with extremely soft leather.
Combined with a light clamp pressure and an excellent headband angle, the Robin SV021 is a real winner for extended hours of usage without any fatigue whatsoever. During testing, I left the headphone on for roughly 10 hours one day and thought nothing of it. Spectacular comfort. Hey, gamers! Pay attention, this is a real winner for long gaming hours. You will love this set.
Isolating qualities are just good for a closed back. Passive isolation is a thing with closed backs like this, but there are no active circuits in there helping out. So, what you get is what you get, and what you do get is pretty decent in the way of blocking fan or PC noise in the background.
You'll still hear the cat crying for food earlier than feeding time and you'll still hear birds on your walk down the road or on a hike. Expect just good overall passive noise suppression with the Robin SV021.
Stock Cable
The Robin SV021 stock cable is nothing to rant about. What you get is a nice and long thin cable with a nice metal 3.5mm adapter and single-ended 2.5mm connectors on each earcup lead.
I do enjoy the fabric-laced cables more than rubberized ones or those that use a stiffer sleeve. I very much prefer these types of slack-friendly cables that don't bunch up.
So, more points are awarded for making sure the cable fits the comfort factors of the headphone and doesn't intrude on the experience.
Packaging & Accessories
There isn't much to go on here except the standard box with a printed logo on it. Inside, all you get is the Robin SV021 and the cable, as well as a fabric bag. No hard carrying case.
The unboxing experience is as basic as it can be and truthfully that is what I want to see on sets in this price tier. I do not want a fancy box. I do not want a case, with a headphone made of good materials like this? I don't need a case and likely will be in the group of others who use this headphone and abuse the hell out of it daily. Toss it in a bag and you are good to go.
I highly doubt you'll snap any of the Robin SV021 headband areas with it being metallic in nature and the headphone is pliable in the clamping pressure enough to not stiff enough to warrant a problem if you tossed it on a couch or a bed or something similar.
Sound Impressions
The Robin SV021's low-end appeal is one of a moderate variety. You get some solid oomph down yonder that can be boosted slightly with proper EQ but do not expect basshead levels.
If you are like most of us and live on Zoom and Skype these days, this is the headphone I will be recommending to everyone from here on.
It is suited for the task and just perfect for budget-conscious audio enthusiasts to look awesome on a video call and also get good voice bass depth during the call. Everyone knows video call quality is not great, so having a little extra heft on the low end really helps a lot.
The Robin SV021 is not what I would call forward feeling in the physical presentation factor. In fact, I'd call it relaxed and a bit recessive, but the entire spectrum is recessive thankfully, and not just the mids.
The Robin SV021 is not V-Shaped at all, so that is a good thing. It is a mellow setup, one that is not overly distant and not overly forward and in-your-face sounding. This physicality factor is great for live recordings, and again, great for media usage via Podcasts and Gaming, which is a topic I'll get into in just a moment.
Timbre
SIVGA claims the Robin SV021 is bright sounding but I am going to go on a limb here and disagree with that. I think there are notions of bright timber now and then, but this is not a bright-sounding headphone to my ear. I'd call it something non-dark, but with a good chance of feeling like there is a spotlight effect now and then with the brightness factor in the treble response.
Thank the audio gods that there are no nasal qualities or issues in the upper midrange to rage over. If you are listening to very old recordings like I enjoy, as I am a big fan of Django Reinhardt and older LPs from the 40s and late 30s, then this probably isn't the best set for you.
It doesn't react well to very poorly recorded and timber-prone sound from those old, remastered soundtracks or vinyl. However, if the recording is solid and at least somewhat modern, I don't foresee any negative feelings toward it from anyone.
Staging & Dynamics
The SIVGA Robin SV021 is a moderately punch headphone that has just a bit of kick to the low end and the treble side, I'd not call it a soft-sounding headphone. But I also wouldn't call it harsh in the slightest. The headphone is just middle ground in that regard of physicality and tactility impact factor.
As for imaging, the headphone is also just a good overall performer that lacks nowhere. You can easily tell the headphone is deeper than tall, wider than tall as well…which again…gamers…oh boy.
For $149 or so depending on where you get it, the Robin SV021 is a solid entry and average performer in imaging. I would not call it a sound staging titan or anything like that, but it certainly doesn't underperform anywhere.
The mellow physical placement (a bit recessive) plays wonderfully well with the wider than tall staging feel. These traits combined make the headphone sound deeper than it actually is.
Synergy
Is the Robin SV021 a solid all-around performer? Yes, definitely. I don't see any true failures of genre selection in my testing. As far as overall synergy, this is a great little set of headphones that will get the average audio consumer regardless of what applications you are using.
I do not think it has enough bass to do justice to basshead genre tracks or supremely deep rumble lovers like myself. If you want that, drop by Skullcandy and get a set of Crusher Evo's for the exact same price instead. But, if you want a good all-around set, this SIVGA is a great option for you that I would push as a lovely all-around set.
Efficiency
At just 32Ω, the Robin SV021 doesn't require any amplification at all. It sounds great right out of the 3.5mm output of my HP Omen laptop. A small voltage output portable player is more than enough to get great sound out of.
I've found that more power doesn't equate to any change in solidity or heft to the spectrum. So, don't drop an expensive portable player or amp in here unless you enjoy the sound signature of the rig at the end result of it. Otherwise, just use what you have and you likely won't need anything beyond a lower-tier amplifier if you already have one.
Pairings
Having said that line about no need to upgrade, you can alter the sound signature depending on what your amplifier or DAC of choice is.
For example, the XRT portable amplifier is my go-to musicality 'GO AWAY LET ME LISTEN AND HAVE FUN' amplifier…and pairing this with the xDuoo X3 + the Robin SV021 sounds denser and more musical to me than just using the X3 by itself. So, you can increase the heft factor depending on the rig.
The difference between my portable rig here and my desktop Burson Conductor 3 rig is inaudible. I believe I've maxed out the quality potential with the XRT amplifier here.
Gaming
This Robin SV021 is my pick for the best overall gaming and voice call headphones on the market right now. Why? It is attractive and different, but it is also just a pleasure to wear during business calls and for long gaming sessions.
The bass is not impacting and fatiguing, nor is the treble. The wider than tall staging experience is mellow and it makes you feel like there is some extra depth of field in your gaming experiences. These are not pinpoint titan headphones, if you want that, maybe check the AD700X out instead. But, for single-player and non-FPS gaming needs online, this is a great option.
The Robin SV021 excels at feeling like it is lacking nowhere. And when there are no real complaints and everything is just good, the experience of the gaming itself shines while you forget you are even wearing them. And that is where the headphones' value comes into play as what I would consider a great gaming headphone.
Let me tell you, playing Borderlands 3 for a few hours with this was a real treat. Not having to adjust my headphones or worry about fatigue, but while having a good sense of depth of field when tossing grenades and firing rockets at a distance?
Ugh…so good. I promise you that no "gaming branded headphone" sounds better than the Robin SV021 for $149. Great media usage headphone, a real winner in that regard.
Select Comparisons
Skullcandy Crusher Evo
Oh boy, well, this is a really tough sell. The Crusher Evo is literally one of the most fun and bassy headphones there is, but it is damned uncomfortable and leaves my ears sore as hell after 10 minutes.
However, the SIVGA Robin SV021 is like two marshmallows gently caressing my ears. The Robin SV021 is more spacious in width factor of the imaging experience but it pales in comparison to bass response and depth.
The treble of the Robin SV021 is also much brighter. The Crusher Evo being wireless Bluetooth is great to have on walks and such, but the home usage set award will go to the Robin SV021 on this. Both headphones are exactly the same price at $149.99USD. I don't have any other headphones in this price tier right now but I felt like the dynamics between these two were important to share.
Our Verdict
The SIVGA Robin SV021 is a $149.99 'can do it all' headphone that is worth its price for those who want great media/video call/gaming headphones.
The headphone is gorgeous with that woodie appeal and well-built too. More so, you don't need to stress about what DAC or amplifier to buy. Get what's on sale or that you can afford and enjoy, you don't need a mid-tier DAC or amplifier to pair with this headphone to achieve good sound.
I'll be recommending the SIVGA Robin SV021 for gamers because I am a gamer and I was very happy with it. Sometimes, neutral tonality + moderate physical impact + mellow depth of field =gaming win.
I wouldn't be using it for bassy things or pairing with anything beyond entry-level mid-tier pricing, but I would drop a cheap amplifier or DAC in there and feel just fine with a great college student setup that blows "gaming headphones" right out of the water.
Trust me, if you put these headphones on during a Zoom call, everyone on the other end is going to go "whoa, what is that headphone, it's gorgeous!". How do I know that? Well, it happened to me three times over the course of this review phase.
SIVGA Robin SV021 Specifications
Connection type, Wired
Driver system, 50 mm Dynamic
Fit, Over-Ear
Impedance, 32Ω
Frequency response, 20Hz – 20kHz
Sensitivity, 105dB
Wood type, Rosewood
Weight, 275g