We are almost done with another year so it's time to bring you are Bang For Buck Awards for 2022. This continues our tradition of recognizing the products that we believe offer an excellent level of value or performance for their price.
You can check out our previous year's awards here also:
'Bang For Buck' does not necessarily mean low cost for us here at Headfonics. Whilst price is a factor we do consider also what value you get for that price so not always the mantra of "the cheapest is the best".
For our 2022 Awards, we are looking for the outstanding value aspect and how well it performs relative to its price point, feature set, and the competition around it.
If that sounds slightly subjective, then yes it is. Our award scores play a small role but they are not the final deciders. If you prefer pure score picks then we do have the Top Gear Awards next week and they go through the time-honored highest score selection process.
Our awards are split into 2 pages with the first focusing mainly on portable and headgear and our second page on desktop as well as our own Editor and Writer's personal choices for 2022.
As ever, we will only consider products that we have done a full review on for the calendar year. So what hit the mark and gave our audiophile wallets the friendliest nudge for 2022? Let us find out.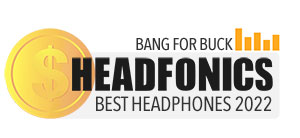 Bang For Buck Open Headphones 2022
HIFIMAN headphones seem to get better and better and seem to deliver higher degrees of performance every year and at a lower cost to potential buyers. It seems these traits have become common practice over at HIFIMAN and the Edition XS is a perfect example of that.
I will never argue with any of the many who already consider the Edition XS as one or possibly the best headphone at or under $500 because it would be foolish of me to disagree. In fact, I'm on their side and totally agree.
The HIFIMAN Edition XS has a large soundstage, precise placement, and imaging, an almost true tonality only rivaled by its much higher tier cousins plus the bass has finally arrived at the HIFIMAN house sound signature which I'm sure many of our readers have been yearning.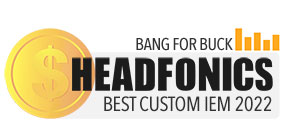 Bang For Buck Open Headphones 2022
The Bellos Audio X2 is something different at this price point. This is a custom monitor that creates a unique proposition for the pro audio studio in terms of durability, and ease of repair. Even for impatient audiophiles, that 3-to-5-day turnaround for building your order will appeal.
It is not just about that everyday use value. The sound signature is a definite contrast to the typical CI woofer-infused bass-heavy tuning typical of low-driver monitors in today's market. This is neutral, this is clean, and above all, it delivers all that with impressive staging credentials.
I am also told this is just a starting point for the company with a few more models due out that will deliver different sound signatures including some additional bass extension if that's your bag.
However, if you enjoy your mids, love a forward vocal image, and value clarity and articulation above all else the Bellos Audio X2 will give you that with a degree of confidence.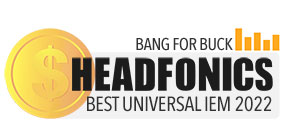 Bang For Buck Universal IEM 2022
The Volume is Softears' first attempt at competing in the sub-$300 market. In fact, this is the company's most affordable offering to date. To be honest, I had high expectations with the Volume, given that Softears has been creating a bit of a buzz with their flagship monitors.
Although budget audiophiles might shy away from its price tag, this is completely justified by Volume's exceptional overall clarity and soundstage. I would dare say this is the best that I have reviewed to date at this price range and has exceeded my expectations.
With Volume's refined design and pleasing overall tuning, it is definitely a bargain at its SRP of $299.
Softears Website | Musictech USA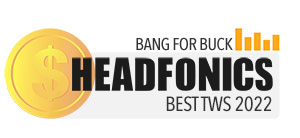 Bang For Buck True Wireless System 2022
We find the Lypertek Z5 to be a step above the Z3 which offers a few new features for a couple of extra bucks and a well-rounded TWS overall in today's market due to its price-to-performance ratio.
Lypertek knows how to make a good TWS and the Z5 is another good one. It has good sound quality, a decent set of features, a full-featured app, decent battery life, and an ANC that works well enough at a price that won't leave a large hole in your pocket.
The touch controls work well, the earbuds are comfortable and they come with a bunch of tips including some foam tips. The case is not too large or too heavy and has fast charging plus wireless charging capability. When you add it all up, you have a complete package that screams high value.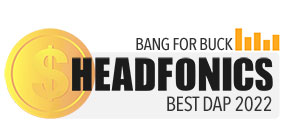 Within the sub-$500 bracket, the FiiO M11S has completely superseded the original M11 by reinterpreting the design, components, and sound tuning.
The high output and engaging signature allow flexible pairings and is matching well with Pop music and streaming content, while the UI experience is just as fast and enjoyable as with the M11 Plus ESS.
At 40% cheaper and with comparable output power and software features to the M11 Plus ESS this is a lot more appealing to those who want a Bluetooth streamer or a powerful multimedia player that fits in the home system and delivers decent output quality on the go.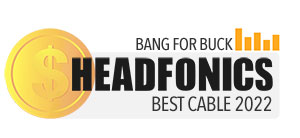 The Effect Audio Eros S is an excellent hybrid copper and silver Litz IEM cable. From the soft and supple design, all the way to its smooth and lush midrange, excellent imaging, and layering capabilities, it performed impressively with both our tested IEMs.
Priced at $299, this is highly competitive when compared to alternatives in the market at around the same price. Effect Audio's pursuit of high-quality sound, material, and design is properly reflected and presented here.
If the Signature Series is to be remembered for one thing, it is that the team at Effect Audio was able to deliver a memorable high-performance flagship cable.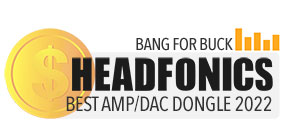 Bang For Buck AMP/DAC Dongle 2022
The ddHiFi TC44C excels in the fact that it packages itself in a small shell and has a high-power output level that seems to be underrated but the tradeoff is the lack of features since there is no volume control or a mobile device app with sound shaping features and/or firmware upgrades.
The power output is clean and demonstrates good dynamics while simultaneously presenting a soft character that makes it fall within a category that sounds more objective than warm which is what the other dongle DACs mostly portray.
With a commonly available set of connections, the TC44C's useable versatility is just as high comparatively but simply remains its main character and although the Lanyard hole is a neat feature it can also get in the way of connectivity.
Set aside that minuscule detail and you have a dongle DAC in 2022 that is different after all in looks and sound profile.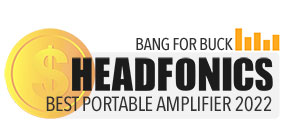 Bang For Buck Portable Amplifier 2022
Do we in fact have one of the most powerful portable headphone amplifiers here in 2022? We would say perhaps because there are ways of obtaining an even higher power output in a portable rig but most of the contestant models have built-in DACs so that would disqualify them.
The Topping NX7 ideally needs a source with a SE line-out to keep the signal as pure as possible and for portability's sake a small source. Once set up correctly, the NX7 does have large amounts of very clean power and is absent of hiss and even the volume knob is absent of imbalance.
We actually used the Topping NX7 in a desktop setup most of the time successfully with the only negative aspect present being that there were two wires up front instead of just one.
So, since it does well in that particular scenario we will just consider the Topping NX7 a very versatile and excellent-sounding desktop amplifier with portability capability.
Topping Website | Shenzhen Audio Website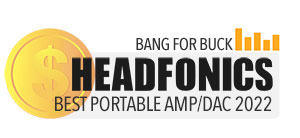 Bang For Buck Portable DAC/Amp 2022
xDuoo has made an interesting move to bring to the masses a welcoming and capable product. It has lots of functions suitable for those who want to move from dongles to feed their IEMs, earbuds, and cans with more power or stream over advanced Bluetooth codecs.
The Poke II has a clean, uncolored tuning with a lot of power for the size. It is an easy match with various IEMs, forgiving with lossy old files, and is able to bring up dynamics for streaming content to make the listening experience much more enjoyable on the go.
The Poke II is a fun attempt alluring to new hobby entrants who want more power and features, or for gamers who want to boost the sound experience on their hand-held systems.
Click on page 2 below for our Bang For Buck 2022 desktop winners as well as our Editor and Writer's Choices for 2022.