This is a review of the ddHiFi TC44C which is a dongle-type balanced portable DAC and amplifier capable of up to 120mW of output power. It is priced at $119.
Disclaimer: This was sent to us as a sample for our honest opinion. Headfonics is an independent website with no affiliate links or services. Many thanks to ddHiFi for giving us this opportunity.
You can read about previous ddHiFi products we have previously featured on Headfonics here.
Note, that this article follows our latest scoring guidelines which you can read up on here.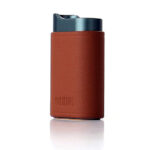 ddHiFi TC44C DAC Review
The ddHiFi TC44C excels in the fact that it packages itself in a small shell and has a high-power output level that seems to be underrated but the tradeoff is the lack of features since there is no volume control or a mobile device app with sound shaping features and/or firmware upgrades.
Pros
Compact form factor
Unique Design
Good Power Output
Cons
Lanyard hole could be an obstacle
Lack of features
ddHiFi seems to have a niche in making odd-shaped dongle DACs and adapters amongst other things. I like that because I like different and in the dongle DAC segment that's exactly what we need. Variety is the spice of life right?
ddHiFi offers a variety of dongle DACs, adapters, IEMs, and cable assemblies and recently they sent us their top dongle DAC model which is labeled the TC44C and we're going to put it under the magnifying glass.
What does the ddHiFi TC44C bring to the table? On the surface, it looks like a simple but beautifully designed small device so I guess performance is of paramount importance here if it wants to shine through the fog and get noticed.
Tech Highlights
Although the ddHiFi TC44C has a rather small stature far as size it still manages to pack in a dual DAC chip setup that consists of dual Cirrus Logic CS43131 WLCSP chips in a dual-channel balanced array.
The Cirrus Logic CS43131 is a 2-channel low power DAC one chip solution with a built-in amplifier and this particular chip supports headphone fingerprinting and amplification post-processing among other features. It uses little power to operate and the chip itself needs just a 2 volt DC power source to operate.
The dual-channel, dual DAC chip dongle design is nothing new but it has proven itself to be the way to go since it allows some native decoding. The dual-channel DAC setup within the TC44C outputs to a 4.4mm Pentaconn balanced connection and to a 3.5mm single-ended connection.
One distinctive aspect of the TC44C design is the hidden digital format indicator LED. Most dongles have them on the outside. The TC44C however is internally mounted and can only be seen through the 4.4mm jack and not the 3.5mm. This caters to potential buyers that dislike bright LEDs. Blue illumination indicates its running PCM and green for DSD by the way.
Digital Formats
The ddHiFi TC44C is capable of decoding a couple of digital formats including PCM up to 32 bit/ 384 kHz and it also does native DSD64, DSD128, and DSD256. Rendering is done mostly at the hardware level on this device which is preferred over total software rendering.
Some dongle DACs today are capable of higher rates compared but if you're like me who sticks to the general and more common digital formats you will be fine and remember, there is no MQA rendering on this device or DXD.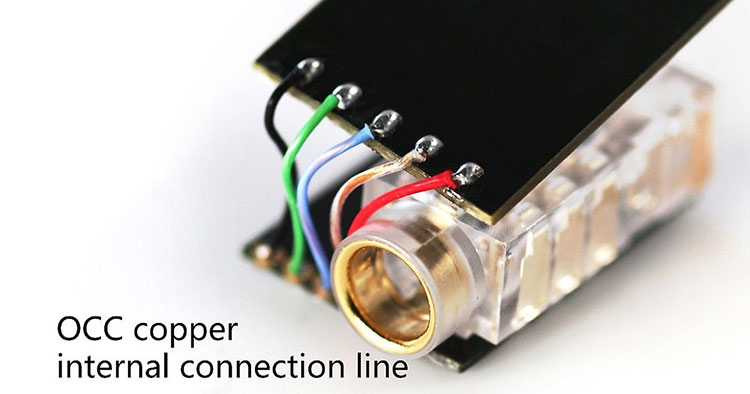 Performance Numbers
The numbers look pretty good but they are scarcely posted by ddHiFi. Power output is listed as 120mW at 32Ω but no other power output is listed by ddHiFi. According to the Cirrus Logic literature of the CS43131, the onboard amplification is a GND-centered class H stage capable of 2Vrms into 600 Ohm cans.
Signal to noise ratio is listed at 125db but I did some looking around and found that the Cirrus Logic CS43131 has a listed 130dB dynamic range which is the chip's best specification but ddHiFi doesn't list it. Oh well. Let's move on.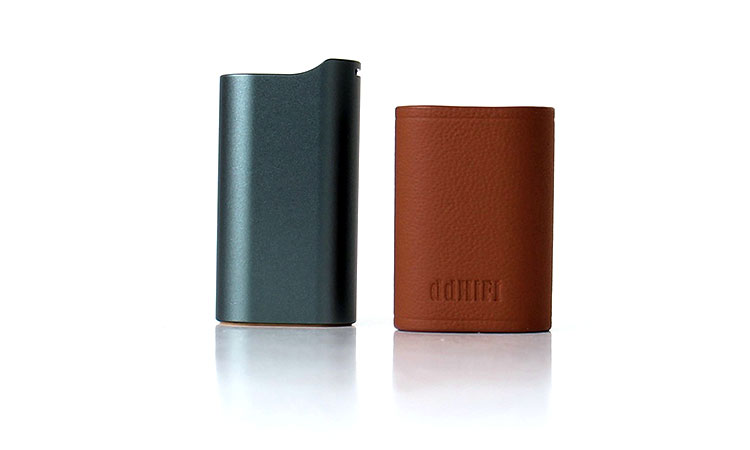 Design
The ddHiFi TC44C has a rather small stature and it measures 40.8x22x12.5mm. Weight is 12.9 grams so one can safely say that this dongle DAC is very small and lightweight by the numbers alone but it is a tad chubby looking. DD calls the shape a rounded waist design.
I did run into an issue with the design itself. The 3.5mm jack has a lip around it that will only allow slim-type plugs to go all the way in.
For example, I tried pairing the TC44C with a Grado SR80X which is a very efficient headphone and should have made a good combo but since the cable is attached and the plug itself is extra wide at the base I could not use this pair with the TC44C.
The lip is actually a feature called a Lanyard Hole and it's there so you could install different types of straps on it. If you get a neck strap, for example, you could hang the dongle from your neck alleviating the stress from weight coming from the USB port on your mobile device which worries some users especially those with expensive flagship phones.
Anyway, the shell is powder coated in green and is completely made of metal. There's only one color available for now.
The headphone output side of the shell has no seams to better reject interference and moisture and on the other end, the USB port side end cap is gold plated and is cut extra thick to prevent further stray interference from reaching the inner circuitry.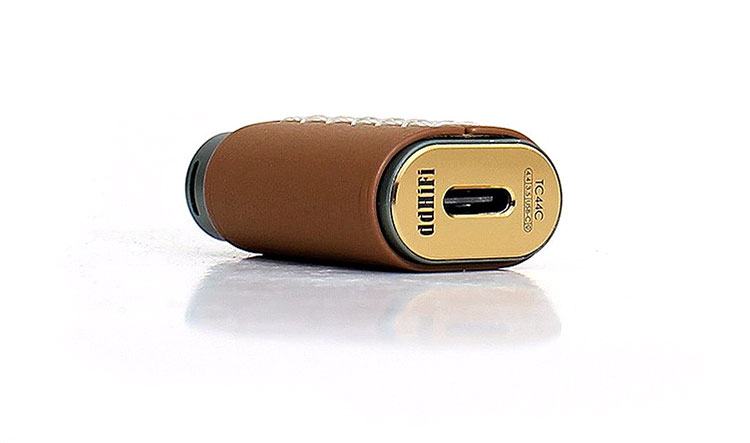 I/O
The TC44C is a very simple device, on the input side there's a USB-C connection and on the output side there are two headphone connections, one is a 3.5mm single-ended output port, and the other is a 4.4mm Pentaconn balanced output port.
The TC44C internally is simplified by the use of OCC copper wire to bridge some of the components and for the ability to separate components. Speaking of components, all parts were soldered with a lead-free tin with 3% silver.
There's no volume control or a mobile app that I could find for the TC44C so it's basically a plug and play device to the core, you plug it in and done. It worked on my PC flawlessly with no drivers needed although ddHiFi does have a driver download on their webpage that was not needed for normal operation but for something else which was unexpected. Read on.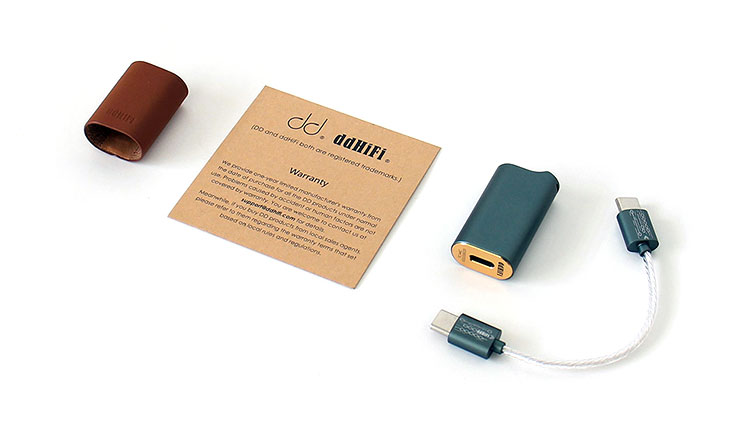 Packaging and Accessories
The one thing I liked the most when I opened up the TC44C box was the organic feel with the uncolored cardboard and confetti protecting the contents. It felt somewhat natural and almost homegrown.
Another thing I liked about the unboxing was finding that cute protective cover with large cross stitching that gave off a native vibe to the modern-day device.
The only dongle that I could remember having a cover included inside the box was the HiBy FC3. Other dongle models either have none available or do have one available but they have to be purchased separately. There is a caveat, however, that only the first 600 units will receive the protective cover since it's a limited production item.
The other two items you get are the warranty card and a very short USB-C to USB-C wire. The lightning version is an MFi06S OTG cable.
The wire which was used on the assembly is a silver-plated OCC with Teflon and double TPU insulation. One detail, you get no full-size USB gender changer so if you plan on using the TC44C on a laptop you'll hopefully already have one, if not you have to outsource the adapter unless your PC has a direct USB-C connection. If so then you're fine.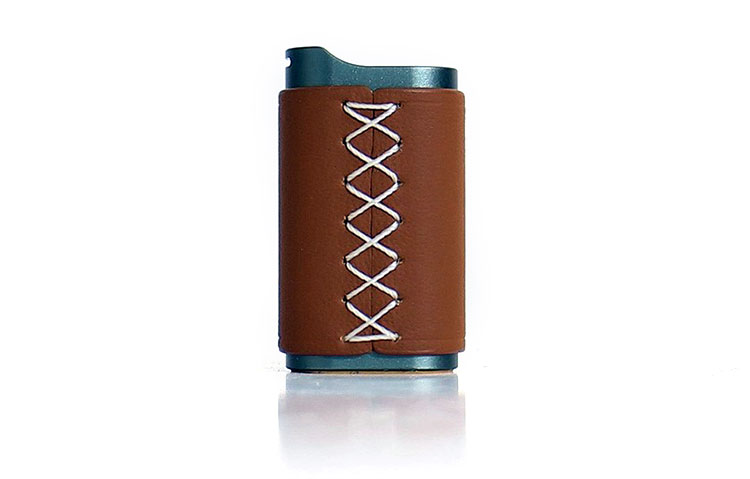 Sound Impressions
Summary
The Cirrus Logic general sound characteristics are present in the TC44C. These characteristics are neutral and natural, well extended both ways in frequency response, flat in presentation and frequency production but also somewhat aseptic.
There's a good amount of dynamic range but there seems to be a small amount of airiness and extra width that gives the overall sound signature of the TC44C a spacious character and this also opens up the stage some but does so at the expense of some punchiness and low-end impact.
The TC44C bass performance seems to be clinical and clean, somewhat lean, and never strays into a bloated output, and is somewhat undramatic since slam seems soft mannered. Midrange seems spacious, clean, and open. The treble response seems clean, sharp, weighted, and well defined.
The background seems rather dark with very little or no perceivable noise. Hiss seems absent but this fact could be attributed to its mute circuitry that shuts off the output if there's no signal present which keeps the dongle completely quiet while on standby.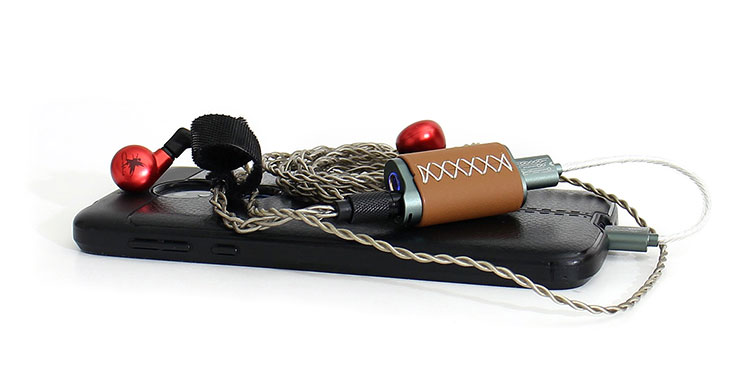 Synergy
Audio Driver Tip
I ran into quite a snafu with the TC44C and particularly when pairing it with mobile phones. None of the four phones I had on hand worked with this dongle and it seemed incompatible but there's a happy ending to this. If this happens to you, this is what you have to do.
Go to the ddHiFi website, look for the TC44C and scroll to the bottom of the page and download their USB driver which is actually an app. Once you run the download, the setup will install an app called BRAVO HD Audio CPL on Windows OS and only Windows.
Open the app with the TC44C connected to the PC and once in there change the bitrate to 24bit. In other words, take it off the 32BIT rate. I did that and presto, it now worked on all my mobile devices.
Power
I found it rather odd that other dongles I have that claim a higher power output on the books can't push full-size planar magnetic cans like the TC44C. It does so up to a certain point and is certainly better than most dongles. The TC44C seems to have more power than what it says it does on paper.
I found it somewhat impressive for a device this small to have so much driving power and still use such a small amount of voltage and power to operate. I mostly used my daily phone with the TC44C. It has an internal 5000mAh battery and I saw an average of 1% usage every 10 minutes with music at a half volume level which was plenty, especially with sensitive IEMs.
Pairings
Far as to what headphones would I use with the TC44C. I would stick to low impedance headphones with dongle DACs for two main reasons.
One is that you cannot expect lots of power from these devices and they might not reach acceptable volume levels with hard-to-drive cans and the second is that the power consumption will increase dramatically with harder-to-drive models.
I did use a couple of hybrid multi-driver IEMs like the under-rated iBasso IT07 seven-driver IEM and the FiiO FH9 on the single-ended side they both went acceptably loud at half volume while powering the dongle with my phone. On the balanced side, things got more hardcore and it even pushed my Arya V2 surprisingly well.