In our review today, we assess the Bellos Audio X2, which is the company's debut dual-BA custom in-ear-monitor designed for music professionals. It is priced at $499.
Disclaimer: This is a sample sent in exchange for our honest opinion. Headfonics is an independent website with no affiliate links or status. Thank you to Bellos Audio for this opportunity.
Click here to read more on custom monitor products that we have previously covered on Headfonics
Note, that this article follows our latest scoring guidelines, which you can read up on here.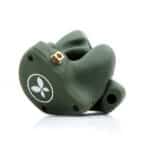 Bellos Audio X2 Review
If you enjoy your mids, love a forward vocal image, and value clarity and articulation above all else the Bellos Audio X2 will give you that with a degree of confidence. 
Pros
Wide stereo imaging
Robust build quality
Durable stock cable
Bellos Audio as an entity is an entirely new company. The people behind it though are well-known to portable audio enthusiasts.
Vlad and Bogdan Belonozhko are part of the original team that founded 64 Audio in 2010, (1964 Ears) with Bogdan going on to create Fir Audio in 2018. Two companies with a long history of creating high-end audiophile-grade in-ear monitors.
Bellos Audio also sells in-ear monitors and is considered a sub-brand of Fir but is something a little bit different with a very direct pitch to the pro-audio industry.
You get a lot of the technical know-how in creating an IEM from Fir but now distilled in an affordable, fast turnaround and highly serviceable design that can be created or repaired in a matter of days.
The X2 is the first creation out of that ethos and at $499 is not only going to appeal to pros but I suspect also to audiophiles looking to grab a good quality custom on a tighter budget and want to make it last.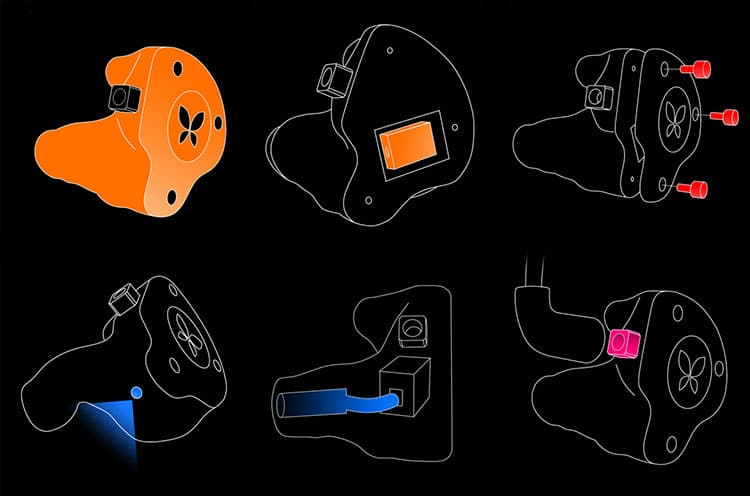 Tech Highlights
The Bellos Audio X2 is a dual-balanced armature driver custom in-ear monitor and offers a surprisingly wide array of Fir Audio legacy features for the price point.
Stand-out highlights include Fir's ATOM venting system, a spin on the Open Acoustic technology called Universal Bore, as well as the inclusion of Fir's RCX cable connector format I first reviewed on the M5 custom monitor.
Driver Configuration
The driver configuration is also what Bellos has described as a modular package. These are preassembled and tested before going into the proprietary 3d-printed shell and are designed in a way that they are super easy to put in or take out for servicing and repair.
That's one of the big pitches of the X2, the turnaround time for builds and repairs so there is minimal disruption to a pro's toolkit when they need to take the stage or work in a studio.
The precise configuration is one full-range BA driver for the lows and mids, and a smaller BA tweeter for the highs using a 2-way crossover. Together, the configuration is rated for 30Ω so not super demanding for loads, and a reasonably efficient 114dB of SPL.
Atom Venting
The concept of the ATOM venting system to reduce the air pressure and your ear's acoustic reflex from stressing too much is nothing new to FIR fans. The interchangeable ATOM X module system has been in their monitors since the beginning with up to 4 different flavors, each varying the final sound signature.
They also have an internal ATOM system which is a fixed variant and one that Bello Audio has chosen for the X2. That means there is no interchangeability but it is in keeping with both the value concept and ease of servicing.
Of course, that does reduce the overall level of isolation typical of a pure-BA custom which has no venting but at -17dB that's not too bad actually and more or less on par with dynamic driver customs that require venting by default.
Universal Bore
The final highlight is the X2's universal bore system. Again, if you know the Bellos brothers you know very well they have a penchant for tubeless designs and the X2 is no exception.
The core concept is to allow the sound to mix freely on the way to the ear canal much like a horn-type principle but one that results in a more expansive staging presentation and a more natural tonal quality from the drivers.
This time it's a single bore shaped during the 3D printed process so it is very consistent despite the unique external custom shape designed to fit your ears.
Design
Bellos offers 1 design and 3 color options for the X2. Whilst not as expansive as your typical custom design portfolio it does fit in with that quick turnaround ethos and it does offer them in a matte-finished grippy shell texture which I have been dying to try for ages. These babies will not slip out of your hand that easily.
A few companies offer the matte design and this is the first one I opted to go for with the green option. if you prefer you can get this design in a matte black or grey but I felt the green look was the best fit for my preferences.
Everything else about the X2 aesthetics is clean but muscular looking with that 3-screw quasi-military look on the shell. There is a reason behind those sizeable screws though as it makes it very easy to take off the faceplate.
Standard custom designs are more integrated with resin molding keeping it together meaning you tend to have to crack open the design and then redo it all over again for repair work. This plate here is detachable so quicker and less messy but it does mean aesthetically there is a definite seam on the exterior just below the plate.
The X2 form factor is slightly to the large side but nothing unusual and not JH Audio large if that's what you are thinking. It is actually much lighter than it might seem at first glance. With only two drivers and no tubes, there isn't a huge amount to weigh down what is already a lightweight 3D-printed shell.
Comfort & Isolation
The X2 matte shell creates a very different tactile experience when worn in the ear. Especially when inserting it because of its grippy texture which doesn't really slide in as smoothly as a typical polished resin shell.
On the flip side, it does feel a lot more secure in my ear than a resin alternative would. The textured shell is most advantageous in terms of staying put which I presume is what you would want if you were planning to use them on a stage.
The X2 nozzle is quite long and close to the canal's second bend which is how I prefer them. There is a mild expansive property to the shape of the single bore nozzle also which creates a firm pressure on the inside of the ear. However, since these are custom molds the fit is exact so it's the kind of pressure that's more reassuring than discomforting.
As for isolation, well it is a custom monitor so the passive isolating capability of the X2 is excellent. Only a bad 3D scan or audiologist mold will interfere with what should be otherwise a perfect fit. It is on par though with a dynamic driver custom rather than a good fitting BA due to the ATOM X venting so not a complete block but still impressive.
The slightly larger form factor though means that the rear and plate of the shell stick out ever so slightly. However, that's a plus as it allows you to grip and easily take them out without dropping them.
Stock Cable
RCX Connector
As connectors go the X2 RCX system is 'snazzy' with a very secure easy-to-use locking system that looks like the love child of an IPX and MMCX design. It does have a very fluid locking system, nowhere near as fiddly as MMCX, and Bellos rates it for up to 5000 connections which gives them some good longevity.
The main RCX stem on the X2 shell is a solid gold-plated metal protruding block with a single snap-in socket. The male connector on the cable side uses a barrel that is finished like a sheath to cover the connector. That means when the cable locks onto the main shell socket it completely hides the termination from the likes of moisture and accidental knocks.
It is much sturdier than regular 2-pin 0.78m connections and for a stage artist that might be a crucial factor in choosing their monitors.
Cable
The stock X2 cable is fairly similar to a FiR cable but a little stripped down in the finishing so it has a more muted reflective black jacket look but is still a very sturdy creation.
This is a 48″ 26AWG SPC 'Scorpion' wire with an 8-wire geometry as opposed to 4 which is a good deal at this price point. 8-wire tends to have lower resistance levels offering an enhanced dynamic range.
The 26AWG wire size is just about right also. This is not a lithe cable, it's fairly bulky but with a light touch in barrel finishing, it is actually quite flexible and lightweight when in use. It also feels very tough and likely will take some abuse.
The jack termination option is 3.5mm SE by default but I believe you can request for 4.4mm balanced also if required and which this sample cable has. The jack is terminated in a fairly slim right-angle metal barrel with a matching black finish.
The angular matching black RCX connector barrels are a little on the chunky side but understandable since they have that protective sheath-like functionality to cover your connection 100%.
The cable braiding is tight but flexible with a super lightweight low-profile splitter and chin cinch made from the same black plastic materials as the connectors. You will have no issues with memory retention or microphonics on this cable, it is very quiet and easy to handle.
Packaging & Accessories
The Bellos Audio X2 comes in a very basic package but is understandable given the target pro audio market and the price point. You get a small flip-lid white and branded cardboard box that houses a sturdy aluminum puck-style screw lid case that houses everything you bought inside.
That includes the drivers, cable, and a spare cleaning pick/brush tool. Because it is a custom design there is no need for tips and since it is a matte-printed shell there is no need either for a polishing cloth. The X2 is a very fingerprint-free monitor.
Anything missing? I would like to see maybe a small pouch in there also so the case is not always required. The case will do an ace job of protecting the X2 drivers but if you want to pocket these for a while then a small pouch would be a superior choice.
Click on page 2 below for sound impressions and pairings