This is a review of the Lypertek PurePlay Z5, which is the company's latest flagship TWS featuring hybrid ANC, IPX4, and up to 35 hours of battery life. It is priced at £99
Disclaimer: This was sent to us as a sample for our honest opinion. Headfonics is an independent website with no affiliate links or services. We thank Lyperteck with the support of Hifiheadphones.co.uk for this opportunity.
To learn more about Lypertek products featured on Headfonics you can click here.
Note, this article follows our latest scoring guidelines which you can read up on here.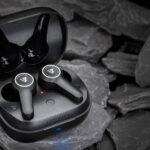 Lypertek PurePlay Z5 Review
Lypertek knows how to make a good TWS and the Z5 is another good one. It offers above-average sound quality, a good set of features, a full-featured app, decent battery life, and ANC that works well enough at a price that won't leave a large hole in your pocket.
Pros
Above-average sound quality
ANC
Integrated app
Lypertek on every product release tend to turn some heads and that's because of their price-to-performance ratio and balanced sound signature which is somewhat uncommon at the asking price and within the vast bargain TWS market.
Most budget TWS models out there cater to an unrefined bloated bass sound signature that is generally far from neutral and to their credit, Lypertek's TEVI was one of the first budget TWS manufacturers to sound tune their models closer to something an audiophile would enjoy.
Here at Headfonics, we're still working our way through their product lineup and today we knock another model off that list and put it up for scrutiny, the PurePlay Z5.
Lypertek flipped the script this time around particularly with the Z5 design and they even gave ANC a go this time around but still managed to retain the Lypertek overall brand character.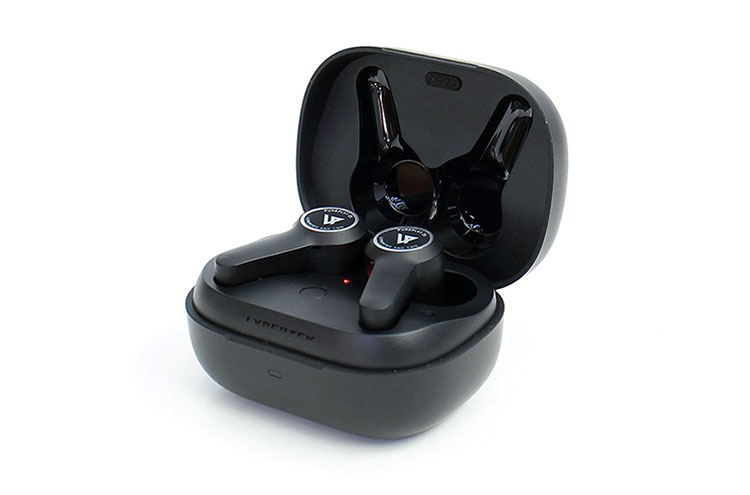 Tech Highlights
Lypertek threw a curveball at us this time around particularly with the design aspects of the Z5 but they stuck to a tried and true formula by using once again a Tri-core Qualcomm. For the Z5 they chose the QCC3046 SoC consumer-grade WLCSP chip which works on a Bluetooth 5.2 radio.
The mid-level QCC3046 chip measures 4.38 x 4.26 x 0.4mm but it still manages to pack a dual-core 32-bit system processor and a separate DSP subsystem core with lots of customizable features and still manages to keep power consumption at a very low 5 mA.
The QCC3046 ties into a 10mm dynamic driver that Lypertek specs out at 20 Hz to 20 kHz and specify that although they tuned the driver for low distortion at high volume levels they are more so tuned for extended listening with a minimum amount of listening fatigue.
The Z5 has a DSP tuning feature Lypertek calls LDX which stands for Lypertek Definition Expander and adds some added energy and forwardness in a subtle way to the overall sound signature. You can activate or turn off this particular feature within the downloadable Lypertek app.
The only negative aspect of this feature is that you lose the equalizer function while activated and it cannot be used in conjunction with the LDX feature. I must admit however that the LDX DSP preset ads some welcomed color and at least doesn't make things worse it seems.
Codecs
The Lypertek Z5 plays well with almost every codec out there starting with aptX and adaptive aptX along with the more common SBC plus throw-in AAC and you have an almost guarantee of compatibility with your current gear's BT radio.
On a side note, it seems LDAC is not being implemented on any of the Qualcomm-equipped gear lately and it's probably due to licensing issues. I hope Sony makes it easier in the future for other companies to implement the codec on future Bluetooth gear.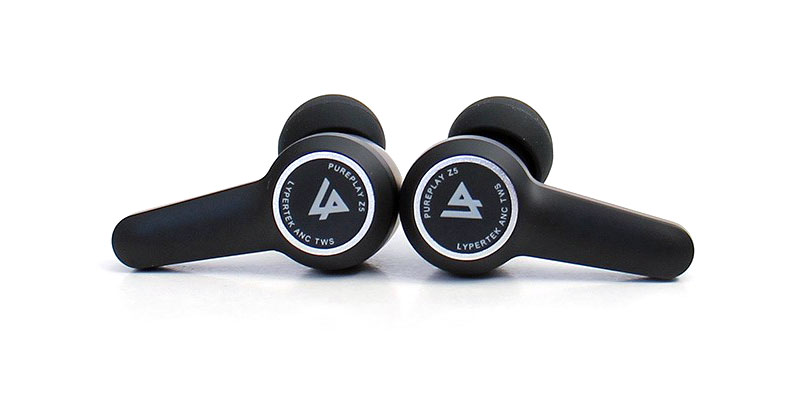 Design
Here is where Lypertek did something different because this time around they used a bullet and stem shape earbud design which works well for me. They also took a different approach and used touch controls in place of their more commonly implemented push button design. These particular earbuds are IPX5-rated.
The charging cradle itself sits somewhere in the middle far as size within their lineup. This cradle seems smaller compared to the Z3 but is larger than the S20's cradle. But unlike the S20's charging cradle the Z5 has a flat bottom that sits best on a tabletop.
The cradle has one LED on the outside for power and charging status indication and an LED on the inside that indicates the Bluetooth status. Other than that the cradle is a typical one made with polymers and finished in matte black with a silver Lypertek logo.
Microphone System
The Lypertek Z5 employs a dual-microphone system and cVc 8.0. In this particular set, one microphone is used for noise canceling and the other is used for voice capture and uses a hybrid combined active and passive noise canceling configuration. The microphone system doubles up on work duties and does voice assistance.
I'm suspecting that the particular microphone that sits at the bottom of the stem is the one used for voice capture and more than likely sits within the stem and a long channel that the sound must travel through which gives it its passive noise canceling feature. In this particular design, a type of beamforming is achieved because it only picks up nearby sounds and rejects sounds that are distant.
I got a very good performance from this microphone system and tested this set by switching between my phone's built-in microphone and this TWS and the Z5 microphone actually outperformed my phone's built-in microphone.
Touch Controls
This is another area the Z5 performed well in and another twist in design since Lypertek tends to use push buttons on all their TWS line in place of the touchpad.
This touch control set is full-featured, reassignable, and works very well for me far as responsiveness is concerned and perhaps only surpassed by one or two other models out there I know of in this category.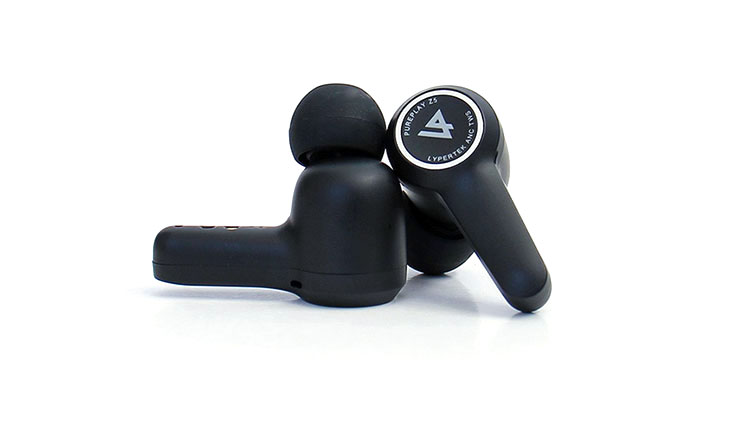 Comfort & Isolation
I do like the stem design earbud and find these to be very comfortable and enough so to be able to wear for hours with no major discomfort plus their passive isolation works well enough to muffle out some of the outside world with barely the need for active noise canceling.
But once you activate the noise-canceling most of those lower-frequency noises go away. You could still hear some high-frequency sounds this system allows to seep through but overall it works well. The auto ambient mode does produce a slight amount of hiss so I would only use this particular feature only on occasions and when it's highly merited.
One issue I did find was that during brisk physical activity the earbuds could fall out and did a couple of times on me so I would not recommend these so much for high-impact exercise or activity but they would work fine for jogging and other low-impact workouts.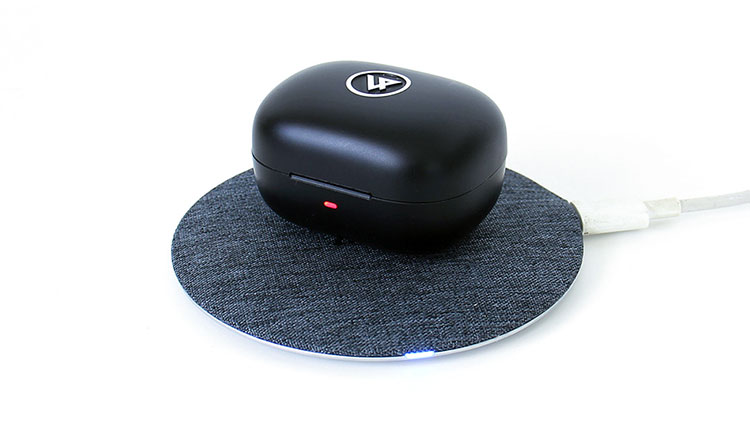 Cradle & Battery life
Lypertek doesn't specify battery sizes and I looked everywhere for that specification and came up empty-handed but honestly what really matters is how much time we get on a full charge which can be done in 2 hours or less.
So I went about using the Z5 and counting the hours and got around six hours of use with ANC off and at 60% volume. At that point, I started hearing the Bluetooth lady say the words "battery low". I still had 10% battery according to the app so I would rate battery life to be pretty good.
The Z5 cradle can be charged by two methods, by USB through its USB-C port or by placing the cradle on a wireless charger. This set also supports Quick Charge which gives you two hours of use from a 15-minute charge.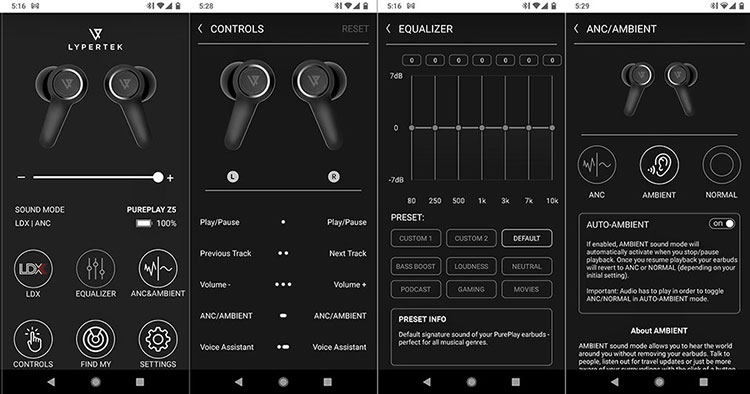 Software
I really like the app that Lypertek made exclusively for the PurePlay Z5 called PureControl ANC. It has a ton of features and I doubt you'll need more than what it has to offer.
The app includes a seven-band equalizer with the factory and user-defined presets plus some other stuff like LDX activation, noise cancelation, and ambient sound activation. Those two last features could be activated with the touch controls as well.
You could also push firmware updates to the Z5 when Lypertek releases them. My particular set received an update the moment I downloaded and opened up the app. It took around 5 minutes to complete with no issues.
One thing you must watch out for is that you have to download the right version of their software. You have to download the PureControl ANC version because the regular PureControl version is not compatible with the Z5 so keep that in mind.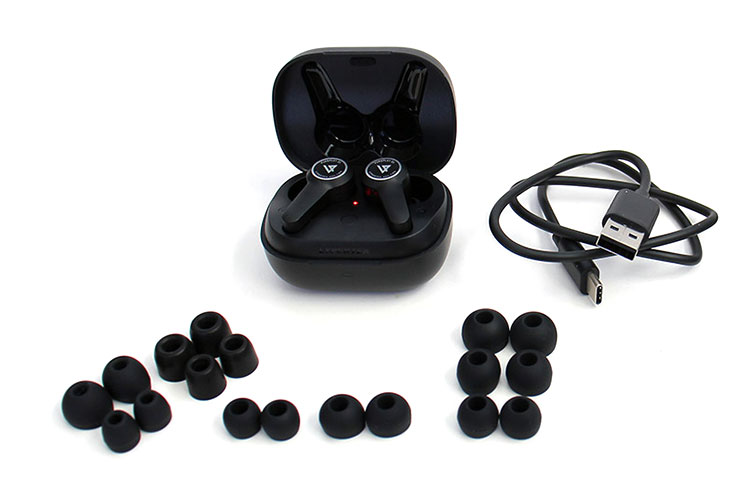 Packaging & Accessories
You get a total of ten tip sets with the Z5. Five are PureSpace Silicon tip sets, three sets are PurePower Silicon tips and two sets are foam tips. What I don't get is the shape of the output nozzle which is oval. So round IEM tips on an oval nozzle are what we have here.
I do have to commend Lypertek for the included tip set which is more plentiful compared to other TWS sets that usually only give you three sets in total. You even get 2 foam sets which on a TWS model can be considered rather uncommon. This adds extra value to the Z5.
The other two accessories you get inside the box are the owner's manual and a USB charging cable. It all comes inside a common Lypertek packaging which should look familiar to you if you've seen their packaging before.
Click on page 2 below for sound impressions and select comparisons.