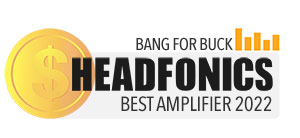 Bang For Buck Desktop Amplifier 2022
Based on the ads, we were expecting the SH-6 to be a bit larger, but we were pleasantly surprised at how compact the chassis of the SH-6s ended up being. Together with the SU-6, the SH-6 can easily be used to create a highly capable headphone system without taking up much space.
However, the size of the SH-6 shouldn't be used as a basis for estimating the extent of the SH-6's abilities. As a headphone amplifier, the SH-6 creates an even-handed presentation not relying on injecting anything into the music.
Instead, the SH-6 mainly relies on its ability to convey an honest musical presentation only falling short in its ability to present an accurate sense of scale which can be said to be proportional to its physical size.
What iFi Audio did here is to fill an empty void in the audio market by introducing a very good-sounding desktop DAC amplifier combo for less than 100 bucks and still managed to offer the bargain buyer lots of value and some features which will make the buyer feel as if the ZEN Air DAC is not such a bare-bones model.
It's safe to say that the days of sound card dominance are over and devices like this are quickly taking their place because of their ease of use, no fuzz installation, and with plug and play operation capability.
Besides the very slight volume knob channel imbalance and the disabling of the source volume, when it comes to performing its duty this is a high-value item and a very good deal for those who just want better sound quality but don't want to spend much cash and don't want to install extra hardware with buggy drivers.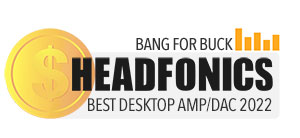 Bang For Buck Desktop DAC/Amp 2022
Developing an exponentially growing fanbase, Topping is keen on keeping its followers captivated by tweaking its tried and tested formula by offering something that is not simply pleasing for the ears but the eyes as well.
With an uncompromising value proposition, the performance of the Topping DX5 translates well from numbers printed on a piece of paper to audible bliss if what you're after is neutrality with a slightly bright inclination.
With a high degree of flexibility in pairing to other gears due to its sound signature, this device is an ideal downstream output source to either a solid-state or tube amplifier fully rendering the technicalities of its DAC section.
While it is not breaking any record, on its own, this mid-tier combo from Topping will surely satisfy many enthusiasts looking for a capable all-in-one box.
Topping Website | Shenzhen Audio Website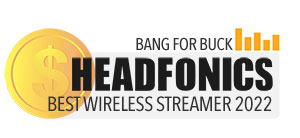 Bang For Buck Wireless Streamer 2022
In the age of wireless audio, the BTA30 Pro feels like an integral value-added component. With 3 operating modes, various functions, and improved functionalities from the BTA30, the Pro is much more versatile in connectivity and improves user-friendliness.
This is a wireless streamer that performs well for its size and justifies the small price increase from the predecessor BTA30, also being very intuitive in design. If you are using DAPs but your old home or desktop setup is left unused, here is a good chance for you to revitalize it with an advanced DSP function and multiple input/ output possibilities.
Even if you have a higher-end setup, the BTA30 Pro could keep up in performance and is definitely worth a shot.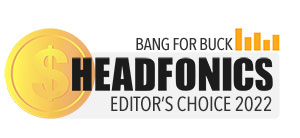 Bang For Buck Editor's Choice 2022
Overall, the HIFIMAN Deva Pro remains a good value proposition in 2022 for entry-level planar headphones with the flexibility of real strong wireless performance.
It takes the relatively mid-centric but slightly uneven original tuning and refines the highs a bit, smooths out the mids, and introduces a bit of a tighter bass punch. The materials choices for the design are untouched save for and more conservative paint job.
The Bluemini R2R is a cracking little BT module. It teases out a little more of that classic natural R2R tone with a stronger vocal focus but without giving up too much in the way of dynamic range.
Do pair these with a reasonably dynamic source or desktop amp to get the best out of them if going wired. They do not cost a huge amount but if you want to hear them properly then like most planar driver headphones, they sound at their best with decent power.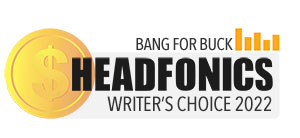 Bang For Buck Writer's Choice 2022 – Louis
The FiiO BTR7 is a very versatile piece of gear to have since it's not just a Bluetooth receiver but it's also a dongle DAC plus it can also play the part of a desktop DAC amp combo. Most first-time buyers in 2022 who have an all-in-one frame of mind will benefit the most.
It's a little chunky solid piece and perhaps some might prefer it for portability's sake but if you want more power then the choice is obvious.
Perhaps some might feel improvements could be made to the control features but that can be fixed with a firmware update. Besides that what is unlikeable about it? The answer is almost nothing.
It's a great piece of gear to have that incorporates a Bluetooth section with LDAC capability, a hefty THX amplification section, and an XMOS USB front end.
All within a portable battery-powered device that includes multifunction media controls, a decent screen to scroll through all the features with great sound being an end result. Need we say more?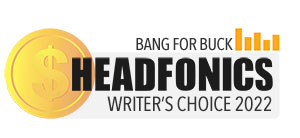 Bang For Buck Writer's Choice 2022 – Aldous
Raptgo most likely knew that the Hook-X will gather a lot of curiosity not just because of its novel concept but also for its charismatic midrange accompanied by a good amount of bass punch and slam.
It is enjoyably easy to use for long listening sessions thanks to the open-back nature of the housing, it could have been a one-hit KO if detail retrieval is improved.
Simply put, this is a high-reaching IEM knowing that this is only their third proper in-ear monitor aimed at audiophiles which only makes it more exciting to see what they can do next.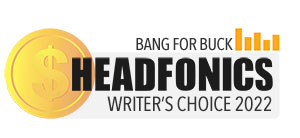 Bang For Buck Writer's Choice 2022 – Cheryl
For a sub $100 budget dongle-DAC in 2022, the Hidizs XO by far exceeded our expectations. Along with its impressive performance on the technical side, we did like that it has:
1.) A removable cable on the output side, giving iPhone users the option of using a USB-C to Lightning cable
2.) The flexibility of SE and 2.5 balanced options 3.) compact and light device easy to use for travel.
The device is both a good starting point for people wandering in the hobby or people who are more into a minimalist smartphone set-up. It does elevate the sound quality wherein it is noticeable to justify the purchase.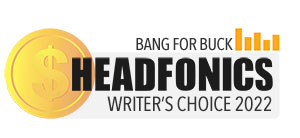 Bang For Buck Writer's Choice 2022 – James
final has done a great job putting together this subtly beautiful Japanese design and possibly the most unaltered sound James has experienced on a TWS in 2022.
You can experience the effort that goes into bringing forward higher fidelity and musicality through acoustic designs, instead of boosting the dynamics to hide flaws due to portable power constraints.
The ZE3000 replays any music truthfully and in an immersive way. The tranquil mood brought by the very balanced and effortlessly extended tuning, also the clear positionings of instruments even at high volume, may confuse you as if this is not a wireless item.
Overall, the almost feather-light housing, non-intrusive tuning approach, agile response with plenty of air, and excellent distortion control on the final ZE3000 brought by newer driver technologies add up to a perfect companion for long listens without any fatigue.
final Website | HiFi Headphones UK Website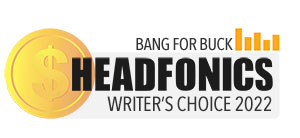 Bang For Buck Writer's Choice 2022 – Michael
Mike feels the same about the new SIVGA Oriole as he did the previous Robin in terms of worth and value. But this time around, the comfort factor is off-the-charts good.
They've improved every bit of the experience in 2022, from the bass to the mids, the treble, and imaging, right down to how comfortable it is and how well it is built.
This is everything you could want for $199. This is a great option for those on the go, and anyone traveling will appreciate just how long you can wear them and not get uncomfortable. Great holiday gift, just like the SV021 was.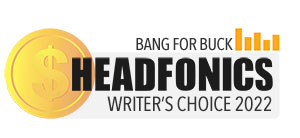 Bang For Buck Writer's Choice 2022 – Josh
With its well-textured and controlled mid-bass coupled with the high level of detail in the mid-range and wide soundstage, the Mangird XENNS UP is able to produce a very engaging sound capable of drawing anyone's attention.
The dark treble presentation does reduce the energy from the sound signature however it allows the mid-range and mid-bass to shine. If you haven't done so already, grab a powerful DAP and hook it up to the Mangird XENNS UP. It's a surprisingly good offering for its price point.
It's A Wrap!
Well, that wraps it up for 2022 folks for our Bang For Buck Gear Awards. We can promise you we will have a ton more great value gear to review for 2022 and we do hope it will be a positive year also for all of our readers wherever you may be.
We hope you enjoyed listening to the gear as much as we did and as always we want to thank the readers and companies for making this hobby of ours just so fascinating.
Thank goodness for affordable gear and for still being able to find awesome stuff that punches way above its fiscal weight! Stay tuned for the Top Gear Awards for 2022 in a few days' time to find out what the creme of the crop was for this year!