The Softears Volume is the company's most affordable universal IEM to date featuring a hybrid single 10mm DD and dual BA. It is priced at $299.
Disclaimer: This was sent to us as a sample for our honest opinion. Headfonics is an independent website with no affiliate links or services. We thank the team at Softears for giving us this opportunity.
To read more about Softears products previously covered on Headfonics please click here.
Note, this article follows our latest scoring guidelines which you can read up on here.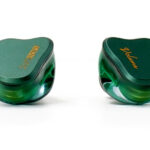 Softears Volume
Although others might shy away from its price tag, this is completely justified by Softears Volume's exceptional overall clarity and soundstage. I would dare say this is the best that I have reviewed to date at this price range and has exceeded my expectations.
Pros
Excellent Clarity and staging
Attractive design
Very comfortable
Softears is a relative newcomer, though well regarded in the audiophile community with their reference sounding RS10 flagship, or the beautiful tones of the cheaper RSV. We have covered three of their universal high-end IEMs to date including the Cerberus but this time, our 4th review of their recently released Volume IEM takes us in a different direction.
This time around we have their most affordable IEM to date and by default, their most accessible creation that we believe will appeal to a very wide audience indeed.
Priced at $285, the Softears Volume enters the sub-$300 category, a little north of the saturated monitor market that tends to sit around $200 or lower but nevertheless a niche competes strongly for audiophiles' attention.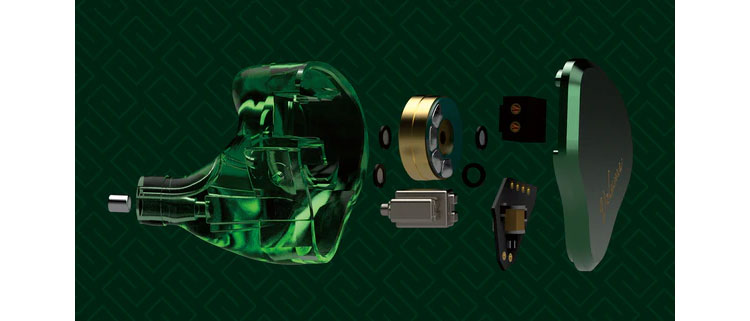 Tech Highlights
The Softears Volume has a hybrid configuration with a single dynamic driver and a dual BA configuration using a three-way crossover design.
A diaphragm coil with Softears' new-generation non-texture PEEK suspension with a Beryllium-plated dome can be found on its 10mm dynamic drivers. This is tuned to have a clean and punchy bass presentation.
An addition of two customized balanced armatures is found alongside the DD, completing the hybrid configuration. They are tuned to have a rich and clean midrange showing off smooth vocals and detailed instrumentals. The treble also is tuned to have a good treble extension and clarity.
Design
The Softears Volume has a captivating green shell, the perfect shade of green if you ask me. Photos might deceive but it is a vibrant rich-colored green. It looks darker in real life, more subtle and refined.
On another note, these IEMs sure are chunky. The shell is of a translucent green color made out of medical-grade resin. The drivers inside are neatly displayed, showing off its hybrid configuration.
The faceplate is made of aluminum alloy, brushed with a matte metallic green finish with the Softears logo printed in gold. Visually, this in-ear monitor looks premium with the selection of colors and materials.
Even though chunky, the shell is meticulously molded into an ergonomic shape that provides ample insertion and perfect fit. It is light and seamless in the ears, capturing the ear's natural shape.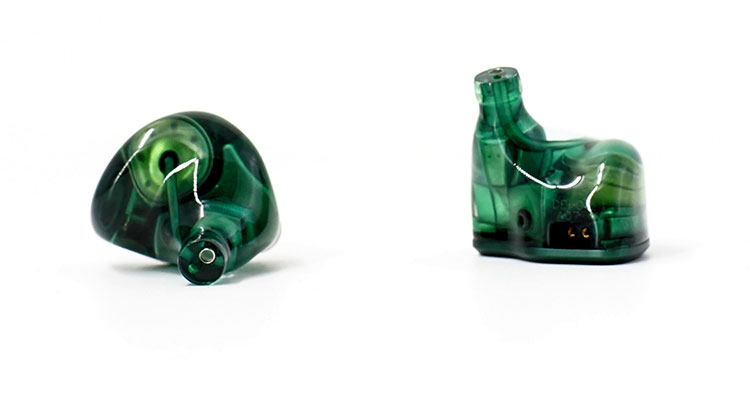 Comfort & Isolation
The size of the shell, although bigger than usual, never bothered me. It is light and easy on the ears so wearing them for long periods was never an issue. The shape of the shell and insertion depth was perfect for my ears.
When worn with foam tips, I can barely hear outside noise while playing music. Even the clacking of my obnoxious mechanical keyboard doesn't pass through. It's easy to focus on listening to music when out and about.
Tips
The package includes 2 sets of S, M, and L tips, foam tips, and narrow bore silicone tips. Given the good insertion depth, using a medium set of tips is enough to get a good seal.
Out of the 2 tips, the foam tips did better in terms of comfort and isolation. Although, this might be just a battle between preferences as it does not vary that much.
Replacing the foam tips with the silicone tips has shown a difference in the overall presentation of the IEM. There is more bass and treble on the silicone tips. Comparing the two, the foam tips provided a more laid-back and softer overall sound.
Stock Cable
Not much information can be found about the stock cables. Visually, the cable is a glossy black 4-core braided cable with a metal y-splitter. The cables do look like the same stock cable from the Softears RSV, which is a 27AWG 5N copper 4-wire Litz cable with a black PU jacket.
It is terminated with a 2-pin 0.78mm and has a 3.5mm straight plug. The cable is light and has nothing out of the ordinary in terms of microphonics. The memory wire around the ears provides comfortable and good memory retention.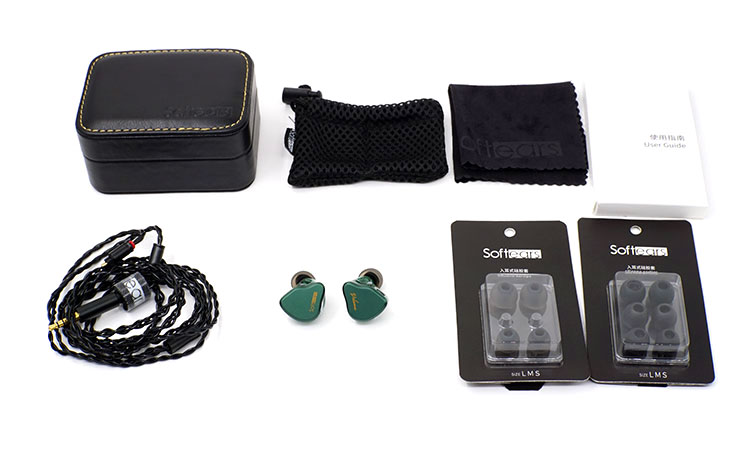 Packaging & Accessories
The packaging is surprisingly different from the other Softears models, in a good way. It comes in a big square green box with gold accents, the model's name Volume printed in the middle.
Inside the box, different compartments show the generous accessories that come with the monitor. The package includes 2 sets of silicone ear tips, a carry case, mesh pouch, cleaning cloth, cleaning brush, and user guide.
Carry case
Unlike the usual Softears carry case, the one included is a rectangular magnetic leather case. It has a nice leather finish, commonly found on more expensive monitors. It is quite spacious, with enough room to spare. It also has a strong magnetic clasp which safely secures the monitors inside.
Sound Impressions
Bass
One thing is for sure, this monitor is not for bass-seeking audiophiles. Make no mistake, this is still a hybrid monitor so even if the lows are recessed, there is still an adequate amount of rumble present from that dynamic driver.
For instance, tracks known to have deep and low sub-bass are well replicated with a soft low rumble. Mid-bass also has a good sense of control with a fast attack and decay. Bass textures are very natural, oftentimes, it has an airy tight punch.
Mids
What amazes me with this pair of IEMs is the clarity of both vocals and instrumentals. Although not especially tuned to be mid-centric, the presentation of both vocals and instruments is clear and articulate. Minute details are revealed in longer listening periods, which makes it pleasing to listen.
However, it has its flaws. The Volume doesn't have a lush midrange. Although overall tuned well, female vocals tend to be hollow in certain tracks. Even wind instruments are somewhat lacking when listening to them carefully.
Treble
The Volume excels in the treble region. It has a good treble extension, with a good amount of airiness and lightness when listening to various genres. The level of control on the treble is impressive. There were neither distortions nor dips in high frequencies. Highs are incredibly articulate, with the high notes displaying exceptional clarity.
The treble is also comfortably tuned, not exceeding the overall tonality of the monitor. Tracks with heavy cymbals do not overpower the overall track. It displays a light and airy crash with just the right amount of splash and extended shimmer.
Soundstage (including imaging)
The soundstage of the Volume is exceptional for a monitor in this price range. It exceeds expectations – wide and deep, with exceptional clarity that highlights extended details. Imaging is also above average with these monitors. It is easy to discern different elements even in busy tracks.
Synergy
Efficiency
With an impedance of 5Ω and sensitivity of 123.7db, the Softears Volume is easy to drive. Even powering it with a smartphone such as the iPhone 12 Pro Max can produce a decent performance at comfortable volume levels.
However, soundstage and imaging are notably improved with a good quality source DAP, such as the Hidizs AP80 Pro-X or the Astell and Kern SE100.
Pairings
Since the Volume has a recessed midrange, it would be great to pair it with DAPs with a lush midrange boost.
The Hidizs AP80 Pro-X is known to have a forward midrange paired well with the Volume. It added an extra boost to the Volume's midrange. Other DAPs with denser midrange would be a good pair as well, such as the Shanling m6 Pro and the Hiby R6 Pro.
Pairing the Astell & Kern SE100 with the Volume also produced good synergy. This combination produced a very clean-sounding overall presentation, with a thicker lower end. Vocals and dynamics are also better when paired with the SE100.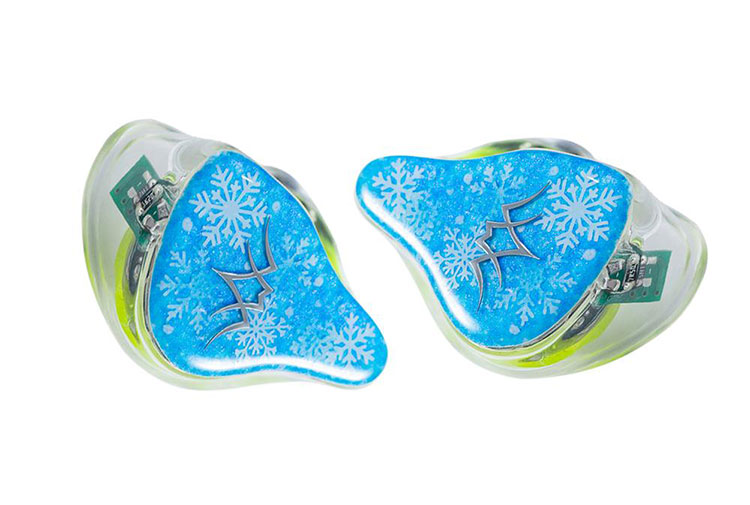 Select Comparisons
Fearless Shangri-la
$228
Technical
Both monitors have a hybrid configuration with a mixture of dynamic drivers and balanced armature. The Fearless Shangri-la has a 10mm Fearless Special Research Pole-Magnetic Dyanamic Driver and 4 BA from both Sonion and Colorful World.
Whereas, the Softears Volume also has its own 10mm PEEK suspension diaphragm coil with a beryllium-plated dome dynamic driver and 2 custom BA.
Design
Both monitors have unusual colored shells – a deviation from the usual black- and silver-colored monitors found in this price range. However, the two have different impressions. The Shangri-la has a "fun" make and build while the Volume has a more "refined" feel into them.
Both monitors have a 2-pin 0.78mm termination with an ear-hook design. While both monitors have their charm, I prefer the Volume's overall fit and look.
Performance
Both monitors are on the shy side when it comes to the bass region. Although, with heavy sub-bass songs, both can produce an adequate amount of rumble. The Shangri-la does offer more impactful sub-bass and mid-bass.
Despite having a more recessed bass region, the Volume has a more natural bass presentation in terms of both texture and details. The Bass response on the Volume has a more natural tone that the bass drum sounds like it's played live.
The midrange on the Shangri-la is more forward than the Volume. It also has a thicker midrange presentation. Although the Volume has a recessed midrange, the presentation of both instruments and vocals is a notch higher in terms of details and clarity. Male vocals are smoother and have more details than the Shangri-la.
The treble on the Shangri-la is a bit more forward than the Volume. Although both have a good treble extension, the Volume has an extra airier feel in the higher frequencies. High notes do shine more on the Volume with its exceptional clarity. Both monitors do exhibit good treble presentation without the risk of over-fatigue.
Although both monitors have great soundstage, the soundstage is a lot wider with the Volume. Both vocals and instruments are displayed in a wider space on the Volume.
This is more pronounced on overlapping vocals, wherein Volume's presentation highlights more details in layers. Both monitors have above-average imaging projected in a multi-directional approach.
7Hz Timeless
$219
Technical
The 7Hz Timeless is 2021's Bang for Buck Universal IEM and it's interesting to see it side by side with an IEM a little bit north of its price.
While the Volume has a hybrid configuration with a 10mm Dynamic and 2 Balanced Armature configuration, Timeless has a gigantic 14.2mm magnetic planar driver with an ultra-thin diaphragm.
Design
Timeless sticks with a "timeless" design with its one-of-a-kind disc design that looks like a watch face or a spaceship from outer space. It's in a metallic shell with a stealth black textured faceplate.
The Volume has a completely different look with its green-colored ergonomic shell made of metal and medical-grade resin. It was tastefully made, giving a sense of elegance and refinement, despite the unusual green color.
The Timeless has an MMCX-4.4mm termination while the Volume has a more common 2-pin 0.78mm -3.5mm termination.
Performance
Timeless offers a deeper and meatier rumble in the sub-bass region. This is no surprise as the Volume is on the shy side when it comes to the lows. It does make up for the lack of sub-bass with its natural bass response. Bass drums sound airier and more natural on the Volume.
Both monitors have a relatively recessed midrange region. The Volume does, however, deliver a better midrange presentation with its exceptional clarity. Minute details are more noticeable in the Volume, perhaps due to its exceedingly clear vocal presentation.
The treble tuning of both monitors is alike. However, the Timeless sounds sharper with certain tracks. The Volume is more comfortably tuned without showing sharp peaks. Both monitors have a great treble extension, with an adequate amount of shimmer and sparkle in higher frequencies.
The soundstage of both monitors is above average, with the Volume displaying a wider soundstage. Layering is presented well on both monitors. Busy tracks were handled with ease on both monitors. Imaging is also accurate on both monitors, projected in a multi-directional approach.
Our Verdict
The Volume is Softears' first attempt in competing in the sub-$300 market. In fact, this is the company's most affordable offering to date. To be honest, I had high expectations with the Volume, given that Softears has been creating a bit of a buzz with their flagship monitors.
Although budget audiophiles might shy away from its price tag, this is completely justified by Volume's exceptional overall clarity and soundstage. I would dare say this is the best that I have reviewed to date at this price range and has exceeded my expectations.
With Volume's refined design and pleasing overall tuning, it is definitely a bargain at its SRP of $299.
Softears Volume Specifications
Impedance: 5Ω @ 1kHz.
Sensitivity: 123.7dB/Vrms@1kHz.
Effective frequency response: 20Hz-20kHz(IEC60318-4).
Frequency range: 8Hz-40kHz(1/4 free-field).
THD+N: <1%@1kHz.