We review the new Topping NX7 which is a portable analog headphone and IEM amplifier capable of up to 1.4W of output power. It is priced at $179.
Disclaimer: This is a sample unit sent to us in exchange for our honest opinion. We thank the team at Shenzhen Audio and Topping for giving us this opportunity.
To read more about Topping products that we have previously featured on Headfonics click here.
Note, that this article follows our latest scoring guidelines which you can read up on here.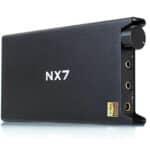 Topping NX7 Review
The Topping NX7 is a very versatile and excellent-sounding desktop amplifier with portability capability. It offers large amounts of very clean power and is absent of hiss and even the volume knob is absent of imbalance.
Pros
Lots of clean dynamic power
Can drive some demanding headphones
Very low noise floor
Cons
Additional cost of a DAC required
No balanced topology
Most modern urbanites started their audio journey with a portable analog amplifier. I've had many besides all the walkmans I owned in prior times.
My first amp was an op-amp-based CMOY inside an Altoids tin can powered by a common 9 volt DC battery. I later on upgraded to better inline amps but then came the DAC amp combos and dongle DACs and at that point, the portable analog amplifier was basically shelved.
Topping's release of an analog inline amplifier called the NX7 into a market that has become saturated with integrated portable DAC/amps plus a plethora of dongle DACs might be considered as daring in 2022 So where does it fit in?
No dongle as of now can drive every headphone out there due to their limited amount of power. Therefore what would you do if you need desktop power on the go? I think this is where the NX7 might come in handy.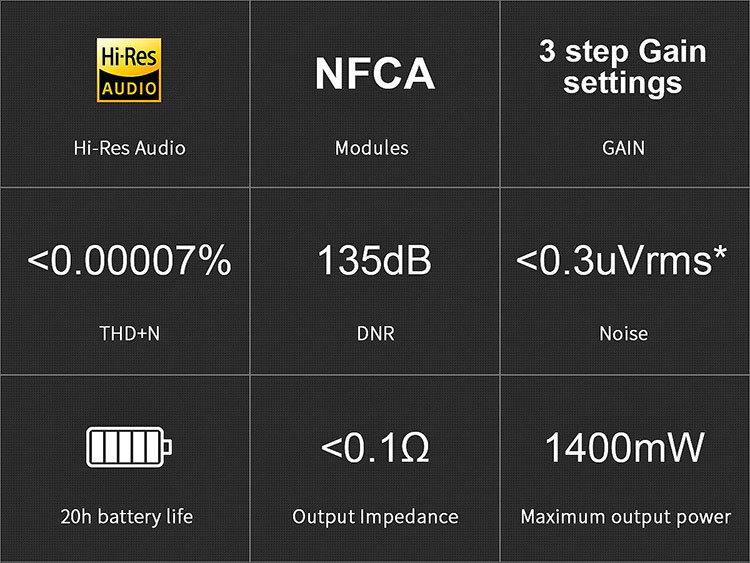 Tech Highlights
The Topping NX7 is an analog battery-powered headphone amplifier that seems to be the little sibling within Topping's desktop amplifier range including the likes of the L30. The similarities are more than one but the most notable is that the NX7 uses NFCA modules in its amplification design.
The nestled feedback composite amplifier implementation sits in a voltage current hybrid feedback design that claims a very low noise level of 0.3µVrms measured. With distortion levels at 0.00007%, it sure puts the NX7 in front performance-wise. Especially compared to my old CMOY, and is certainly a big leap from that.
The NX7 comes with a built-in rechargeable 4000mAh battery which is incorporated to exclusively power the unit. With this particular design, the NX7 avoids using active voltage circuitry which further diminishes any noise production.
Many manufacturers are using this technique since it delivers way cleaner power to the amplifier circuitry compared to active voltage circuitry.
Performance Numbers
The Topping NX7 specifications read like those of some desktop models starting with 1400mW max per side at 32Ω, 1200mW at 16Ω, and up to 90mW per side at 600Ω. The output impedance is listed at 0.1Ω.
The circuit topology is single-ended for the line-in, however, the NX7 does offer the option of a 4.4mm and a 3.5mm PO and 3 stages of gain control depending on your connection preferences.
The power ratings have a very low amount of output noise measured at 1.3µVrms but it drops down further to 0.3µVrms while on the lowest gain which is very silent and which also seems to be the general character of this amplifier.
The NX7 has an SNR rating of 135db A-weighted and distortion levels are very low. The lowest number posted is 0.00008% measured at 200mW and at 32Ω. The second lowest was 0.00007% which was measured at 83mW at 300Ω.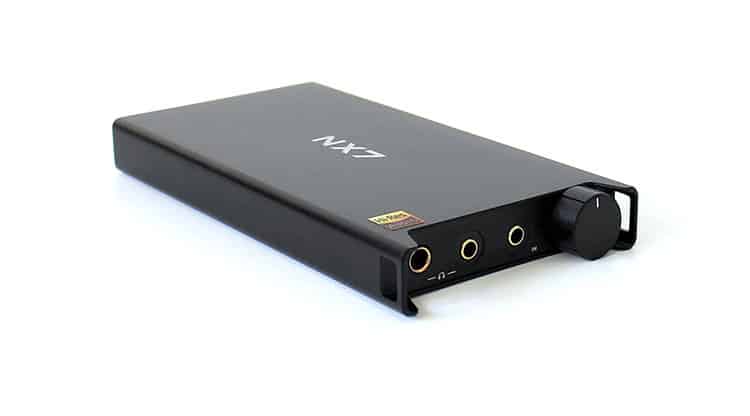 Design
The Topping NX7 comes in two color schemes: black and silver. It has an all-aluminum outer core and it has what I call a rack mountable appearance. The outer case is very robust and seems to be a 2 section shell sleeve design held together with 2 set screws.
There are some frontal protrusions that resemble rack mounting brackets but they actually have purpose and function by acting as corner guards and are not there just for looks.
They protect against accidental volume knob bumping and the connections to some point. Trust me you don't want to accidentally and suddenly bump up that volume control.
Since we're on the volume control the knob doubles up as the power on and off switch. You simply turn to click on the unit. The knob operation seems very smooth and doesn't seem to have much channel imbalance thankfully even though it definitely gives me the sense of an analog knob.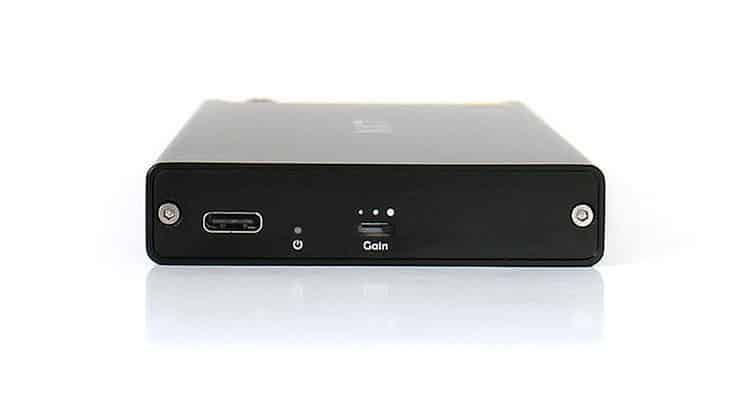 I/O
All the major I/O ports sit on top together with the knurled volume knob with the exception of the 3 position micro switch gain control and the USB-C charging port which sits at the bottom or back part of the unit. Remember, that USB-C port is just for charging the internal battery and there is no DAC inside this unit.
I found it rather oddball that the NX7 seems to be equipped with wireless charging capability. However, there's no mention of this feature anywhere. I had to verify that fact by physically placing the unit atop my wireless charger to surprisingly find out that the wireless feature is there and works just fine.
On the front panel sit, 3 gold-plated ports. Two of them are 3.5mm single-ended and designated input and output ports. There's also a 4.4mm balanced output port but no balanced input since this is a single-ended amplification circuit.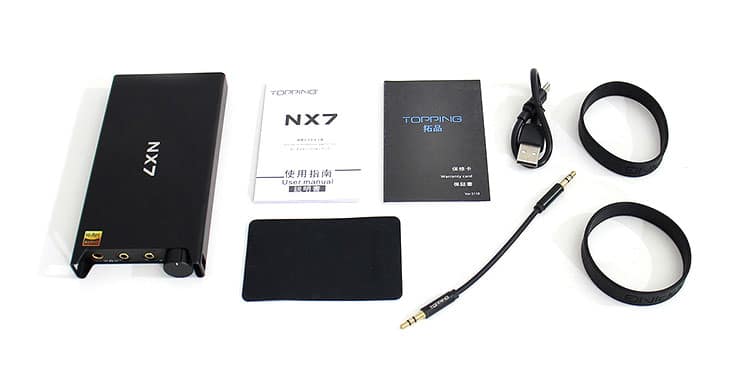 Packaging & Accessories
If you go back and look at the box of the Topping A90 then take that box and shrink it down in size considerably and you would get a general idea of what the NX7 box is like. These two Topping amplifiers seem to be similar in packaging.
Inside the box, there are a total of 7 items including the NX7 which is laid inside a foam mold just like the A90 was.
The usual user manual and warranty card are also included plus a 3.5mm to 3.5mm cable and a USB-C to USB-A cable which again, is not a data cable and is just supplied for charging the NX7.
There's also a rubber pad and two rubber rings which I appreciate that Topping includes. However, if you use these types of rings with a mobile device the bands will lay across the screen which is not ideal.
You might lose the ability to use a phone's fingerprint reader which I mostly use to activate the screen instead of wearing out the power button.
Sound Impressions
I must admit that the Topping NX7 packs a hard-hitting punch. It's very dynamic sounding, similar to a THX amplifier but the NX7 does a smoother midrange with less edginess and it might edge out one in transient response as well.
The NX7 amp section is rather neutral, yes, but it has a small amount of forwardness to its character which gives it a punchy sensory character while still retaining a true-to-tone character even at high volume levels.
Obviously, a wide frequency response is present with excellent extension that goes both ways. Everything is reproduced in a clean and uncongested way through which one can certainly accredit to its good resolving abilities and since it rarely runs out of steam the latter fact tends to also help.
The bass response seems tight, fast, and forward impulsive with a high level of fast transients that propels music and keeps it moving forward. The midrange comes through crisp and smooth simultaneously and highly detailed while the high frequencies seem to have no ceiling in the upper extension.
The low noise floor helps you distinguish those properly placed high-frequency notes and the rest of the stage. The overall soundstage seems to follow the recording so if the recording is wide sounding that will reflect in its output.