This is a review of the FiiO BTR5 which is a Bluetooth or wireless DAC/Amp dongle featuring LDAC/HWA decoding, BT5.0, and 9 hours of battery life. Its price is $119.99.
Disclaimer: This is a sample in exchange for our honest opinion. Headfonics is an independent website with no affiliate links or status. We thank FiiO for this opportunity.
To learn more about FiiO products previously covered on Headfonics you can click here.
Note, that this article follows our latest guidelines which you can read up on here.
FiiO BTR5
The FiiO BTR5 tuning does well to hide the flaws of Bluetooth, especially on bass texture, keeping it agile and lively. If you are looking for a Bluetooth receiver upgrade, the performance will make it a safe bet.
Pros
LDAC sound quality
Balanced output
Attractive design
Cons
Better bass from USB-DAC
FiiO's BTR3 has been a great hit and not long ago we received their new flagship BTR5, a highly anticipated product with cool curved glass panels on both sides. Stepping up from the BTR3 the new flagship BT dongle offers a lot more on paper than strong rivals like the Earsonics ES100.
Will this hi-res labeled dongle be the 'best of the best' in the marketplace in 2020 and offer you more DAP-level sound quality? Read on!
Tech Inside
There are a lot of technical highlights from FiiO inside the BTR5, more so than any previous BT decoding dongle they have released to date. The flagship BT dongle packs in an LCD screen, a 2.5mm balanced output, Dual ESS 9218P, and CSR8675 chipsets.
It also has FPGA-coded clock management with dual oscillators, Bluetooth 5.0, and XMOS XUF208 solution for USB C connection. There are near-field connection technologies stuffed inside including NFC quick connection, smart APP control panel as well as onboard equalizing options.
This covers pretty much everything you would ever need for a Bluetooth receiver. The BTR5 is more than a Bluetooth dongle as it also doubles as a decoder for USB connections supporting up to DSD256 decoding rates.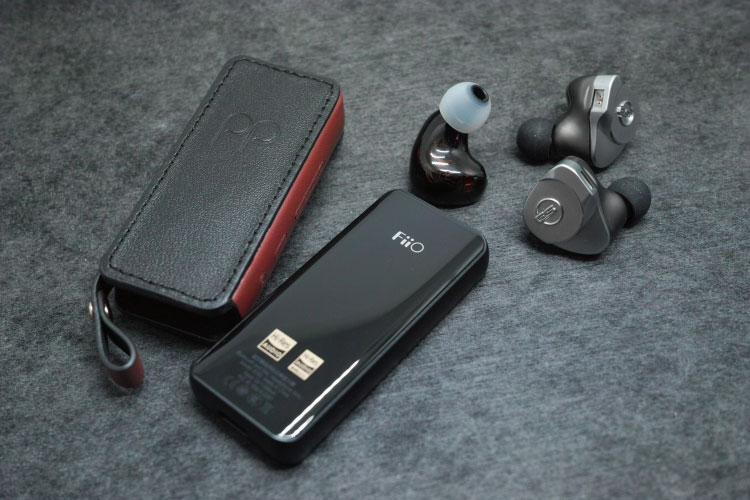 Design
Out of all of FiiO's dongles to date, the BTR5 has the best and possibly the most complex build quality and design to date. The sleek design matches the curved glass panels very nicely with an oleophobic coating to prevent fingerprint collection.
The Aluminium frame is well-machined and very lightweight. The screen can be clearly read under sunlight and the buttons have clean clicks and are very responsive with a short travel.
OLED screen
The screen on the BTR5 is also quite similar to the Lotoo PAW S. FiiO also packs in a 0.49 inch OLED screen on BTR5 with a 64×32 pixel real estate to show all info you will need. This includes pairing status, battery level, codecs being used, volume, and call status. You can navigate through charging options, car mode, and onboard filters, as well as tweak the built-in Equalizer.
Battery Life
The BTR5 takes only 1.5 hours to fully charge you will get 9 hours max playback on a 3.5mm output with BTR5's 550mAh battery. During burn-in testing, we measured the BTR5 performance at around 5-6 hours with Redbook WAV files using the balanced 2.5mm output before the battery indicator hit zero.
Controls
On the top panel of the device, you will find the analog outputs including a 3.5mm TRS unbalanced and 2.5mm balanced socket. Please note that if you plug in both 3.5mm and 2.5mm at the same time you will only get output from the 3.5mm side .so it is not dual-compatible.
Turning to the right side there are 3 buttons and a microphone hole that will pick up your voice when you use it hands-free. From the power button and volume control, you can find a multifunction button that will trigger playback functions, call-taking, and voice assistant functionality. This acts in a similar manner to in-line remotes you normally find on some IEM cables.
Microphone
There are two omnidirectional microphones inside with cVc8.0 noise reduction. The device will switch to the in-line microphone when you plug in a 3.5mm CTIA standard earphone with a mic. However, if you plug in an earphone under the OMTP standard which has the mic/ground pin inverted, the mic control may not be supported.
Other Features
Independent Volume Control & Memory
This is a very handy feature to be able to control your phone's volume and BTR5's volume separately. You don't need to worry about a sudden jump in volume and adjust every single time from low volume.
NFC Connection
At first glance, you might spot the NFC logo on the front panel of the BTR5. If your Phone has NFC functionality then pairing is quite fast and simple. You simply allow the BTR5 to touch your NFC device when enabled and it will be instantly connected.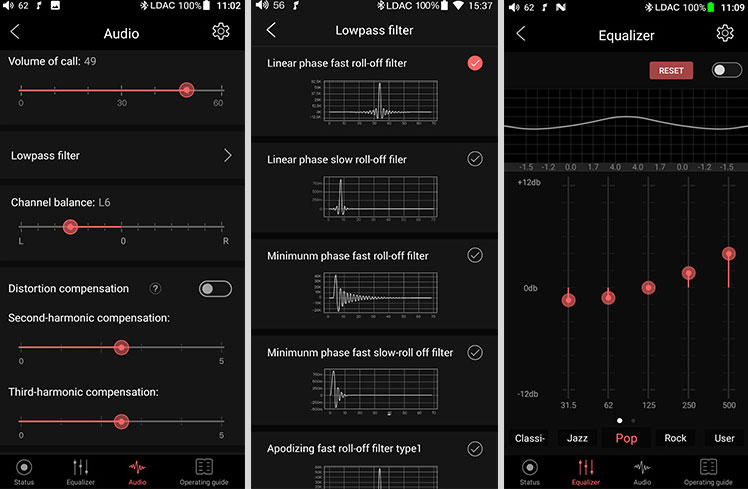 FiiO Music App
Pairing with the FiiO music app you will be able to configure channel balance, switch between filters, and access to 10band equalizer. This is a very handy feature while other app users could also access the onboard EQ menu on BTR5.
Dual ESS DAC
The BTR5 uses a dual DAC ES9218P topology in synchronization mode with FPGA clock management. The analog output is capable of outputting at a max 220mW on a 32Ω (balanced) as well as 7.6Vpp at 300Ω. This is double what the Earsonics ES100 as well as offering a better SNR performance, longer playback time, and higher codec support.
FPGA Clock Management
We aren't seeing any FPGA DAC designs here but this is also a fun bonus to have customized chips helping dedicated to clocking management. The FPGA is responsible for Bluetooth and USB digital signal processing and clock management.
The topology has the FPGA paired with dual crystal oscillators operating at 45.1584M/49.152M implemented for different sampling rates. The audio signal is filtered to reduce jitter and from FiiO's data, the playback quality with LDAC codec reaches local playback quality similar to DAPs.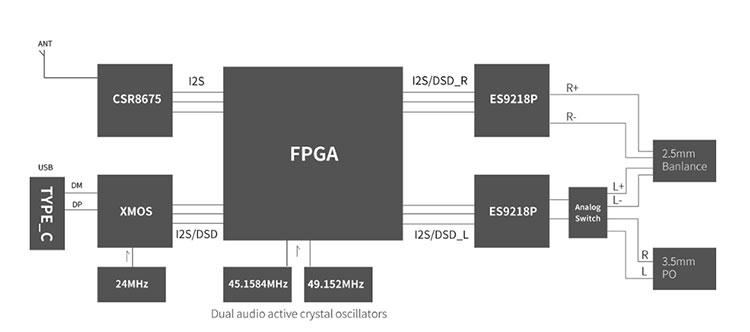 Codec support
Starting off with Bluetooth 5.0 support, BTR5 can handle AAC/SBC/aptX/aptX low latency/aptX HD/LDAC at 96kHz max. The Qualcomm CSR8675 solution onboard supports 24BIT and 120MHz digital signal processing. When you connect to USB sources it can support up to 384kHz files and native DSD256 decoding.
Packaging & Accessories
The BTR5 comes in professional packaging, nothing less than we expected from FiiO, and like the M5 they are including a transparent hard case for the BTR5. I have been using the M5 for sports and the case is quite rugged so I expect the same durability from the BTR5 case which looks as sturdy.
Along with the hard case, you also get a USB C to USB A cable for charging also a warranty card, and a quick start guide.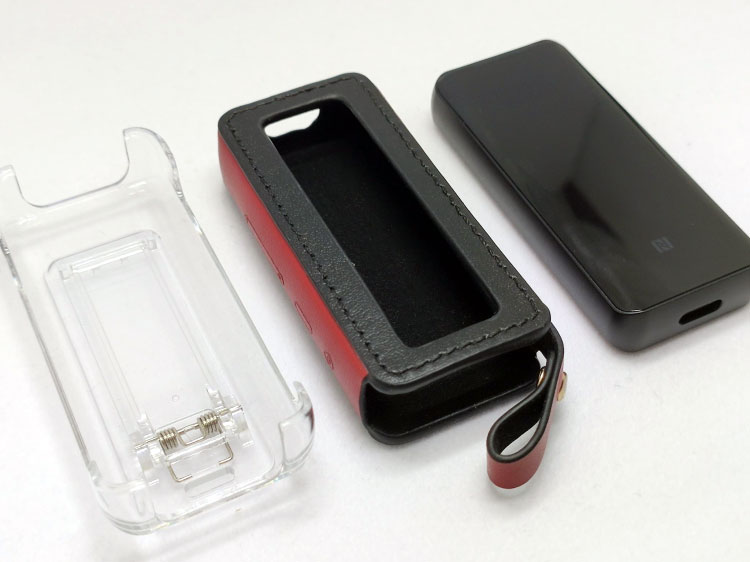 DD HIFI leather case
This does not come with the BTR5 package but is available to buy at DD HiFi's AliExpress store for $19.99. It looks much better than the stock hard case and offers better protection for the BTR5 with its refined leather finish. It has a small buckle or lanyard loop to allow you to hang it easily and also protects the microphone from dust.
Sound Impressions
Setup
Unlike other Bluetooth devices, the BTR5 doubles as a DAC for USB outputs so, we will be checking its performance connected over Bluetooth as well as USB.
Various earphones tested with the BTR5 included a Final E5000, Okki OH1, OH500 from Oriveti, FiiO's own FA7, and Etymotic's ER2SE. These all have different impedance levels and will help test the BTR5's power and synergy.
Over Bluetooth
The BTR5 displays a natural sound signature with little coloration over its two outputs. The staging is excellent for a BT device and there is a decent amount of detail along with good power that can drive most of our test monitors pretty well.
Plugging different earphones in you will notice the output power being quite sufficient, unlike many BT receivers which sound slow and lossy. Sufficient swing in the output gives dynamic IEMs such as the Final E5000 a tighter, solid punchy bass with a fast attack.
Combined with good detail in the mid-lows the BTR5 sounds resolving and balanced and great for light-paced music with its soft touch. The low-end also sounds punchier on the 2.5mm balanced output compared to the 3.5mm TRS unbalanced presentation.
Swift Articulation
Generally, articulation is swift on most music, and vocals are naturally presented with a small lift in the mid-treble to boost perceived resolution. For me, it works well for IEMs that are well-balanced like the ER2SE. More V-shaped tunings like the OH1 may reveal a lack of texture in the lows but in return, it makes the combined signature more engaging.
The Treble extends quite well and there is no obvious roll-off, there is good air in the treble that helps render a larger soundstage, and nothing is piercing hot, as a Bluetooth receiver I will call it well-textured and controlled. Instruments like flutes/accordions, as a result, are presented swiftly and naturally without being hollow, blanketed, dull, or blunt in sound.
Vocal and instrumental separation is better than I expected. It feels like Bluetooth receivers are catching up with similarly priced DAP performances and you won't feel the sound signature being greatly altered or obviously unnatural.
Sensitive small cans like the Vento from Soundmagic can be driven loud and full in sound with satisfactory resolving power from the BTR5 so it is not just an IEM experience.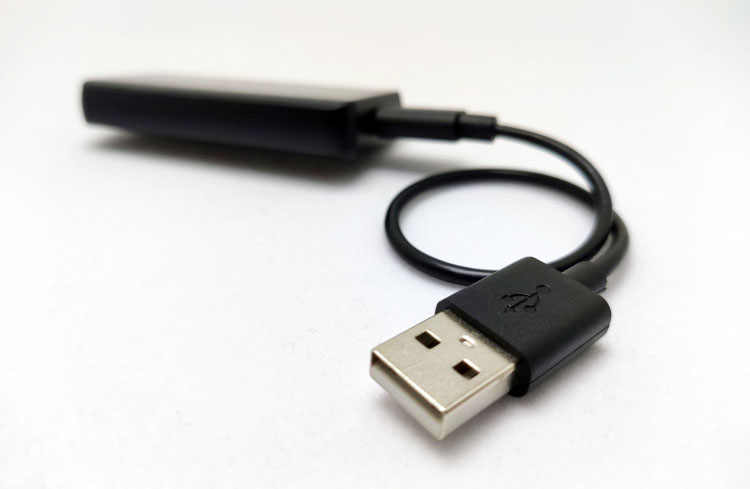 Over USB decoding
An XMOS XUF208 chipset is implemented for UAC 2.0 asynchronous USB decoding, with a 384kHz sampling rate and DSD native decoding supported.
This is plug-and-play so you can use the BTR5 without a driver. However, you will need to download a driver on FiiO's site to support the higher resolution codecs and ensure you get better performance on a PC.
The background noise levels are pretty much the same on the USB connection as it is for BT. That means it is quiet for most IEMs and barely noticeable in day-to-day usage.
The sound signature on the USB connection has some differences from the Bluetooth version. The wired connection seems to be adding a bit more texture to the mid-lows and offering better weight to the vocal performance.
I am not sure if there is a low cut that adds some roll-off to the subs on Bluetooth mode but the USB mode seems to deliver a more solid bass sound than the wireless connection. The overall output quality as a wired DAC is decent but if there are slightly more bass and better vocal separation, then this would be a killer device.
Select Comparisons
The M5 functions very similarly to the BTR5 but it is also a DAP with sports features. Considering there is much less power consumption without system loads and a colorful screen you can expect the BTR5 to do better in terms of power management.
When you listen to both you can hear the performance on BTR5 being a step up from M5. There is much more power and clarity on the BTR5 and it sounds more natural and resolving at the same time.
On the flip side, the M5 offers a lot more functionality and works as a DAP. However, you can also use the M5 to host the BTR5 and make an ultra-portable setup.
Earstudio ES100
The ES100 has been one of the best sellers in the market for a good while. The background noise is low and there is a multi-band EQ app with good clarity and natural vocal timbre.
There is, less output power when compared to the BTR5, and less extension at both ends of the FR including diminished dynamic range.
Overall, the ES100 is nicely engineered and tuned well but having them side by side you will know it misses out on the lows and highs. The BTR5 doesn't roll off as audibly as the ES100 and is clearly a league above the ES100 in technical performance and design at a very similar price bracket.
Upgrading the W5 to the latest firmware and connecting both devices to the R6 you will find some similarities in the presentation to the BTR5.
The two receivers go head to head on 3.5, both display a balanced signature and are well-controlled. With higher-resolution tracks, the BTR5 sounds more refined in the treble but W5 gets more of a contrasting engaging signature.
When you switch to 2.5 the BTR5 clearly kills the competition with better power and performance, not to mention there are a lot more toggle options on the device compared to the W5 with no buttons and display.
The W5 offers a special minimalist design, also Hiby's UAT technology transmits at the highest rate in the market now making it a unique BT dongle. However, the BTR5 delivers even better value-balancing functionality, connectivity, and stability. Albeit being sold at a higher price to me the BTR5 still offers more value.
If you are still deciding which item to get, at a higher price the BTR5 is offering a lot more value and performance. There is no reason for you not to upgrade to the BTR5 if sound quality and power are a priority.
It boasts a better DAC with 32BIT/384kHz PCM and DSD256 support, discrete oscillators, and enhanced USB audio support. The BTR5 also offers balanced output and much more power in the sound than the BTR3.
Nonetheless, the BTR3 is just half the price so if you aren't using 2.5mm earphones at all and want more battery time, the BTR3 could as well be a good fit.
Our Verdict
The BTR5 is the best Bluetooth receiver I have tried up to date, it offers pretty much everything I imagined on a 2020 Bluetooth device.
Overall, there is no competition offering such a complete package combining great aesthetics, functionality, connectivity also decent sound performance comparable to entry-mid-level DAPs.
The tuning also does well to hide the flaws of Bluetooth, especially on bass texture, keeping it agile and lively. If you are looking for a Bluetooth receiver upgrade, the performance of BTR5 will make it a safe bet.
DAP users with 2.5mm terminated earphones may also find it an impressive addition to the collection which could potentially replace your entry-mid-level DAPs.
FiiO BTR5 Specifications
High-Performance Dual DAC setup, featuring ES9218P DAC chip
Dual Output ports. 3.5mm Unbalanced & 2.5mm Balanced Output.
Bluetooth 5.0 supports Bluetooth formats, including SBC, AAC aptX, aptX HD, aptX LL, and LDAC.
Native DSD decoding
Control Chip XMOS XUF208
CSR8675 Flagship Bluetooth chip from Qualcomm
OLED Display
550mAh battery offering 9 hours of battery life
Built-In NFC