The Panasonic RZ-S500W is an active noise canceling capable TWS featuring touch control, app integration, and BT5.0 It is priced at $179.99
Disclaimer: The Panasonic RZ-S500W was sent to us in exchange for our honest opinion in this review. Many thanks to Panasonic for giving us this opportunity.
You can read about previous TWS products reviewed on Headfonics here.
Note, this 2-page review follows our new scoring guidelines for 2020 which you can read up on here.
Panasonic RZ-S500W
I like the Panasonic RZ-S500W a lot because they have a lot they do well. The app is feature-rich. The earbuds have a modern look unique in a world of common looking TWS models. They also have a soft mannered sound that is very appealing.
I remember the Panasonic brand since I can remember. I happen to own a few components that are close to 25 years old or maybe even older which are made by Panasonic. Mostly vintage stuff. They all seem to work as they have from day one other than having some cosmetic wear due to aging.
Panasonic offered us a chance to review their RZ-S500W TWS which is their first set of in-ear TWS headphones. The first question I asked myself was, can the new generation of Panasonic components be like those from years before? What makes it stand out in this saturated market? Read on.
Tech Inside
Panasonic is following a trend of not mentioning what particular chis is used in the RZ-S500W TWS but I have a feeling this chip is not an off the shelf chip. I bet the chip is a custom made chip with custom firmware written up by Panasonic.
What is known about the chip is that it is a 5.0 Bluetooth chip with a class 1 wireless equipment classification rating, a maximum power output of 11dbm at a frequency band of between 2402mhz and up to 2480mhz.
Codec
Another trend I have seen lately is the exclusion of APTx in many TWS modern-day models. The Panasonic RZ-S500W is one and has 2 codecs available. The basic and common SBC is up and running alongside ACC which again is gaining popularity and is not exclusive of Apple products anymore and runs on Andriod also.
This is alongside A2DP, AVRCP, HSP, and HPP supported profiles. It is a basic codec support profile support list but the two combined ensure connectivity to most BT devices. I did not run into any codec issues whatsoever.
ANC
The Panasonic RZ-S500W has ANC that is adjustable as if it were a volume control with 50 increments of adjustment. I have seen two or even three but 50 is way out there.
I think it is one of the best ANC implementations out there and it works very well with a minimum amount of alteration to the sound quality. Although there seems to be a smidge more of bass with ANC on.
You can activate it or adjust it with the earbud touch controls or even through the Panasonic Audio Connect app available that you can download in your mobile app store. I downloaded my copy from the Android Playstore.
Not only does it do ANC but it also has ambient sound amplification in case you wanna hear your surroundings. This feature and its sensitivity are also adjustable. Very nice.
Driver
The Panasonic RZ-S500W uses an 8mm single dynamic driver that handles the sound spectrum. It seems like a quality driver and they seem to be very well matched with fairly wide frequency response.
I ran the usual tone generator test on the Panasonic RZ-S500W and they played through the frequency spectrum fairly even across the board with a small peak at around 3khz.
MEMS Microphone System
The Panasonic RZ-S500W has a 6 MEMS microphone system that also has noise reduction. Each earbud contains 3 microphones. I got good results from the mic system and no one complained about my vocal clarity. The noise reduction seemed to clean things up a bit and the quality was good bilaterally for me.
I am certain these microphones have a noise filter similar to cVc and this one works very well at blocking wind and other external noise sources.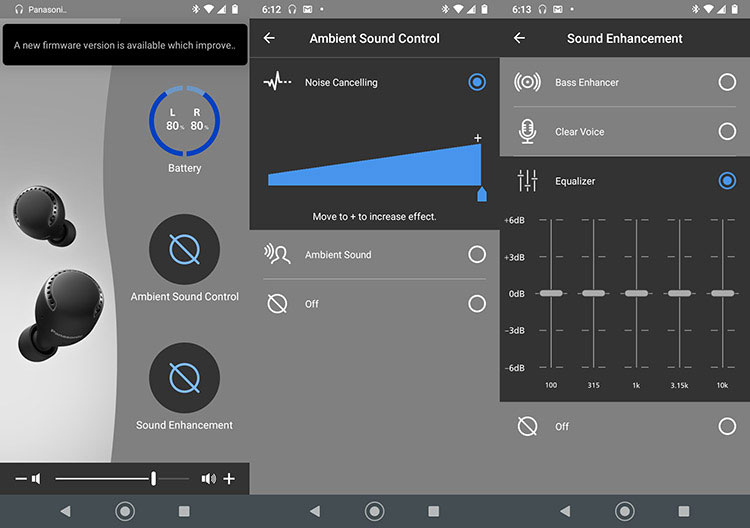 App
Let us talk about the app for a bit. The Panasonic Audio Connect app has many features. Once you download it and install it, the app will scan to see if there are firmware upgrades the first time you open it up and once you pair up the buds. If there are any updates, the app will prompt you and advise you to upgrade.
When you update the firmware, let the unit do what it has to do and, be patient. I would initiate it and walk away for a while and let it do its thing. Make sure battery life is at 100% as with all devices.
The app has many features others fail to bring to the table. This app is full-featured. Like I mentioned earlier, you can download the app for free in your mobile app store.
IPX4 Rating
The Panasonic RZ-S500W is IPX4 waterproof rated. This is important because this is, after all, a portable device which will get some action outside so therefore waterproofing is essential in my opinion.
Design
The Panasonic RZ-S500W TWS earbuds have a unique design. They are a fairly large, cylindrical shape with an angled output nozzle. The output nozzle has a notched style system and can accommodate some aftermarket tips.
The mode LED is small but bright and dual-colored in red and blue depending on its function or mode. You can turn off the LEDs in the app. Some of our readers have been asking for this feature so here is one for you.
The earbuds have a modern look that I like and are a change from the traditional shapes so if you want something unique you will like these. They also have an unusual amount of gold contacts with a total of six.
Controls
The Panasonic RZ-S500W has touch control features that are well implemented and all the features you would need are there including controls for media players as well as for phone functions. I found them to work well with the right amount of sensitivity.
You could do things like factory reset and gain access to voice command features with Amazon Alexa which is already preinstalled, Google Assistant, and SIRI. The pad is fairly large because it is a touchpad and antenna combo.
Comfort
Comfort seems good even though their appearance would not indicate that because of their odd shape and large size. But, in fact, the inner ear barely touches the earbud itself once you place them correctly in the ear.
They are somewhat chunky and stick out of the ear some but again are very comfortable and weigh only 7 grams each earbud. They do not fall out easily either. Unlike the earbuds, the charging cradle has a rather conventional design. The cradle is not too large or too heavy (45 grams) making it an easy carry.
Charging Cradle
The Panasonic RZ-S500W charging cradle has an 800mah battery and each earbud contains an 85mah battery. Both are Lithium Polymer batteries. The battery capacity on the cradle is rather high for the average TWS I must say.
The charging cradle has a USB-C connector for charging but if you have a wireless charging station, the Panasonic RZ-S500W also has wireless charging capability.
Panasonic claims you can obtain a maximum time of payback of around 5 hours on a full charge. I got 5 to 6 hours of playback depending on the volume level I used with ANC off. Three to four charges was the average time needed to fully charge the earbuds which are about right with what Panasonic claims.
Accessories
The Panasonic RZ-S500W comes with 5 different earbud tip sizes: XS, S, M, L, XL. The medium-sized tips are preinstalled and the rest come individually packed and labeled.
A USB-C charging wire is also included. It all comes in a well-labeled laminated box and the main components are protected in foam inside a plastic clear cradle.
Sound Impressions
Summary
The Panasonic RZ-S500W are a very pleasant listen and probably one of the better sounding TWS models I have. I did all the testing with ANC off because the ANC augments the bass somewhat. The overall sound signature is soft natured and relaxed.
The days of bass bloated TWS models seem to be over and the Panasonic RZ-S500W has a fairly flat frequency response thankfully. Perhaps there is just a few decibels of V shape present but just a fun amount of V.
The tone generator test reveals that these can go down to 30hz before dipping and completely dropping below 22hz. On the high-frequency side, they showed the capability of reaching at least 15khz before taking a plunge.
I could not detect hiss or any noise, even in the high-frequency tone test which on other TWS models produced lots of terrible noise, the Panasonic RZ-S500W were fairly silent although at times desired more volume.
Bass
The bass is unusually flat for a TWS. It might have just a few decibels raised from neutral but it has a tasteful amount which adds some color and musicality. Bass clarity is good, and my only wish is for a speedier response because I prefer speedy bass over a laid-back presentation. If you want a relaxed bass response you will like these.
On the Impact side, there is not much of it. The lower octaves are more of an audible trait but bass notes do sound distinct with good definition.
Midrange
Once again, the sound signature commonality is relaxed which carries on through the frequency response with the midrange not being the exception and following this characteristic.
The mids are softly presented and not in your face or harsh. They seem gentle but then again, so does the entire frequency spectrum. There is a touch of sibilance around the 3 or 4khz region and there is a small peak there.
The Panasonic RZ-S500W tonality is decent and nothing seems out of place in pitch but there is not much to write home about.
Treble
Once again the soft character carries through but the treble response seems clean and does shimmer at times. The tone generator test showed these can reach 15khz and beyond with no noise present unlike other TWS models and it shows by the cleanliness of the highs.
Yes, I would like more high-frequency extension and perhaps more energy but 15khz is fine for general listening. These are TWS and not dog whistles. They beat most TWS models in the highs with some crispness and cleanliness with the lack of hiss or strange noise.
Staging
The Panasonic RZ-S500W staging is not too wide or too deep either. There is just enough to keep you entertained. I do sense a touch of height but no rear projecting or much layering either.
Most sounds seem to be where they belong but do not expect stellar staging. The staging it presents is narrow. After all, it is TWS and this tech needs more development to be called audiophile quality.
However, these are pretty close to being acceptable quality sound producers most will be happy with.
Sound Enhancement
The Panasonic RZ-S500W has a few sound enhancement features which are available thru the app. A 5 band equalizer is included which is accompanied by voice enhancement and a bass boost.
The bass boost and the clear voice enhancement are fixed and not adjustable similar to the ANC or ambient noise feature. I found the bass boost a touch overwhelming but on certain occasions, the clear voice enhancement worked out well with some added vocal volume especially on phone calls.
Wireless Performance
Pairing
One of the things the Panasonic RZ-S500W has is a finicky pairing sequence because you have to catch it at that split moment as the LEDs start to blink. The initial pairing has a procedure to follow so read the manual.
My Bluetooth trap, which is what I call a certain adapter I have for being harder to pair with more than other devices did trip these up a few times.
There is an updated firmware that did improve connectivity compared to the stock firmware. Once I updated, the pairing issue got better so that means Panasonic will probably keep improving these TWS buds.
Latency
Marcus knows his stuff and he taught me a trick to check for latency to obtain a fairly accurate number. It requires a video file with lots of speech and a VLC player. So I used the VLC player to adjust the latency on the player to lip-synch match the latency on the Panasonic RZ-S500W. They did fairly well and average for a TWS.
The ideal setting for me was 0.3 seconds on the negative. So it is safe to say latency on the Panasonic RZ-S500W is around 0.3 seconds which is a little more than the norm of 0.2, but it can be file dependent so not out of the norm so to speak, more on par.
Selective Comparison
Dyplay ANC Pro
Features
ANC is big when it comes to TWS, everybody seems to want the feature. The basic features set is what the Dyplay ANC Pro gives you with a conventional on and off ANC.
Did I mention the $50 difference in price? There is a tradeoff because the Dyplay lacks an app, firmware upgrades, and all the goodies that come with an app like an equalizer, vocal enhancement, and a bass boost.
I am fine with passive noise reduction and the Dyplay ANC Pro does offer ANC but is not that effective compared to the Panasonic 50 step adjustable ANC. Accessory wise, one thing the Dyplay ANC Pro has for it is that it comes with foam tips and I have yet to see a TWS come with some. I know they are out there.
Performance
The Dyplay ANC Po seems to play better with my troublesome Bluetooth adapters but both pair with anything I used.
Bluetooth range, Touch controls are equal in the sense that they both work well with the same features and touch sensitivity. They both have a 30-foot range which is average for TWS technology.
Microphone quality would go hands down to the Panasonic and the Panasonic does wireless charging. But both once again are on equal ground here in the sense that both units can pair each bud individually.
Tuning
I was surprised to find such similar signatures with a warm full bass, A clean treble that does not produce noise, uncommon with TWS models, and laid back midrange response.
The midrange response on the Dyplay has more energy in the 7khz zone compared to the Panasonic which has a small peak at 3khz.
The Panasonic signature somehow seems more refined in the sense that the imaging and staging are a bit more precise and the frequency response seems to be more evenly produced.
Our Verdict
I like the Panasonic RZ-S500W a lot because they have a lot they do well. The app is feature-rich. The earbuds have a modern look unique in a world of common looking TWS models. They also have a soft mannered sound that is very appealing.
I like the fact that Panasonic did not go with the average kill me with bass tuning other TWS models conceptualize their buyers to want.
This is Panasonic's first attempt at an in-ear TWS and is one of the better TWS models out there so I cannot wait to see how the second or third-generation models will be like.
Does the Panasonic RZ-S500W leave me desiring anything? Honestly no and I would have to say that they are one of the most complete and better sounding TWS models you could buy nowadays. And they even come in two colors, black and white.
Panasonic RZ-S500W Specifications
Bluetooth System Specifications Version 5.0
Wireless Equipment Classification Class 1
Max RF Power 11dBm
Frequency Band 2404 to 2450 Mhz
Supported Profiles A2DP, AVRCP, HSP, HFP
Supported Codec SBC, AAC
Operating Distance Up to 10m ( 33 feet )
Driver unit 8mm
Microphone Mono MEMS
Charging Terminal USB Type C
Earpiece Set XS, S, M, L, XL 2 pieces each
Water Resistance IPV4 Equivalent