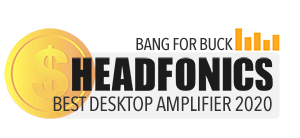 Bang For Buck Desktop Amplifier 2020
Jarvin had the E30 for quite a while and was impressed with what the little E30 was able to do. When the L30 came out, he was excited to find out if this little amp would be able to impress me him much as the E30 did. And he was not disappointed.
This amp is quite close to what we would imagine a wire with gain would sound like, with an overall neutral tonality without ending up too bright. Despite being neutral, we also found it to sound natural and detailed for the price point.
With a pre-amp out, low noise floor, natural tonality, lots of power at 3.5W into 16Ω, and a low output impedance for the headphone out, the L30 is a versatile little bang for buck amplifier that can be a great fit to supplement a growing collection of headphones.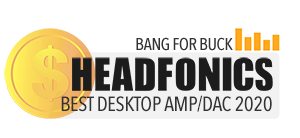 Bang For Buck Desktop Amp/DAC 2020
If the iFi Zen DAC had a watt of power or more this unit could easily be offered at $300 or more. It is a well-built, sturdy unit with many well-known components that are used in their more expensive devices.
We like the retro design and the feature set too. We also like the size plus it sounds great to boot.
One other good point the Zen DAC has is the dual balanced outputs at probably the best price on the market today. Setting small issues aside, the Zen DAC is a warm sounding and well built DAC and headphone amplifier combo with lots of features for the asking price and we give it a high recommendation.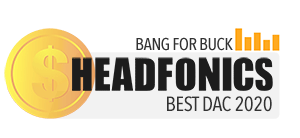 Bang For Buck Best Desktop DAC 2020
The performance with the LA-QXD1 is unexpectedly good. We are happy with its sound swapping between different cables and gears. In particular, we liked the gold-plated connectors and quality cables supplied.
Everything is pretty stable and it is an immediate upgrade once you put it between your source and amplifier.
If you are looking for an affordable balanced DAC and cost, size and design are your concern, or if you want to turn your DAPs with coaxial out into a turntable setup, the LA-QXD1 would be a solid recommendation.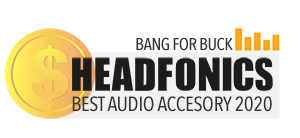 Bang For Buck Audio Accessory 2020
The Flare Calmers works, plain and simple. The science behind it is simple. Why has no one else thought of this application sooner?
It is very obvious in how they damp down from around that 2K marker on all the headphones tested. They have the ability to really smooth out any feisty top-end bias and produce a much smoother sound. In the case of something like the feisty bright AKG K812, you can just plug in the Calmer in each ear and play away.
No headphone is consistently peaky across the board and quite often a peak on the treble is there to balance out some low-end warmth. If you target 2k onwards you could end up with a dark sound if the low-end is already elevated.
Calmer is a good name and describes what the product does. We all need calm especially nowadays. Ear upgrade for under $30 you say? It will improve the sound for many people that's for sure!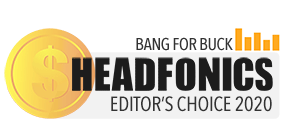 Bang For Buck Editor's Choice 2020
The N3Pro may well be Cayin's cheapest DAP currently on offer but in no way is the N3Pro an entry-level media player. In fact, I would call it a bit of a bargain given what it can do and how it sounds.
For those that felt, (and still probably do), that the N8 is a flagship beyond their budget then the N3Pro can give you a slice of that dual operational mode and 4 different sounds for far less out of the wallet.
Importantly, in this sea of midrange DAPs, the N3Pro creates a unique proposition with that sweet and diverse dual-tube output. Granted, it is not an Android DAP and lacks the expansive OS features Android can bring to the table. That may well be a deal-breaker to some.
However, as a pure player, I do think it has more thought put into it than the competition with regards to how sounds and emotion can and should connect.
Right now, I think Cayin's media player roadmap looks incredibly consistent. The addition of the N3Pro only adds to that sense of natural-sounding identity and thankfully, at an affordable price point.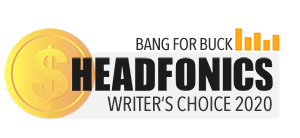 Bang For Buck Writer's Choice 2020 – Michael
I'm a believer. I've never heard anything from Moondrop before and the Starfield is highly enjoyable for me. I absolutely love the treble response and feel like they really nailed that "shimmering star in the night sky" appeal.
That gentle brightness factor is hard to get right, but they managed it. The Starfield is also absurdly stunningly well-made and presented. If you like taller than wide sounding headphones, this is one of the better options out there. It looks great, sounds great and the price is on point.
The Moondrop Starfield is an absolute pleasure to use. From excellent build and fit to absurdly good treble tonality, the Starfield is one of the budget champs of the 2019-2020 season, no doubt.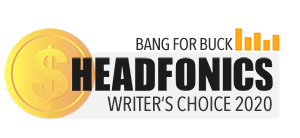 Bang For Buck Writer's Choice 2020 – James
At just $149.99 the stealthy FiiO K5 Pro is capable of decoding up to DSD512, linking up your PC, gaming machine, and DAPs to active speakers and headphones for a better home entertainment experience.
So far this is the only wired device in FiiO's range with such specs and features. There is plenty of detail in the design including a modernized ADC digital volume and 0+dB gain for sensitive earphones.
The features and tuning make the K5 Pro an ideal hub on the desk, with great power that will boost the dynamics on different headphones for movies and sound content. The overall product experience is very satisfactory and I can easily recommend the K5 Pro if you are looking for a powerful bang for buck DAC Amp.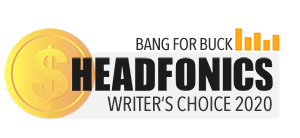 Bang For Buck Writer's Choice 2020 – Louis
The Anew X-One are sleepers. Not many people know about them, not many people include them on their possible purchase list and it is quite a shame because if you had a chance to hear them before you bought them, I bet 9 out of 10 of you will take them home.
The amount of sound quality, detail, and imaging are beyond their price point on the Anew X-One. My only complaint is the number of flanges given. However, these can take any aftermarket tips available and work best with foam tips.
At a little over 300 bucks, you get one IEM capable of three sound signatures, with some great build quality, excellent sound quality, and excellent imaging and separation. The Anew X-One is a jack of all trades.
If this is within your budget do not disservice yourself, take a hard look at these.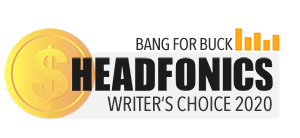 Bang For Buck Writer's Choice 2020 – Jarvin
With the current trend of most brands going into the race to cram the most drivers into their IEM's, I think FiiO went with a different approach with the FD1 in 2020 by employing sensible technologies to make a simple IEM sound it is best.
The combination of a high power 1 Tesla driver, with the rigidity of the beryllium coated driver, makes the FD1 a great performer at the entry-level price point.
With how it sounds, I think it stays true to my first impression of FiiO back when I was starting out as an audiophile, is that it would cost quite a bit more to buy something that's a justifiable upgrade from FiiO's entry-level offering, the FD1.
It's a Wrap!
Well, that about wraps it up for 2020 folks for our Bang For Buck Gear Awards. We can promise you we will have a ton more great value gear to review for 2021 and we do hope it will be a more positive year also for all of our readers wherever you may be.
We hope you enjoyed listening to the gear as much as we did and as always we want to thank the readers and companies for making this hobby of ours just so fascinating.
Thank God for affordable gear and for still being able to find awesome stuff that punches way above their fiscal weight!
Stay tuned for the Top Gear Awards for 2020 in a few days' time to find out what the creme of the crop was for 2020!