The xDuoo XD05 Plus is a revised edition of the original XD05 featuring an AK4493 DAC, USB-C, and twice the output power at 1W into 32Ω. It is priced at $259.90.
Disclaimer: The xDuoo XD05 Plus sent to us is a sample in exchange for our honest opinion in this review. Thank you to xDuoo for giving us this opportunity.
To read more on Xduoo products featured on Headfonics click here.
Note, this review follows our new scoring guidelines for 2020 which you can read up on here.
At 1000mW, the XD05 Plus is a powerhouse of a product that I think is a lovely all in one solution. It pairs well with budget tier, middle tier, and is a great stepping stone for the lower end of the summit level audiophile TOTL headphone experiences too.
Not too long ago, Xduoo sent me a package that contained their monster XD05 Plus DAC/Amp. This thing is jam-packed with features, so I need to make this quick and just cut to the thick of the detailing of this beast.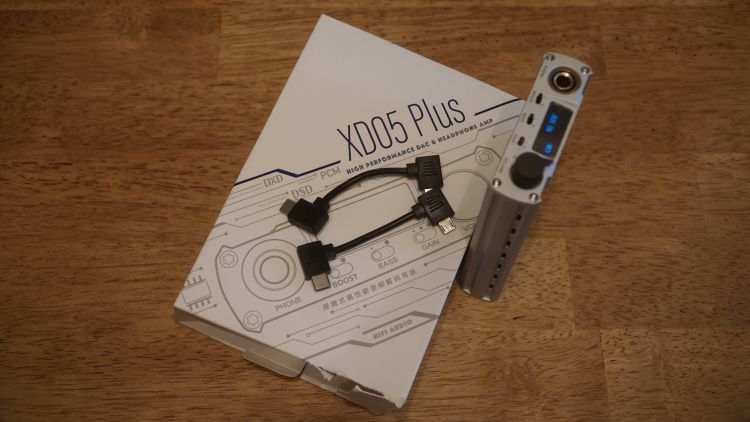 Packaging & Accessories
There is nothing much in the way of fanciness with the XD05 Plus packaging and contents inside. Just a typical cardboard box and a mini-hoard of accessories that include the following:
USB C charging cable
USB C to Micro USB
USB C to USB C Cable
¼ to 3.5mm headphone adapter
4 rubber feet
A silicone band
You will not find much in the way of protective leather cases or pouches for transportation, something that probably would have been nice to see included.
Design
This XD05 Plus is a mini tank, fully aluminum housing, and heavy as a small brick 276g. The volume and power knob has resistance to it, which means it requires more effort to turn up and down than my Monolith Portable from Monoprice, which glides like a skater on freshly laid ice in the dead of winter.
I really disliked that about my Monolith, the slightest touch or graze in my pocket, and BAM! Instant loudness bump. That hasn't happened to me yet with the XD05 Plus, so I am glad to report that the physical tactile resistance of the knob is solid. Every port and switch feels of a high standard.
Overall, this unit is extremely well built.
New DAC
The AK4493 is a real hit or miss circuit, at least, in my humble opinion. Great implementation is required to make this DAC chip sound really nice and I think Xduoo has done a fine job. I prefer it to the more metallic and bright sounding Monolith.
Anyone a fan of the older RSA SR71B? Well, you'll like this XD05 Plus from Xduoo. Reason? It offers a full-bodied sound, that is just a tad dark and dense feeling. Reminds me a lot of Ray Samuel's SR71B and Intruder.
If you want to, you can roll OPamp's and really dish out some crazy-good sound on the XD05 Plus. Give Burson a ring, they will help you and have some upgrades available that fit this amp.
USB Output
As with most of the nicer DAC's out yonder today, the XD05 Plus also allows you to use your phone as a source. Meaning, buy a really low-end phone and tap it into the XD05 Plus's USB output, via USB C cables, then download something free like Hiby's music app.
The phone will recognize the XD05 Plus as a source DAC and will then output the music digitally to your headphones. What does that mean? It means you get way better-sounding quality music than if you use the 3.5mm on your phone.
You can save some money this way if you strap your phone to the XD05 Plus when you are on the go. It makes for a good all-around product in a portable sense of the word. When you don't want it, leave it out and connected to your computer when you are at home for a really nice, small all in one unit that is both USB DAC and amplifier at the same time.
Absurdly High Output Voltage
The XD05 Plus dishes out 1000mw, or 1W of power. That's insane. Not to knock anything at all but the XD05 Plus puts the Monoprice Monolith Portable DAC/Amp to utter shame in the power department.
You'll have no trouble driving moderately needy Planar's. Hell, I am able to have a good time with the Dan Clark AEON RT closed back's, the Audeze LCDMX4, and similar.
With regard to raw power, I feel like this is not only overkill for anything efficient or "portable" but also so lovely to have at the same time. With more power comes more oomph. Pair the XD05 Plus with the iFi Audio IEMatch and watch your headphone and source file increase in vividness overall.
Crazy to have this much power in your pocket. I love it, I can easily drive pretty much anything. The XD05 Plus high gain mode is quite potent, so be careful with that switch if you do not need it.
Sound Impressions
Bass Quantity
Need "moarrrrrr" bass? Xduoo got you covered. In stock form, without any boosting active, the XD05 Plus experience is…well…slightly boosted into the musical side of the spectrum.
The low-end quantity is a nudge up and above what I consider flat, so you get some bass boost to start. Not a ton, just noticeable and that is what I love most about this device. It is intended for music enjoyment and some slight exaggeration.
If you want even more then tick the switch for XD05 Plus bass boosting and you get even more. And if you are crazy, like I am, use the MSEB DSP system or source music app EQ system to drop even more in.
I do that with my Shuoer Tape Electrostatic IEM's. So Yummy. Don't take that as a very exaggerating tonality in this product, it isn't very far into that side of the spectrum. It is gently colored and if you want less, you can get less with some down toggling via your source EQ system.
Bass Fidelity
As far as raw purity goes, there is audible inferiority, all be it not by much at all, to the Monolith. Both of these pale compared to Tony Crocker's Swan Song Audio DAC, which sells for $999.
Of course, you cannot compare the three together justifiably. For the price of $260 though? This XD05 Plus sounds fantastic and I've not even gotten to hear the upgraded circuits.
For middle-tier headphones, this is a steal. Most of the DAC's in this price range are doing so well lately, audiophilia has really bumped up their game in the last 2 years or so (2018-2020).
I am more than happy with pairing this XD05 Plus with my Shuoer Tape (IMO, the best budget tier IEM ever made) and even my expensive customs when I have to. There was a time recently where I didn't have a DAP at all and had to use my Android-based phone paired with the XD05 Plus to get by. I was more than happy.
An Honest Audiophile Opinion
Truly, I've scaled back recently and that was mostly because of the Shuoer Tape IEM's that are just absurdly good, which I will be reviewing soon. I've decided to pair the Tapes with my older Cowon Plenue M instead of the most expensive Hiby R6 because rig pairing is more important to me than fidelity. I want to have fun and critical listening is not my personal forte'.
As a reviewer, of course, I have to objectively state what I am hearing as is. But, personally and in my downtime for my own listening experiences, I prefer warm rigs and plentiful bass. I live with the Bass Boost function on at all times and I couldn't be happier.
I understand that reference type, clinical and accurate enthusiasts are the polar opposite of what I prefer subjectively, but that is actually obtainable in the Xduoo XD05 Plus when you down-boost the low end just a smidgen with your EQ setup. From there, you can achieve a great, flat experience.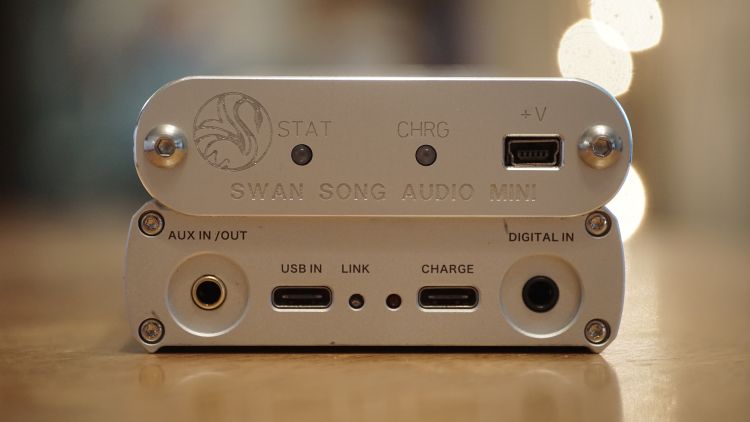 Mids
This DAC chip is not known for a very forward midrange, it is just a bit relaxed sounding and noticeably so next to the Monolith portable. Compared to Tony's Swan Song Audio DAC, the XD05 Plus is more laid back and less detailed, but actually noticeably wider in staging.
This lends more credence to non-vocalist inspired listening experiences, where live venues are in play and not so much a singular artist close to the mic. No level of fiddling with the EQ can get me to feel like this is a forward sounding unit, but the middle ground sound presentation is the best of all worlds, the "can do most things well" type of experience.
The XD05 Plus isn't specifically set up for very forward Jazz singers, but it is more tailored for something like a live performance, or a podcast on YouTube. As far as raw fidelity goes, the XD05 Plus is just shy of the Monolith (which is more pure sounding) in clarity. But, that Monolith lacks the stunning musicality the Xduoo offers.
Pick your poison, quality vs fun factor with both units being exceptionally good at what they do.
Treble
The XD05 Plus top end is quite reserved in bite, which means the experience is lacking a fatiguing impact. The XD05 Plus is not entirely reserved in that sense, I would call it moderately engaging, as it certainly has some bite to it in slam up top.
This is noticeable with my Fostex TH909, which is heavy on the top end slam effect and a headphone that sounds less slamming on the Xduoo than most other DAC's I have that were similar. The top end is gently bright but prone to a potent slam effect depending on your headphones. It can accentuate that slam effect if your headphone is really slammish, to begin with.
However, I refer back to the Shuoer Tape, which has an electrostatic tweeter, I believe, or some type of hybrid tech in it, that has a buttery smooth top end that plays immensely well with the XD05 Plus and that is very much to my liking.
I cannot use the Shuoer Tape with the Monolith. It is either Tony's DAC or this XD05 Plus. I don't have another portable DAC that meshes with the Tape IEM.
Staging
The XD05 Plus is wider sounding than tall, as I can denote width very easily. This opens the air and space up to an enjoyable level for me, feeling more expansive in stage left and right than most other DAC's like this.
I can safely say that the Donald DAC does not have the separation qualities this XD05 Plus has. The 'depth of field' factor is just great overall. I feel the strength factor to me is the excellent separation from left to right, which again, in live recordings sounds so yummy.
If you like Podcasts on YouTube, this is for you. No doubt. The overall tonality/density factor is also pretty good as well, definitely a step up from the original XD05. Right now, it is the second most solid feeling DAC that I have, the first and prize winner being the nearly 4x as expensive Swan Song Audio DAC.
Our Verdict
Ok, so this XD05 Plus is an absolute beast. It is built like a tank and has a ton of options for you via its switch interface and excellent volume knob experience. I know that sounds silly, but you'll be happy with you reach into your pocket and graze it, only to find that it didn't easily get turned up all of a sudden. Some resistance there is vital.
Beyond that, you can roll OPamp's and improve the already good sound. At 1000mW, the XD05 Plus is a powerhouse of a product that I think is a lovely all in one solution. It pairs well with budget tier, middle tier, and is a great stepping stone for the lower end of the summit level audiophile TOTL headphone experiences too.
A marvelous job here, Xduoo. This is a great DAC all around and I see almost nothing you can have improved on, with this price in mind, of course.
Xduoo XD05 Plus Specifications
DAC chip: AK4493EQ
USB chipset: XMOS XU208
Output power: 1000mW at 32 ohms
Frequency response (amp): 10Hz~100kHz (±0.5 dB)
Frequency response (USB/SPDIF): 20Hz~20kHz (±0.5 dB)
THD+ N (USB/SPDIF in): 0.0016% at 1kHz
THD + N (aux in): 0.0009% at 1kHz
S/N: 117dB
Crosstalk: ≥75dB
Battery: 3.8V / 5000mAh
Battery life: ≥13 hours (USB in), ≥21 hours (SPDIF in), ≥40 hours (aux in)
Weight 276g
Sampling Rate Support
USB (PCM): 16–32bit / 44.1–384kHz
DSP: DOP / NATIVE mode, DSD64–256 (1bit / 2.8M–11.2M)
DXD: 24–32bit / 352.8K–384kHz
OPT/COA (PCM): 16–24bit / 44.1–192kHz
DSD: 1bit / 2.82 Mhz (DOP)