The Lypertek TEVI is a feature-packed debut TWS using BT5.0, aptX capability as well as an IPX7 waterproof rating. It is priced at £99.00
Disclaimer: The Lypertek TEVI sent to us is a sample in exchange for our honest opinion. We thank Lyperteck with the support of Hifiheadphones.co.uk for this opportunity.
To learn more about TWS reviews on Headfonics you can click here.
Note, this review follows our new scoring guidelines for 2020 which you can read up on here.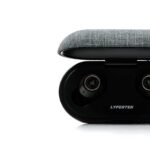 Lypertek TEVI Review
Ok, I get why this might be an audiophile's choice. The dynamic range is decent and the tuning is very balanced with a superb level of instrumental separation. The mids sound alive on the TEVI and there is just enough PRaT to make this a very good all-rounder TWS for almost any genre.
The Lypertek TEVI is one of those "buzzy" TWS names that have been bouncing around our local groups and on the "Intertubes" for a few months now.
It seems to tick a lot of boxes for the required feature set with a not-unreasonable price for said features. Suffice it to say, these seem to be in demand not just from casual listeners but a fair few people who define themselves as audiophiles.
The price point is quite similar to the likes of the HELM TW5.0 at an SRP of £99.00. At today's mid-market exchange rate that's right on $129. The feature set is quite similar and, in some areas, perhaps even better. It seems logical to review this one right after the HELM.
It also bears more than a passing resemblance to the MPOW M5, a budget $50 TWS, also packaged with decent features. One thing, however, is abundantly clear from my time spent with the TEVI. This is tuned very differently from either of these competitors.
Tech Inside
All of the key TWS buzzwords are there in the TEVI including BT5.0, aptX, IPX7, cVc 8.0, and a Qualcomm chipset. It is the last buzzword, however, that I think is worth digging into a bit more because of the use of Qualcomm's TrueWireless Stereo Plus technology.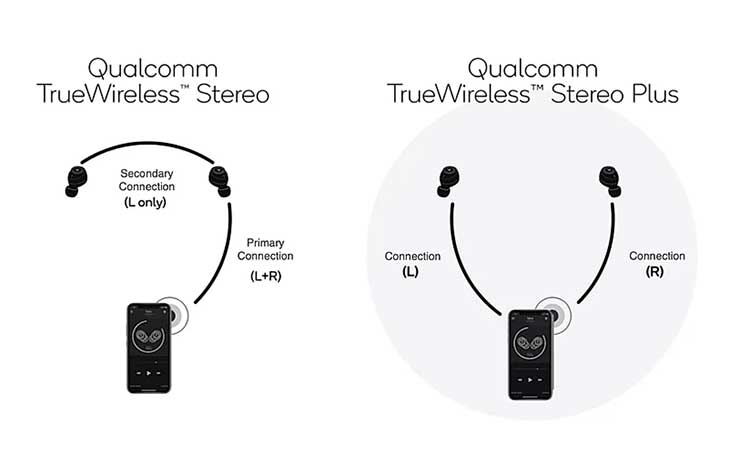 TrueWireless Stereo Plus
Now, why is this tech an important differentiator to the alternative used by the TWS we have reviewed to date, Qualcomm's TrueWireless Stereo, (non-Plus)? Well, this tech dictates how the two drivers pair, both to the source and to each other.
In a traditional 'non-Plus' system, there is a master and slave relationship whereby one driver pairs with the source and in turn, creates a secondary connection with the other driver.
The Plus version allows each driver to connect directly to the source "in stereo" and do away with that master-slave connection between each other. The software inside the Qualcomm QCC5100 series SoC then syncs them both as a single pair of earphones.
The master designation thus becomes more flexible. For example, if you run out of battery life on one side, the other side becomes the master so you do not lose a connection,
'Plus' Enhancements
Doing away with that secondary connection enhances a few things and in turn, allows the TEVI to push out some interesting performance figures on paper that look class-leading. We are talking about enhanced battery life, lower latency performance, and a more stable left/right sync connection.
On a side note, the QCC5100 SoC is aptX-HD capable but not as yet implemented on TWS like the TEVI. Not sure why. My guess is maybe a licensing cost issue or a battery/stability concern which is a shame.
Design
There are some design similarities to the M5 with the TEVI though not quite as bland in finishing. Both have a similar form factor with that deep black matte finishing housing funneling into a medium-length nozzle.
The only difference is a wedged cutaway at the top front on the TEVI which gives it a bit more of a sharper look than the M5. The paint on the nozzle of the TEVI also is a bit more matte than the M5 shiny.
The key difference is the faceplate. The Lypertek TEVI has a much nicer silver ring finish to its rounded top plate compared to the blander M5 float oval finish.
Both house physical controls but I like the shorter travel distance on the TEVI buttons a bit more. That is important because I always end up having physically controlled TWS way too deep in my ear after a few presses.
The TEVI does not have an outer LED ring like the M5. Instead, it uses a single LED light in the middle of the plate which looks a bit more discreet for those who want lower profile light shows on their TWS.
Comfort & Isolation
The fit and seal of the TEVI are very good with the silicone tips due to the depth of the nozzle and the relatively compact width of the driver housing. The smoothed curving of the shell makes it very comfortable so whilst not aggressively countered it doesn't create any difficult pressure points when seated.
They are quite tall though so the TEVI drivers will stick out of your ear a bit and they are not that discreet as a result. These things bother me a little but for some, it might be worse.
Tips
Now I know the guys behind the TEVI launch and I know they are from an audiophile company management background so it is no surprise to see them slip in some foam tips to go along with some better-than-average quality single-bore silicone tips.
That being said, the single size slightly small foam tips didn't fit my larger ear canals and the seal was quite poor. People with smaller canals might have better luck. Luckily, the single-bore silicone tips fit rather well and the seal is actually much better than I expected so tip rolling will be really more about sound tweaking.
Rolling
If you are into tip rolling then be advised the length of the tip stem, in terms of how far back the nozzle is pushed, does have an effect.
For example, Symbio hybrid tips upped the sub-bass quantity, with a cleaner midrange and a bit more sparkle. I would say they produce a deeper and taller soundstage to the stock tips but do not have the same lower midrange and vocal warmth.
Controls
The TEVI has some interesting control features that give an edge over our previously reviewed TWS units. For example, you can pair both left and right or left or right and both will start working just fine due to the True Wireless Stereo Plus tech.
Now on the physical side, everything is pretty much tried and tested stuff so no surprises here with controls on both left and right drivers. A single press will play or pause with either driver which is a nice touch.
Beyond that double-tapping is required for volume with the left decreasing and the right increasing. The long press on the right forwards to the next track and the long press on the left goes to the previous tracks. AN awkward triple tap activates voice assistance but by then the TEVI is halfway down your ear canal.
TEVI App
It is on the software side where the TEVI has some excellent features. Somewhere tucked away on their website is a downloadable app for Android. There is also an upgrade app to ensure the TEVI is compatible with the app. I suggest you start with this first.
Upgrading is funny but fairly straightforward. The website guides you on how to update and refers to internationally recognized standards such as "ding deng ding" and "dong dong dong" as cues for the upgrade process. Marvelous.
Once both drivers are upgraded the main app will pick up on the TEVI and then the fun begins. You have access to control resetting for left and right, a language changer and a 7-band EQ with presets.
The EQ does work on a general level so no matter if it is TIDAL or Spotify the TEVI app EQ will work. Just one note, there can be a 1-2 second lag before some effects kick in so be patient if you do not hear changes right away.
The bugs? Yeah, it keeps dropping the connection now and then and it can be difficult to reestablish it. I cannot as yet find out what triggers the drop either so if I do I will update the review.
Charging Case
More than a hint of Sennheiser's Momentum Wireless case only a bit bigger. In fact, it is the M5 charging case with a nice textured fabric finish on the outside compared to the MPOW's crinkled leather. The wrist strap or lanyard is also a nicer leather twist than the plain M5 nylon string.
This is a well-made case with a nice soft touch to the exterior and just underneath those familiar 4 LED charging lights that save you the time in opening the case to check on capacity levels.
One huge design difference in this case that makes it worthwhile is the use of a USB-C socket compared to the previously reviewed TWS micro USB sockets.
Thank you Lypertek for coming into 2019/2020 with a forward-looking approach. Along with the app's battery % display and a fast-charging capability using Quick Charge, you can grab 2 hours in under 15 mins charge time with the TEVI. That's how it should be.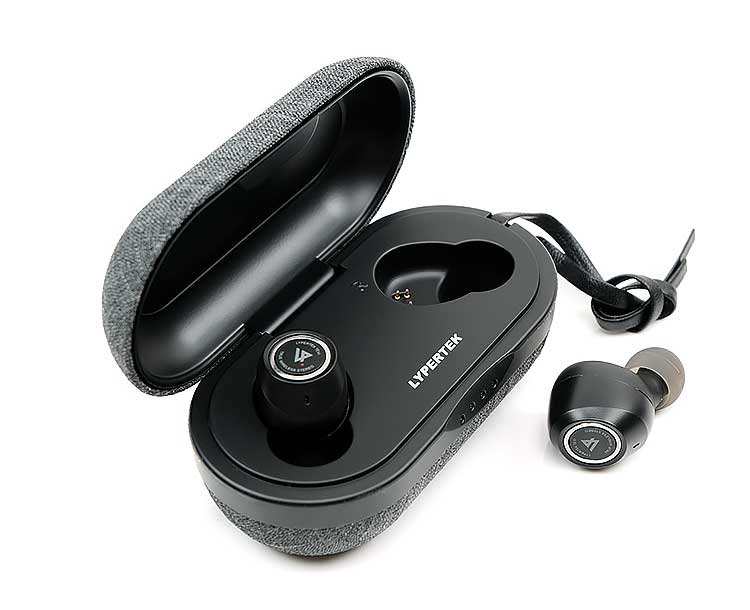 Battery Life
Good lord, 10 hours on paper for the drivers and a mammoth 70-hour cradle capacity for recharging on the go. Combined that with USB-C Quick Charge and that's 'game over man, game over!'.
Alright, let me temper that slightly with the usual asterisk caveats they slipped into the spec sheet. The 10-hour rating is possible only with SBC decoding at 50% volume. Since most smartphones work on the best decoding rate capability as their default setting chances are you will be in aptX for most of the time.
Also, 50% is a shade low for me using a Note 9 and a Huawei P20. Both smartphones sat comfortably just above at 60% for the Note 9 and 70% for the P20.
Suffice it to say I did not get 10 hours with the TEVI drivers. I would estimate probably closer to 7-8 hours but that is still class-leading and better than the HELM TW5.0, the previous battery king in our TWS reviews.
Take the TEVI on the long haul guys, this is a no-brainer for battery life.
Accessories & Packaging
Maybe it is just me but the TEVI packaging looks more like a medical supplies pack than the typical black cardboard I am used to seeing. It is memorable but also a shade of old school for me.
That plastic front on white cardboard sort of reminds me of old Audio Technica blister packaging that I hated. Now, this is certainly not as awkward as those scissors-inducing containers from ATH but it does not look like it can take a logistics bump as well as a stiff cardboard can.
On the flip side, you can see everything clearly through the transparent lid and the case is stylish so it might attract a few more eyes on the retail shelf.
Inside you get better than average TWS tips including single-bore silicone, (s/m/l), and single-size foams, (1 pair), as well as your usual USB charging cable and manual.
The USB cable is USB-C and not quite as short as some alternatives which I prefer. Certainly, a welcome change from micro USB. The Quick Start guide you can download from their website but the paper version is a decent size and logically laid out so easy enough to follow.