Controls
The M17 controls are a hybrid of methodologies, that includes physical, touch, and wireless via APK (where applicable). There are also a few customizable controls that affect performance, particularly when related to battery usage.
Physical Controls
You have two banks of physical controls buttons on either side of the M17 with playback and FiiO's excellent multifunction control suite on the left panel and power-related functionality and secondary volume controls on the right side. All buttons are fairly flush but with raised physical bumps and good spacing to allow you to locate purely by touch.
Not every control is immediately accessible, however. As per normal you do need to assign the multifunction a particular command from its pop-up menu of which there are 8 active and the default 'do nothing' status. Personally, I like to use either the filter or equalizer preset option but otherwise, I tend to keep it as 'no function specified'.
The volume buttons are only activated via the volume adjusting mode in the Android global settings menu with the potentiometer the default volume controller out of the box. I would probably use the potentiometer or dial for most of my listening but the volume buttons do offer a little more micro-control.
It does take some getting used to the potentiometer volume control, to be honest, as it can jump up in multiple steps even with minute movements which the button system avoids.
BAT/DC Functionality
The final button on the right panel, the BAT/DC switch is probably the most intriguing button. This allows you to switch between battery mode and DC mode but there is another mode called hybrid mode and all 3 affect performance in various ways.
In battery mode, you are relying 100% on the battery but that also means no enhanced over-ear headphone mode and a reduced voltage output as well as less output power.
When you switch to DC mode and connect the power cable you get all that yummy enhanced mode additional gain, improved voltage, and output power but you also bypass the battery meaning you save on battery life.
However, if you keep it at battery mode and plug in the DC, the power is split between using the battery for the digital and the DC for the power, (front side and backside). You will not be able to access the enhanced mode features but you will reduce your reliance on the battery and ensure longer battery life.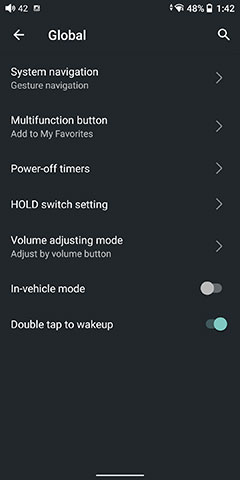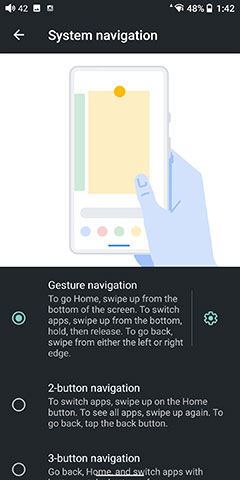 Touch
The rest of the control system is done entirely through the touch panel Android 10 options as well as some wireless options via APKs. The touch experience of the M17 is excellent with an instant response, double-tap to wake controls, (global settings), multi-touch gestures, and that big IPS screen for bigger fingers.
There is virtually no lag between executing a touch command and the DAP responding to it. Everything feels snappy including the obligatory pinch and zoom multi-touch features where applicable.
You can also customize the types of touch control system you want inside the System Navigation options in the global settings menu. You can opt for a gesture or swipe-based system, 2 buttons or 3 buttons classic Android setups. The M17 comes with the gesture system as its default touch control system out of the box.
Aside from that, the touchscreen will do most things you need the M17 to do outside of volume control and powering the device on and off.
RGB Ambient Light
The M17 also has a visual cue system via an elaborate and eye-catching 12 RGB light system. It is split into two areas, around the volume dial and on the base of the side panels, and can be customized via an indicator light control submenu inside your display options menu.
Custom options include a pulsing or constantly on option for charging, brightness levels that can follow the M17 measured temperature or battery level, and the color code itself can be aligned to the resolution of the audio track being played.
In the picture above the M17 is glowing a yellow light from the side which indicates a lossless high-quality local playback. The lowest level is blue for lossy or low-quality playback such as MP3 right up to green for DSD.
The M17 USB-DAC and Bluetooth also have similar light codes for quality levels but the level is determined by the codec deployed when going wireless. For example, LDAC is white and AAC is cyan. For the USB-DAC the format is simpler with everything below 48k lit up as blue, above 48k is yellow, and DSD also green.
Battery Life
The M17 is equipped with massive 9200mAh but it is not the biggest battery I have seen stuffed into a DAP. Smaller DAPs such as the HiBy R8 use an even bigger 10000mAh li-poly so it is not uncommon in 2022 to see devices of this type with big power slabs tucked inside.
Like the R8, the M17 is quick-chargeable with up to QC4.0 +FD capability and a total charging time of 4.5 hours which is a little bit faster than the R8's 5-hour total turnaround. Rated battery life is around 10-11 hours single-ended and 8-9 hours going balanced.
That is a pretty decent performance for a device of this size but a little shy of the DX300 MAX's official 16 hours lifecycle. Do remember though the MAX's 8-channel always-on mode does bring it down to a similar 10-hour level or possibly less and both devices' testing processes are likely to include using low volume, MP3's and median load conditions.
Usage Scenarios
Battery life will decrease depending on your usage so do expect some drops if in full Android mode as opposed to Pure mode, as well as using high-resolution audio playback, headphones with heavier loads, and wireless connectivity.
Bear in mind, however, the DC mode will affect your battery lifecycle both in daily usage hours and overall lifespan. More use of DC means less battery degradation and longer turnaround times before having to charge.
You can also charge via the DC input as well as a regular USB cable. Even hybrid will reduce some of the strain on the battery life though FiiO does not supply any official specs on how much that could be.
One thing I would advise on, and something I mentioned in our RS6 review end of last year is setting up your charging optimization levels to be a bit lower than 100%. Charge up to around 80% to avoid the constant high voltage operation required to get your battery to 100%. This will lengthen the life of your M17 battery as well as shorten the time it takes to hit that charging point.
Storage
From a narrower portability perspective, the storage options for the M17 are just par for me at 64GB onboard memory and a single microSD slot. That places it on par with the HiBy R8 at a similar price point but half the capacity of the DX300 MAX, (albeit the MAX costs a bit more).
However, FiiO has cannily added a USB-C 2.0 Host port as well as allowing for OTG from the USB-C 3.0 port which changes things quite a bit. You can easily run a large external USB-powered HDD into the M17 and add around 6TB (largest commercial size at the time of writing) on its own power or even larger with an AC-powered external drive.
One thing to note though is that the USB-C 3.0 port is a master port of sorts so that means you cannot run expansion drives from both ports at the same time. The M17 will always default to the 3.0 driver first. You can, however, run an external drive from the 3.0 port in much the same manner as the 2.0 host port.
So why have both if the 3.0 version can do what the 2.0 does? Well, for one thing, it allows you to run the M17 in USB-DAC mode via the 3.0 and at the same time receive from the USB Host and convert the M17 in a huge media center transport and DAC if so required. Something that is much harder to do with just one USB port.
Packaging & Accessories
The M17 packaging is not quite as fancy as the previous flagship M15 wooden case display box packaging though the unpacking 'flow' is quite similar.
The retail box for the unit itself is fairly compact with the unit and accessories in a flip lid box covered by a printed and branded slip-off vinyl sleeve. Inside, you get two layers with the player inside its carry case on the top and the accessories below and both sections heavily padded with protective foam layering.
Accessories inside include the DC adapter, a dark brown leather case, memory card tray ejector pin, a USB-C data and charging cable, and some additional screen protectors. I say additional because FiiO has already pre-applied protectors to the front and back which is a very welcome move.
They have also included some dust plugs for the coaxial and 6.35mm PO slots which are fairly large catchment sockets where dust could accumulate. I think that is a first for a DAP company and something I personally look for when buying silicone cases online for my other players.
Desktop Stand
When you order an M17 you do not just get the DAP, you also get a desktop stand with a built-in fan. Pictures of which have been circulating for some time up to the launch of the M17 itself.
The nomenclature here is similar to the previous desktop stands FiiO has released down through the years with a DK3 code but it is a big unit, has its own packaging, and also comes with its own USB-C to USB-A cable to power it from a laptop of USB compatible plug.
The stand itself has a similar black aluminum mech or even a gaming vibe to the main player itself and combined the entire setup looks pretty darn impressive sitting beside a computer or desktop amplifier setup.
The resting plate is cushioned with some rubber to prevent unintended scratching with a small gap at the base to allow for the M17's wiring to clear the area safely.
Behind is a small but fairly noisy built-in 5V 80mm wide fan that is designed to dissipate heat effectively from the M17 when in the higher voltage DC mode. It is powered via a USB-C port to the base of the fan enclosure so you hook it up to a PC or plug and it will work just fine.
Carry Case
I actually like the styling of the stock M17 brown leather case with its attractively designed hexagonal stainless-steel venting structure to the rear and a securing flap at the bottom of the unit to ensure it does not slide out.
It is kind of loose though I think this is done on purpose to allow the desktop fan to get in and around the main player and to also enhance the natural venting process when in battery mode. There is plenty of space around the LED lighting structures at the base of the unit as well which is a key physical feature of the M17.
Still, even though it is not super tight the hot-pressed button stamps do connect well with the main unit's physical controls. I would keep that flap firmly on though because once taken out the unit will slide right out with minimal resistance.
Click on page 2 below for more hardware features and the desktop stand
Click on page 3 below for software features and performance
Click on page 4 below for sound impressions, wireless performance & pairings