Software Performance
Android 10
The M17 is the first DAP out in the market today that uses Android 10. Combined with the welcome switch to a Snapdragon 660 SoC and an improved 4GB of RAM we are now very close to what you could define as a modern smartphone experience.
Performance is now on par with the competition in terms of benchmarking results (see below). This was an area in which the M15 initially led with the Samsung processor but soon got left behind once iBasso and HiBy upgraded from the Arm Cortex chipsets to Snapdragon 660 SoC with the DX300 series and the R8/RS6.
Google Android 10 also brings in a few welcome global features such as gesture-based navigation, an upgraded adaptive battery system as well as what should be an improved app response time compared to Android 9.
Critically, the M17 has a future-proofed OS 10 clean install that has support until at least the middle of 2023. Android 9 no longer receives updates and/or security patches (as of late 2020), and the older 7 platform of the M15 is long dead and buried.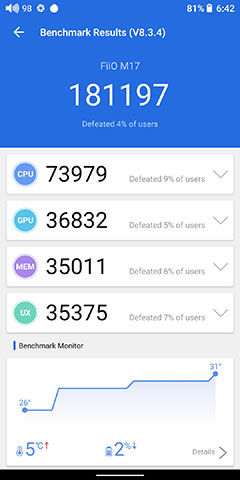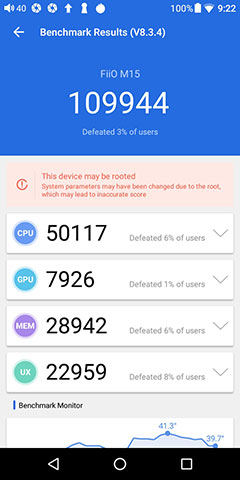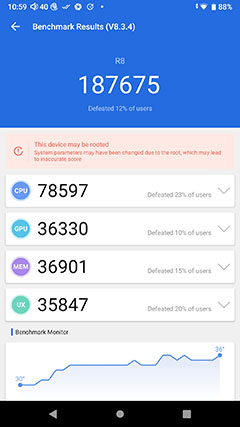 Performance Benchmarking
The M17's Snapdragon CPU is as fast as it gets for DAPs in today's market. There is no artificial cap on the CPU either to enhance battery performance with a competitive clock range of 1843.2 – 2208Mhz which is around 200mHz faster than the M15 setting and equivalent to both the DX300 MAX and the HiBy R8.
The additional 1GB of RAM from the 3GB of the M15 combined with Android 10 should also improve multi-tasking capability and streaming buffering on the M17 also.
Our benchmarking seems to back that up with performance numbers that are on par with its nearest competitor the R8 and certainly a lot faster than the older M15's Samsung Exynos 7872 CPU.
The thermal control numbers during testing were also excellent which is good news for heavy app users who are worried about potential bottlenecking. The M17 ranged from a healthy 5c cooler than the R8 to over 10c compared to the folder Samsung CPU inside the M15.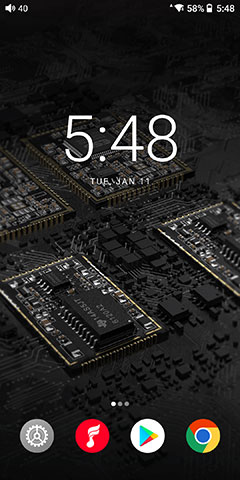 Navigation
With Android 10 your navigation options have improved with 3 different navigation options and an expanded drop-down menu system. You can access the M17 navigation control suit via the Global Settings menu and from there dive into system navigation where you are presented with 3 choices:
Gesture
2-button
3-button
Gesture control is the default mode out of the box and it works very smoothly for me with swiping from the sides or bottom to go home or move left and right between the screens.
However, some might feel uncomfortable without the familiar bottom of the screen icons and you do have to watch for multiple apps opening up as gesturing from the bottom does not automatically close them, rather they go into the background.
Here you have to slow swipe and stop in the middle of the screen to access your background apps then swipe up to properly exit out of them. Personally, I would rather use the traditional 3-button control for the familiar Smartphone navigation system but bear in mind you will lose a little bit of screen space at the bottom to fit them in.
Dropdown Navigation
Dropdown Navigation is not hugely different in terms of core options from the M15 but you do get a lot more screen space to play with on the M17 and aesthetically the icons look a lot more attractive.
Legacy icons that remain include mode and gain controls, wireless BT and Wii connectivity, in-vehicle mode, PO/LO switcher, All to DSD, and the screen rotator. What is new is the direct access to the Dark Theme mode from the drop-down bar, and an additional line-out option for balanced output.
You also get more depth in your direct access to the drop-down gain and mode choices. This includes a 4-stage gain in battery mode and the additional enhanced stage in DC mode as opposed to just 2 on the M15.
The M15 Airplay icon has also been removed and is now in the mode selector sub-menu which has been expanded from 4 to 6 choices with the aforementioned Airplay and a new SPDIF RX option.
SPDIF RX will automatically enable the coaxial port as coaxial input mode to receive and decode a coaxial signal from another source such as an external DAC.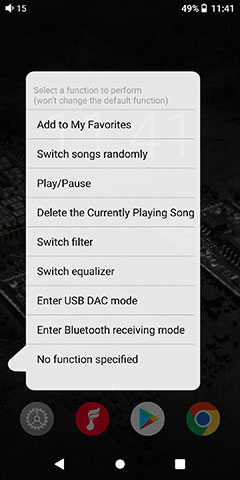 Multifunction Menu
To further refine the navigation experience FiiO has retained its user-customizable multifunction button system. By holding the bottom physical button on the left side for 2 seconds it brings up a list of features, one of which you can assign to the button. You can also adjust these via the Android general settings section.
You can consider this an extension of the dropdown menu in some ways with the concept being a quick access to features FiiO thinks you will most likely want quick access to.
The default is 'add to favorites' which I would never really use myself but I can see that being a preferred option for some. I would likely go for the EQ or digital filter since entering USB-DAC mode can already be preset when you connect it to a PC.
Software Features
Google Play
Consistent with their recent DAP releases the M17 has Google Play installed and working by default. This was lacking on the M15 on its debut with Cool APK and APK Pure managers making up the numbers to compensate.
Since then, FiiO has solved this issue for their international releases so full Play services compatibility is available out of the box. That is quite important for a number of apps that rely on the Play framework including DLNA apps such as Hi-Fi Cast.
I still keep APK Pure though to avoid regional lockouts on my favorite apps such as TIDAL. You cannot get TIDAL and Qobuz in our region but you can download them via APK Pure and keep it updated this way also.
I would also advise downloading a free VPN app and setting it to Google 8.8.8.8 or an Open DNS IP if you are getting the infamous TIDAL log-in error from an APK Pure downloaded version. This happens to me consistently and did take a while to trace the error down to a DNS conflict or lockout with our local internet provider.
FiiO Music
Probably the biggest improvement over the M15 version of the FiiO Music player is the faster OS combined with the improved screen size and legibility. It is faster, far more useable now with better font sizing, increased space to render the artwork, and easier scrolling through menus and media categories.
The last firmware of the M15 FiiO app does have a fairly similar flow and feature set to the M17 version though some features or options have gone such as HWA mode which is a wireless codec consigned to the dustbin commercially.
Other additional options added include a USB Volume control mode to allow you to switch between hardware adaptable controls or a software alternative applicable to PCM only and a DSD out mode for native or D2P output.
Within the favorites section, a tracks far-right 3-dot sub-menu system has another small change with the addition of a Play Next feature that allows you to queue up a specific track on the fly.
There have been some cosmetic changes to the labeling also including changing from a DLNA server label to Media Server on the home page. There is no change in the functionality here but rather a more immediately understandable name for most users.
Media Integration
In my original M15 review I mentioned that the FiiO Music app did not have any OTG media management integration which put the app at a disadvantage compared to HiBy Music and iBasso's Mango which did.
Well, now it works perfectly fine on the M17, (and the M15 via subsequent firmware updates). You can load a flash drive and it will not only see the files within the app but also integrate them into your media library just fine.
You can go even further and build a huge library within FiiO Music from an external HDD using the M17 USB-C 2.0 host connection. I would add though that media scanning in the FiiO Music app is not super fast, or not as fast as HiBy Music so if you are loading 5 digit libraries you could be there for a few minutes longer.
That being said album artwork refresh during scrolling was quite good, at least as good as HiBy Music with around 5k tracks loaded so once in there it seems competitively accurate for meta-tagging and able to handle very large track libraries.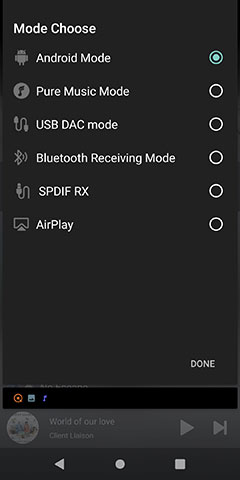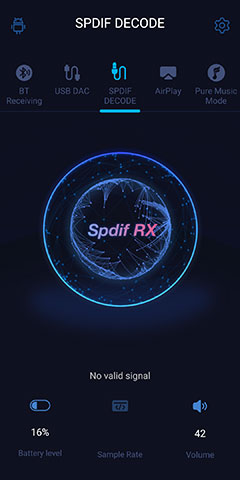 Modes
The Mode tools on the M17 are a big improvement on the M15 version in terms of layout. Aside from the additional SPDIF decode mode, the icons are immediately accessible from the Mode blue screen when activated.
On the M15 you have to dig into a secondary menu via a cogwheel to move from mode to mode which felt a bit awkward. On the M17 it is just a matter of picking an icon on the top of the screen to select the mode, confirm the choice, and on you go.
The only icon that does not retain the same screen is the Pure Mode which reverts back to the main FiiO Player with all superfluous Android services shut down.
The blue screen for the other modes remains unchanged but the relevant data at the bottom of the screen is updated to reflect the changing inputs. Here, the info display is much improved also with battery level, sample rates or wireless codec, and volume status all clearly outlined. Note there is no codec or sample rate for AirPlay.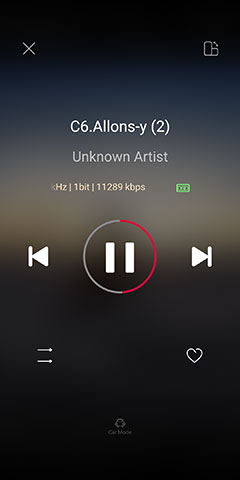 In-Vehicle Mode
Essentially, when connected to a USB socket in your car's entertainment system the M17 will recognize the connection as a vehicle and switch to a much simpler OS screen. It will also start up and power down in sync with your car engine status.
The concept is to simplify everything so you do not focus too much on the DAP and instead keep your eye on the wheel. Much safer and easier to use.
This is not a new feature and not much has changed really since the original M15 version save for a scrolling bit and sample rate ticker with the sound quality color coding in the center.
Truth be told, I never use it that much since I would revert to Bluetooth with a modern car system able to pick up and display all you need on a HUD. However, if your car has a USB port for audio and you prefer the better dynamic range compared to BT then it's certainly an easy-to-operate playback system.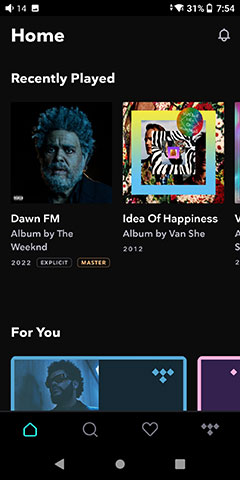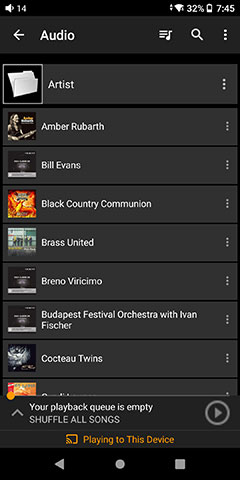 Streaming
If you have TIDAL, Qobuz, or DLNA capability then the M17 will play ball with no issues. Its WiFi speed is 2.4/5G capable so speed and stability are generally very good. The only global issue will be your own modem and net plan's bandwidth capability in terms of how smooth any large packet decoding will be for receiving any high-resolution files.
Upsampling for MQA is 8X so the top tier here is 384kHz sampling rates and not 768kHz or 705kHz but there are no issues in terms of unfolding so far to the max rate from the M17 using TIDAL or local MQA files.

You can also set up the M17 as a Roon End Point with my own Roon Core recognizing it immediately. From there you can access some additional excellent features such as Roon's PMEQ service which is something I think is lacking in the FiiO Music app with its own DLNA service.
One thing that may or may not affect you depending on the speed of your modem is the DLNA server scanning on the M17 which I found to be a bit too brief, even compared to the M15 scanning service.
The M15 tended to search a bit longer finding my Serviio server when the network was congested whereas the shorter M17 scanner stopped before finding it.
Sometimes it found it quite quickly so again that just depends on how fast your local network might be. One thing that might help is for the FiiO Music app to memorize servers once found so it would not have to repeat the scanner process every time it is opened.
Click on page 2 below for more hardware features and the desktop stand
Click on page 3 below for software features and performance
Click on page 4 below for sound impressions, wireless performance & pairings