The FiiO M15 is a new flagship digital media player, (DAP). It features a dual AK4499EQ DACs, MQA 8x Decoding, and LDAC Bluetooth capability. It is priced at $1,299.99.
Disclaimer: The FiiO M15 sent to us is a sample in exchange for our honest opinion. We thank FiiO for this opportunity.
To learn more about FiiO reviews on Headfonics you can click here.
FiiO M15
The FiiO M15 has a neutral to natural sound with a whisper of treble brilliance, an exposition on detail where articulation is key. This is a reference sound that, to date,  is about as mature as it gets for FiiO.
The FiiO M15, as it stands right now, is FiiO's flagship. That means no more X7 series development. Though the older amp cards are still available I believe these have a better road map as part of their Q5 series portable BT amp/DAC solutions than the now-discontinued former flagship.
The M15 is also a continuation of the framework as set down by the M11 series with its single amp, multiple outputs, and large screen form factor. The price point is substantially higher than the M11 at $1299. In fact, it is their most ambitious product to date by a country mile and places it square-on with the likes of the N6ii and Lotoo's recent PAW 60000.
For those that have read our First Contact then page 1 will have some overlap so feel free to jump to page 2 for or hardware and software impressions, page 3 for sound impressions, and page 4 for comparisons. For everyone else, read on.
Tech Highlights
The list FiiO has of interesting technical standout points on the M15 is just huge. Also, FiiO always does an amazing job of extracting key features and presenting them in a way that makes sense to both the nerd and layman.
AKM AK4499EQ
The first big feature is the DAC and amp setup. The M15 uses a dual AKM AK4499EQ implementation combine with a fixed analog amp capable of up to 800mW balanced under a 32Ω load. Even single-ended is hovering just below 500mW with a similar load.
The AKM AK4499EQ was launched a little over 12 months ago but I presume the lead time of the M15 development it probably meant FiiO were amongst the first adopters of this new flagship chipset. Some are claiming it is probably the best delta-sigma chipset made to date with world-beating low THD+N and high S/N numbers.
Certainly, the M15 looks competitive on paper with a THD+N of <0.0004% (1kHz/10kΩ) on the line out and >122dB SNR, (balanced) via the amp stage. That is fairly close to the DX220 AMP 1 MK II numbers and there is some debate if the DX220 is a loaded measurement also.
It is also, on paper, 1-2dB SNR higher than the Cayin N6ii with the A01 and slightly better THD+N numbers to boot. No doubt, on paper, the M11 belongs to be compared to these two DAPs.
MQA 8X
MQA is a thing now with FiiO and not just the 4X native capability previously found on the DX220 but a whopping 8X unfolding capacity. That means we could potentially unfold an MQA file that arrives as 24BIT/48K into a full hi-res 24BIT/384K for playback.
XMOS XUF208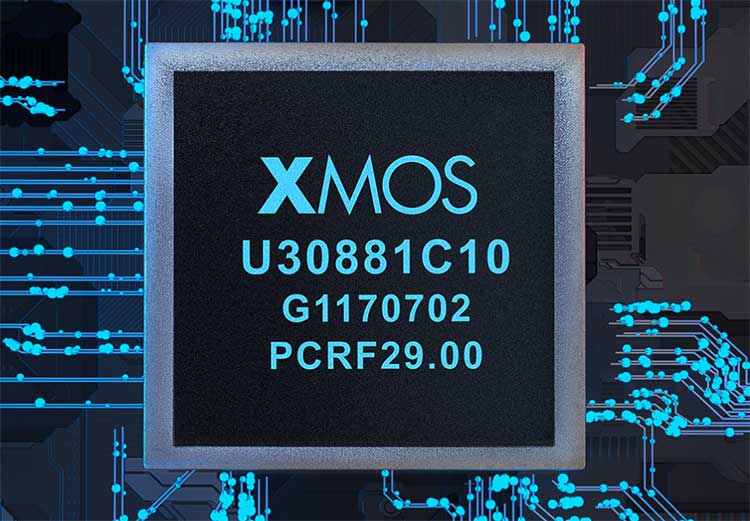 The M15 can go higher though. The XMOS chipset is now an XMOS XUF208 Control Chip which supports direct decoding 768kHz/32bit and native DSD512 support. The AK4499EQ is in no way gimped from a crappy USB stage on the M15. Numbers for OTG are lower though at 384K/32BIT and DSD128.
Samsung Exynos 7872
FiiO has retained the same processor setup as the M11, the Samsung Exynos 7872 for all that MQA and codec number crunching. The RAM numbers are also unchanged at 3GB. I honestly have zero complaints about this despite the M11 being much cheaper. It has already been proven to be a supremely capable processor and the fastest we have measured to date for any DAP.
Qualcomm CSR8675 BT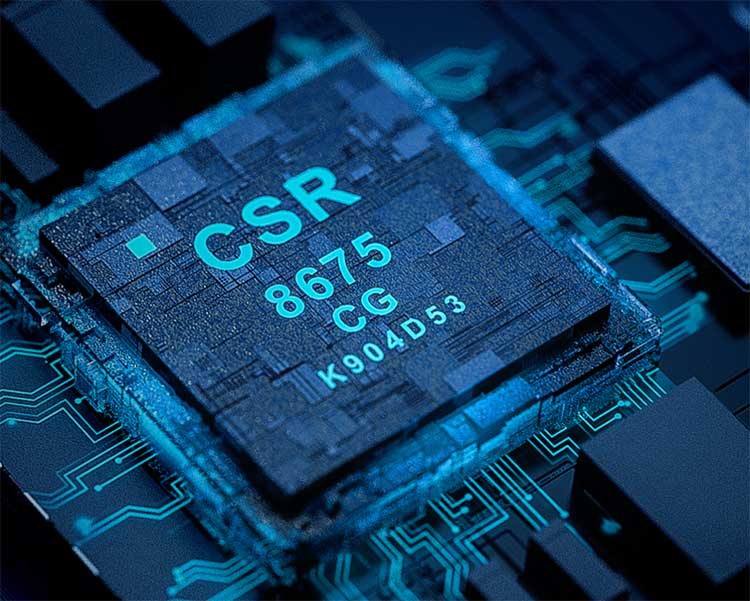 FiiO has ditched the original Samsung chipset from the M11 and gone with a higher-end Qualcomm CSR8675. Codec support is relatively unchanged however with support for SBC, AAC, aptX, aptX-HD, LDAC, and HWA (transmission only). The full two-way capability is as follows:
Transmit:SBC, aptX, aptX HD, LDAC, HWA
Receive:SBC, AAC, aptX, aptX LL, aptX HH, LDAC
I believe this is TOTL for Qualcomm BT chips and a bit of research will tell you that it is the same chipset FiiO are using for their EH3 NC noise-canceling headphones because of the built-in NC support.
NDK Femtosecond
FiiO has also brought in a dual heavy-duty Femtosecond oscillator system to work in conjunction with the M15's 3rd gen FPGA software. I believe this is the first time they have used this type and brand. This brings the M15 almost on par with the DX220's excellent 5-Femtosecond oscillator system which I am very fond of.
These types of digital clocks are normally found in desktop DAC's nevermind portable media players and primarily used for control of jitter.
Design
The FiiO M15 design is both unusual and interesting. James Chung has described it as following "Bauhaus' rational design concept" which is a minimalist design philosophy or 'art into industry' and thus styling should serve function and experience.
My immediate reaction was that it looks like a really large hybrid of the M11 and the smaller Q1 MK11 portable amp. The analog pot at the top also really differentiates from the previous rotary dial approach of almost every other mid-fi upwards FiiO DAP placing it closer to their portable amp designs.
Dimensions
The FiiO M15 design is also large and a bit on the heavier side at 301g. It is larger than the M11 by a few mm in height and width and definitely taller than the DX220 and N6ii. The dimensions are not as thick as those two competing DAPs, however. The relatively lower profile of the M11 housing has been retained which makes the girth more manageable.
What I love about the new FiiO M15 design is that rounded curving on all sides. The edging here is soft and by that I mean you can hold it in your hand and it won't 'bite' into your skin. It does make the M11 edging feel more like a box cutter in comparison.
The curving is also a logical move considering that additional components inside that can be achieved with this design as well as that additional weight in the hand.
Panels
Each side panel also has a slight indentation for two reasons. The first, it to allow for a better grip and prevent it from accidentally sliding out of your hand. The second is to give the buttons a small measure of protection from accidental knocks.
And there are plenty of buttons, all on the left side. Apart from the core playback controls there is also a nice little touch panel disable switch as well as a multifunction menu button that allows you to dive right into options such as Bluetooth with a single switch.
I suggest you use that lock switch liberally because it is easy to accidentally turn on the M15 and leave it in standby mode for hours without noticing it. Something that has happened to me on more than one occasion.
Analog Potentiometer
Yeah, you can't miss this one out of the box, the use of an analog potentiometer replacing the FiiO traditional side panel rotary dial. This is more in line now with the likes of Lotoo's volume controls on the PAW series of DAPs though the finishing is quite different.
FiiO has retained the ADC curve control they have used before on their previous amplifier volume controls so I am expecting impeccable channel balancing. And indeed it is, however, it is a little on the aggressive side with sensitive IEMs so I would have liked to have seen a few more micro turns on the dial as you can hit top volume fast on the likes of VE's EVE20 and CA's Andromeda.
FiiO has also described the volume methodology for the analog pot as "Telex volume control" whereby DC voltage levels are regulated according to the position and tap count of the knob. This is then converted into a digital signal via the SoC and hence adjusts to the precise volume level you require.
The out of the box firmware was not satisfying for the GUI volume level indicator using only bars instead of numbers. I am glad to see that FiiO has reintroduced numbers with firmware V1.02 which makes the volume control a lot more intuitive to use.
Potentiometer Finishing
The FiiO M15 dial feels more hipflask in visuals but also a little more unprotected than the Lotoo version. The knob is metal with a glass finish so not a cheap plastic component and it is plenty grippy when clasped. The damping on the rotary movement is actually quite impressive so it feels very steady through the curve.
I am told more protection will be given to it via the optional leather case which is designed with a magnetic suction clasp to block the volume knob. I will be interested to see how that works in reality when launched.
FiiO has inserted a small LED ring around the dial that can be controlled via the system menu. It sort of draws from their power button LED system from their previous DAPs. You can tweak the ring to pulse or stay constantly on or off.
Screen
The M15 IPS screen is the same as the M11 panel though the glass protection has changed to a Corning Gorilla Glass which makes a big difference for me. The specs are unchanged at 1440×720 pixels or 720p with a PPI of 312. However, the application of the new CG Glass cover is more in line with the curved theme FiiO are going for with the M15 and a bit sexier than the flatter M11 finishing.
Legibility is excellent from most angles and the panel colors/font look saturated and quite smooth in application. It is not DX220 1080p but the battery life should be all the better for it.
Screen Protector
The supplied screen protector, on the other hand, is very much an uneasy compromise. Curved glass screen protectors have been challenging for DAP makers, unlike smartphone manufacturers. No volume-based screen protector supplier is going to change reproduction lines for what is a niche player design. Current DAP curved protector attempts have been terrible with poor touch response or air pockets creeping in at the sides.
Therefore, FiiO has played it safe with a protector that covers maybe 90% and avoids the curved sides. It works, with no air pockets or a poor touch experience but a lot of the cornering remains exposed as a result and it does not look as nice as a working curved protector.
I/O
The M15 has plenty of I/O choices and it is a concept they have been focusing on since the introduction of the M11. It is something I really appreciate, having all 3 mainstream connector output jack ports on one panel. It reduces the need for multiple cable converters meaning most cables will work without the additional conversion bulk or stress on the port.
The 2.5mm TRRS now has its own dedicated output socket as well as a 3.5mm TRS and a 4.4mm balanced. The 3.5mm is a PO, LO & SPDIF shared socket consistent with FiiO designs over the past few years.
All of these are housed on the top which is where I prefer my output sockets to be, well away from the USB port where space can be a premium.
The base has a single charging/OTG and data transfer USB-C socket with a single memory card pin tray slot. Sadly, no dual tray and only 64GB of onboard memory so you will need to stock up on bigger memory cards if you want to hold some serious DSD.
Mind you, it is double the size of the M11 and the same internal memory size as the Cayin N6ii and DX220 storage options so at this price point it is not an outlier.
I get the feeling the push for greater memory in DAPs of late is not such a big thing for manufacturers with the advent of wireless and streaming capabilities. There does seem to be more of a push now for a faster CPU performance as a result of the rising popularity of wireless delivery protocols.
Controls
Like most modern DAPs the M15 has a myriad of options for controls. These include traditional physical button layouts including the analog potentiometer as well as a modern touchscreen. It also means allowing in an increasingly capable wireless control element via FiiO Link and WiFi-based apps, including Airplay and DLNA.
Physical
The M15 has 6 similarly sized physical buttons or switches on the left panel. The top is the lock switch and I did say try to use this when not using the other buttons to save on accidental powerups.
It is so easy to grip the M15 exactly where the power button is and turn it on or turn off the screen. At times I do miss the old separation of the power button on the top panel that the M11 and X7 had.
The next 3 buttons are standard playback controls and the final is FiiO's much-vaunted and quite useful multi-function command prompt button. You can tweak that button within the Android general settings but the default is set to "add to my favorites".
Other options include USB DAC mode or Bluetooth quick activation, switching filters or EQ setting, or some specific playback features such as random song selection and delete media files.
Touch
The touch control is self-explanatory and it is one of the really nice performance features of the big M15 screen. It is multi-point (up to 10 finger) so you can pinch and zoom on images and the touch response is stellar, really, one of the best in the DAP market by far.
The excellent CPU performance also helps a lot in terms of reducing the lag from touch to execution and despite my concerns on the ugliness of the screen protector, it does not interfere with the touch response which is kind of important.
Wireless
With the inclusion of WiFi and Bluetooth, you can wield a modicum of control over the M15 wirelessly as well as control some surrounding devices. The M15's recent V1.02 firmware update means we now have Google Play integration which is a huge boost in ability and opens up the full app store to download apps for DLNA and Airplay, two key features that give you a lot of wireless control.
Outside of that, FiiO are pushing their FiiO Link master/slave BT feature that allows you to create a bi-directional link to other BT devices that can install the FiiO Music app including your smartphone
By setting up the M15 as a FiiO Link Server and the Smartphone as FiiO Link client you can effectively control the M15 remotely (Bluetooth connection is automatically done during the setup process). This is ideal for those who have their hands constantly on their smartphones but want to control the M15 from a short distance on their desk or in their pocket if on the go.
During this setup, you can browse the M15's media library, operate playback controls, adjust volume, and scan for media. You cannot operate the M15 settings or its DSP/EQ functionality.
Battery Life
The battery inside the FiiO M15 is a huge 7490mAh 3.8V Li-polymer battery. That is bigger than the 7000mAh li-poly inside the flagship N8 from Cayin and yet still the lighter and thinner of the two DAPs. That is an impressive internal design.
Battery performance numbers on paper for the FiiO M15 are around 15 hours unbalanced on 32Ω loads using MP3 44.1k 156 BIT tracks and I presume with the LCD screen switched off.
That is better than the DX220 and N8 and just slightly ahead of the N6ii and their own M11 by 1-2 hours. Considering the size of the battery I would say the dual DAC implementation and the heavy-duty topology of the chipsets/amp are fairly battery intensive.
The FiiO M15 does quick charge but you are still talking about 3 hours for a full charge. That is not slow, that is just a huge battery in there to charge up.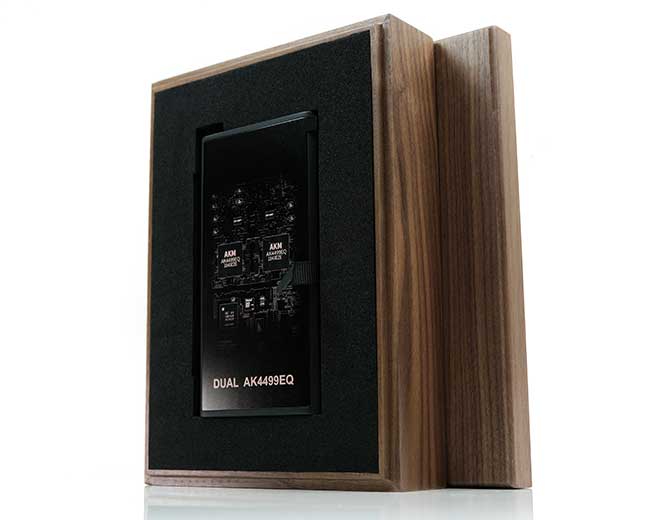 Packaging & Accessories
Well, this is nicer than your average FiiO unboxing experience. I am guessing going flagship they had to come up with something a little more exotic than their normal black or white cardboard packaging.
Now on the outside, the larger than the average FiiO DAP box is nothing overly unusual. It is really on the inside that you get a feel for the flagship vibe with the use of a very nice North American black walnut wood enclosure. Everything is attractively packaged on the inside in the nicest display ensemble I have seen from a FiiO product to date.
The DAP itself is stickered and neatly resting on a top layer of protective foam with the accessory kit boxed just below. What I love is the protective sticker on the screen. Not because it is a cool topology of the inside of the M15 but rather when you peel it off and turn it on the stock theme is exactly the same as the sticker.
Accessories
But oh no, the accessory lineup is missing something really important – a protective case. Yeah, it has screen protectors but no case for a TOTL player out of the box is not ideal. I am going to be babying this looking for the 3rd party equivalent or spending another $50 on the Dignis design FiiO official case? At least a silicone case while any leather case order comes in would be ideal.
Aside from that this is a functional line-up of accessories and nothing special. You get a user manual, a short coaxial converter cable, a pin for the memory card tray, and a USB-C to USB-A charging and data cable.
Click On Page 2 below for hardware and software impressions