This is a review of the new HiBy R5 Gen 2 Android DAP which features a discreet output stage, a Class A amplifier, and dual ES9219C DACs. It is priced at $449.
Disclaimer: This is a sample sent to us in exchange for our honest opinion. Headfonics is an independent website with no affiliate links or status. We thank HiBy Music for this opportunity.
To learn more about HiBy products that we have previously featured on our website you can click here.
Note, that this article follows our latest scoring guidelines which you can read up on here.
HiBy R5 Gen 2 Review
The HiBy R5 Gen 2 is a very rounded mid-budget Android DAP with an excellent Class A output performance that mixes very well indeed with a wide range of IEMs and importantly for some, higher load dynamic driver headphones.
Pros
Dynamic Class A Performance
Mixes well with high impedance headphones
Better housing for improved cooling
Cons
Out of Date Android OS
Screen not that bright
The Sub-$500 DAP market has been ravaged by dongles over the last year or two. If you want to catch the eye with a new budget DAP launch you need to bring something very new to the table.
HiBy has never been one to shy away from taking risks with initially their excellent software offerings and in recent years some standout DAP features such as their recent R2R/Darwin architecture in the RS6.
The R5 Gen 2, however, could quite well be their most ambitious offering to date despite its modest price. It's nothing like the original R5 from a few years back and in fact, it focuses on the one thing most thought the company was initially a bit weak on, quality amplification.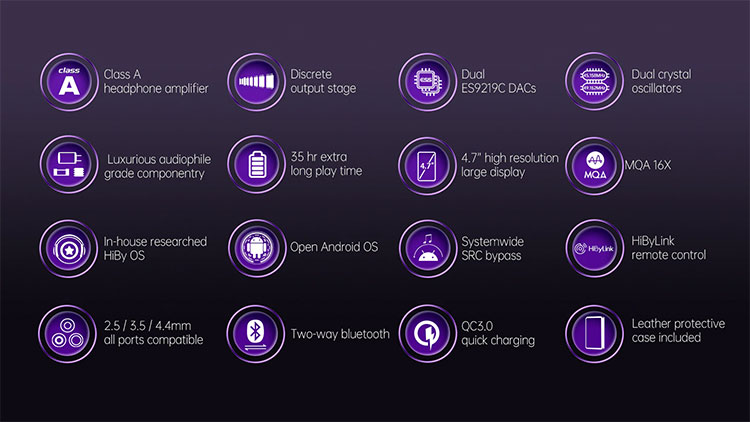 Tech Highlights
Amplifier
And it is on the amp side that we will start the introductions. The R5 Gen 2 amplifier topology has not one, but two operational modes for its analog output.
If you think you have come across this type of design before then you are not wrong. For example, both the Cayin's N3PRO DAP and the C9 portable amplifier offer similar hot switching operational modes between a Class A and a Class AB.
However, HiBy's version is slightly different. True enough there is what is called an economy mode which is the default mode when you power it on. This is SoC driven from the DAC chipset and likely a much simpler build for someone like HiBy.
However, since the R5 Gen 2 has a quasi 'dual' operational mode you can hot-swap via the OS to Class A which in this case is a discreet resistor-based push/pull design. The choice of push/pull is an interesting one but I presume it is using a combinational transistor pair called in a Push-Pull configuration to greatly enhance efficiency in such a small package.
It should also help in pushing the output to the max at the same time with the numbers below going some way to proving that with a nice bump in voltage headroom and maximum output power.
Naturally, with improved voltage and power the battery performance will dip though I do not think HiBy is attempting to hide it. The dip, however, is from obscenely high down to what you might have originally expected with the economy mode at 35 hours on paper down to a mere mortal but still healthy 10 hours in Class A.
Performance Numbers
On paper, the R5 Gen 2 performance numbers are in line with my expectations for a DAP at this price point. Ironically, they are slightly lower for mW output compared to the original R5 which was capable of up to 564mW from its balanced output.
However, the R5 Gen 2's 475mW is only half the story, the other half is the Vrms, which, in Class A mode, should be available constantly enabling better performances on higher load headphones, particularly dynamic drivers.
The economy mode's more moderate 110mW SE and 320mW output levels should be more suitable for low load more current-sensitive IEMs.
Of the two, the economy mode is also going to be the marginally quieter one for noise though the SNR on lighter loads between the two operational modes is quite similar. Both PO modes are at 118dB SNR with the balanced output of the Class A mode just 2dB lower than the economy mode.
Of course, the flavor of each mode on the R5 Gen 2 will be down to personal preferences since, for me, they do sound a bit different. You can read more about that on page 2 of this review in our sound impressions section.
DAC
For years HiBy stuck to their guns at this price point using a CS43198 DAC design for not just the original R5 but also the Sabre edition. The R5 Gen 2 still uses a dual DAC but this time, it's a newer ES9219C implementation.
This is a 3rd gen chipset from ESS launched in 2019 and it's been knocking around in mostly budget formats including dongles but more famously its Quad DAC technology has found its way into LG's well-regarded V-series smartphones. The pro version of this chipset can also be found in HiBy's own FC5 dongle.
Some of the stand-out features of this DAC include native DSD246 and PCM 32BIT/768kHz decoding with on-chip native MQA unfolding. Indeed, the R5 Gen 2 can unfold up to 16X which is an excellent benchmark for a mid-tier DAP.
One thing to note though is it's entirely an SoC operation for the DAC/amp using economy mode which is why you get those excellent battery numbers but for me, you do need to switch to the Class A mode to get the full R5 Gen 2 performance.
Design
The R5 Gen 2 continues the most recent design language from HiBy, previously used on the R8 and the RS6, but in a smaller form factor. In case you are wondering from the picture above, it's the one in the middle with the gen 1 R5 to the front and the RS6 to the rear.
It is not as compact or as light as the original R5 at 220g compared to 160g but given its use of Android, I actually do not think that's a bad thing. The one critique I had with the older R5 was that the 4″ screen was too small to use Android comfortably. The R5 Gen 2's IPS 4.7″ screen is much less of an issue and still remains a fairly pocketable device.
The switch from copper to aluminum for the chassis does give the R5 a considerable edge in weight over the RS6 with perhaps only a 10-20% reduction in overall size. I must say HiBy has done an excellent job in keeping the minimalist and edged design lines very close indeed to the precise machining of the pricier RS6.
However, some things had to go I presume to hit the desired price point. For example, the Alps pot, (volume dial), has been sacrificed for the older R5's digital +/- button attenuation control on the left panel and the finely crafted carbon fiber weave on the rear panel has been replaced by a plain black panel behind a tempered glass cover.
The bezel is fairly minimal as you would expect from a HiBy DAP but just the same, it is just a little more prominent on the R5 2nd Gen compared to both the R8 and the RS6, particularly at the bottom.
Screen
So from 4″ to a larger 4.7″ and immediately the Android OS gets a lift in UI by default for just having more space for fingers to move around more freely. Far fewer typing mistakes will be made on the R5 Gen 2 screen compared to the original I can assure you. Album art is also more impressive to the eye and scrolling is far less fatiguing for the fingers.
The screen is a capacitive multi-touch IPS panel, relatively snappy in its response and fluid enough given the RAM and CPU level. However, it is not quite of the same quality as the more expensive RS6 at 720p compared to 1080p. The pixel density is just marginally lower also but it's nothing major.
The slightly more pressing issue with this screen is the weak backlight which gives it a much greyer hue compared to the much brighter older R5 screen and the newer RS6 version. It can be more challenging to read under dim light or at wider angles.
I/O
As with all recent HiBy DAPs, all the inputs and outputs are positioned on the base panel. That includes both analog and digital.
All digital connections are via the centrally located USB-C port and that includes USB-DAC, OTG, and charging. Though the R5 Gen 2 also support coaxial via USB, a feature from their higher-end models it does not come with a USB-to-coaxial cable that you typically find tucked into the accessories of their high-end units.
Analog outputs include provision for SE 3.5mm TRS and 4.4mm/2.5mm balanced PO. There is no dedicated line-out for the R5 Gen 2 in either balanced or SE. The SE 3.5mm TRS output does have a dual function capability for PO and LO but this suggests this is not a true line-out.
The R5 Gen 2 has a small amount of onboard memory at 16GB but once you take into account any apps and the system OS you only get about half of that available for file storage. The addition of a single slot microSD on the side is most welcome, allowing you up to an official 2TB of additional storage. You can also add more via a flash drive using OTG.
Controls
Physical
The R5 Gen 2 has a mix of the old R5 Gen 1 and the RS6 controls in terms of layout and functionality.
On the right panel, you gave a 3 slimline button layout similar to the RS6 aesthetics that control power, turn the IPS panel on and off, and allow you to reboot into a safe mode when needed. Playback control is through the remaining three buttons below the power button and the pulse light status indicator.
Volume is controlled via two fairly well-spaced +/- buttons on the top of the left panel that should help you avoid mixing up one from the other if operating blindly, for example, in your pocket. You get a series of 0.5dB steps from 0-100 which can also be optionally controlled by HiBy's familiar onscreen OS circular volume control system.
Touch
The rest of the R5 Gen 2 control system is done entirely through the touch panel options as well as some wireless options. The screen real estate is definitely better here for touch controls compared to the older R5 which was simply too tight and fiddly to engage beyond basic playback controls.
The touch experience of the R5 Gen 2 has a good response rate, and it does help that the most recent firmware added a double-tap to wake control which was missing when launched.
There is a tiny bit more lag compared to the more powerful RS6 between executing a touch command and the DAP responding to it. The Snapdragon 425 SoC is capable but not on the same level as the more expensive 660C so you can expect a bit of compromise.
Aside from that, the touchscreen will do everything you need the R5 Gen 2 to do outside of initiating volume control, power on/off, and LCD off. You can however increase or decrease volume control via the touchscreen once initiated via the physical dial.
Packaging & Accessories
The R5 Gen 2 packaging is a little bit simpler than its more expensive siblings with a compact blue themes external box and a two-layer internal foam protected layout on the inside. The DAP is positioned at the top and the accessories are neatly packaged on layer two underneath.
Thank you also to HiBy for offering the R5 Gen 2 with pre-installed screen protectors on both the front and rear which saves a huge amount of time on the user side. Simply peel off the top layers and you are good to go.
The accessories lineup is generally a bit spartan with just a USB-C cable for charging and data transfer and some leaflets including a manual and warranty card. However, it does come with one very surprising edition, a proper leather-styled carry case.
Carry Case
I say proper because the darn thing fits properly and there is zero chance of the R5 Gen 2 ever falling out on you. The blue-themed case is a tight but secure fit with buttons and indicators neatly lining up and no worries about the chance of it lifting the screen protector accidentally when sliding it in.
Click on page 2 below for HiBy R5 Gen 2 software impressions
Click on page 3 below for sound impressions, pairings, and wired/wireless performance